CCTV Footage Relayed the Horrors of the Leak
CCTV cameras recorded the storage tank falling from the crane as it was being placed onto the deck of a ship at the harbor. Surveillance cameras captured the tank exploding after it fell and showed the deadly greenish-yellow clouds of gas that were released enveloping the surrounding areas.
When the accident happened, one vehicle reversing nearby made a wise U-turn and drove away in the nick of time. Employees could be seen frantically running from the scene on foot in all directions in the footage.
Authorities Took Swift Action
The authorities quickly addressed the situation, issuing a mandatory evacuation and treating the affected victims.
According to Al Jazeera, local health authority Dr. Jamal Obeidat had sent warnings advising people in the area to stay inside and shut their doors and windows.
Muhammad Salman, Director-General of Jordan's Maritime Commission, said that commercial fishermen in ships near the area where the gas leak occurred were asked to evacuate the area immediately.
Salman claimed that the surrounding grain silos had their toxicity tested after the leak. Fortunately, there were no vessels unloading grain when the incident occurred. However, to prevent any contamination, the silos stopped production.
Environmental minister Muawiya Radaydah stated that Aqaba's water and air were clear of chlorine contaminants.
Officials made this statement after analyzing numerous samples of the port city's water, air, and grain silos, according to Radaydah.
What Caused the Incident
According to BBC News, the chlorine gas tank was dropped because of crane malfunctions. The reason for this has not been released to the public.
What Is Chlorine Used for?
Chlorine has a number of commercial and industrial applications.
Water Treatment Applications
Chlorine gas has several commercial uses, according to the Environmental Protection Agency (EPA). It can be used to disinfect swimming, pond, and drinking water. Sewage water is also treated with chlorine.
Industrial Applications
In food processing facilities, paper mills, and industrial water cooling systems, chlorine gas is also employed as a disinfectant. In order to prevent spoilage, it is also used to clean meat, seeds, and fresh food.
The Dangers of Chlorine Exposure
At room temperature and atmospheric pressure, chlorine gas is a yellow-green color, but it is typically chilled and pressurized to turn it into a liquid for transportation and storage.
Although it has a number of industrial uses, the gas is still poisonous when inhaled. This is why it has been used as a weapon of war.
Chlorine Gas was First Used in World War I
Chlorine gas can also be employed in terrorist attacks or as a tactical weapon during warfare. German troops used chlorine for the first time in World War I in 1918 at Ypres, Belgium, on two French colonial battalions.
Use in Recent Years
Bashar Al-Assad, the Syrian tyrant, has also utilized the gas in recent years. Al-Assad used chlorine bombs on anti-regime fighters and civilians along with sulfur and sarin nerve gas.
Complications Caused By Chlorine Gas Exposure
Chlorine combines with water to form acids that harm body cells when inhaled, ingested, or if it comes into contact with skin.
Moreover, when inhaled, chlorine gas forms hydrochloric acid, a strong acid with a pH of 1.5 to 3.5, which can cause severe internal burning.
Pulmonary edema, a potentially fatal illness, is brought on by breathing in large amounts of chlorine gas. According to the EPA, it can cause a number of other health issues, including: 
Bronchitis 
Headaches 
Asthma 
Inflammation of the lungs 
Meningitis
Heart conditions
Abdominal discomfort
Corneal burns
Violent coughing
Nausea and vomiting
Chest pain
Sore throat
Hemoptysis
The Good News
Fortunately, many health problems associated with chlorine gas exposure are short-term, so officials expect many affected victims to recover fully. Many of them were discharged from the hospital on Tuesday, June 28, 2022.
Understanding Maritime Law: Negligent Versus Intentional Torts
When someone harms you, especially at work, it is considered a tort or wrongdoing that causes injury to another person or interferes with their property.
Torts can be reckless or deliberate. If another person's lack of due care causes harm to another person, negligent torts apply. However, when someone is intentionally hurt by another person, a deliberate or intentional act has taken place.
The key distinction is one of intent: in an intentional tort, the conduct was willful, whereas in a negligence case, the defendant did not intend to perform the act.
Sometimes there is a gray area between intentional acts and carelessness. The type and amount of damages available to victims in a maritime personal injury case depend on the circumstances and the relevant tort. To help you understand these torts, we'll go into a little more detail in the section below.
Intentional Torts
Intentional torts are actions that are planned, purposeful, and/or committed with the knowledge that they would cause another person harm or death. Punitive damages may be sought in civil situations where the tort was deliberate.
Tort of Negligence
In most cases, and in the case of the chlorine gas leak, the act was unintentional or accidental. To show that the incident was the result of negligence, the following must be proved:
Duty of care – the defendant had an obligation to protect workers (the Jones Act details maritime employers' responsibility to keep their workers safe)

Breach of duty – they failed to provide this duty of care

Causation – this breach resulted in the plaintiff being injured

Damages – the victim suffered quantifiable damages
Can Survivors Sue for Compensatory Damages for the Injuries Sustained Following the Chlorine Gas Leak?
Injured workers may be able to bring a personal injury lawsuit for the damages they suffered as a result of a similar maritime incident. Contact Ehline Law, and we'll advise you on the way forward and determine whether you qualify for compensatory or punitive damages.
Unfortunately, the media hasn't released much information about what caused the crane to malfunction in this particular case. However, the act was unintentional, which means that the tort of negligence applies. It may have been caused by poor maintenance, incorrect assembly, or workers not following directions.
If you have been the victim of a similar maritime accident, get in touch with us!
How We Can Help
Hiring a lawyer with gross negligence maritime law experience is vital if you want to receive compensation. We will work hard to protect workers and help them claim for lost wages, medical costs, and more. Here's how we can help victims of maritime accidents.
Investigation and Evidence
Additionally, we will help you investigate the incident and deal with the relevant insurance company if necessary so that you can focus on healing. We will also gather as much evidence as possible to support your claim and present it in court if the need arises.
We Can Get You the Compensation You Need!
Many maritime employers are familiar with maritime law and have strong legal representation, so going in without a plan or proper representation can be detrimental to your personal injury case.
At Ehline Law, we know maritime law and personal injury law, so if you are an injured seaman, we can help you get the compensation you deserve to cover your medical expenses.
Indemnity Provision
The truth is that a worker may not realize that his or her employer has an indemnity provision.
These indemnity provisions protect the employer against liability in such cases. We will review the indemnity clause in your contract and provide you with reliable advice on a way forward.
Call Ehline Law Firm Today
Ehline Law Firm is ready to help. Our service is available to the surviving family members of the deceased and the victims who suffered personal injuries due to a maritime incident.
We Are No Strangers to Maritime Law
At Ehline Law, we pride ourselves on maintaining an excellent attorney-client relationship with everyone who walks through our doors. We are well-versed with the harbor workers' compensation act and can ensure that the person or entity at fault is brought to justice since we manage wrongful fatality and negligence claims.
We Understand That Compensation Will Never Make Up for Your Loss
The truth is that we know that we cannot heal the sorrow of losing a loved one or restore your health. However, it is possible to get financial support by filing a personal injury claim to let everyone know that you are standing up for the people that matter to you.
We Are Well-versed with General Maritime Law and Personal Injury Law and Can Help You Pursue Your Personal Injury Claim
Are you an employee or other victim with a disability in an admiralty law employment claim, or other third-party matter? Call us today to find out how we can support your efforts to pursue restitution for pollution-related diseases under negligence law or common law doctrine today.
Book your free consultation at our law office today over your Longshore and harbor accident claims, High Seas Act, offshore oil gas workers, or vessel owner claims to recover damages today! Your failure to act quickly against the shipowner and other parties could mean blowing the statute of limitations or another contractual deadline to file lawsuits as seamen or some other party along the longshore site.
Other Practice Areas We Cover
Medical malpractice
Personal injury representation
Jones Act cases
Wrongful death cases
Schedule a Free Consultation With a Gas Cloud Dispute Lawyer Today
Choose us when you suffer toxic chemical exposure or other maritime injury and need experienced attorneys at the helm. We will fight hard to get you the maximum financial compensation for your potential new case, and we are Los Angeles based in the State of California.
Call us today at (213) 596-9642 to discuss your important legal concerns and losses in a confidential environment. We have the resources, compassion and tenacity to make it happen, do or die.
---
Michael Ehline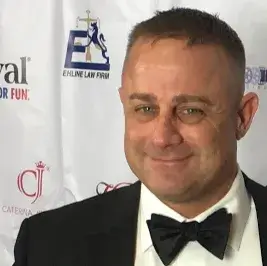 Michael is a managing partner at the nationwide Ehline Law Firm, Personal Injury Attorneys, APLC. He's an inactive Marine and became a lawyer in the California State Bar Law Office Study Program, later receiving his J.D. from UWLA School of Law. Michael has won some of the world's largest motorcycle accident settlements.
---
Recent Personal Injury News
Check out our most recent auto defects, accidents and more, including the famous, infamous and everyday people wounded by at fault parties around the world.