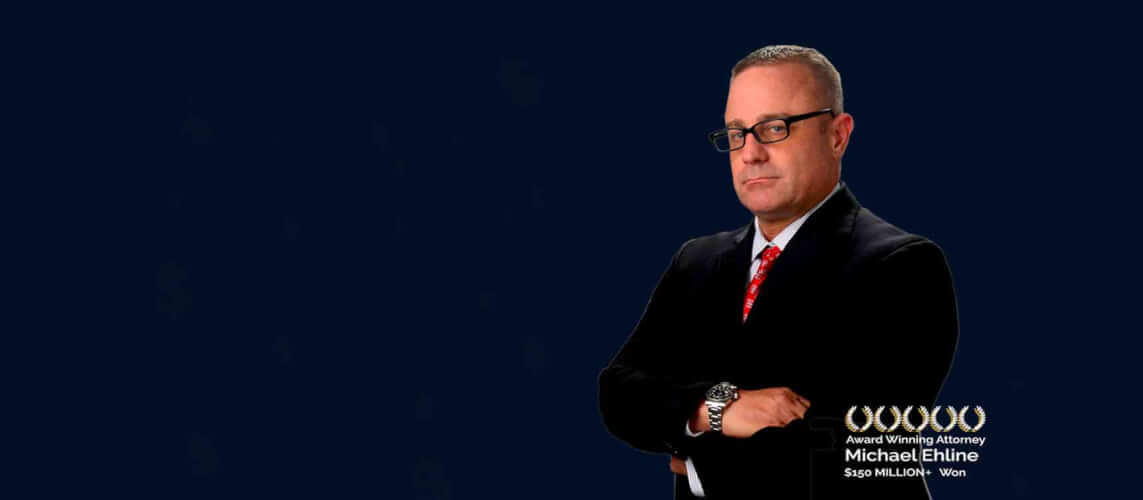 Oftentimes, a car accident victim may not incur any injuries at the time of the accident, but due to the severity of the shock, the victim may face severe pain after the incident. It can be difficult to detect hip injuries at the time of the auto accident, and these may start to show slowly after the incident in the form of hip pain and may require immediate medical treatment.
The hip joint is the most important part of the body that allows a person to move, and any damage to it from delayed treatment can potentially put the victim on bed rest for a long time.
Hip Pain Following a Car Accident Requires Immediate Medical Attention
If you got injured after an accident that was not your fault, and you have developed hip pain after a car accident, contact Ehline Law and our personal injury attorneys today, as you might be eligible for compensation.
Hip Joint Injuries and Car Accidents
The hip connects the thigh bone to the pelvis controlling the movement of an individual; however, for this process to work, all parts of the hip should be working fine. Getting into a car accident can send shockwaves to the human body, which can affect different parts of the hip, impeding its movement. Hip joints help humans move, and any injury to that can impair an individual for an uncertain period.
Common Injuries of the Hip
There are different types of a hip injury that may occur during a car accident, but the most common of these are the following:
Hip fracture
Bursitis
Hip dislocation.
If the injuries are not treated immediately, these can cause further complications resulting in wear and tear of cartilage, tearing in ligaments or tendons, arthritis, and more severe injuries.
The Impact of an Accident on the Hip Bone
A hip fracture affecting the hip socket and other parts of the hip from an accident can cause bones to break further, affecting the ability to move and causing excruciating pain. A hip injury can take longer to recover and may require hip surgery, even a total hip replacement, and physical therapy to get movement back and ease the pain.
The fluid-filled sac provides cushioning for the bone and is responsible for smooth movement. Due to blunt force trauma, in certain cases, it can start to get inflamed, causing serious hip joint pain to the car accident victim. This is also referred to as 'bursitis,' and these types of injuries take a bit of time to surface and can be extremely difficult to diagnose, requiring visits to a specialized orthopedic doctor for medical attention.
Do All Hip Injuries Require Surgery?
Sometimes an injury may not be that severe such as hip dislocation, which can heal over time without the need for surgeries; however, these can be extremely painful and affect your way of life due to extreme discomfort.
Treating Hip Injuries after an Accident
The majority of the time, a medical professional will give you medication to ease your pain rather than eliminate the underlying problem. This is why you need to head to a specialist for a diagnosis who might require an X-ray, CT scan, or MRI to determine the damage to the hip and start the treatment phase.
The treatment plan for hip pain may include chiropractor visits, therapy, massage therapy, medication, and even surgery if required. Delayed injuries can often complicate things if the victim prolongs a visit to a specialist after an accident because they might not be feeling any pain. Treatment for hip injuries and delayed pain can cost a lot of money, and you should seek legal advice from our experienced personal injury attorneys on whether you are eligible for compensation.
Our Personal Injury Lawyers Can Help You!
If you're feeling excruciating hip pain from an accident due to someone else's negligence, contact us at (213) 596-9642 and get a free consultation with our personal injury attorney today on your delayed hip injury pain. Our law firm prioritizes a strong and healthy attorney-client relationship resulting in more than 3,000 happy clients and over $150 million in compensation. We understand the challenges a car accident victim goes through and are here to provide you with the best possible legal representation. Our attorneys will help conduct a thorough investigation, collect evidence, file claims, and get you the compensation you deserve to get your life back on track if you have hip pain following an accident. Contact us for more information on how we can help car accident victims with a personal injury claim.