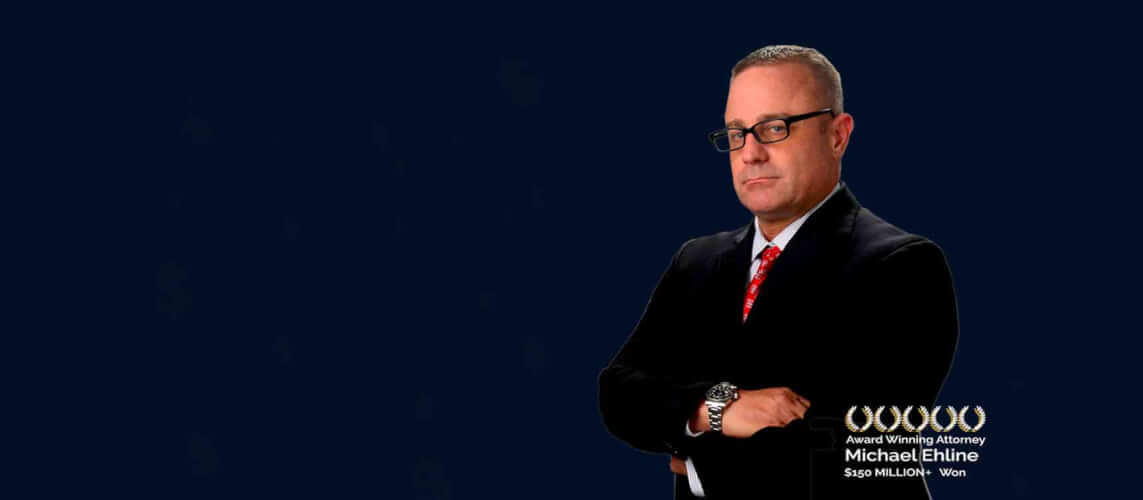 Neck injuries and spinal cord problems aren't the only issues you may experience after being in a car accident.
Arm Injury Following a Car Accident is Common – Contact Ehline Law to Ensure Your Rights are Protected
Sometimes, you might suffer from arm pain, shoulder pain, and much more, so read on and find out what you should do and how to get the best professionals by your side for your elbow injuries.
A Car Accident Can Affect Your Elbow
If you start having elbow pain after a car accident, you might have some elbow injuries and need medical attention unless it worsens. Arm injuries can affect your life, especially if you were the one behind the steering wheel – car accidents are often very complex, and your body might experience unpleasant sensations it had never felt before.
Drivers often brace themselves with their elbows when they're trying to protect themselves from the force of the collision, which is why having arm pain, elbow injuries, a broken bone, neck pain, whiplash injury, elbow sprain, and similar issues are some of the most common problems you might get after a car accident.
At the same time, passengers can also suffer car accident injuries since they might hit their elbow joint with the windshield, the dashboard, or other parts of the car's interior. Overall, your upper arm is prone to experience issues, so having a car accident lawyer is essential to manage your case. Call us at Ehline Law Firm today and start your legal process!
Common Reasons for Arm Pain
Arm and elbow injuries are common, but that doesn't mean they're not serious; on the contrary, having a broken arm can be just as problematic as any neck injury since they can hinder your ability to complete your daily tasks.
After being in a car accident, you might wonder what types of injuries you have, so contacting a medical professional is the first step to getting your diagnosis and starting your treatment; however, understanding the different car accident injury types is also beneficial.
So take a look at the common problems you might experience:
Radius bone fracture
Serious elbow injury (fractures or tearing)
Damage to your forearm bones
Brachial plexus injury
Upper arm bone sprains, tears, and fractures
Humerus fracture
Dislocated elbow
Ulna fracture
Olecranon fracture.
Sometimes, you might only need a simple sling to manage your symptoms. Still, sometimes your injury may be much more complex – nerve damage, a condylar fracture, a supracondylar fracture, and other symptoms like those might require hospitalization, as well as an experienced arm specialist to help you.
You May Also Have Elbow Joint or Forearm Issues
Many people forget that their elbow joint and forearm are a part of their arm's structure, which is why the nerves, ligaments, and other factors might also suffer some damage after car accidents.
Arm and elbow pain are incredibly complex, and to diagnose serious injuries, you often need to get x- rays. At the same time, sometimes you might experience Post Traumatic Stress Disorder or anxiety, which is why you need a passionate personal injury lawyer to defend your case aggressively.
How Ehline Law Firm Can Help You
Suppose you're looking for an experienced and aggressive Los Angeles wrongful death attorney to help you manage your arm pain case. In that case, Michael Ehline is the perfect person for you – you can get a free legal consultation and explain your auto accident and how it caused intense pain.
Accident victims often want a free consultation with a skilled attorney to determine if they can prove liability, which is why we at Ehline Law Firm have the ideal professionals you need if you're looking for a civil lawyer near you. Auto accidents are very complex, and in many cases, you might need physical therapy – the medical expenses can be very high for this common injury to treat the injured area or other affected areas. So a free case evaluation is immensely convenient for understanding how to seek compensation and deal with insurance companies.
Fortunately, we at Ehline Law Firm have helped many victims since we have received awards, great reviews, and news coverage that back our experience and care for the attorney-client relationship. To get fantastic legal advice, stop looking for a "wrongful death attorney near me" and call Michael Ehline at (213) 596-9642!
Car crashes can cause common elbow injuries, especially with seatbelts tightening during impact. Some victims might want to prove the other driver was negligent – if that's your case, you might be able to get compensation. But you need top lawyers by your side, so call Ehline Law Firm today!