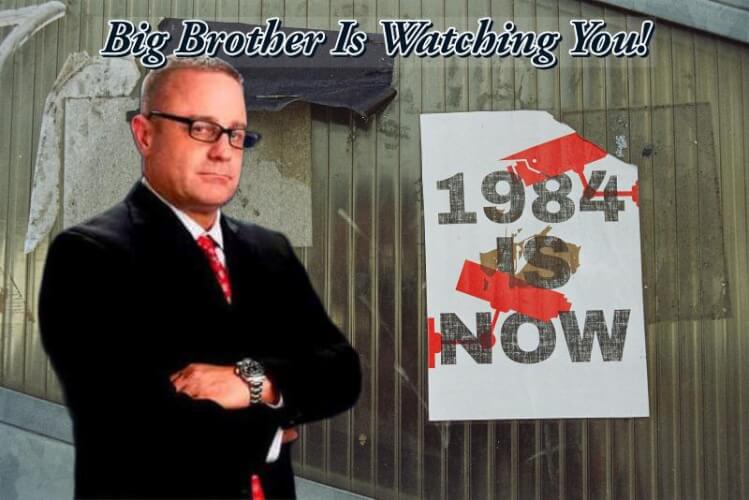 AC Emergency Message on Locked Thermostat
On September 1, 2022, a Family discovers the truth about smart houses when they go to turn on A/C and find a message on the locked thermostat. Is Big Brother watching their habits and controlling happiness? Let's explore the details of the news with Ehline Law and our personal injury attorneys.
Xcel Customers Could Not Adjust Their Smart Thermostats
Today, the western world has transitioned toward a smart home. From Google Home or other smart speakers to thermostats, lighting, and more, we have given more control to corporations than ever in human history in pursuing energy efficiency and convenience.
On Tuesday, the beginning of September, Xcel Energy smart thermostat owners faced a bizarre incident when they were locked out of adjusting their smart thermostats. Customers in Colorado came across this problem when they tried to crank up their air conditioner amidst a heat wave.
Customers received a message on their smartphones stating "energy emergency." Customers couldn't override the controls and adjust their smart thermostats accordingly. In certain cases, system emergencies can trigger in a control event and the direct user can not overwrite this. Dozens of customers took their unfortunate situation on social media, with many having their ACs locked in at 88.
Customers Have Opted in for Voluntary Program, Says Xcel's Vice President
As customer concerns on social media gathered support, Emmett Romine, Xcel's vice president, stepped in to respond.
Romine clarified that the customers facing the smart thermostat issue are opting for a "voluntary" program that incentivizes them to save energy. Xcel's Colorado AC Rewards program provides a signup bonus of $100 and an additional $25 annually for exchanging control over their systems.
According to Romine, the program may make customers uncomfortable for a short time, but it benefits everyone and helps save the state's energy.
Experience Energy Saving Lifestyle with Long Term Benefits, Xcel Website Reads
The information about Xcel's Colorado AC Rewards program suggests that their smart thermostats are an easy and convenient way of managing cooling at home and electricity costs.
Homeowners subscribed to the rewards program assist Xcel Energy in managing electricity during peak hours and reduce the strain on the grid. According to their website, in many cases, energy customers can opt out of the rewards program, but on rare occasions, they cannot override energy emergencies.
Smart Thermostat Dangers in Everyday Life
Data Collection at Risk
Smart thermostats collect and analyze data to learn more about your everyday habits. Some thermostats identify when their homeowners are away and adjust heating or cooling accordingly to save on energy bills. Many thermostats now come equipped with voice control customer solutions, allowing consumers to control their air conditioning, heat pump, and other features using their voice.
All of this means that the smart thermostat is listening all the time. If your HVAC system data gets into the wrong hands or hackers intercept the connection allowing them to steal your data, you risk your movements being tracked and your home robbed when you're away.
Remote Management Can Endanger Thousands
Energy companies can control thermostats through remote management, allowing them to send commands, collect data, troubleshoot, or even restart the entire system. However, if a hacker gets access to the smart network, they could endanger thousands of citizens at the same time.
Imagine a hacker cranking up the heat amidst a heat wave causing injuries to homeowners and their families across the entire country. Although these situations are hypothetical since they haven't happened yet, there's a chance they could occur.
Large-scale Cyberattacks
Not all hackers want to empty your bank accounts; some have sinister intent and can wreak havoc nationwide through a mobile device or other machine.
In 2021, a hacker managed to get remote access to the Oldsmar water treatment plant and sent a command to increase the sodium hydroxide content in the water from 100 parts per million to 11,100 parts per million. Fortunately, the employee whose system the hacker had gotten into realized the breach and immediately stopped the commands to prevent any harm. If the employee did not thwart the hacker's attempt, the incident could've led to the poisoning of 15,000 people.
These types of attacks are more common than you think. In 2017, hackers launched multiple attacks at different power plants in the United States. Fortunately, the FBI and the Department of Homeland Security could intercept. However, the attack was not to sabotage the United States but to collect as much data as possible by spreading malware into critical energy infrastructure.
Can Temperature Changes Affect Your Health?
Temperature changes can affect patients, the elderly, children, and pets. Everyone tolerates heat and cold differently; temperature changes may also be dangerous for some.
Some medicines require a cool environment as heat can cause degradation. For example, diabetic patients must store insulin approximately at 36°F to 46°F. Exposure to high temperatures can cause insulin to break down quicker, making them ineffective and unusable. It can cause severe issues if you're using ineffective insulin; your blood sugar may increase, leading to serious life-threatening conditions such as diabetic ketoacidosis.
Medicines such as blood pressure medications, antihistamines, decongestants, and psychiatric medications can cause heat intolerance. Such drugs can cause affect a patient's health negatively, especially if they're already in a hot environment due to energy companies controlling their home's heating.
With the same hopeful logic, what if your cooling equipment or an air conditioner turns on during the harshest winters? Children and the elderly are more susceptible to hypothermia than other groups, leading to declining health.
The thought of energy companies losing control of their thermostats is a bit uncomfortable and worrisome.
Cyber Warfare Has Lethal Consequences
Throughout the 21st century, cyber espionage took center stage when attacks on government intuitions by different countries, including Russia and the United States, became more coordinated, targeted, and intense.
A data breach of your electronic device only affects you, but an attack on energy suppliers, power plants, water systems, and other government intuitions can do much more damage.
A city left without electricity for an hour can have lethal consequences. Every minute is precious for a patient in critical condition, and a hospital without power can affect the lives of thousands. Infrastructure attacks are no longer an anomaly but a reality we face in this fallen world.
Who Is Responsible for Your Injuries from a Remotely Managed Smart Thermostat Accident?
If you're injured due to another's negligence, you can pursue a lawsuit against the responsible party. However, if you're injured due to a data breach, it may be impossible to pursue a case against a hacker as they directly harm you. But, you can take legal action against your energy supplier.
Your energy supplier is responsible for protecting its consumer's data, and they must take reasonable cybersecurity measures to ensure the safety of their consumers' privacy. A breach in their smart network system due to a lack of network security can affect an individual or thousands of people's life.
Suppose you're injured due to rising thermostat temperatures or a data/privacy breach. In that case, you may be able to hold your energy supplier responsible for not taking reasonable measures to ensure your safety.
It can be challenging to prove that your injuries result from heat setting fluctuations. However, having an experienced personal injury attorney by your side can increase your chances of securing compensation.
Schedule a Free Consultation with Ehline Law
Ehline Law and our personal injury attorneys have more than a decade of experience helping victims recover the financial compensation they deserve to get their life back on track. Our law firm has obtained over $150 million and assisted more than 3,000 injured victims in protecting their rights and fighting legal battles.
It's not quite often that a smart thermostat can result in injuries. But many possibilities can happen. You may have children, the elderly, or the sick at home, and if you're not around during temperature changes, they may suffer declining health.
Some energy customers are even complaining that they haven't subscribed to any such reward programs and still have their smart thermostats controlled by the energy supplier. Even the best smart thermostat companies, like Nest thermostat, run the risk of a security breach. Why does the average person have to suffer to achieve the corporate goals of a company?
Ehline Law is here to ensure you live a life free of worries or some silly energy star emergency message. If you or your loved ones suffered injuries due to a company's desired temperature or a security breach, contact us at (833) LETS-SUE for a free consultation with our legal experts.