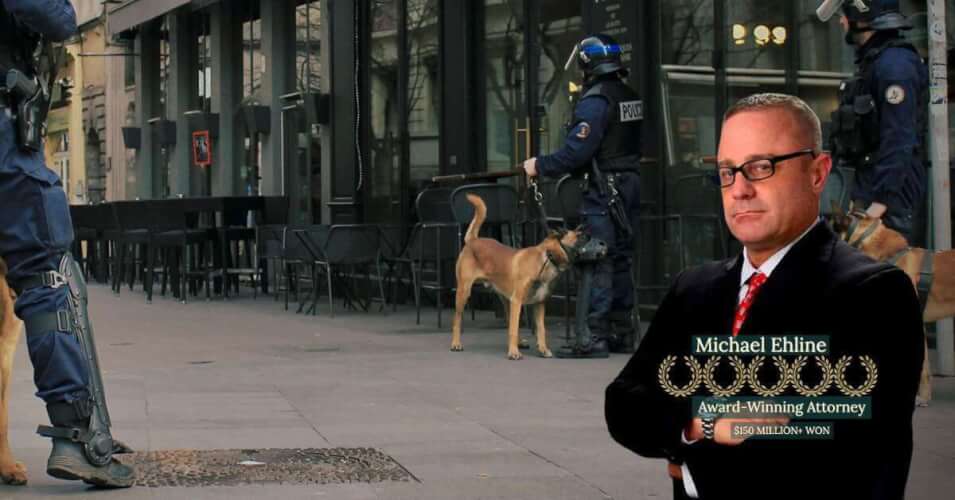 With the rise in police brutality, beatings, and dog bites to "control" citizens, law enforcement authorities in the United States have garnered a bad reputation. Such incidents went unchecked for years until the recent news of the FBI probing years of Antioch police shootings, beatings, and dog bites, which is a step in the right direction.
Ehline Law and our Los Angeles personal injury attorneys help protect the rights of injured victims and recover the compensation they deserve. You might have a valid claim if you suffered injuries due to excessive force. Contact us to learn more about your rights as a police abuse victim.
Series of Police Brutality in Antioch
A Man Pays the Price for Antioch Police Department's Mistake
In 2015, police chased down Stacy Orlando Brown Sr, who was driving a vehicle they believed had a connection with a wanted felon. Brown saw Antioch police officers running towards him, and he fled the car and hid in nearby bushes. The police unleashed a K-9 to drag Brown out of the bushes and started beating his right arm with a heavy flashlight.
Later the police found out he wasn't the wanted felon they were after. Brown paid the ultimate price of the Antioch police department's mistake, requiring 156 stitches, 26 staples, and a skin graft.
Despite severe violations of policies pertaining to the use of force and K-9 use, none of the officers involved in the incident faced any consequences, and the police department did not bother reviewing the incident.
Use of Force and Police Violence for Minor Violation
Another incident involving Vance Gattis, a man driving a vehicle with tinted windows, resulted in the officers striking him with flashlights, shocking him with tasers, and releasing a K-9 on him.
Middle School Teacher Suffers Concussion Following Brutality
In September 2019, a middle school teacher, Miguel Minjares, argued with his daughter leading her to call the police on her dad.
The Antioch police officers arrived at his home and attacked Minjares after he refused to provide his ID leading to a concussion and other injuries.
Minjares filed a lawsuit against the city and received $180,000 in compensation to settle the case.
Even Councilwoman Torres-walker Faced Humiliation Multiple Times
Councilwoman Tamisha Torres-Walker has also had several high-profile encounters with Antioch officers. The police charged her with a misdemeanor after they heard shots fired allegedly at her home.
Prior to that, the police detained her two sons for illegally riding off-road vehicles on the streets of Antioch. Torres-Walker continued to stand against the humiliating treatment she and her family faced and raised her voice for police reforms in the city.
Following such issues, the federal authorities decided to take action against Antioch officials, with eight officers facing a federal investigation. Councilwoman Tamisha Torres-walker has requested the district attorney's office to release the names of the officers under investigation.
Investigation Reveals Antioch Police Department Mired in 20th-Century Policing Tactics
To dig deep into the Antioch police brutality, the Bay Area News Group received access to police files that showed a decade of police violence against suspects without any internal review conducted by the police department.
Nate Gartrell, a Bay Area News organization member, reported that the files revealed multiple cases of officers using excessive force, violating policies, and using their dogs without warning, especially on individuals suspected of non-violent crimes. Documents showed how police used heavy flashlights with impunity, and the records portrayed the Antioch police mired in 20th-century policing tactics.
The Antioch police records suggest one of the country's highest incidences of K-9 bites, with 49 dog bite incidents from 2019 to early 2022. The severity of the incidents stands out compared to other police dog bite incidents across the country. It seems that the police department has allowed its officers to apprehend suspects using dogs forcefully.
Unlike other cities where police officers implement find-and-bark tactics, Antioch officers are acting negligently and not showing restraint when required.
Police Brutality Targeting Black and Latino Communities
The East Bay city has seen a rise in police brutality since the demographics changed as the white population moved out and the Black and Latino residents moved in. The law enforcement authorities seem to "control" the community with an iron rod.
FBI Probe Sees Dismissal of Dozens of Criminal Cases
Currently, it is not known precisely what the FBI investigations are about. Since the FBI and the federal criminal grand jury started their probe into the Antioch police department, court records show the dismissal of dozens of federal and state criminal cases involving suspected officers.
Civil rights attorneys believe that the police department that has long resisted reform is now facing new pressure.
Antioch Police Department Sees a Change in Police Chief
The newly appointed interim police Chief, previously responsible for implementing police reforms in recruiting and hiring for San Francisco, is looking to change the abusive policing tactics in Antioch and believes that the lack of internal oversight is the underlying problem. When there is no accountability among police officers, brutality, shootings, and dog bites go unchecked.
In a recent interview, Torres-Walker expressed how the Antioch police avoided discipline for years. However, with the current FBI probe focused on Antioch and the nearby Pittsburg area, she is optimistic and believes the city government may finally help reconcile these challenges.
Can I Sue for Police Brutality or Misconduct?
Police brutality, perjury, sexual or physical assault, and racial profiling are examples of police misconduct for which you can pursue legal action. Depending on your case, you may have more than one police misconduct claim.
Although it is difficult to succeed in such lawsuits, it is possible. You should immediately reach out to an experienced personal injury attorney or a civil rights attorney to help determine what you should do next. A lawyer can also help determine the liable parties and hold them accountable for your loss.
If the police action deprived you of your rights mentioned in the constitution (Fourth and Eighth Amendments) and you can prove the harm or excessive use of force, you may have a section 1983 claim. In such cases, if the police acted maliciously, you may recover punitive damages.
However, it is not so simple due to qualified immunity, which protects police officers from liability, making them only accountable when they violate someone's rights as "clearly established" through existing case law.
The immunity does not protect a police officer that acted willfully in an unlawful manner. Speaking to an experienced civil rights attorney can help assess whether you have a legitimate case.
Schedule a Free Consultation with Ehline Law
If you suffered severe injuries from Antioch officers or are a police abuse victim, contact us at (833) LETS-SUE for a free consultation.
Although most police cases are civil rights cases, in some situations, these can also create grounds for personal injury lawsuits against the officer or the police department. Our experienced personal injury lawyers will help determine whether you have a valid case and discuss with you your legal options.