Long Beach Truck Accident History
---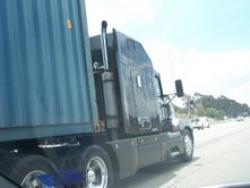 Long Beach has a storied history of trucking accidents. Knowing the inherent risks of visiting, working, or residing here remains necessary. So this helps in your deciding the best strategy and tactics for negotiating the geography.
The Inherent Motoring Risks of Traveling Through Long Beach?
One exceptional case in the news presented the issue of a poorly strapped-down trailer load in this beach community.
But this led to a cargo spill at freeway speeds. This sad case resulted in mass fatalities. In another instance, an overloaded, poorly maintained truck was wrought in the wake of destruction. In that case, the behemoth lost its brakes and steering control.
So knowing the pitfalls means mitigating or eliminating them. First, this town is a magnet for all types of travelers. Hence, it is also world-famous as an international shipping and receiving center. Because of this, it imports and exports large, movable goods and products. Thus, big rigs abound.
Do the Attractions Cause Distractions?
Most of all, Long Beach and San Pedro are also both historical U.S. Navy towns.
Hence, there are famous military landmarks everywhere. So this means that retired, elderly vets like to visit here before they pass away. For the youngsters, Eastern Long Beach became known for other reasons.
For example, it is the home of the famous rapper Snoop Dog and other big acts. So tourists with different levels of driving experience are commuting and meandering. There are folks everywhere in just about every crack and crevice of this giant.
So travelers with various levels of driving experience are commuting and meandering. There are folks everywhere in just about every crack and crevice. Most of all, this is a giant, beachside metropolis. Some things that stand out quite glaringly about this city are the Port of Long Beach. Check out the Battleship Iowa. You can't help but see landmarks and tractor-trailers parked side by side at the dockyards.
So you see it as soon as you merge on the Gerald Desmond Bridge. Check out this live-streaming video of the bridge to see the clutter and activity for yourself.
What do all these attractions and distractions mean to the ordinary passenger car commuter? Simple, there's an excessive number of 18-wheelers bottle-necked together. Trucks crowd the freeways and roads. Also, they usually stick with smaller, lighter passenger vehicles and two-wheeled motorcycles.
These lumbering transport machines are also simultaneously ingressing and egressing. Activity abounds throughout this port of call along tourist routes. Also, there are new vehicles sharing roads with commuter buses and electric trains. A lot is going on here all at once.
Of particular interest, shipping containers abound on the docks. So naturally, union workers, truckers, military, and DHS vessels are a seaside presence. Also, there are beautiful beaches, the Queen Mary, and Scorpion Submarine. For kids, there is the Aquatic Marina.
Last, these are all the main tourist attractions (Read More.) Thus, a lot is going on here. When combined with commercial shipping, accidents are unavoidable. Due to speeds and vehicle sizes, sometimes they are fatal.
Shipper Cutting Corners to Stay In Business?

So truckers, regular seaside workers, and pleasure seekers all take the same freeways. Many use expressways like the 710 Freeway, for example. The higher costs of commercial trucking regulations, fuel, maintenance, and repairs are painful. So this means that shippers then get caught cutting corners.
Thus, they may cook the books and logs to feed their families. Proud truckers want to stay off of unemployment insurance and bread lines. Unsurprisingly, the lack of enforcement of safety regulations is also a reason for truck crashes.
But knowing this information beforehand will help protect you in many ways. In particular, it could save your life when faced with this type of detriment while on the road. So the main takeaway from all of this is that one must be extra vigilant when in this city.
Holding the Liable Parties Responsible
Holding the guilty party (ies) responsible is often more possible when hiring a lawyer. Hence, experience and dedication to justice hold the at-fault party accountable. Also, it relieves some of the stress and anxiety attendants to those suffering without compensation.
The first of many ways a competent lawyer can help is to stand in your shoes. A skilled attorney can also file a liability claim in a timely fashion. This first step will allow the injured accident victim to seek compensation. And this is for the expenses that they are facing.
Thus, they work to obtain money for things like medical bills. Hence, they work quickly to earn money for pain and suffering, loss of wages, and other costs. These are what they get due to the injuries sustained. These are things the plaintiff can seek when negligence has played a role.
Injuries and Compensation in Trucking Accidents
When you have gotten injured, many parties can be potential defendants. Thus, drivers, shipping companies, and the city may have caused or contributed to the incident.
So the ill effects of congestion, noise, and pollution pale to negligence. A driver or company is careless and crashes their vehicle. Examples would be aggressive truckers tailgating. The other thing that happens is another tractor drifts and saves fuel costs.
Another typical case our lawyers see is a trucker on drugs or alcohol who falls asleep or road rages. Also, it can become worse, depending on if the drugs are uppers or downers. Whatever the bad behavior, this can be considered negligence.
In some cases, even intentional conduct. So right after a sad incident, it is essential to speak with a lawyer. You need to understand about filing a compensation claim. You cannot sleep on your rights. Justice delayed equals justice denied.
Claiming a government entity could be time-barred. You must identify quickly if a road defect, substantially changed condition, or pitfall. Hence, you need to know if others caused or contributed to the injuries. Last, only a great lawyer knows the precise steps to take.
Lawyer Shopping? Have Documentation Ready
So remember that when you approach a firm with information, what you tell them is always confidential. They have an ethical duty to keep everything you discussed with them and showed them private. When speaking with potential legal counsel, it is crucial to have any documentation.
Adjusters will want you to include the police and Traffic Collision Reports. This particular report is official documentation about the events of the accident. So it can often include witness statements about the wreck.
It is not unusual for insurers to attempt to avoid the guilt of negligence. These trucking and insurance companies are often very sneaky when covering up evidence. So they are experts at shifting the blame back onto the victim. Documentation can help remove any leverage from the insurance company and its attorneys. Hence, it is critical to make a report after a truck accident.
Passenger Car versus Truck
When small cars don't stand a chance when crashes occur between passenger vehicles and tractor-trailers, small cars are most at risk of getting damaged. Animal transporters and long-haul rigs are just large vehicles. Almost always, the injuries can be far-reaching.
As noted above, these injuries can be life-threatening or even death. When mishaps result in death with proof of negligence, it's a "wrongful death." The injured victim of a negligent truck accident's entitled to compensation. So, is the family of someone who suffered a wrongful death also entitled to compensation?
Filing Your Long Beach Truck Accident Claim?
Filing your negligence or liability insurance type claim after a crash is critical. But doing it right means that you need to have an actual truck accident attorney. Also, you need one that is a part of the Long Beach community.
These attorneys know both the local and state laws. These are the rules for mastering a successful recovery for a bad-off client.
These legal professionals will know how to handle your case in your best interest. Also, when a claim gets made that involves insurance companies, adjusters will play games.
This can result in the victim making many trips back and forth to court. But the result is a drawn-out legal battle.
One of the newer tactics is to allege the truckers are "independent contractors." So even though they are shipping company employees, the argument gets used.
These tactics are what defendants rely upon to shield the assets of shippers, skirting safety regulations.
Some Factors Making the Trucker a Plaintiff
The trucker himself may be the victim of toxic chemical exposure. Sometimes it could be a crushed foot from a broken tail lift or other dangerous work conditions. Other times, wage and hour violations are the issue.
Getting burned is a severe risk. Also, 6.5% of truck crashes result in open flames. (View Source.) Of course, the vehicle's driver is usually consumed or badly burned in these incidents. Moreover, it is not always the other vehicles in the chain.
Cross-Claims
Sometimes the truckers themselves may join in your case as co-plaintiffs or cross-defendants. They may be suing their bosses for denied retirement benefits. Bus, it could be a claim based on health care access and workman's compensation.
These cases can quickly become very complicated. Hence, no way should untrained victims or scorned truck drivers take this on alone.
Getting a firm with a local presence and experience increases the chances of settling out of court. Hence, they will seek the maximum amount of compensation possible. But this is on behalf of injured victims against the negligent driver. This means a lawyer is required.
Speak With a Great Lawyer About Getting Paid for Your LBC Truck Crash Today
Great lawyers also go after the truck company and other defendants. So this payment can include compensation for medical bills. Furthermore, it can also pay for lost wages and pain and suffering.
More Resources:
"California bus crash: FedEx truck was on fire before the fatal collision, witnesses say": https://www.dailynews.com/general-news/20140412/california-bus-crash-fedex-truck-was-on-fire-before-fatal-collision-witnesses-say
"La vida de los choferes portuarios": https://dinero.univision.com/economia-y-negocios/noticias-economicas/article/2009-03-31/choferes-portuarios-inmigrantes-victimas-de
"Death Toll Rises": https://latimesblogs.latimes.com/lanow/2012/11/death-toll-rises-to-3-in-long-beach-truck-crash.html
"710 Partially Reopens After Crash": https://losangeles.cbslocal.com/2012/11/20/long-beach-710-freeway-partially-reopens-following-big-rig-crash/.
"Truck Driver Death – Port of Long Beach": https://www.presstelegram.com/technology/20090129/truck-driver-killed-at-port-of-lb
"UPDATE: Univision's Primer Impacto Investigates Dangerous Road for Port Drivers" – PRNewswire-USNewswire: https://www.prnewswire.com/news-releases/update-univisions-primer-impacto-investigates-dangerous-road-for-port-drivers-61993832.html