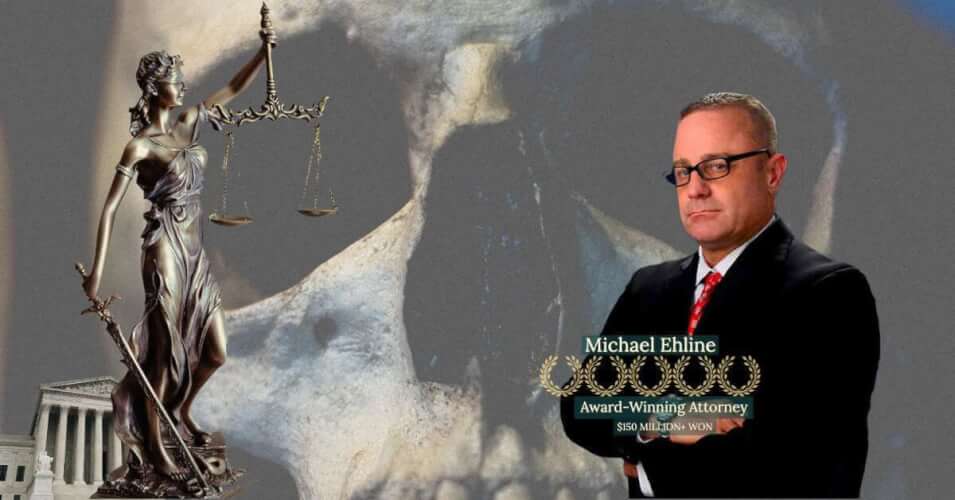 A wrongful death case could provide financial compensation after a fatal event that is related to negligence. The amount you receive can help cover funeral and burial costs, medical expenses, lost wages, loss of consortium, and the decedent's pain and suffering. I am Los Angeles personal injury lawyer Michael Ehline. I am a top-rated Los Angeles wrongful death lawyer. Below I am going to explain how we attorneys divide a wrongful death case settlement.
Some cases result in punitive damages to penalize the defendant for committing the wrongful act.
California civil jury instructions state that the decedent's estate and family member's compensation might differentiate during a wrongful death lawsuit.
Economic and non-economic losses could be recoverable by surviving family members. On the other hand, the estate can only recover financial losses such as hospital bills. It's a great idea to give Ehline Law Firm a call, and a professional personal injury lawyer can assist you with your case.
We offer a sense of honor you can only understand if you have served.
Distribution of a Wrongful Death Settlement Among Family Members
Family members or a surviving spouse have the right to dictate the division of a wrongful death settlement in California. Heirs and family members who file the wrongful death claim make a joint decision regarding each person's amount.
Any children or surviving spouses are entitled to the majority of the settlement proceeds. A dependent parent may also receive a share.
It is primarily up to the surviving family members to assign settlement proceeds themselves.
If the family cannot agree upon settlement distribution, the California courts have the right to distribute the settlement among family members.
The court needs to decide how to divide the settlement after it assesses the situation—first, the financial needs of everyone eligible for the payout receive an inspection. The individual's economic conditions set the payout amount during the evaluation process. Education, housing, and support are all considered when determining who gets the most significant portion of the settlement amount.
Families often use mediation to decide on a settlement division strategy. Conciliation involves an unbiased third-party judge: parties who believe they have a claim to share settlements and attorneys (if desired).
Taking settlement issues to a court trial can often take longer than mediation.
However, if all parties cannot make a binding decision, the matter must be dealt with in the California courts.
Ehline Law Firm Can Assist With Your Wrongful Death Claims
California's wrongful death statute can be confusing to understand. As a decedent's domestic partner, you can claim future financial support.
Wrongful death cases happen more often than you think. Many families suffer massive non-economic losses when a person passes by a criminal death action.
That is why I, Michael Ehline, have dedicated my life to becoming a personal representative for cases of this nature. I am a retired marine that taught himself law by shadowing judges and mentors, and I am one of the best in the industry. Furthermore, I can offer you legal advice for any judicial matter.
Known as the pre-eminent expert on American common law apprenticeships, I am qualified to assist in your California wrongful death case.
You can contact us for a free initial consultation to discuss wrongful death actions imposed on your family.
Let's get the proper compensation and recover economic losses to arrange a structured settlement plan. We maintain a professional attorney-client relationship while dealing with sensitive issues.
The responsible party is liable for economic damages; in most cases, their insurance company would cover the settlement.
Conclusion
A loved one's death can cause massive grief and mental anguish to minor children and other family members.
Wrongful acts the victim incurred could open up the possibility of seeking compensation.
Contact us at (213) 596-9642 toll-free to speak to an attorney at Ehline Law Firm. We treat eligible family members with the utmost respect while delivering exceptional legal service.