The two drivers remained at the accident scene until the California Highway Police arrived, but by the time they reached the motorcyclist, he was already dead.
Losing Control on Southbound 101
On January 28, 2022, emergency services received a call at 1:13 AM reporting an accident on Southbound 101. A forty-seven-year-old man named Melo and a woman were riding on a Harley Davidson in the area of Highway 87 when Melo lost control of his motorcycle and crashed into the center median on the highway.
The force from the collision was enough to eject both the rider and the passenger off the motorcycle and onto the roadway. Melo died at the scene of the accident, while the woman passenger was immediately taken to a nearby hospital where the medical staff tended to her significant injuries.
Motorcycle Accidents Happen More than You'd Think
The three accidents mentioned above are just a few examples of daily motorcycle accidents in California. Many of those are less severe or go unreported and therefore do not make it to the news. You may be following the driving rules and still end up in an accident due to the mistakes of other drivers.
Although personal injury attorneys are there to help you recover compensation for any loss in the event of an accident, we believe that prevention is always better than cure. To protect yourself from a collision and avoid damage from an accident, we recommend practicing defensive driving.
Defensive Riding Tips for Motorcycle Riders
Here are some defensive driving tips that you can practice while riding your motorcycle in California.
Avoid Distracted Driving
Distracted driving is the leading cause of motor vehicle and motorcycle accidents in the country. When riding a motorcycle, it is important to keep your attention on the road and avoid all distractions. This could include reading billboards, admiring the Californian scenery, or talking on your cell phone.
Exert Caution When Lane Splitting
Although lane splitting is legal in California, many motorists do not expect an incoming motorcycle during slow-moving traffic or do not see them approaching due to blind spots, leading to serious accidents. To prevent motorcycle accidents when lane splitting, follow all the rules and guidelines and look for drivers switching lanes.
Equip Yourself with Protective gear
Recently available statistics report that in 2019, there were about 79,000 injuries and 5,115 deaths from motorcycle accidents in the country. The crash rate per 100,000 vehicles registered in the US is 15.06 for cars, which pales in comparison to the staggering 59.49 for motorcycles. During motorcycle accidents, car drivers often leave unharmed, but it is the motorcyclists that receive serious injuries.
Equipping yourself with protective gear may not prevent accidents with other vehicles, but it can reduce the risk of serious injuries or even death. According to the CDC, wearing helmets reduces the risk of death by 39% and head injuries by 67%. It is mandatory for riders in California to wear a US Department of Transportation-compliant motorcycle helmet.
Protective clothing like motorcycle gloves, boots, and jackets can reduce the impact of a fall and minimize or prevent abrasions or lacerations.
Maintain Your Motorcycle
Keeping your motorcycle properly maintained can help you avoid accidents with other drivers. A good working brake has a lower stopping distance than poor or failed brakes. The same goes for tires. A worn-out tire does not provide sufficient grip and can cause motorcycles to skid or slip, causing injuries to the rider.
Checking tire pressure daily is also a huge part of motorcycle maintenance, as optimum tire pressure will result in a well-balanced motorcycle. Low tire pressure can affect that balance and can result in wobbliness, increasing the chances of a motorcycle crash.
Increase Your Visibility to Other Vehicles
The small size of a motorcycle, when compared to an average car, affects its visibility on the road for motorists. They tend to "overlook" motorcycles. In the majority of motorcycle accident cases, drivers claim that they did not "see" the motorcycle.
There are many things motorcyclists can do to ensure maximum visibility while on the road, such as using lights at all times, wearing colored clothing, and striking helmets. If you're purchasing a motorcycle, make sure it is a brightly colored one, as it can also increase your visibility.
Avoid Collisions at Intersections
A lot of motorcycle crashes occur at intersections because many drivers and riders are unaware of the right of way. A car at an intersection turning left can increase the risk of a collision with a motorcyclist in the left lane.
When a vehicle is approaching from the opposite direction and preparing to turn left, slow down if you see that the oncoming vehicle might hit you. Slowing down and making eye contact can let other drivers know that you're giving up your right of way.
Follow Guidelines for Lane Sharing
Lane splitting may be legal in California, but it is mandatory for all motorcyclists to follow the guidelines set by the California Highway Police. Avoid driving with another motorcyclist in the same lane or parallel to another motorcyclist practicing lane sharing, as it'll reduce your options to evade any incoming vehicle or object. Drive slowly and carefully when lane splitting, and always be on the lookout for any vehicles pulling out of their lanes.
Exercise Caution When Overtaking
Around 20% of motorcycle accidents occur due to overtaking, either because of their own errors or because of the other driver. There are special markings on the road that allow drivers and riders to overtake the vehicle in front of them, but to do that, one must exercise extreme caution and be careful of oncoming traffic.
A driver who decides to take a sharp turn may not be aware of the motorcyclist right next to their car. This is because the motorcyclist may be in the driver's blind spot at the time. In such situations, the rider must be ready to brake or evade the turn to avoid an accident and serious injury.
Stay in the Safest Lane
The safest lane on the multi-lane interstate highways is the one on the extreme left, while the one on the extreme right is for vehicles merging into the highway or exiting it. Middle lanes are also considered safe as they provide enough escape routes, but these lanes always experience heavy volumes of traffic.
Contact an Experienced Motorcycle Accident Attorney Today
Defensive driving is not mandatory, but it plays a vital role in protecting the rider or driver from any adverse situation. If you end up in an accident due to somebody else's fault, contact us at (213) 596-9642 for a free consultation, as you may be eligible for compensation.
Ehline Law has had superior results due to the wide range of skills and knowledge our attorneys bring to the table. With over three decades of collective experience, Ehline Law has helped protect thousands of injured victims and recover more than $150 million in compensation from negligent parties and insurance companies.
Here are some of the motorcycle accident cases Ehline Law has won over the years:
$10.5 million – Lanham v. Doe Texas-Based Oil Company (illegal u-turn collision)

$8.7 million – Doe v. Doe (spinal cord injuries)

$3.265 million – Altamirano v. Harrison
A motorcycle accident can leave you with serious injuries and life-long complications. It can affect your way of life and those around you, both physically and emotionally. Our attorneys are highly committed to recovering fair compensation to help you pay for your medical bills and move on with your life.
Contact us for more information on how we can help with your case!
---
Michael Ehline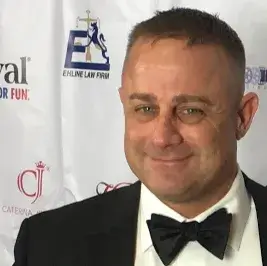 Michael is a managing partner at the nationwide Ehline Law Firm, Personal Injury Attorneys, APLC. He's an inactive Marine and became a lawyer in the California State Bar Law Office Study Program, later receiving his J.D. from UWLA School of Law. Michael has won some of the world's largest motorcycle accident settlements.
---
Recent Personal Injury News
Check out our most recent auto defects, accidents and more, including the famous, infamous and everyday people wounded by at fault parties around the world.