Electric Scooter Traffic Laws
All American states manage electric scooters differently, and demand scooter riders follow several rules. These rules will help to keep them safe and determine liability if they get in an electric scooter accident. Some of these rules prevent scooter drivers from exceeding a certain speed limit or driving on specific highways to ensure everyone's safety.
Types of Scooter Crashes
Electric scooter accidents can happen due to many factors. In the following list, we will go through the most common causes in America.
The Rider Loses Control of Their Scooter
Inexperienced riders can cause electric scooter accidents if they go through specific road hazards they're not used to, such as potholes and other unexpected roadway debris. This can cause the scooter rider to fall off their vehicle and hit other drivers, pedestrians, or objects.
A Pedestrian Is Struck By a Scooter Rider
In other cases, scooter riders coexist with pedestrians on a daily basis, making it possible for them to crash with them and cause fatal e-scooter accidents. Therefore, both parties must be aware of their surroundings to avoid these awkward and painful situations.
A Rider Is Struck By Another Motor Vehicle
Scooter drivers can also get hit by motor vehicles, which is the most common cause of fatal e-scooter accidents. These accidents are usually caused by the negligence of one of the parties, which is why they often cause highly severe injuries and consequences.
The E-scooter Is Defective
Finally, the last common reason scooter riders may get into accidents is due to manufacturing defects on their e-scooter. The most common are faulty breaks, overheating batteries, and malfunctioning software.
Proving Negligence in an E-scooter Accident
Negligence is the key factor that the lawyer must prove to win the case and hold the other party responsible for all the damages they caused. It is necessary in all cases, including slip and fall, car crashes, and even an e-scooter accident.
It consists of acting in a careless or reckless way that causes damage to another person. If all negligence elements are proven in court, the liable party must pay the scooter driver for all the damages caused by accident.
Elements of a Negligence Claim
In order to prove that someone acted negligently, the scooter driver must prove four key elements, which will be discussed in the following list.
Element #1: Duty
The first element that needs to be assessed in an e-scooter accident is the duty of care between both parties. This will change depending on the relationship between the people involved in the accident. Still, in most cases, the defendant owes the plaintiff the duty to follow specific transit rules to prevent accidents.
Element #2: Breach of Duty
The plaintiff must provide evidence that the defendant breached the duty of care by not following these rules or acting carelessly. In most cases, the negligent third party will be found guilty if an average person would have acted differently in the same situation, knowing someone could get injured from their actions.
Element #3: Causation
This element requires the scooter driver to prove that the driver's negligence directly caused their injury or financial losses, as it wouldn't be fair to charge them for an unrelated e-scooter accident.
Element #4: Damages
Finally, scooter riders can only file an e-scooter accident claim if they suffer any sort of damages that can be financially compensated, such as property repair or medical bills.
Compensation for a Scooter Accident
Electric scooters can cause highly dangerous accidents that may result in terrible damage to the scooter rider, especially if a car driver is involved in the crash. These damages can forever change the scooter rider's life, so they're 100% entitled to financial compensation. Some of the damages that scooter riders can get compensated for are the following.
What Are Economic Damages?
When in an e-scooter accident, the scooter driver can claim economic damages, which can be easily calculated, as they usually amount to a specific sum of money. Some of the most common economic damages compensated to electric scooter riders are medical treatment expenses, lost wages caused by disabilities, and property damage, as they will need to repair their scooter after the accident.
What Are Non-economic Damages?
Non-economic damages can be pretty tricky to calculate, as they are more subjective than economic damages. Therefore, only an experienced legal team will know how to calculate a fair settlement for electric scooter riders.
Some of the most common non-economic damages include loss of company, emotional distress, pain and suffering, partial or complete disability, etc. This type of retribution is meant to compensate for the pain suffered by the scooter rider after the scooter crash.
Electric Scooter Risks
Although electric scooters are highly beneficial for the environment and easy to use, they can also be pretty dangerous. They offer little to no protection against situations such as a scooter malfunction or serious accidents.
E-scooter riders need to wear helmets, as these vehicles are completely open, which makes them vulnerable to road hazards, such as fallen branches, loose handlebars, and poor weather conditions. Therefore, e-scooter riders can suffer life-threatening injuries, such as bone fractures, soft tissue injuries, and many other serious injuries.
Seven Tips for Electric Scooter Safety
Although driving a scooter can be dangerous, it doesn't mean everyone should shy away from them. That's why we gathered the following tips that any scooter rider should follow to ensure they stay as safe as possible.
Wear helmets. Wearing a helmet can save the life of a scooter rider, as it is the most simple and effective way of preventing brain injuries.

Wear other protective gear. Helmets aren't the only thing that should be worn to protect scooter drivers from getting injured. They must also wear other protective gear, such as knee pads, wrist guards, and elbow pads.

Don't drive while drunk. One of the worst mistakes a scooter rider can make is driving under the influence. Therefore, they must only drive while sober or call a cab if they're too drunk to reach their destination.

Take it slow. Learning to drive a scooter isn't easy, so the best thing to do is to go on test rides and take as much time as possible to learn how to properly operate it before using it on the road.

Get training. Los Angeles County offers an electric scooter pilot program that allows riders to learn everything they need before driving, such as the safety measures they need to follow and the importance of not using vandalized scooters.

Be alert. Los Angeles County is a highly concurred area, so you will be sharing the road with thousands of other vehicles. Therefore, you must be as alert as possible to prevent potential accidents.

Follow the California vehicle code section. Researching the California vehicle code section is crucial, as it states all the rules you need to follow to be safe on the road and prevent personal injury accidents.
What to Do After an Electric Scooter Accident
Once you get in an electric scooter accident in Los Angeles County, several steps must be followed before filing a personal injury claim.
Call 9-1-1
The first thing you need to do is to make sure everyone is safe. Please don't leave your scooter lying on the road. Instead, push it aside to avoid further complications. Then, you must call the police before leaving the scene so that they can create a police report. This will help your personal injury lawyers get factual information about the accident and create a strong case against the liable party. Still, remember there can be several liable parties, such as yourself, the other driver, the scooter company, etc.
If you decide not to call the police, remember you have 10 days to file a police report if you wish to get compensated for your damages. Otherwise, you will have to pay for everything out of your own pockets.
Seek Medical Attention
You must immediately get medical attention, as most injuries don't appear right away, and you could be in danger. This will also give you the documentation you need as proof of your injuries, which will help to determine how much money you should get reimbursed.
Collect Evidence
Once you've called the police, the best thing you can do is to collect as much evidence as possible and prevent yourself from getting into another accident. Some of the information you should document is the name and contact information of the other party's insurance company, their license plate, names of all possible witnesses, photographs, and videos of all the injuries sustained from the accident, etc.
Contact a Personal Injury Lawyer
Finally, the last step is to hire an experienced attorney to help you get the maximum compensation possible for your case. A personal injury attorney will have the knowledge to identify the negligent party and negotiate with the insurance company to ensure their client gets the justice they deserve.
You also don't have to worry about the price, as they will only charge you if they win your case, which will take a massive weight off your shoulders.
The best personal injury lawyer will also know how to manage themselves in court and provide the needed evidence to effortlessly win the case and defend their client against the other party's attorney.
Contact Ehline Law Firm
Personal injury cases can be frustrating to deal with, as you already have to take care of your injuries and the recovery process. That's why here at Ehline Law, we have a team of professionals willing to fight for you. Get a free consultation by simply calling the number at the bottom of this page.
We are here to help you relax and take care of all the tedious legal processes, such as filing the claims and negotiating with the other party. Therefore, we are your best option for these cases!
---
Michael Ehline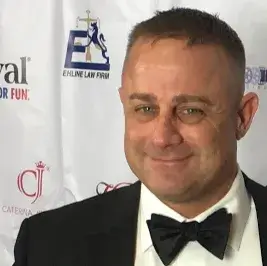 Michael is a managing partner at the nationwide Ehline Law Firm, Personal Injury Attorneys, APLC. He's an inactive Marine and became a lawyer in the California State Bar Law Office Study Program, later receiving his J.D. from UWLA School of Law. Michael has won some of the world's largest motorcycle accident settlements.
---
Recent Personal Injury News
Check out our most recent auto defects, accidents and more, including the famous, infamous and everyday people wounded by at fault parties around the world.