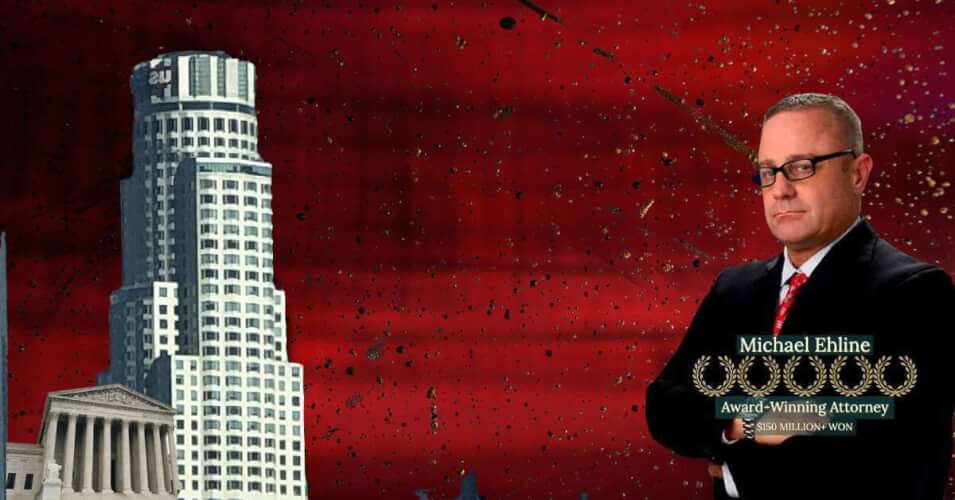 Distinguishing Wrongful Death From Crimes
The USA Personal Injury Blog. Wrongful Death Attorney Providing Wrongful Death Claim Expertise To Grieving Families and Their Close Relatives.
Technically, no, a "wrongful death" is not a crime, based upon the statutory definition.
Now that you know a civil wrongful death is not a crime let's find out why from a leading Los Angeles wrongful death lawyer, Michael Ehline, Esq. Our leading wrongful death lawyer will file a wrongful death lawsuit when someone else causes a death, usually due to negligence, leading to an accidental killing.
The same set of facts evolving from civil action for wrongful death can also be the nexus of criminal charges and criminal prosecution for an unjustifiable homicide your wrongful death attorneys must prove under the wrongful death statute.
As the Legal Information Institute (LII) explains, a wrongful death action is a civil claim in which surviving family members file wrongful death claims with a different burden of proof than a civil matter.
Your experienced wrongful death lawyer can file a wrongful death claim if an untimely death results from one of the following:
Medical malpractice – occurs when a doctor or medical facility makes a mistake that causes the death of a patient.
An automobile accident.
Exposure to toxic substances.
Defective products or machinery.
Dangerous conditions on property owned by an individual or a city include an uncovered maintenance hole cover or a spill that causes a fatal slip and fall accident.
A death resulting in a civil claim generally brought by parents of minors, adult children, and siblings will have vastly different burdens than for someone found guilty of a murder of a deceased individual. Sometimes, extended relatives, including cousins, aunts, uncles, or grandparents, will be treated as viable claimants who can bring a wrongful death suit. Usually, the more distant the familial relationship is, the harder it will be to sue, whereas a prosecutor is a disinterested state actor acting on behalf of the state.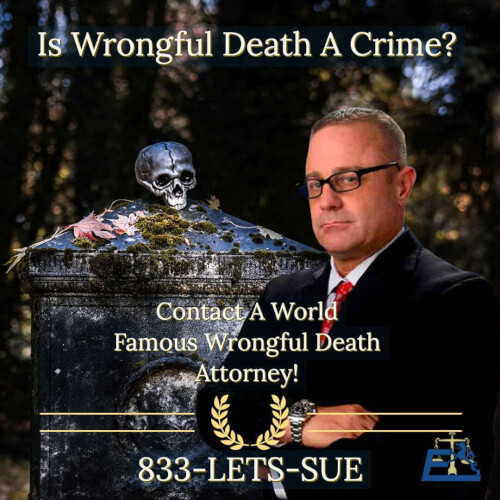 Another stark difference is the remedy in a civil claim; the surviving family members can seek damages for the decedent's death, including special, economic damages (Ex: lost potential future earnings, etc.), general damages for things like pain and suffering, and even punitive damages can be sought against the party or parties held liable. Each defendant pays their fair share under California's pure comparative negligence law.
Video – Is A Crime a Tort?
"A tort is not a crime, but a crime can come from a tort. In other words, a battery is a tort, but it's also a crime. And the definitions are slightly different, but they basically both are the same: you were punched or you were hit or you were touched improperly, and that caused damages or harm.

Thanks for watching our video Tort Law Terms. It is not intended as legal advice. Each state and jurisdiction may have its own laws. This video series is intended to provide general information as would be taught in a law school.

To learn more about making your own video, contact and to learn more about personal injury law generally, or to update or make corrections, contact attorney Michael Ehline at (213) 596-9642."
On the one hand, a great prosecutor is a passionate lawyer who has the state seeking jail and criminal fines as his client. On the other hand, a plaintiff is a close family member seeking money damages financial recovery (Ex: Lost earnings from the decedent's death) with an aggressive legal representative.
When is This Type of Death a Crime?
When a person dies due to somebody else's negligence or perhaps unwillingness to act in the situation, there is a like passion accident killing, and you may file a personal injury claim in a civil court. The survivors will have more than a few questions.
Our catastrophic injury firm has vast experience and can handle any civil lawsuit seeking damages when the defendant breached a duty that the defendant owed the decedent or you, causing a deceased's death. So we take the civil suit portion of a negligent homicide case, whether the accused person is convicted of a crime.
We can work with the criminal litigation team and criminal court to make sure any crime victims receive criminal court restitution, which is not part of a civil court claim for a wrongful act leading to the negligent killing.
Also, we can work with the personal representative of the estate of the deceased to make sure any medical and funeral expenses and other things are accounted for in a survival action out of the decedent's estate.
We will also keep our conversations, and specific information protected as part of a confidential relationship with your free case evaluation for any death caused, even circumstances involving an existing murder case with another person, guilty or not.
We'll never share any sensitive or confidential information about another person's death or your present medical bills or psychological state from losing the deceased person unless it's to meet your burden of proof and with consent after consultation as part of the attorney-client relationship. If you may have personally encountered this case with a loved one for any reason, then you must contact Ehline to schedule and claim a free consultation with our lead counsel, Michael Ehline, to file your wrongful death lawsuit for a civil court.
Of course, there are various other possible causes of death. In a wrongful death case, the defendants are the people and organizations allegedly responsible for the damages that led to the end. These might include a doctor, hospital, manufacturer, property owner, driver, or employer.
Wrongful Death Law
Here's how it works, briefly. California's death statute of limitations gives you rights to compensation within a limited time, whereas there may be no statute for murder. Be careful and look for any red light raised when seeking a decent representative. You must hire a professional advocate to gather enough evidence beyond a reasonable doubt in a civil court to prove your claim and help you get the financial support you need to cater for burial expenses, medical treatment costs, putative spouse, and recover damages.
Suppose the authorities have sufficient evidence that the negligent party (defendant) intentionally caused the victim's death. In that case, criminal charges may be filed against them in a formal, verified complaint, and criminal penalties shall follow for breach of peace, etc. If this happens, it will no longer be a civil case the family files but a "criminal" case.
Our injury law firm can help you evaluate your California wrongful death as our first step, according to California civil jury instructions. Meanwhile, murder lawsuits are criminal cases, which means the state files and brings the case on the basis that the defendant or an entity committed an illegal act (negligently killed someone) in society, subjecting the defendant to incarceration.
Criminal cases are between authorities and defendants, while civil lawsuits are between citizens and companies/organizations. We file criminal cases to determine if someone, including third parties like an organization, has broken the law. Civil cases are for the sole purpose of obtaining financial compensation for the injuries incurred based on the severity of the act.
Settlements in Wrongful Death Cases
Wrongful death damages demand that you prove that the defendant caused the death of your family member. That means the evidence must point to the responsible parties as to the cause.
For more details on California law as it applies to your potential wrongful death claim that suits your situation, receives a free case review today.
The amount that the deceased's family can claim in wrongful death lawsuits depends on the degree of negligence on the part of the responsible parties, the deceased personal's life expectancy but for the failure, and the total amount of money lost as a result of the death, determined by specific information related to the actuarial life of the dead person.
For example, a wife losing a husband will lose her companionship. If the deceased was a substantial earner and provided for their family, the heirs suffered significant losses because that individual could no longer work and sustain the family after their loved one's death, ruining the quality of life.
Many considered factors affect the amount of financial compensation for wrongful deaths. You need to start an attorney-client relationship with an Ehline lawyer now.
Why Choose Us To File Your Wrongful Death Claim?
If somebody has suggested talking with a lawyer after someone you love was killed, you might have found the idea ridiculous. How can a lawyer bring back your loved one? While it's true that your loved one's death is not reversible, our caring and expert lawyers are ready to assist you in your wrongful death lawsuit.
Think about how much it costs for funeral and burial services – it can number in the thousands of dollars out of your pocket if you haven't prepared for this financial obligation in advance. This is especially in cases of wrongful death where the deceased was young; they may not have thought to set aside an insurance policy to cover those costs for the survivors left behind.
So who ends up paying them? Your family, and with a lawyer on your side, you can see that the person or people responsible for this tragedy compensate you.
Finding a Wrongful Death Lawyer
Once you have decided to hire a lawyer, many people look through paid attorney advertising, lawyer referral service, or other ways to get a personal representative. You may not find complete healing, but the process can help you with closure and compensation in a financially difficult time. Talk to us today for free to help you review civil lawsuits and your injury case.
A wrongful death lawsuit can be complex, and insurance companies fight hard to avoid paying too high a sum in the settlement. For this reason, you need a lawyer to obtain the highest possible settlement as the plaintiff. We have won over $150 million on behalf of satisfied clients.
You can receive a free consultation by dialing (213) 596-9642. Or you can use our online consultation form to get faster legal advice from a charismatic and compassionate lawyer to file a wrongful death case.
You deserve the best lawyers in your city. Our award-winning firm isn't famous for winning clients millions. Our talented legal team of law clerks, paralegals, and highly trained accident lawyers understand what wrongful death grieving means.
We're a veteran-run firm that takes "do or die" to a different level! Michael Ehline advocates for self-defense rights and uncovering government corruption. You can surrender your rights to receive total and fair compensation or call us.
We are available 24/7 to listen to your problem with compassion and Saudade. You or your loved ones can reach out to our superior injury attorneys today by dialing (213) 596-9642.
A top-notch, award-winning fatal accident lawyer is standing by to answer whatever essential questions you may have about wrongful death lawsuits. With over 15 convenient locations in California, you can come to us, or we can come to your home, hospital, or workplace.
Main Los Angeles Location
633 W 5th Street #2890 Los Angeles, CA 90071 (213) 596-9642.