Posted on Defective Products Blog / Blog / MMA Pro and Firefighter Tire Explosion Case
The Wrongful Death Accident was Very Serious
He was immediately transported to Ochsner LSU Hospital post-incident; however, this was the hospital where he later died after succumbing to his life-threatening injuries.
A Military History and Community Server
Before becoming a northwest Louisiana firefighter, Jessie served in the U.S. Army for four years and was an active part of the Army Reserves. Furthermore, he had a non-profit that gave scholarships to young students.
The MMA World Lost a Legend
Henry had a 2-2 record as an MMA fighter. His last victory came in against Andy Carrington in April – he won by a split decision. Henry's previous match was against Craig Grove.
His Family was Ripped Apart
He was survived by his 9-year-old daughter at the time, Karmen. His uncle also worked as a firefighter in Texas. We offer our condolences to his family and friends.
Commentary: Firefighter Jessie Henry Dies on Dec. 18
Authorities haven't said what kind of maintenance he did when working that day. However, Henry's family members told sources that a tire sensor hit Jessie in the head.
Attorneys Are Looking at This Case
The attorneys at Circle of Trust have been working with wrongful death, personal injury, and product defect law for eight years. Thus, the nature of the incident brings numerous questions to mind.
Many Questions to Ask
Did the South Bossier Parish Fire District 2 in LA have a normal maintenance program in place prior to the accident? Was the maintenance process fully overseen and followed? What was the nature of the maintenance that Henry was doing? Henry worked at the station for four years, according to the report – was adequately qualified to conduct the work he was doing when the tire exploded? What is the tire's model, make, and identification number?
Government Mandates
The government mandates that all tires have an identification number indicating the manufacture date and location. Every tire in America can be traced back to the specific facility that was created using that ID number.
The Verdict: Jessie Henry MMA Pro and Firefighter Tire Explosion
A Fire Truck Tire Exploded – Someone has to Pay
Jessie Henry was a brilliant firefighter, killed in an on-duty wrongful death accident on Saturday, Dec. 18. This truck explosion case may appear to be a tragic accident, yet it could be because of a manufacturing flaw. A complete inquiry must be made on the tire and every tread piece. The surviving family members may be entitled to significant compensation as part of a products liability lawsuit.
Citations:
Gray Media Group

CBA News, Las Vegas
---
Michael Ehline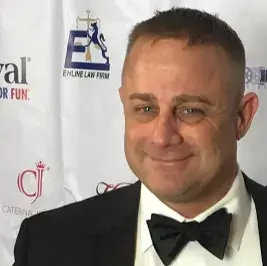 Michael is a managing partner at the nationwide Ehline Law Firm, Personal Injury Attorneys, APLC. He's an inactive Marine and became a lawyer on the California State Bar Law Office Study Program, later receiving his J.D. from UWLA School of Law. Michael has won some of the world's largest motorcycle accident settlements.
---
Recent Personal Injury News
Check out our most recent car accident blog posts from celebrities crashing cars to everyday people getting run over, rear ended or otherwise colliding.