He would go on to pursue an education at Stanford, graduating Phi Beta Kappa. Following this, he attended Oxford as a Marshall scholar, after which he would take on Harvard Law School. During this time, he went on to be a law review editor and managed to win a Supreme Court clerkship.
Before he was appointed associate justice by Bill Clinton in 1994, he was a Harvard professor for decades, while enjoying several stints with the Justice Department's antitrust arm.
His legal career all started with being a law clerk for Supreme Court Justice Arthur Goldberg.
The Appointment of Justice Stephen Breyer to the Senate Judiciary Committee
Justice Breyer's legal career would go on to be nothing short of incredible as he served as a Watergate scandal assistant special prosecutor, a First Circuit US Court of Appeals judge, and a counsel on the Senate Judiciary Committee.
In 1994, President Bill Clinton would nominate Breyer to the Supreme Court, with confirmation coming in the same year. This great honor was in stark contrast to his days as a law clerk.
This follows the US Constitution Article II, Section 2, which provides the president with authority to perform such a nomination, with an appointment coming alongside the Senate's consent advice.
Justice Breyer and President Joe Biden
From the White House, President Joe Biden said several kind words about the retiring Justice Stephen Breyer. First, Biden describes Breyer's judicial record as being "practical, sensible, and nuanced."
Going on, he called Breyer a model public servant indicating that this happened during a time when the country was facing a great division.
The Official Resignation Letter
In the letter penned to President Joe Biden, Justice Stephen Breyer informed Biden of his intention to retire from all regular judicial duties as a Supreme Court Associate Justice. He indicated that once the court handed down all remaining opinions for the term, the resignation would go into effect.
The intended timeline according to his note would've been when the court rises for summer. This is typically late June into early July. The exact date would end up being on June 30, 2022, at noon.
Breyer wrote that he was incredibly grateful for the privilege that he had received and even made reference to his colleagues stating that his relations with them all were friendly and warm.
Finally, he acknowledged the privilege to serve as a great honor. Should you be interested in reviewing the letter, you may do so here.
Sentiments from Congress
After Breyer announced his intention to retire, feedback came in from the white house and elsewhere, which is to be expected for such a well-regarded member of the federal judicial system. On the congressional leadership side of the spectrum, three statements were provided.
The first comes from Chuck Schumer (D-N.Y.), Senate majority leader. Schumer highlighted the way Breyer had served his country in the Supreme Court for what amounts to just about his entire adult life. Some of the qualities he indicated the retiring man exhibited were fairness, humility, restraint, knowledge, and wisdom.
House Speaker, Nancy Pelosi (D-Calif) also added her remarks, stating that in Breyer's departure, the country would be losing a leader who embodies honor and integrity, as well as someone who was a true guardian of America's fundamental rights.
Finally. there is Senate minority leader, Mitch McConnell (R-Ky). After congratulating Breyer for nearly three decades of serving in the nation's highest court, he indicated attributes such as intelligence, rigor, and good faith. Additionally, he indicated that Breyer simply commanded respect.
Supreme Court Justice Remarks
Of course, Supreme Court justices providing active service at the time also threw their own sentiments in about Breyer's retirement. These included Justices John Roberts, Samuel Alito, Clarence Thomas, Elena, Kagan, Samuel, Alito, Sonia Sotomayor, Brett Kavanaugh, Amy, Coney Barret, and Neil Gorsuch.
Many of the sentiments expressed from the federal bench echoed those of praise that congress put forward about the retiring Supreme Court Justice.
First, Breyer, the court's oldest member at 84 was going to be incredibly missed and was described as nothing short of incredibly delightful to deal with.
Mentions were also made of the sheer integrity he would've displayed throughout his tenure of service and the way he would present insightful opinions.
Court Justice Stephen Breyer was also quite the lively character, introducing a host of conversational topics that would liven the dead mood surrounding airtime lunches. He was even known for putting knock-knock jokes out there and even giving his acquaintances fun riddles to solve.
While it's clear that his judicial philosophy on matters such as the death penalty and others was appreciated, his acquaintances also came to love his character and personality, which will be sorely missed.
Filling the Seat
With Breyer retiring from the Supreme Court, the judicial system was then faced with the matter of who would be a suitable replacement for him. Several names floated around. However, President Joe Biden said that he would nominate a black woman for the job.
This would be none other than Circuit Court Judge Ketanji Brown Jackson, who was prepared to take the prescribed oaths. Once Breyer's retirement took effect on June 30, Jackson's swearing-in took place to have the vacancy filled. President Biden made his announcement on February 25, 2022, naming Jackson as a nominee worthy of the responsibility.
After a 53-47 vote, the Senate confirmed her on April 7, 2022. Three Republicans sided with the Democrats in voting.
Supreme Court Confirmation Process
The US constitution sets out the rules that govern appointing a Supreme Court Justice. Nevertheless, it is not legally codified.
Therefore, selections have been made in different ways. For example, while some Justices were simply acquaintances with similar ideologies to the president, others were recommendations from the White House counsel, lawyers in the Justice Department's Office of Legal Counsel, the Attorney General, etc.
Typically, the president chooses a nominee for the great honor to start the process. In some cases, a consultation with the Senate Judiciary Committee and its leadership may occur.
Following the nomination, the committee investigates the nominee thoroughly. Additionally, the nominee will visit Senator offices to garner support. A public event will occur in which the nominee testifies and takes questions before the Judiciary Committee.
About a week after the adjournment of the hearing, the committee will then hold a vote. The Senate majority leader is consulted for the scheduling of a debate in the Senate, followed by a confirmation vote being held.
Note that the president may choose to take a recess appointment. Therefore, the need for Senate confirmation would be circumvented entirely.
More About Judge Ketanji Brown Jackson Who Replaces Supreme Court Justice Stephen Breyer
Before the nomination and the decision to confirm Jackson, she served as a D.C. Circuit Court appeals judge. Before this, she was also a public defender, on the U.S. Sentencing Commission, and even a federal district judge.
Her historical nomination and confirmation go beyond her being a black woman. Additionally, she also represents the first former public defender to be nominated to serve on the high court.
Even outside of the official decision, Jackson found favor in many, being one of the most positively viewed and favored judges in recent history to receive this honor. A whopping 49% of respondents who took part in a Morning Consult/Politico poll felt that Jackson should be confirmed, while only 26% felt she shouldn't be.
John Roberts' 2005 confirmation was the only one in recent history backed by a greater percentage of respondents in a Gallup poll, as the result sat at 59%. This was only marginally greater than Jackson's number, which sat at 58%.
Perception of the Supreme Court
While there is an outpouring of positive sentiments for the retiring Court Justice Stephen Breyer, the perception of the Supreme Court in the public eye is not at its most favorable. This comes in the wake of the recent decision to overturn Roe v. Wade, which allows states to ban abortion.
This decision greatly affected the amount of trust American citizens had in the highest court, following this ruling, which was driven by the conservative majority.
Retiring Justice Breyer's Final Hearing
The last oral argument of Breyer's distinguished career took place on April 27. This was for the Oklahoma v. Castro-Huerta matter, concerning states' ability to prosecute reservations-based crimes against Native Americans.
Following the matter's conclusion, Chief Justice John Roberts expressed a deep appreciation for all the 83-year-old had done. His statement indicated that all who shared the bench with Breyer shared in a privilege and bore tremendous appreciation.
Justice Breyer's Legacy and Philosophy
Justices are often labeled as liberal, conservative, etc. Supreme Court Justice Stephen Breyer believed that it was misleading to apply such labels, though he was often looked at as being quite moderate-to-liberal.
His journey to amassing his extraordinary qualifications led him to approach constitutional interpretation quite differently than many of his colleagues would. During his active duty, he based interpretations on practical considerations, which is how he believed it should be done.
This allows for changes with the times. While they had respect for him, this often meant that the more conservative judges were often at odds with him. From their perspective, the court was meant to be guided by the founder's original intent in the texts.
Some would describe Breyer as a pragmatic liberal. Compared to others on the left, not only was he more moderate, but he was also very open to compromise. In fact, he would often actively search for the said compromise.
This would lead to instances in which Sonia Sotomayor and Ruth Bader Ginsburg would differ from him and Elena Kagan on case details. You would often find that he was not as willing as some liberals to be on the side of criminal defendants.
In his final term, Breyer had some of his most productive moments. This was largely in part due to the top assignments he would've received from Chief Justice John Roberts.
Additionally, Breyer wrote the majority opinion after a rejection of the Supreme Court's third challenge to the Affordable Care Act. Before this, he would write the court's decision that Google committed no copyright violations in its high-profile case with Oracle.
Additionally, Supreme Court Justice Stephen Breyer would write the court's defense of a matter where a cheerleader was punished by a high school following a lewd rant on social media.
Even with being more center-aligned than his liberal counterparts, he was often a reliable vote for the left on certain issues, such as those involving abortion, affirmative action, and gun rights.
In fact, there's an enormous debt to him for writing some of the objectively most important opinions on the protection of abortion rights and calling into question his respect for unborn children.
Final Remarks
President Bill Clinton took a chance with this nomination, but Supreme Court Justice Stephen Breyer was instrumental in several important matters throughout his time of active service. Some of his most well-regarded attributes include his optimism, cheerfulness, excitement, wisdom, and patience.
Not many in law have managed to affect the kind of change and provide the level of inspiration that he has.
Justice Ketanji Brown Jackson, a former law clerk, public defender, and the first black woman to hold such an office, was sworn in the same day that Breyer retired and she is already set to take on high-profile cases in her tenure including the denial of matrimonial services to same-sex couples. This swearing-in sees Biden honor a campaign promise of diversity, as the White House recounted.
This, of course, comes at a time when the nation's perception of its highest court is not the best.
Need Legal Services? Call Ehline Law
Ehline Law Firm offers a host of legal services spanning injury law, government claims, employment law, and more. Call (833) LETS-SUE for a consultation today!
---
Michael Ehline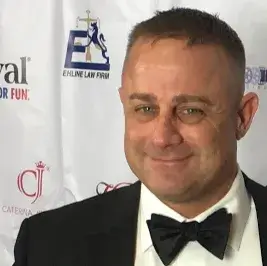 Michael is a managing partner at the nationwide Ehline Law Firm, Personal Injury Attorneys, APLC. He's an inactive Marine and became a lawyer in the California State Bar Law Office Study Program, later receiving his J.D. from UWLA School of Law. Michael has won some of the world's largest motorcycle accident settlements.
---
Recent Personal Injury News
Check out our most recent BLM and ANTIFA riots and accidents and more, including the famous, infamous and everyday people wounded by at fault parties around the world.