May 21, 2020
Understanding Los Angeles Wrongful Death Claims
---
More than anything, there is nothing worse than losing a loved one because someone else was reckless or negligent. And when a death happens in a large town like LA, people don't know where to turn for help. After all, all you see and hear are lawyers on billboards, TV, and radio. You know they exist, yet you still hesitate to hire legal counsel.
And the reason you are uncertain is you don't trust just any ambulance chaser with a catchy jingle and wide smile. You want a Perry Mason or a Clarence Darrow, and that is understandable. But can a celebrity lawyer navigate the complexities of your case when the victim isn't someone famous?
That is why I wrote this article about wrongful death in Los Angeles. Below I will discuss some issues pertinent to a wrongful death lawsuit that every Angelino should know.
Learning About Your Wrongful Death Rights in LA.
When a family member died because of another party's actions, people's worlds are turned upside down instantly. Whether the killer is an individual, company, manufacturer, medical professional, organization, or government entity, is all a significant factor in how to proceed.
For example, what if your mom was run over by a City of Los Angeles Metro bus? How do you sue them? Can you even sue them? What are your rights?
Also, the family often has a difficult time understanding negligence actions and who is at fault. To begin with, to sue, you have to prove that the city was at fault, assuming you are using the above example.
Who Did It?
Who you sue means proving fault. And that means showing that a duty existed to prevent death, and duty's breach caused another person harm. In a nutshell, it was an unfair and senseless death. And it could have otherwise not happened.
Losing a family member causes grief, but it can also mean financial stress. When the dead person is the primary earner in the family, their loss means a loss of income for the family. Therefore, the surviving family members may struggle to pay bills and provide other items.
---
Wrongful Death Lawsuits Can Also Be From A Suicide?
Yes, it's true. Sometimes a person will commit suicide because a negligent party drove the decedent to take their own life. Some people refuse to choose survival over suicide. Sometimes the wrongdoer could have emotionally harmed them. Sometimes a hospital will let a suicidal person leave the treatment center before they are ready. And this could form the basis of a medical malpractice claim.
Example of a Suicide Wrongful Death Includes the Allegations Against Actor Jim Carrey
On Monday, Burton, who met and married White in 2013 while working as a camera operator, filed a complaint against Carrey in Los Angeles Superior Court alleging that the Hollywood actor provided White with the pills she used to commit suicide last September.
In that case, the lawyer for the survivors also alleges that the decedent was given herpes by Carrey, which also spurred on the death.
---
Los Angeles Wrongful Death Lawsuits.
Why you sue is always going to be for money. It's for lost income, love, affection, comfort, and other intangible items. Almost every state allows the filing of wrongful death lawsuits by the heirs of the victim. So the heirs together against the liable or negligent party file the wrongful death suit or personal injury case in civil court, using the civil rules of procedure. Los Angeles Unlimited Jurisdiction courts remain governed under CCP Section 377.60 in wrongful death cases.
What Los Angeles County Court Do I File My Lawsuit?
Where you sue is something a lot of people know little to nothing of. There are many courts in LA, and that is going to be a problem unless you have a lawyer. Because if you file in the wrong court, you could have the case tossed, and may not be able to present in the proper court before you blow the statutory period to sue.
Limited or Unlimited Jurisdiction?
To begin with, not all Los Angeles courts allow you to file an Unlimited Civil case in their courthouse. Let me explain. A case worth more than $25,000 is an unlimited civil case. And this is because, in cases worth less than that amount, the legislature has limited discovery rules and other procedures to streamline the files and reduce delay.
So to start with, we are going to assume this is an Unlimited Civil Case because death is worth more than $25,000, right? Right!
Anyways, to make it easy as to what LA court to file a death case, I will explain how I determine the correct court to file my lawsuits.
I go to the LA Superior court website and type in the location:
Where the incident occurred, or
The defendant's address into the "Filing Court Locator" here.
Here are some screenshots to see where you can type in stuff and what the court website spits back as the Unlimited Court to sue. Here, even though the zip code is Torrance, 90505, Unlimited cases are only handled in Downtown's Stanley Mosk for death cases worth more than 25k.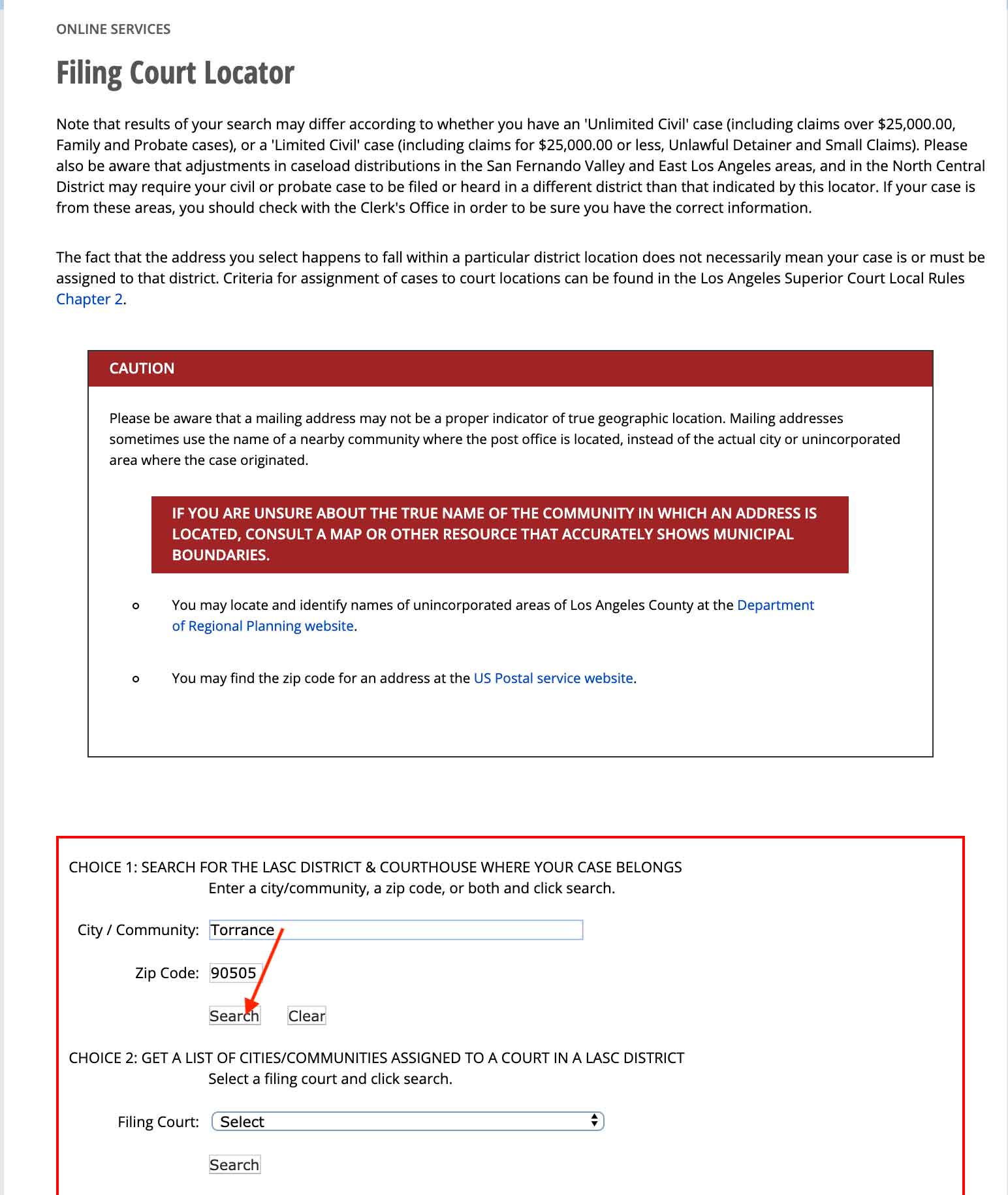 As you can see below, personal injury cases are not allowed in Torrance Courthouse, even though the death was in the 90505 zip code.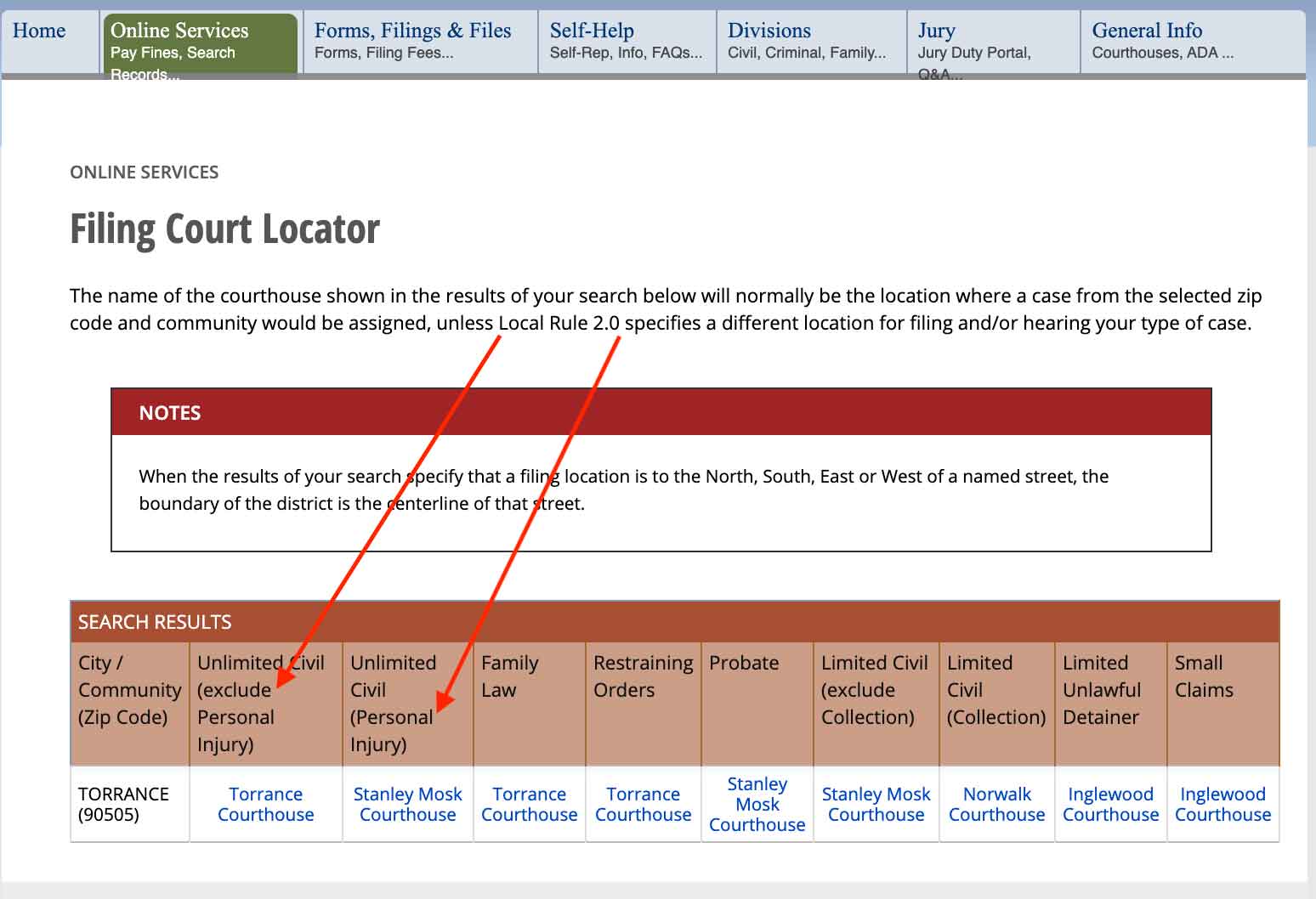 Ok, so that gives me the option of the Stanley Mosk, LA court. So that is where I can file my lawsuit for wrongful death. However, in law school, they teach us that the defendant's work or residence address can also be used as a situs to file a suit. So if the defendant's address gives me a better court for this case, I may file there. But there are still going to be other papers like civil case cover sheets. And modernly, we lawyers do all the filing online using a brokered filing service. Good luck figuring all that out without a lawyer or paralegal with experience in our local and state civil procedure rules.
However, unrepresented parties can still file hard copies of their legal documents directly with the courts. As you can see, like any personal injury, wrongful death law becomes complex no matter where the incident happened. And a wrongful death case should not be undertaken without an experienced wrongful death lawyer.
And whether or not the LA District Attorney pursues criminal murder charges, your claim remains a civil court matter. So don't assume the DA will get you compensation for your loss of a loved one. When convicted of a crime for the victim's negligent death, a civil suit is still possible, but it should play no role in your decision to hire an experienced tort lawyer.
---
Video With Examples of More LA Wrongful Death Scenarios
---
Who Can File a Wrongful Death Lawsuit?
California's wrongful death statute CCP Section 377.60 explains who can file a lawsuit.
The victim's spouse.
Dependent children.
Domestic partners and also the de facto partner.
Domestic partner's children.
Dependent stepchildren.
Surviving parents, siblings of the deceased, and their children. There are special rules for these family members to file a claim.
Grandparents of the victim. Special rules apply for grandparents to file a claim.
Any person who depended on the decedent for support.
---
Statute of Limitations Matters.
How you sue is just as important as anything else. As discussed, there is a limited time to sue, which is generally two years after death unless an exception applies for more time. But sometimes the time is shortened depending on who you are trying to sue.
In the Los Angeles bus accident example above, assuming the bus crash was due to negligence by a state or government agency, the time to sue is restricted. First, you have to bring an administrative government claim within six months. Also, medical malpractice claims have a one-year time limit from the death of the decedent.
But these rules are tricky, especially for suing governmental agencies and employees. And Los Angeles agencies often have their particular forms, and they will reject claims outright unless it's written in the right form.
The One Action Rule - Does Each Survivor File their Separate Case Individually?
No, this is not allowed. In Los Angeles and other areas of Southern California, one joint wrongful death claim is permitted by family members. And it will become lodged against all the defendant(s).
So this means the family must file a joint claim rather than each person filing their own. And this is referred to as the One Action Rule. Because this is a joint claim, anyone allowed to seek compensation must be a named party in this lawsuit, or they will not have a valid claim.
---
Common Causes of Los Angeles Wrongful Death.
The leading cause of death in Los Angeles is traffic crashes. The other common negligent deaths happen from slip and falls and flying, or falling objects. And many of these deaths occur in the workplace or from medical negligence.
Also, in Los Angeles, and other parts of Southern California, there have been defective product deaths.
As discussed, traffic accidents top the list of negligent killings of Angelinos.
These deaths happen for a variety of reasons, including:
Distracted driving.
Dangerous or reckless driving.
Speeding.
Driving under the influence of alcohol or drugs.
More rare causes include vehicle defects, defective designs, and poor road conditions.
---
What Does the LA Crash Data Say?
The data for L.A. by the National Highway Traffic Safety Administration (NHTSA) shows that fatal crashes happen at intersections and low speed. These are higher than the national average. But in the city, 36% of crashes happen at intersections. And the national average is 22%. Also, the city has a higher number of deaths at night. Last, the national average is lower than the L.A. nighttime fatalities.
---
What About New Wrongful Death Legislation?
After a 2014 death of a lawyer in a fatal crash, while riding a bicycle in LA, legislation was passed that provides three feet of room for bike riders from passing motor vehicles.
Los Angeles Bicyclists Three Times More Likely to Die?
NHTSA data shows collisions resulting in severe injury and fatality between pedestrians and bike riders to be high in Los Angeles. The L.A. statistics are triple in number at 33% the nationwide average, which is 11.4%.
In the example above, the lawyer Milton Olin died after a collision on his bicycle with a police vehicle on Mulholland Drive. And the crash happened in the bicycle lane. Sadly, Olin died at the scene from multiple head injuries.
The officer was Deputy Andrew Wood Los Angeles County Sheriff's Department. Both his police cruiser and bike were traveling the same direction, and Woods also got injured. But eventually, Woods returned to full duty. And later, officer Woods transferred to another unit.
But the investigation of the death was given to the District Attorney's office to decide if the officer would be prosecuted. Governor Jerry Brown did not agree with the legislation unless Deputy Wood was at-fault in the bike rider's death. Anyways, the legislation became law.
And as discussed, whether the deputy was criminally responsible did not matter. And the family filed a wrongful death claim in Los Angeles Superior Court.
A Formula for Successful Wrongful Death Cases?
How to sue and win is key. The winning formula in a death claim is preparation. If the lawsuit is successfully filed and you have gathered sufficient evidence, the careless party may be held liable.
But remember, the amount of money awarded for the claim is divided. Upon victory, the award gets split between the family members or claimants in the suit. And this division must normally be agreed upon by the family members. But if family members are unable to divide the money, the court can help.
And don't forget the attorneys are paid their fee off the top. And you must pay back their costs, as well as any costs incurred from hiring experts, and maybe even medical and towing bills, for example. But the good news is that even after paying a fee, a represented person usually gets more in their pocket!
---
Aftermath - What About Grief Counseling in Los Angeles?
Winning a death claim can bring some closure. But often money is less than enough to move on. So counseling is often needed to help with the grief process. In Los Angeles, there are several organizations helping bereaved individuals and families. Some work in children's counseling for all ages. Grief counselors, grief psychologists, and grief psychotherapists can help.
Here is a list of grief counselors in LA. But I cannot attest if any of them are any good. Also, if you are a veteran, or dependent, you may be eligible to receive psychiatric care at the Long Beach or Los Angeles VA Hospital, for example.
As you can see, there are many rules and pitfalls to self-representation in a negligent killing case. Because of this, I highly recommend calling me or someone else experienced in death cases before you talk to anyone about your sad situation. I hope you are more educated now about wrongful death issues specific to LA, California.
Citations:
Practice Area Information
---