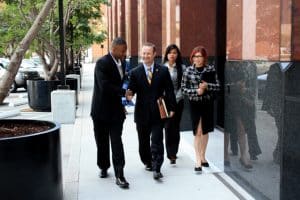 So this is a case that should be fascinating. To many, Michael Jackson, King of Pop, had a reputation for not liking some people in his family. [1. Why did Michael Jackson hate his dad?]
[2. Did Jackson order a hit on his brother?] [3. Michael Jackson Trashes his family] Also known is that Jackson did not leave anything in his will for any of his brothers, sisters, or dad. [4. Jackson Leaves no Money for Siblings]
Here is a video of Decedent Jackson saying how he felt about his father: (Click Here)
Incidentally, the defense was raised that Jackson's kids are not even the biological offspring of Jackson. [5. Jackson's Kids not from his seed] If anyone has ever seen Jackson's kids, it is not hard to believe they aren't biologically his. They appear to be Caucasian and not mixed. Why this is all-important will come into play soon enough. But this is the setup.
The Muddying of the Jury Pool Over the Years
So after much fanfare, the jury is finally selected in the Michael Jackson wrongful death lawsuit. It consists of six men and six women jurors on Monday, yesterday.
All this controversy and all the rumors of several decades have poisoned the minds of many. There are many allegations of child abuse against Jackson himself. Also, there are allegations that he was not close with many of his siblings, etc. So this will be a tough case.
Katherine Jackson brought the lawsuit for 40 billion dollars. So the causes of actions are negligent hiring and wrongful death. These are in a wrongful death lawsuit against the promoters of the London concert series. Conrad Murray was working as Michael Jackson's physician.
Guardianship Stripping
Recall that a court had previously stripped Mrs. Jackson of her guardianship of Michael Jackson's children. [6. Bitter Battle Over Millions]. And this happened amidst allegations she was held against her will by several Jackson family siblings and members. Also, this was due to a financial dispute between those family members and the Michael Jackson Estate.
So why is all this important? Well. A party must establish a surviving blood relative or adopted children to recover money for wrongful death. Even then, if that threshold gets met, the survivor now must prove that they lost the decedent's love, affection, sex, or financial support. So clearly, any children getting cared for that were the lawful heirs, as well as siblings, moms, dads, and wives, could potentially recover monetary damages. These would be for wrongful death, as against the defendants in this case.
The Jury Instructions – Evidence
The jury instructions or the court may require proof of all of the above to arrive at a verdict. Those who do not wish for the children to recover assert that they are not legally Jackson's kids, as they are not biologically his and were never adopted.
But from my perspective as a wrongful death lawyer in L.A., that should not matter because Jackson appeared legally married at the time. The twist is that AEG asserts that the mother Jackson was married to was not the biological mother either.
And if she had not adopted the kids, they would have been barred. Some slick defense attorney knows their stuff, and the judge has yet to rule on a pending motion on this very issue. Alternatively, if it is proven this was a sham marriage or something, there might be another argument to invalidate the kids' claims.
Can Voir Dire Weed Out Biased Jurors?
The alternate jurors in the case have not been chosen yet by the lawyers for the trial. The trial, once it begins, could last approximately three weeks. And it was hard enough to get the jury we have now with all the popularity surrounding this case.
Of particular interest, the point behind jury selection, or voir dire, is to give the potential jury pool a chance to offer the truth about how they will perform their duties as a panel.
They are then sworn in and told not to watch the news, discuss the case, follow the law, and form a verdict. But here, we have precedence that many former jurors in celebrity lawsuits have a bias for or against the star or want to make money selling their story.
So this makes it hard for everyone, especially the judge, who would prefer not to have the case reversed on appeal and instead seek the efficient administration of justice.
Unbiased Jury?
So theoretically, an impartial jury can be found, but it is 100% based on their ability to uphold their solemn promise, to be honest. A biased juror may wish to award nothing to get back to the family, or they could give a runaway verdict because they hate Dr. Murray.
In my opinion, AEG should pay the indemnity and walk away. These risks are too high. And to me, it is not worth rolling the dice.
The Big Corporate Defendant
In the lawsuit filed in September of 2010, Katherine Jackson stated that AEG Live was responsible for the hiring of Conrad Murray. As Jackson's physician, he administered Poole to Jackson. That resulted in his death on June 25, 2009. Jackson died of acute Poole intoxication at a rented Holmby Hills estate at 50.
In November of 2011, Murray got sentenced to four years in the Los Angeles County Jail for the involuntary manslaughter of singer and lover of little boys Michael Jackson.
The attorneys for AEG have argued that there was no wrongdoing and that the pop singer had a long history of drug problems before the agreement between Jackson and AEG to do the London concert series. Katherine Jackson filed the wrongful death lawsuit for herself and Michael's three children, Michael Jr., Paris Michael, and Prince Michael.
AEG Argued They Did Not Hire Dr. Murray
The attorney for AEG Live, Marvin Putnam, argued that his clients did not hire Murray. Also, the cardiologist has been one of many physicians that treated the pop singer in the past. Putman also stated that Jackson had a drug problem. Also, this was long before they agreed to perform with AEG.
The proposed contract between Murray and AEG Live had not gotten implemented before Jackson's death. The actions taken by AEG implied the agreement. So, according to a judge, this included discussions on paying Murray $150,000 a month.
Red Flags
Jackson's attorneys contend that AEG hired Murray. So there was no concern of red flags that he was not a board-certified cardiologist or in serious debt. AEG Live lawyers moved for a dismissal of the entire complaint.
So they stated that after two years of litigation, there was a failure to prove that AEG Live or its executives did any wrongdoing. Los Angeles Superior Court Judge Yvette Palazuelos tossed out all the other claims on March 1. The excellent judge held AEG Live liable for Jackson's death.
Were There a Partial Dismissals Sua Sponte?
Judge Palazuelos dismissed AEG's former president Timothy Leiweke, chief executive officer, and the company as defendants. A division of AEG Live and AEG Live President and Chief Executive Officer Brandon Phillips, Judge Palazuelos ruled, would remain named in the case.
In a sworn declaration, Gongaware stated that he did not tell Jackson or his physicians what medications should get administered to the singer. Also, he said that at no time did he ever require that Jackson take the drug. So he had no idea that Jackson was using the medicine.
The Emails
Gongaware said that he only learned about the use of Poole in the press after Jackson's death. He said he did not suspect that Jackson was taking the drug. He claimed he had no control over the doctor or that Dr. Murray was administering Poole to Jackson.
But Katherine Jackson's attorneys say an email Gongaware wrote shows he did control Murray. Two weeks before Jackson's death, he sent the tour director Kenny Ortega an email. He exclaims that Dr. Murray was keeping Jackson from rehearsing a day prior.
AEG Paid Murray's Salary?
In the email, Gongaware stated they should remind Murray that AEG was paying his salary, not Michael Jackson. He made clear what they expected of Murray. Here, the heirs had to prove to a jury, all the other minutia aside, that AEG knew what Murray was doing. Next, they had to prove AEG either allowed or encouraged this destructive behavior.
But even if that gets proven, much evidence will still need to come. Also, this is how to determine how much the lawful plaintiffs would have recovered had Jackson survived.
So the jury would need to believe that Jackson was really in a position where he could have provided at least as much as the Jackson heirs sought. So they could also award a lesser amount. Do you think M.J. could have provided the millions in wrongful death compensation desired?
Citations:
"Why Did the Michael Jackson Family Lose Their Wrongful Death Lawsuit?"