Michael, and the rest of the other car accident lawyers at Ehline Law Firm, have years of experience helping car crash victims with their auto insurance claims process. We invite you to give us a call at (833) – LETS SUE to schedule a free consultation with an auto accident lawyer today.
What Should I Do After a Car Accident?
In the immediate aftermath of a car accident, a lot can happen within a short period. Even though you will obviously need to find personal injury lawyers, it is important to take the necessary steps.
Your own safety, as well as the success or failure of your car accident claim, will depend on your decision-making and doing the following:
Move to Safety
Even minor car accidents, such as a fender bender, can cause major fatalities if the victims do not move to safety as soon as possible. Vehicles that have been involved in a crash and are left in the middle of the road where the accident happened can result in a huge car wreck.
Seek Medical Treatment for Your Injuries
Regardless of how minor the injuries may seem, you should always see a doctor as soon as possible to be safe. Hidden injuries have been the cause of many auto accident-related deaths, especially in cases of traumatic brain injuries.
You will also need to provide medical records when seeking fair settlement as part of your personal injury claim, and this will only be available if a doctor treats you after the car crash.
Collect Evidence
In cases where the at-fault driver's insurance company refuses to pay or decides to make the claim process difficult, you may need to go to court.
When this happens, you will need all the evidence you can get to prove liability and give you the best chances of success.
Before seeking a lawyer, start by gathering the following:
Detailed police report

Pictures of the accident scene show images of shattered glass, damage to vehicles (including minor damage), the relative position of all cars involved, and the location of the car accident.

Information about the other driver's insurer
Find a Personal Injury Attorney
Winning an insurance claim will be difficult without a good car accident lawyer by your side. Besides not being familiar with important things, such as whether or not there are no-fault laws in your state, the insurance company may make things difficult for you.
That is why you should let us handle this stressful situation by providing you with legal representation from an experienced lawyer. You can let your lawyer talk to the other party, insurance companies, and the insurance adjuster on your behalf.
10 Mistakes to Avoid After Car Accidents
Most personal injury attorneys work hard to give their clients the best advice.
Still, they regularly encounter the same issues over and over again, with clients who make the following common errors that can jeopardize any potential claim:
Leaving the accident scene without having a police report filed

Not gathering enough evidence

They Admit fault without consulting a good attorney

Not having personal injury protection (PIP)

Delaying medical treatment

Interfering with insurance adjusters

Not informing their own insurance company

Trying to handle their own claim

Being intimidated by insurance companies

Not hiring a good car accident attorney
Damages a Car Accident Attorney Can Win for You
Car accident attorneys, such as those at Ehline Law, work hard to make sure that they serve the best interests of their clients, and win the following damages for them:
Medical bills can be the biggest expense that car crash victims have to cover. In cases of serious injuries, even after the patient is released from the hospital, they may still need to undergo a lengthy rehabilitation process, which can be quite expensive. This is why, after a car wreck, ensuring that you have all your medical records ready is important for your car accident claim.
The right lawyer will always prioritize winning damages for lost wages during the time their client is unable to work while recovering from their injuries. In some cases, the insurance policy limits the amount that can be paid for lost wages, but our super lawyers know other ways to ensure you receive the compensation you deserve.
Any damage to your vehicle also needs to be compensated by the other driver's insurer, regardless of how minor it is.
Call a Personal Injury Lawyer Today
Our reputation for having a stellar attorney/client relationship is based on years of making sure that victims of car accidents get the best legal advice and representation possible. While many law firms these days focus on attorney advertising without living up to their claims, we will:
Negotiate With the at Fault Driver's Insurer in Your Car Accident Claim
Before you have your lawyer issue a lawsuit on your behalf, a lot can be done to avoid having to go to court. A good car accident lawyer will negotiate for an out-of-court settlement with the insurance company of the other driver as the first step.
Provide Legal Representation in Court
At Ehline Law, fighting for your legal rights is what we do best. Regardless of the situation's seriousness, for example, if you have been tricked into admitting fault because of not knowing what constitutes acceptance, we can still win the case for you in court.
Win the Maximum Insurance Settlement
Many clients who handle their own cases end up settling for less compensation than they could have walked away with if they had hired an experienced car accident lawyer, even after deducting lawsuit-related expenses, such as filing fees.
Provide a Confidential Relationship
Conduct a simple zip code search for Ehline Law or take a look at the many reviews from happy clients. You will see that we stand head and shoulders above the rest in terms of being top-tier lawyers and offering absolute confidentiality in all our dealings.
Ehline Law Attorneys Could Have Helped Guram Gugenishvili!
When terrible accidents happen, such as the one that took the life of Guram Gugenishvili, the at-fault driver and his insurance company have to pay! If you are looking for a reliable, experienced, and confidential car accident lawyer, then look no further than Ehline Law. Please enter your zip code, start the search, and find our website today.
We are here to assist all car crash victims in getting the justice they deserve when going against insurance companies trying to avoid offering the proper settlements. Visit our law offices for a free consultation or give us a call at (833) – LETS SUE right now!
---
Michael Ehline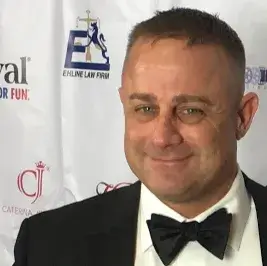 Michael is a managing partner at the nationwide Ehline Law Firm, Personal Injury Attorneys, APLC. He's an inactive Marine and became a lawyer in the California State Bar Law Office Study Program, later receiving his J.D. from UWLA School of Law. Michael has won some of the world's largest motorcycle accident settlements.
---
Recent Personal Injury News
Check out our most recent bus defects, accidents and more, including the famous, infamous and everyday people wounded by at fault parties around the world.