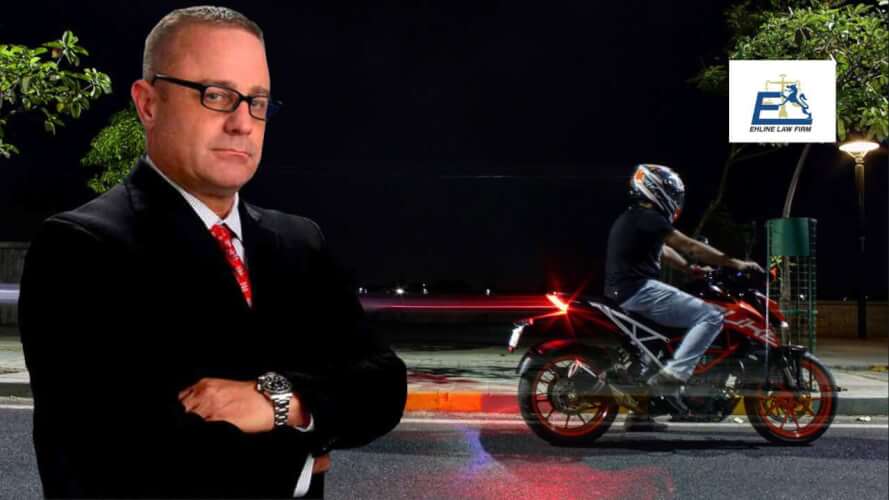 Are you a motorcyclist concerned about motorcycle accident insurance in Los Angeles or another U.S. city? Or have you ever been in a motorcycle accident? Did a passenger car driver fail to look carefully over their shoulder before switching lanes while you were lane sharing? Whatever the reasons, this situation is not new to you. For example, many road accidents between a car and a motorcycle involve the driver violating the motorcycle rider's right-of-way.
Sadly a widely popular assumption among the people of California exists that being a motorcyclist automatically means you have less priority for safety. This systemic motorcycle rider bias created the societal impression riding a motorcycle remains synonymous with being dangerous, reckless, and careless.
You'll most likely understand what it means to be a victim, the police bias, and the stereotype branding motorcyclists as outlaws. But do motorcyclists get mistreated by insurance companies in each case? Let's find out.
Of course, you would not agree with that; unfortunately, this is not just a sentiment among ordinary people using the road, but it is even more deeply rooted within the policies put forth by many insurance companies. So much so that before any proof, statement of truth, evidence, or any due process whatsoever, your insurance company will most likely have a preconceived idea that you are the one at fault, especially in a situation where you are not at fault at all.
Even with visual cues of your priority for safety, like putting on a helmet, there remains a significant probability that you will get maltreated by insurance companies, and it all starts with how they judge the situation.
A Complete Overview of Risks and Stereotypes in Motorcycle Accidents
A Second Look at the Risks Insurance Companies Face
According to the National Highway Traffic Safety Administration (NHTSA), the road remains dangerous for motorcycles. Motorcycle riders are continually overrepresented in fatal motorcycle accident fatalities and severe riding injuries.
Motorcycle Accident Injuries
In 2019, 5,014 motorcyclists died, with about 10 percent of the fatalities from California alone. More than any other type of vehicle driver or motorist, a motorcyclist is more prone to risks of motorcycle accident injuries of different types, including spinal cord injuries<, bone fractures, amputations, trauma from brain injuries, road rash, and soft tissue damage.
The effects of a crash involving a motorcycle can often be devastating while also incurring a lot of money for medical treatment, including some other hidden fees involved. While 20% of passenger vehicle crashes result in injury or death, an astounding 80% of motorcycle accidents result in injury or death.
Injured Motorcyclist Insurance Gamesmanship

All an insurance company sees is the opportunity for more money in all these issues, even if that means taking advantage of injured motorcyclists and playing games.
The insurers try to downplay the situation in a seemingly deceitful manner so you cannot collect fair compensation. They use the risk and, even more, the stereotype to their advantage. If this happens to you, call our team for a free consultation.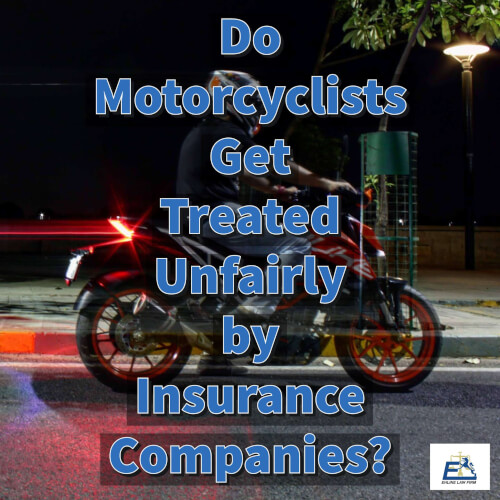 Who Truly Cares About You?
Insurance companies generally care more about how to add a dollar to their coffers rather than watching about helping you in cases when they are most needed. They may even mistreat motorcyclists.
If you have ever been in an accident, you will understand how devastating it can be for the victim or even the families and friends of the victim.
Work with a Firm That Cares
This is where we come in as a firm that cares with our free case analysis to help motorcyclists with property damage due to the other driver in an accident or lost wages. Our lead counsel, Michael Ehline, working with other attorneys or injury lawyers, understands this more than anyone else.
He has been through such traumatizing experiences and fully understands how it feels and how important it is to have good counsel around to fight against all odds.
We are always available at any time, 24/7, so you can quickly make a phone call or contact us via email. We are ready to work for you and ensure your insurance company does not mistreat you.
Instead, we work hard to make sure you have your fair share of the insurance companies involved in any case of a motorcycle accident. We care enough to fight for you against such stereotypes and make sure you get treated fairly throughout this entire process. This is our goal at Ehline Law Firm.
Getting Assistance For Motorcycle Accident Injuries
Now, back to the initial question: do motorcyclists get mistreated by insurance companies? It might not be a yes or no answer, as each insurance company tends to handle things differently.
However, no matter what the case, you can be very sure that our team at the Ehline Law Firm is ready to work against all stereotypes and biases for you, as a motorcyclist, to travel safely and confidently.
You can check our free initial consultation and complimentary case review, fill out a form and forward all your legal questions through email. We are very easy to get in touch with when you need help.
It will be an excellent opportunity for us to fight for your rights and recover financial compensation for your injuries through our services.
How the Ehline Law Team Can Help
Are you worried about getting stuck with hospital bills and not getting maximum compensation due to unfair treatment? Or are you anxious about what might happen if you can't stay safe and get involved in a motorcycle accident?
You need not worry about your ability to be responsible, ride, and still be covered by an insurer for a motorcycle accident.
Ehline Law Firm is dedicated to such issues. We are ready to take on the greater risk of charging the big insurance companies head-on for you to claim your total and fair compensation easily, and we are highly experienced in dealing with such cases.
From Ann Arbor, Michigan, to Los Angeles, California, our partners have forced insurers to pay motorcycle crash claims since 2005. Our top-notch attorneys have been invited pro hac vice in federal and state courts to help with challenging riding suits.
Our very best lawyer can help resolve your bike accident settlement too. Our relentless team helps bikers navigate challenging claims and overcome vicious biker stereotypes.
When negotiating fails, we'll go to court if bad drivers refuse to pay you maximum compensation. Consider filling out our online contact form to schedule a free consultation with our motorcycle injury lawyers after an accident.
Don't Fight the Insurance Company Alone
We invest our time in a free initial consultation with you and evaluate your potential case. We do not charge you any legal fee unless we score a financial recovery for you. We will also pay for the necessary costs of investigations and accident reports and even help you locate a lien doctor for your medical care while the claim is in process.
Do motorcyclists get maltreated by insurance companies? Not when Ehline Law is on their side. Motorcycle riders can count on total compensation if their case review passes muster after a motorcycle accident. For more details and to become more aware of our professional reputation, check out the testimonials from riders we have helped after a collision.
Motorists should stay in their lane. When they don't, our motorcycle lawyer team will do an excellent job for you and your family to prove your case and get you paid.
So call and speak with our very best attorney if you want to level the playing field with the adjuster handling your motorcycle crash insurance claim. Get a free consultation today by calling (213) 596-9642 or using our convenient online contact form to discuss the compensation you deserve.