How Failure To Wear Your Motorcycle Helmet Can Hurt Your Injury Claim?
---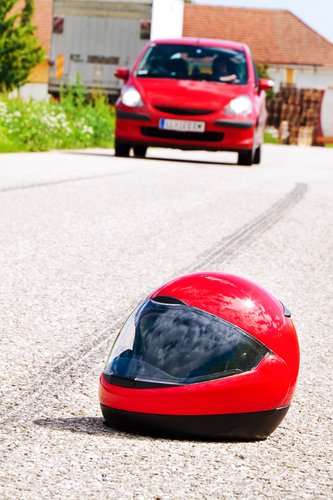 The Need for a Motorcycle Helmet
California is one of the states with a universal helmet law implemented. Whether you wear a modular helmet, an open-faced helmet, or something in between, nothing can stop some negligent person from hitting you while riding in L.A.
After all, Los Angeles has one of the highest incidences of motorcycle wrecks. So naturally, you have to wear a helmet when you ride. And this remains true if you are the one in control of your motorcycle or not. For example, you may have been a passenger sitting behind the bike's operator, grabbing the sissy bars. If so, you better put a cover on that grape, buddy!
Failure to do so could mean the loss of valuable compensatory damages when injured in a crash. In some states, you have to wear a helmet on a motorcycle and bicycle. Many states require kids to wear protective headgear when riding bikes.
In other states, you might need to wear a helmet as an adult. But it usually only applies if the vehicle is motorized. But in California, you have to wear a helmet if you ride a motorbike.
It's a surprise that states didn't make face masks necessary for COVID #19. But that's another discussion for another day.
---
What Protections Do Motorcycle Helmets Offer?
Before explaining whether helmets offer any protection, we mustn't forget that California implemented the law in 1992. So we have a lot of data.
A year later, in 1993, the Golden State saw a 37% drop in the number of deaths caused by motorcycle accidents. It's known that passengers and drivers have fewer injuries wearing helmets.
The data shows helmeted victims receive 69% fewer head injuries. Also, you could get a fine if you ride a motorcycle and don't wear a helmet.
---
You Must Wear The Helmets That Meet The DOT Standards.
The standards that your helmets must meet are called DOT standards. DOT stands for the Department of Transportation. If buying a helmet, you must look for a safety sticker. A sticker is required that says the helmet meets the DOT standards.
Here Are Some Rules:
At a minimum, the helmet must have a 1-inch liner on its inside though polystyrene is the primary material in the inner liner. The making of it should include this material.
Also, it should be a chin strap on your helmet. Rivets to attach the straps should become used. This strap will help the mask provide maximum protection.
The weight of your helmet should be close to 3lbs.
The shell of the helmet must keep your entire head area inside. Your head under the helmet should have that no part of out. Though, the leader shouldn't be out by over two-tenths of an inch. Helmets that meet these standards protect the motorcyclist. It should become gear worn by motorcycle riders. In California, it's essential to avoid fines from traffic police. These guidelines have become an issue. In fact, helmets that meet these standards promote safety. They have proved to offer maximum protection. Helmets protect both motorcycle and bicycle riders, too.
---
What If You Are Not Wearing A Helmet And Have An Accident?
An adverse scenario can happen if you get involved in an accident. In fact, if you aren't wearing a helmet, it can have severe financial consequences. Of course, if you aren't wearing a helmet, it's assumed that you chose not to wear one.
However, the critical thing to know is that your lawyers can still prove your case. In fact, not wearing a helmet may not affect damages caused by accidents.
But if you received a head injury, it is the focus of the case. The first thing examined is the severity of the head injury.
A severe head injury could disable you. It may cause permanent emotional, physical, or mental damages. Again, examining the seriousness of the lesions shows the worth. It's used to estimate the amount of compensation you could receive as a result of the crash.
So injuries may be worse because you weren't wearing a helmet. But that doesn't make the negligent party innocent, i.e., they were still at fault. It was their negligence that caused the accident.
Whether you are wearing a helmet or not, you will still receive compensation for the following:
You will receive reimbursement for all the medical costs and hospitalization because of the accident. You, as the victim, might need permanent care at home. You will have to buy medicines, and a therapist might come as part of the attention. Treatment may last some time too. These expenses compensated include the cost of a hospital stay.
If you receive a head injury and other physical damages, things change. You won't be able to join your duty straight away. In fact, severe head injuries might cost you your job. This immobility is a loss of income and could cause a job loss. It has to become part of the compensation by the negligent party. You will seek compensation based on what you earned before the accident. And the amount you are capable of making after the crash.
More Harm Suffered
Panic attacks, stress, anger, and other forms of mental persecution are frequent after a bad wreck. So this gets compensated in an automobile accident.
Of course, if you have physical injuries, it has consequences. You will have to go through severe pain and agony. Like California, you can still win compensation if your state has helmet laws. But you remain liable for your negligence. So you will have your recovery offset by your degree of fault for your head injury and still not get anything for pain and suffering. Good luck with retaining a lawyer. Most of all, this can kill a pain and suffering claim. Though, in some cases, with an unsympathetic jury can ruin the application. You must make sure that you've received all you're owed due to the accident. Your lawyer is the one to prove it all up.
Loss of consortium is another equation we must address. If you're injured, and your spouse suffers the loss of love. Your sexual relationship with your spouse could also be hurt badly.
The case can have some slight difficulties in some cases. In this case, you got hurt and weren't wearing a helmet. But, as mentioned above, it doesn't free the negligent party from its fault. Contact With The Right Lawyers
Communicate with the Right Motorcycle Lawyers
You need personal injury representation to receive accident compensation for losses and damages. It would help if you had a seasoned lawyer for the best outcome. The lawyer will get you a bonus before letting the case go to court. Ehline Law Firm Personal Injury Attorneys, APLC, is ready to help with vehicle accident cases.
It isn't your job to consider whether you will receive compensation. Get the first free consultation with Ehline Lawyers. You will have guidance with care, so you're solaced for your pain and suffering.
Citations:
https://www.nhtsa.gov/Safety/Motorcycles/ National Highway Traffic Safety Administration (NHTSA) Motorcycles
https://saferoads.org/issues/motorcycle-helmets Advocates for Highway and Auto Safety