Severity and Occurrences of Broken Neck Incidents at Nursing Homes
Even when using assistive devices, trip hazards can result in serious injuries, including a broken neck. Such people may suffer different kinds of uncomfortable and painful fractures and damage. It can be spinal column damage, spinal cord injuries, cervical spine fractures, broken bones, or other injuries.
The severity of falls and fractures
The severity of the fracture or the broken bones depends on how bad the fall was in the first place. It could be a cervical fracture, which is one of the most common types of fall injuries. Some falls require more than a single doctor visit. Some falls require a surgeon to perform emergency surgery and long-term hospital care. One thing that has to be considered with nursing home neglect resulting in a broken neck is whether the elderly people who fell down had already suffered a fall in the past.
The situation could be much worse if they also suffered a fall in the past. Such an accident at any number of nursing home facilities can be a life-altering incident in the life of an elderly resident and their surviving family member. Older adults are also more prone to infection after surgery as well.
Annual Death Rate from falls
A study shows that after suffering from a neck injury in old age, 57% of the total elderly people end up losing their lives annually. Therefore, elderly people and other residents falling at nursing homes and breaking their necks is not something that can be taken lightly. It will often lead to permanent damage, including constant infections and addictive pain medications, and partial recovery. The danger of falling on the floor can also harm the victim's personal dignity, leading to depression and suicide. This grounds a civil lawsuit for wrongful death and serious injuries.
Falls of Elderly Patients are Preventable
It is very much possible to prevent elderly residents at nursing centers from falling and suffering from broken bones, broken neck injuries, or other injuries.
Elders Falling is a Common Occurrence at Nursing Homes
Shockingly, elderly people falling into nursing homes has become common. The primary reason behind the falls is the nursing homes' mistreatment, neglect, or abuse.
If you or someone you know has or is currently suffering from pain after falling and suffering from a fracture, the particular nursing home for the seniors can be held liable.
Get an Attorney to Help You
However, if you wish to do it, you must work on the attorney-client relationship. You can make it happen through a competent and dependable lawyer to do the job. It would be best if you had a lawyer because the nursing home, its staff, or its handlers will try to blame you or the victim's poor health or old age. Our top legal team understands your difficult situation and wants to help you get money and increase your physical range of movement, so you're not confined to a wheelchair and crutches.
Multiple Kinds of Neck Injuries
As per the study, the upper cervical area is the most common location on nursing home residents' bodies where they get fractures, plus the neck.
At the nursing facilities, broken neck injuries are divided into three sub-injuries that are as follows:
Cervical Extension
This type of fracture is mainly among elderly people who are already unable to walk or move due to their physical condition. These people can hardly move, so it is perilous for such elderly people. Any attempt at forward motion or step they make without help can cause a fall injury. For elders with medical conditions like advanced osteoporosis, immobilization is often permanent.
They can't even move around without direction, control, or assistance from a trained physical therapy nurse, doctor, or other qualified staff members. You can contact us today for a free case evaluation to learn more about receiving financial support for a pressure sore, improper nutrition,
Central Cord Syndrome
People may get this type of spinal cord disorder when hyperextension occurs in the neck.
Odontoid Fractures
If a person falls and takes a direct hit to the head, it can cause an Odontoid.
The Effects on Nursing Home Patients Following Broken Neck Injuries
If it is a case of a young person going through a broken neck, then it is not something as alarming as an elderly person getting the same at a nursing home.
An elderly person who suffers from a fracture at a nursing home can cause multiple health problems. At times, the health problems can be chronic, affecting the patient for the rest of their lives.
You must bear in mind that fractures not only have the potential to cause physical health issues in the nursing home resident but also impact them emotionally and mentally.
Short-Term Effects
They do not last long and can be fixed with proper rehabilitation and treatment. Some of the major short-term effects include respiratory problems or cardiovascular complications.
The doctors perform the necessary checks to test the ventilation, oxygenation and airway passage to the heart and the lungs as a result of a broken neck. If these checks are performed correctly, they can prevent the situation from aggravating further.
As a result of the broken neck or fracture, there are high chances of patients suffering from a neurological shock and hypotension.
Listed below are some of the problems faced by elderly patients at nursing homes.
Issues with Bowel Functions

Gastrointestinal Problems

Muscle Atrophy
Long-Term Effects
The neck injuries and cervical spine fractures have long-term effects as they are quite severe among old-aged patients.
The long-term effects found in the nursing home residents after a broken neck include:
The elderly patients who suffer from neck fractures are monitored to see if the bladder and bowel are functioning as they are supposed to or not. Regular checks must be carried out for blood pressure as part of the safety process to ensure the patient's well-being.
The reason for checking the blood pressure is because it can cause massive distress in elderly patients if it is high.
Negligence by Nursing Centers
Sadly, such injuries and fractures are common among old people in nursing centers due to abuse. Apart from abuse, the nursing centers sometimes are not built in favor of elderly people. Then there is the staff at the nursing center who may not have gained proper training, and because of their lack of training and care, the old people may end up with injuries.
Some of the acts of neglect by the nursing staff include:
Poor Maintenance

Over-Medication

Lack of Supervision

No Proper Safety Measures for Elderly People

Staff with Lack of Training
The Nursing Homes Can be Held Liable for Abuse
If the staff at the nursing home is irresponsible and their carelessness results in elderly patients' death or chronic conditions, then they are more than liable.
When such issues are faced, lawsuits can be filed by the families of the victims against the nursing centers and the responsible staff members. The families can do it to acquire compensation for the suffering, pain, medical expenses, and many other issues.
If the elderly person dies due to a neck fracture at the nursing home, the surviving family members can file a lawsuit against the nursing centers as a wrongful death lawsuit.
The lawsuits can be filed to get compensation for the following damages:
Medical Bills

Funeral Costs

Burial Costs

Loss of Services.
In conclusion, these injuries are preventable with the proper nursing care. Yet, traumatic injuries, including a spinal cord injury with its complications, remain the leading cause of unexpected deaths among the elderly. Personal injury complications can hinder breathing, leading to respiratory heart issues (high blood pressure) and gastrointestinal and muscle atrophy problems. Some victims already suffer from diabetes and other complications. Hence, back injuries like this come with an acute mortality rate above 20% in older people.
Contact Ehline Law Firm Nursing Abuse Broken Neck Lawyers
Are you or a loved one undergoing extreme pain and suffering after a broken neck injury in a nursing home? The CDC provides study data and insights. We provide bold, aggressive, and honest legal help and attention to injury victims within that data set and who live in nursing care facilities. Ehline Law Firm's experienced lawyers are ready to provide you with your first free consultation to discuss your legal rights. Whether taking action against nursing home neglect or a personal injury claim, the Ehline Law Firm lawyers can finally help you get justice and the rightful compensation.
When it comes to young individuals, minor injuries are not at all concerning or something to be worried about. Even the slightest minor falls can result in major injuries like hip fractures compared to young people. Schedule your free consultation today. Call us at (213) 596-9642 or use our website contact form to rule out medical malpractice and retain a top nursing home abuse lawyer in Los Angeles County, CA. Let's talk about winning your nursing home broken neck case. Act now before the statute of limitations expires.
---
Michael Ehline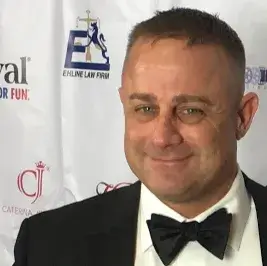 Michael is a managing partner at the nationwide Ehline Law Firm, Personal Injury Attorneys, APLC. He's an inactive Marine and became a lawyer in the California State Bar Law Office Study Program, later receiving his J.D. from UWLA School of Law. Michael has won some of the world's largest motorcycle accident settlements.
---
Recent Personal Injury News
Check out our most recent nursing and elder care abuse and more, including the famous, infamous and everyday people wounded by at fault parties around the world.