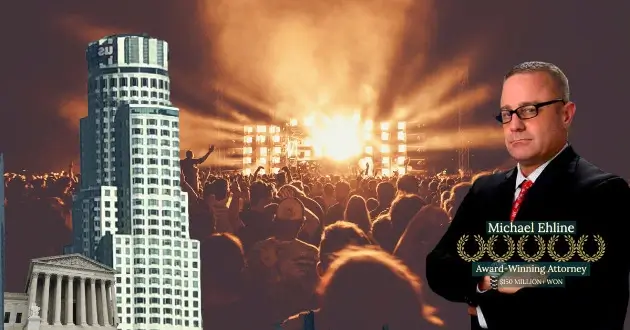 On November 5, 2021, the most awaited annual music festival run by American rapper Travis Scott took place in Houston, Texas. The yearly festival did not occur in 2020 because of the coronavirus pandemic. The first one happened in 2018, the same year Scott released his smash hit album "ASTROWORLD," with many attendees claiming it was the best experience for them.
However, as many people gathered to have a great time, the music festival became a nightmare and a multi-million dollar premises liability wrongful death debacle. Due to a lack of planning, safety, and security, a crowd surge began during Travis Scott's performance.
Eight people died, and 11 people suffered cardiac arrest at the event. Later on, two more people died from their injuries. A further 300 people suffered injuries during the crowd surge, leading to the cancellation of the second day of 2021 Astroworld. The Getty Images shared on the internet were heartbreaking for many of the loving families and friends of trampled victims.
Lawsuits Start Pouring in Against Rapper Travis Scott, Live Nation, and Others
The unfortunate incident resulted in 500 lawsuits against Travis Scott, Live Nation, and the management.
$750 Million Lawsuit Filed Against Rapper Travis Scott and Others
Tony Buzbee, from the Buzbee law firm, filed a $750 million lawsuit on behalf of Acosta's family and 125 other victims. All the plaintiffs suffered mental and physical injuries, with some who lost their loved ones. An attorney for the family said: "Victim Axel Acosta was a beloved son, brother, and student."
The Family of Victim Axel Acosta Made a Confidential Settlement
During the fatal crowd crush incident, Acosta, a beloved son, suffered from compressive asphyxiation at NRG park in Houston and died. He was one of the ten people who lost their lives at the festival.
On October 20, 2022, nearly one year after the disaster, Buzbee confirmed that the family of victim Axel Acosta settled their case against Travis Scott, Live Nation, and others who were part of the Astroworld tragedy for an undisclosed amount. Buzbee shared a few words about Axel Acosta and how the beloved son will be greatly missed.
Although no amount of money could help make the victims of the Astroworld festival whole, nor could it replace the human lives lost, the damages can help make up for the losses suffered by the plaintiffs.
The lawsuits filed by Tony Buzbee against Travis Scott, Live Nation, and others involved in the management of the concert also seek punitive damages to punish the responsible parties and make sure such future activities are done with safety at their core.
A $2 Billion Lawsuit Filed on Behalf of 282 Victims
More than 50,000 people attended Astroworld, 10 lost their lives, 25 required hospitalizations, and hundreds were injured, including a 9-year-old boy, Ezra Blount. The suit highlights Scott's history of inciting rowdiness at his concerts and how he shares pictures of bloodied or passed-out fans on his social media posts.
Another lawsuit against Travis and the Astroworld management filed by Thomas Henry, a San Antonio attorney, seeks $2 billion in damages on behalf of 282 victims.
Travis Reaches out to Families to Pay for Their Loved One's Funeral Costs
Scott's attorney, Daniel Petrocelli, started reaching out to the families who lost their loved ones at the event. He expressed how devastated Travis was following the incident and wants to help the families to start the long process of healing in the Houston community. Travis offered to pay for the funeral expenses, but most victims and their families refused the rapper's offer.
Ezra Blount, the 9-year-old boy, died ten days after the incident at a hospital after doctors had to place him in a medically induced coma due to his severe injuries. Bob Hilliard, the attorney representing Blount's family, responded to the letter by stating Travis's journey ahead would be long and painful, and he must bear responsibility for the tragedy.
Schedule a Free Consultation with Ehline Law for Sports Stadium Accident Help
Accidents can occur at concerts and other events, leading to injuries. The event organizers are responsible for ensuring their guests' safety; failing to do so can result in claims brought by injured victims. If you suffered injuries at an event due to no fault, contact us at (833) LETS-SUE for a free consultation, as you may qualify for compensation.
Citations: