You may have grounds for a lawsuit for plastic pollution and lying about the coffee cup's plastic lining. But you probably can't sue for fear of cancer, as you cannot sue for fear of catching something from the coffee shop, etc. Let's look at the facts and develop the basis of your lawsuit for tiny plastic particles found in coffee cups.
True, people in the west prefer coffee over tea or any other hot drink-ables when starting the day. The majority of the coffee shops and chains tend to serve coffee in paper cups with a plastic lining. There are all kinds of food delivery vehicles filled with toxic chemicals our U.S. and local politicians and agencies have found "acceptable," even though it causes plastic pollution. I am attorney Michael Ehline.
Today I will discuss why ingesting plastic from a coffee shop cup can lead to health problems, including cancer from tiny plastic particles, including low density polyethylene, because chemicals and nanoparticles are being released from plastic food contact materials into the human body. We will also discuss whether or not you can sue for fear of cancer or some other cause of action surrounding this latest discovery about the thin plastic film in coffee cups.
To start with, dangerous products must be labeled as hazardous. But, as will be discussed, sometimes the state says the dangerous toxins are at a low enough level to warrant a warning label. Because of this, many manufacturing companies and food service organizations refuse to label their products as dangerous. Typically, it takes a lawsuit from a personal injury attorney to convince these wrongdoers that government regulations are a floor and not a ceiling.
These defendants can still be sued under a local or class action lawsuit under various negligence and fraud theories, as will be discussed. This is too little too late for many victims, as they didn't have a chance to stop using the product before developing cancer and other health problems.
COVID CUPS?
Since the COVID 19 pandemic, plastic-lined cups have increased tremendously. While people think that they are just tasting their favorite coffee, there is more that they are consuming apart from the flavor.
But it's known that hot beverages typically release more significant amounts of cancer-causing chemicals than cold will release microscopic plastic particles into the cup and down your throat.
Surprisingly, you may not even bother when told about the particular ingredient entering your body when you drink coffee. Still, you must be aware of it because it is your right to know what you consume. To your surprise, you are not only sipping coffee, but with it, you are also taking in tiny plastic particles. If you think they are not many, then you'll be surprised to know that they are in trillions.
All these particles enter your body the moment you take a sip from the paper coffee cup that has a plastic lining it.
Research on the Coffee Cup is Alarming
Research has recently been carried out on coffee cups that have come up with alarming results.
The research was carried out on the coffee with a plastic film inside it. The film helps prevent the coffee from seeping through the cup and keeps it hot for a more extended time. According to research, the particular lining releases an enormous number of plastic nanoparticles. The data suggests that over 5 trillion nanoparticles of plastic are released through the plastic lining in a single liter.
All these particles are released into a single-use cup that is of 12-ounces. The research data has been shared through the Environmental Science & Technology journal. To be more explicit, 1 liter translates to 34 ounces of fluid.
Christopher Zangmeister's Deep Dive
Christopher Zangmeister is the acting group leader and a chemist at the National Institute of Standards and Technology's Material Measurement Laboratory. Much of what we will discuss here is a result of his deep dive, so let's get started.
Is It Okay If the Government Says So?
No way. The U.S. government has subsidized organizations like WHO, who are often held hostage by research endowments and funds from manufacturing companies and others. So it makes sense that the heads of these agencies like the DHS or FDA often worked for large pharmaceutical companies, etc.
So no, most experts agree you cannot trust much about what the government says about health unless you are one of the published scientists who work at these agencies accountable to politicians who are beholden to campaign reelection fund donors, including the plastics industrial complex.
Let's look at what Uncle Sam says about ingesting plastic nanoparticles. Government researchers quickly note that the total amount of plastic particles leaching into hot liquids from single-use cups will typically fall well under their guidelines for safe human consumption levels. Of course, these are established by the U.S. Food and Drug Administration.
Some environmental experts agree with this, but only to a small degree. Christopher Reddy, a senior scientist and expert in marine chemistry and geochemistry with the Woods Hole Oceanographic Institution said: "I read that sentence and go, well, is it time for us to re-evaluate the guidelines?" Rolf Halden, director of the Center for Environmental Health Engineering at Arizona State University, says we still must take steps to "…measure what is arriving in our bodies, where it is deposited and what it does there."
Halden noted that Asbestos causes harm due to its similar tiny particles being inhaled. He states that these particles will accumulate in our lung tissue, which generates an inflammation response, leading to scarring and eventual asbestos-related cancer. According to Halden, Asbestos itself is relatively benign. It's an inorganic material."
He says: "What makes it toxic and kills 90,000 people a year is that it has particles that lodge in human tissue."
 Sure, The World Health Organization claims the risk from microplastics in drinking water is low too. But NIST chemist Christopher Zangmeister conducted a study about this. He and his colleagues filled nylon slow-cooker bags with "ultra-high" purity water. They did the same experiment on polyethylene-lined paper coffee cups you'd buy at a typical grocery store or Starbucks. The findings are alarming. Large and small plastic nanoparticles are everywhere.
Sadly, little information is known about the long-term impact of microplastics on humans. According to Tufenkji, "There's no research. But this points to the need to do those studies," Nathalie Tufenkji, a professor of chemical engineering at the Montreal University, said: "Think of people who drink one or two or three cups…."
Think about it? How much plastic is lodged in their tissue, FOREVER?
Zangmeister has found that a single human hair may contain over 1,000 particles with a diameter of 100nm.
In summary, nanoparticles are tiny, but you are taking in more and more into your living tissue each time you sip your coffee. Researchers estimate that consuming 13 cups of hot coffee will add one particle of nanoplastic inside your body for every seven cells.
Alarmingly, researchers discovered that nanoplastic particles get released no matter how cold, warm or hot the liquid is inside the cup. Boiling water is not a prerequisite to releasing these toxic particles. But as the water temperature rises, more particles get released.
Once at 100 degrees Fahrenheit the particle increase remains constant. The studies were conducted on cups and plastic cooking bags obtained from many retailers. It was found that a slow cooker bag kept at hot temperatures for an hour released around 35 trillion plastic nanoparticles per liter of water. Similarly, hot water poured on coffee cups containing 12 ounces of liquid that steeped for 20 minutes leached about 5.1 trillion plastic nanoparticles per liter after it had cooled.
Average Hot Beverage Temperate and Particles Release Standard
In 2019, research shared by Food Science through its journal revealed that hot beverages have an average temperature of between 130 and 160 degrees.
This means that when you consume a hot beverage through a paper cup with a plastic lining, you consume the maximum number of plastic nanoparticles. The most alarming part of the research is that the U.S. Food and Drug Administration is okay with people using a single plastic cup and its particles released.
These nanoparticles are small enough to get inside your bloodstream and can become permanently lodged in human tissues and organs. (Source – Rolf Halden, director of the Center for Environmental Health.)
Other Sources of Toxic Plastic Exposure Ingestion
Plumbing – Most modern homes and buildings use plastic, and plastic water filters are manufactured from a polymeric materials base
Paper cups – Manufacturers don't use hot water to wash ups before sending them to end user consumers
Ideas To Avoid Plastic Exposure in Hot Beverages and Food
Drink ultra high purity water from glass or ceramic containers
Never use single use beverage cups
Stay away from anything associated with plastic
Take fish oil, Curcumin, and antioxidants, as these may contain anti-cancer chemicals.
Potentially Liable Parties
You cannot sue for monetary compensation over the fear of being diagnosed with cancer or another disease. But there are other ways to get justice, including injunctions to halt the production of toxic chemicals in foods, etc.
Here are some ideas you can sue over concerning plastic nanoparticles:
The U.S. Government – The U.S. Food and Drug Administration (FDA) has been sued by eight environmental and human health organizations over their failure to ban phthalate chemicals in F&B packaging, despite years of research proving its danger to human and ecological health. (Source.)
Cup manufacturers – Them and anyone in the chain of commerce faces legal ramifications.

Coffee Houses – Grocers and anyone else in the chain of commerce
Example: McDonald's and Burger King are being sued for 'forever chemicals' called PFAs in the packaging (Source.)
Potential Causes of Action from Plastic Chemical Exposure in Coffee Cups and Lids
Irrespective of the political class playing defense for their party donors in the single-party state of California, over  90 coffee retailers, including McDonald's and small coffee chains, face pending lawsuits for knowingly selling carcinogen laced coffee. As an aside, there are even some people suing the FDA for allowing rocket fuel chemicals in certain dry foods (Source Breast Cancer Prevention Partners.).
Schedule a Free Consultation With A Plastic Coffee Cup Injury Law Firm Today
Did you or someone you love suffer fraud, negligent misrepresentation, or cancer caused by plastic in coffee cups? You're not alone. Call us today to schedule a free consultation with a Los Angeles, personal injury attorney who helps wounded victims in all types of catastrophic injury claims in Southern California.
Call now at (213) 596-9642 or use our convenient online contact form for verification purposes only and a swift return phone call. Our prompt, responsive attorneys can help you obtain maximum compensation, or we will go to trial and fight for you for a decisive victory.
Citations:
Kujundžić, R. N., Stepanić, V., Milković, L., Gašparović, A. Č., Tomljanović, M., & Trošelj, K. G. (2019). Curcumin and its Potential for Systemic Targeting of Inflamm-Aging and Metabolic Reprogramming in Cancer. International journal of molecular sciences, 20(5), 1180. https://doi.org/10.3390/ijms20051180
Plastic Health Coalition
Rolf Halden, Ph.D., Director, Center for Environmental Health Engineering, Arizona State University, Tempe
Material Measurement Laboratory of the National Institute of Standards and Technology in Gaithersburg, Md
World Health Organization (WHO)
Woods Hole Oceanographic Institution in Woods Hole, Mass.
Michael Ehline
---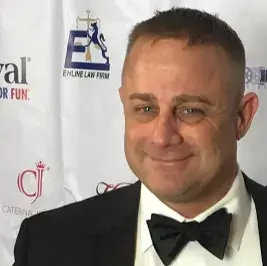 Michael is a managing partner at the nationwide Ehline Law Firm, Personal Injury Attorneys, APLC. He's an inactive Marine and became a lawyer in the California State Bar Law Office Study Program, later receiving his J.D. from UWLA School of Law. Michael has won some of the world's largest motorcycle accident settlements.