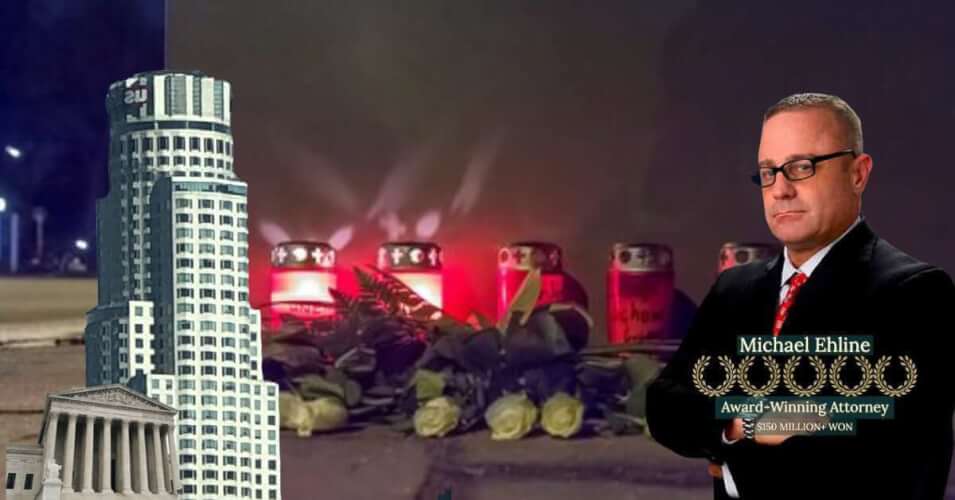 DUI Liability
Proving Wrongful Death DUI
A fatal San Jose car accident involving a Pleasanton man and an allegedly drunk driver occurred on Hellyer Avenue and Ridgebrook Way.
We recently learned the victim is Jaime Lopez Perez, 26, of Pleasanton, according to the Santa Clara County Medical Examiner-Coroner's Office.
Let's look at the details of the accident where Jaime Perez allegedly collided with parked vehicles in San Jose Thursday afternoon and ended up dead. Michael Ehline, a licensed attorney with Ehline Law, will analyze how this turned into a pedestrian collision with a pickup truck, with one person pronounced dead.
Fatal DUI Accidents in San Jose Leaves One Dead
Sadly, on September 3, 2022, Jaime Lopez Perez, a suspected DUI driver, pulled over his 2007 Toyota sedan at around 3:30 AM and got out after striking at least three parked cars. Upon leaving his vehicle and walking a short distance, Perez got struck by a speeding Dodge truck heading westbound, causing fatal injuries to him.
The 23-year-old driver of the Dodge truck, who displayed symptoms of being intoxicated, stayed where the incident happened until police and paramedics arrived. The medical responders found Perez in an unstable condition and tried to help him, but it was too late by the time the crash happened due to the high rate of speed. Perez died at the scene of the DUI accident.
Driver Arrested on Signs of Impairment, San Jose Police Department Says
According to the San Jose police department authorities, the Dodge driver displayed signs of impairment. Growing suspicious that the driver was under the influence before the accident, the police arrested him on multiple charges, including vehicular manslaughter and DUI. These bay area officials said they booked the 23-year-old driver at the Santa Clara County Main Jail.
Perez died in a fatal car accident in San Jose's Hellyer neighborhood, according to police. Investigation into the San Jose car accident remains ongoing as to how the road incident began. We could find no word of a fundraiser or support that looked official.
Recent DUI Car Accidents in California
The "Pleasanton man killed in car crash on Hellyer Avenue in San Jose" incident is one of many involving drunk drivers in the United States.
The following are some of the recent DUI traffic collisions reported across California cities:
On September 9, 2022, a California Highway Patrol officer and two others suffered injuries in a wrong-way DUI crash on I-280 in Daly City.
Paul Pelosi, Husband of House Speaker Nancy Pelosi, crashed his vehicle in Napa County, north of San Francisco, before getting arrested for a suspected DUI crash after failing the sobriety test and having his 11/99 Foundation Card Revoked.
On September 11, 2022, a DUI hit and run left a 69-year-old Santa Cruz man dead.
On August 27, 2022, a drunk driver in a hit-and-run motorcycle accident left a motorcyclist dead on I-15 Freeway.
According to the National Highway Traffic Safety Administration (NHTSA), 32 people die daily due to drunk drivers; in 2020, 11,654 lost their lives to alcohol-impaired driving. At least one person dies in the country every 45 minutes due to intoxicated drivers. In many cases, all survivors are entitled to a civil claim for wrongful death damages. Sometimes no justice is recovered other than a jail sentence for the negligent DUI driver colliding with the dead person. Without legal representation, it's hard to know if you have a claim for damages in a car accident or what your chances of a full and fair recovery might be, given your unique facts and circumstances.
Drunk Driving Fatalities Annually
Drunk driving accidents in the United States contribute to approximately one-third of all traffic-related deaths and about $44 billion in damages annually. In 2020, 26.8% of drivers injured or killed in traffic collisions had alcohol in their system, suggesting that America has a severe drinking and driving problem that can easily reach unprotected pedestrians.
This single-vehicle crash is an example of two drunks, equaling mass property damage and a killing blow to an entire bloodline with one person dead. This behavior is nothing to be proud of, and instead, the public should take steps to educate others about the dangers of intoxicated driving.
Liability for Injuries Arising from a DUI Car Accident
Under California Vehicle Code 23152, drivers must not drive with a Blood Alcohol Concentration (BAC) of 0.08 or higher. The BAC level is significantly lower for commercial drivers without a BAC of 0.04 or higher.
Typically, the liability for drunk driving lies on the driver. However, there are certain circumstances where other parties may also be involved. For example, a company may be held responsible for a drunk driving accident involving their commercial truck driver as long as the employee was operating within the scope of their employment.
Killing someone while driving under the influence is a criminal offense, with the prosecutor pursuing the criminal case against them in court. However, surviving family members of the drunk driving accident victim may bring a wrongful death claim against the intoxicated driver to pursue and recover just compensation for the sudden loss of their decedent loved one. Ehline Law Firm extends our deepest condolences to the identified family and their friends.
What Can Crime Stoppers Do?
Defendant driver Rolando Lopez was booked into Santa Clara County Main Jail on suspicion of drunk driving and vehicular manslaughter. Witnesses and the general public are encouraged to Contact Detective Templeman of the San Jose Police Department's Traffic Investigations Unit. He says anyone with information about the case should reach out to him at 3556@sanjoseca.gov or 408-277-4654. Confidential tips can also be lodged with Silicon Valley Crime Stoppers at 408-947-7867 or svcrimestoppers.org.
Contact a California Wrongful Death Attorney for Help
Don't get slammed by the insurance company trying to defend your damages case alone. Our Los Angeles-based wrongful death lawsuit attorneys can provide victims with a free consultation 24/7 for a heart-to-heart conversation about their potential accidental death claims. Ehline law firm and our personal injury attorneys maintain a strong attorney-client relationship in which our clients entrust our legal experts with confidential or sensitive information to help with their cases.
The victim's family can sleep easily knowing our swift, talented and aggressive team is on their side, fighting to secure enough money to live comfortably as they recover from losing their provider, friend, father, mother, son, or daughter. If you've lost someone in a DUI traffic collision that was not their fault, contact us at (833) LETS-SUE for a free case evaluation with our legal experts in San Jose County, CA.