Pressure sores stages are many. Pressure wounds are commonly found on feet. So when looking, doctors view pressure sores on heels. Prosecutors are looking for abuse looking at pressure sores pictures. And this brings us to the million-dollar question. What are pressure sores' causes?
Many sons and daughters have suspicions about their parent's care. After all, mom and dad are seniors now. They are in elder care facilities and ready to pass into twilight.
Families ask nursing home abuse attorneys, "are these pressure sores common?" Or "is it normal for my parents to look so bad?" So to answer these questions, specific signs of abuse versus typical wounds would happen anyway. Causes of pressure sores can be conventional or due to abuse. If the elder has broken down skin tissue, it can turn into an open pressure sore.
So this article discusses the causes and symptoms of pressure sores. These ailments affect many seniors under nursing care.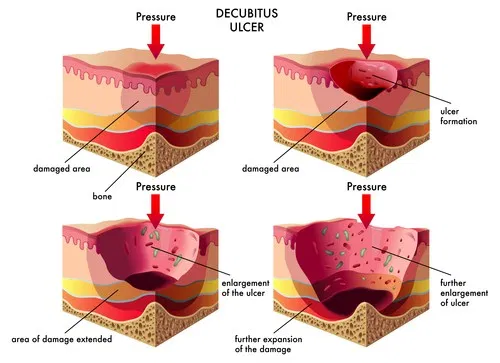 Pressure Sores in Older Adults
Few health conditions can cause pressure sores absent good care. If confined to a bed or a wheelchair, pressure sores appear in mature adults.
And most of the time, they do not have assistance to move. In particular, pressure sores on the toes can keep a person bedridden. So circulation gets cut off. Most of all, pressure from the bones cuts blood flow under the pinched skin.
Common Locations for Pressure Sores
Bony areas such as the hip are common areas for sores. Also, the buttocks, the sides of the knees, heels, or shoulders are at risk. Circulation gets cut off by the weight of the bones. So sandwiched skin gets impinged between two hard surfaces. One, the bone, and two, a bed or a wheelchair, for example.
The skin of the aged adult is delicate. And it can become damaged quickly from the loss of circulation. Unless you take steps, such as using pillows, the risks increase. Nurses must use lambswool on the heels and between the knees. So caretakers must take steps to stop pressure sores from forming.
Keep the Skin Clean and Moist
One of the ways to keep pressure sores from forming is proper skincare. Most of all, you must keep your skin clean and moist. And you must maintain excellent blood circulation.
Maintain Blood Circulation
Improved circulation means moving a bedridden patient at intervals. Also, doing a daily range of motion exercises helps. In any case, this allows nutrients and blood cells to circulate. And it lets the skin breathe easier.
Methods to Help Blood Circulation
Nurses have many tools available to care for ailing patients. To help with human blood flow, proven and secure methods exist. Placing a pillow or lambswool between the knees is a proven method to improve the blood flow through the circulatory system.
Most of all, this keeps the bones in the knees from pressing against the opposite knee's skin. But this is one example of how impingements can stop circulation.
Broken Skin Is a Sign of Serious Injuries
Illnesses like a stroke can confine an older person to a bed or a wheelchair. By and large, this is due to paralysis. Signs of the breaking down skin are visible.
First, the skin will exhibit red spots. And if poor circulation continues, the skin turns deep red, black, or purple. Also, it tends to hide, and the tissue underneath will die from lack of circulation.
Unique Risks Inherent in Seniors
The loss of circulation at any age can cause problems. But in the aged person, it worsens. Older skin is delicate. And it will break down much faster than someone younger.
This is a red flag if the home health agency has elders with pressure sore signs. So this might be the time to question changing healthcare providers. Pressure sores treatment should all have been at play before it reached this point. But voice these concerns to a lawyer experienced in elder abuse laws. This person can hold the personal care agency liable under the law.
Get Help
Contact an experienced elder abuse lawyer for help. Call (213) 596-9642.