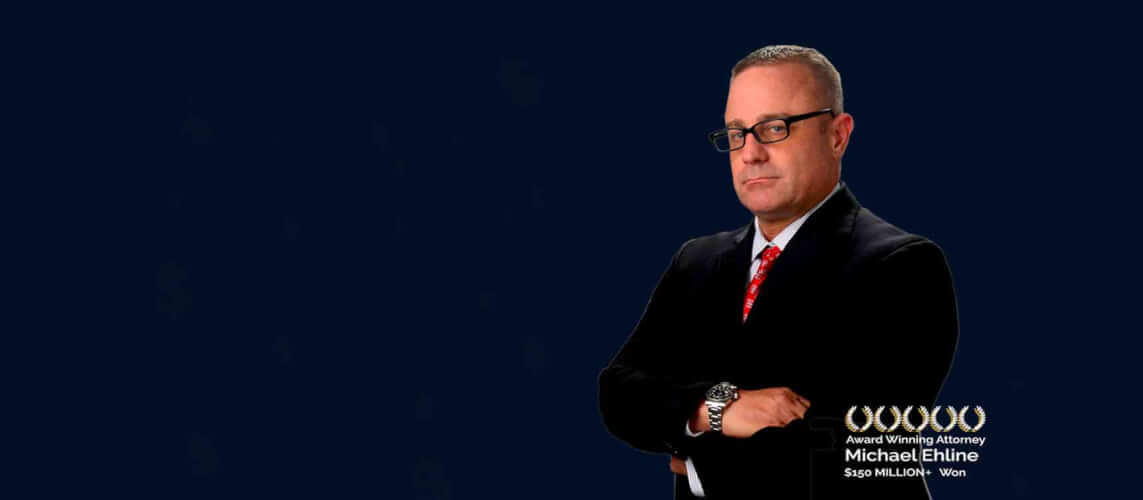 Disability insurance works very technically, which can make settlements and the disability claim process a tad bit difficult. Paying for disability insurance each month keeps you secure from any accidents that may cause disability.
A disability affects an individual's job status and income, as victims often take unpaid leave. With disability insurance or workers comp settlement, victims can get all the disability benefits to help them live everyday life.
Considering a Lump Sum Payout for Disability? Talk to Ehline Law, First
The disabled individual gets monthly payments from the insurance company once their disability benefits get approved. These benefits come to a halt once the victim has resumed work, requiring the individual to start making monthly payments towards the disability insurance to secure themselves for the future.
There may be situations where you can draw on a lump sum settlement instead of taking monthly payments as benefits. However, it is wise to speak to an attorney and see your legal options before making any decisions. There are benefits and drawbacks to taking any decision, so let's go over a few pros and cons of lump sum disability settlements.
When to Go for Lump Sum Settlement
One of the significant drawbacks of disability insurance is that you can not transfer it to the beneficiaries when you die, unlike life insurance.
There may be a situation where you would want to draw on a lump sum settlement, such as with serious health conditions, to ensure the financial safety of your kids, family, or beneficiaries. In such situations, it is best to take out a lump sum settlement from the insurance companies rather than monthly payments.
Many people prefer to have a lump sum settlement as they can not deal with an insurance company over and over again. This is because when you're drawing on monthly payments, you need to fulfill specific criteria of these companies to continue enjoying disability benefits.
However, once you do not comply with such criteria, you may find that it's a constant argument back and forth with insurance companies. L lump-sum payment is a great option to eliminate the insurance company altogether.
Some people are financially savvy and would invest the lump sum money from disability claims to maximize their returns and make substantial profits. If you're one of those people, getting a lump sum payout is your best option.
When to Avoid Lump Sum Payment
A temporary disability is one of the reasons why you should avoid cashing out on lump-sum payments from the insurance company. This is because you would want your insurance policy to continue after fully recovering.
Insurance is a great way to secure yourself financially, and taking a lump sum payment can put you in a tough predicament later in life. What if you're faced with a problem later in life and have already exhausted the lump sum settlement? You would need an insurance policy to continue receiving disability benefits throughout your life in case of any disabilities.
Many people are not good with finances and spend all their lump sum in one go without saving. This can impact their lifestyle later in life when they need money and don't have it. Taking out monthly payments is a way for these people to remain financially responsible.
What You Should Consider When Your Insurance Company Gives You a Lump Sum Payout
Insurance companies don't mind providing a lump sum payment depending on the policyholder's age and long-term disabilities. However, it would help if you considered the following things before accepting any lump sum offer.
The Current Value of the Claim
Often, disability insurance companies would pay less than what your current value of disability claim is. To determine your current weight, you need to find the present value of your future benefits.
Calculating that would give you an idea of how far off the disability insurance company's settlement offer is, and you can then seek legal advice from a disability insurance attorney.
Payment Adjustments
Some disability insurance policies allow for monthly adjustments, such as an increased cost of living or a hike in medical treatment costs. It would help if you considered such fluctuations when calculating the present value of your future disability insurance benefits to help you determine whether it is an excellent option to take lump-sum settlements.
Life Expectancy
Life expectancy plays a massive role in determining whether an individual should consider a monthly disability benefit or go for a lump sum disability settlement if they're older and know their medical condition is not improving.
It would help if you considered taking a lump sum from the disability insurance company so your beneficiaries can utilize it soon. But if you're young and have a long way to go until retirement, it is better to stick with monthly payments.
Taxes
Taxes are a huge concern for anyone looking to take a lump sum amount of money, whether insurance settlements or profits from investments. You must pay taxes on your lump-sum payments; therefore, consulting with a lawyer for tax implications before accepting any lump-sum offer is the right way.
Want to Discuss Disability Benefits? Call Ehline Law Now
If you're not sure about taking out a lump sum settlement as your disability benefits or want to know about tax implications on a lump sum settlement, speak to our disability lawyer now. Contact us at (213) 596-9642 and get a free initial consultation directly with an expert California disability lawyer now!
Ehline Law Firm and our Los Angeles injury attorneys have recovered over $150 million for our clients and can help you do the same with your disability insurance company.
Insurance companies try to avoid monthly benefits or giving a lower lump sum settlement. If you're having difficulty dealing with them, we can help assess your disability insurance policy and deal with the disability insurance company on your behalf.
Contact us now and get a free consultation today!