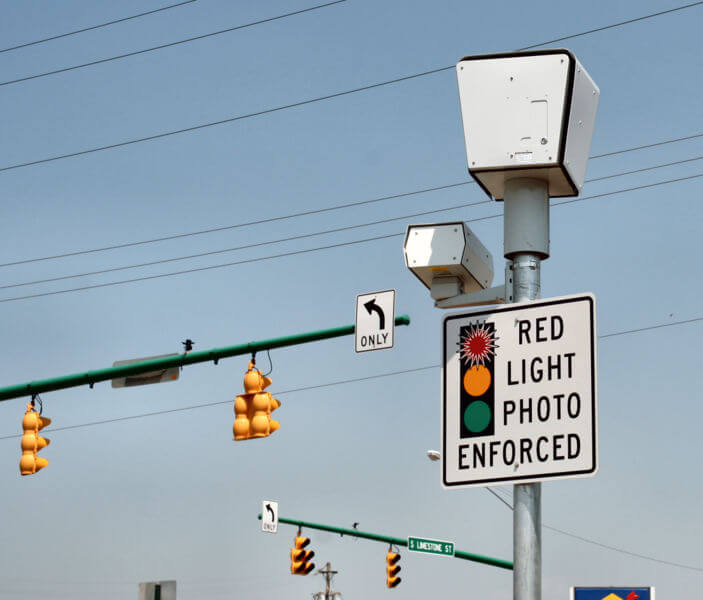 Not only did a man in Pasco County, Florida, feel it was wrong for his license plate to be taken by a traffic camera to catch people running red lights, but he also felt it was wrong constitutionally. A judge has given a ruling that backs up Thomas Filippone. "This is a matter of unalienable rights," said personal injury lawyer Michael Ehline, a California lawyer who deals with traffic incidents. "Let" s hope it happens in LA as well," said Ehline.
As reported by the Tampa Bay Tribune, a $158 traffic ticket was given to Filippone that he is refusing to pay. He also plans to start being extra careful at red lights:
Ehline agrees with Filippone, 45, who feels that under the law, it is their [govt's] duty to prove the person's identity driving the vehicle. He states his 2002 Nissan Altima had just crossed the intersection an instant before the light changed to red on April 15. Filippone feels it is unjust how the burden of proving the case is shifted to his shoulders. When Filippone brought his case before Pasco County Judge Anne Wansboro, he agreed and dismissed the case. Judge Wansboro stated that the burden of proof shifted to the defendant from using the cameras is impermissible. She states the use of the cameras is unconstitutional and does not warrant due process.
The case, however, is not entirely closed. According to the Tribune, a motion has not been filed to remove the traffic camera, and they are still in place. (King George would be proud.) Some city officials in the county will also file appeals against the decision made by Wansboro. City Manager Tom O'Neill states that they do not agree with the judge's decision. He also stated there was no notification of a constitutional challenge given to the city about the cameras on two red lights located in U.S. 19. The city officials' position is they were not given due process, which eliminated their opportunity to speak.
Joe Poblick, Port Richey city attorney, said the Florida Attorney General's Office had been notified of the judge's ruling. Any time the statutes of a state are an issue of constitutionality, it is necessary to notify the attorney general. The cameras are still being used; however, the proceedings are being closely watched as they go through the appeals process by city officials of other counties in Florida. Filippone believes the Pasco ruling stands, and it's doubtful he'll get more red-light tickets. He also plans to fight another ticket regarding the same issue using the ruling. "If SEIU govt employees want to keep milking taxpayers, they will have to do it another way," said personal injury lawyer Michael Ehline of Ehline Law Firm.
Sources:
http://www.theblaze.com/stories/florida-judge-ruling-finds-red-light-cameras-unconstitutional/