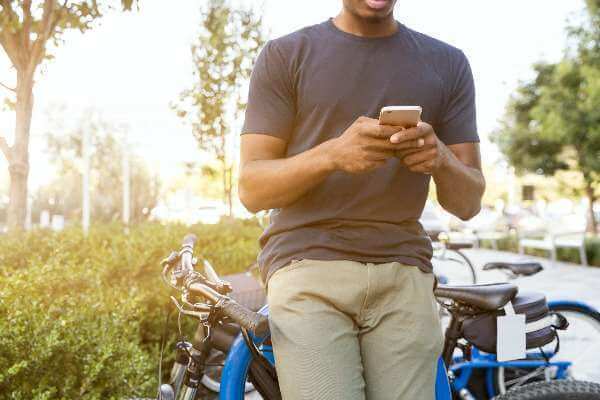 Los Angeles County has 70 miles of pristine, beautiful coastline, serene retreats, natural botanic gardens, canyons, and many more landscapes to view. The weather is perfect all year round for bicycle commuting across town and enjoying the nature that Los Angeles has to offer.
Unfortunately, Los Angeles is a dangerous city for cyclists due to the 5.5 million cars on the road each day. Besides the constant flow of traffic, 60% of the roads in the city are in poor condition, making them a hazard for motorcyclists to ride on.
Ehline Law is a leading California-based personal injury law firm that has helped more than 3,000 injured victims and recovered over $150 million in successful verdicts and settlements.
If you suffered injuries while riding on your bicycle due to distracted driving, poor road conditions, or another's negligence, you may be eligible for compensation. Reach out to us now and learn your legal rights as an injured victim.
The Perils of Biking in Los Angeles
Los Angeles is a cyclist's paradise in many different ways. The year-round perfect riding weather and the city's topography make Los Angeles a great place for cyclists to roam around at any time of the day, whether it is for work purposes or to enjoy the beautiful landscapes.
Unfortunately, Los Angeles is also one of the most dangerous cities for cyclists. According to the National Highway Traffic Safety Administration, in 2019 alone, 36 cyclists lost their lives, which was about a third of all cyclist deaths in California.
Bicycle Magazine in 2018 voted LA as the "worst bike city in America" due to distracted drivers, poorly maintained roads, and the government's willingness to pay millions in lawsuits instead of making LA a safer place to ride bicycles.
The strongly rooted car culture in Los Angeles and the lack of accessible public transportation have embedded a strong sense of ownership into the citizens who purchase vehicles. The long stretch of highways, freeways and famous boulevards such as Sunset and Hollywood Boulevard further increased the residents' reliance on automobiles.
People's reliance on cars has made it challenging to advocate for alternate modes of transportation. It is very difficult to do away with the Los Angeles car culture. In 2013, a prominent attorney, Milton Olin, was run over by a sheriff's deputy's car on Mulholland Drive.
During the investigation, the evidence suggested that the sheriff was texting his wife a few seconds prior to the accident. However, the district attorney's office refused to pursue any criminal or legal charges against the sheriff, leading to a civil settlement of $11.75 million.
Although cars or other vehicles are a huge threat to bicyclists, they are not the only danger to them. California's shoddy road conditions are also killing cyclists. Los Angeles raised its sales tax twice in the last 15 years in a bid to collect more taxes to spend on improving road conditions. The real shame is the fact that even after collecting more taxes, according to the Federal Highway Administration, 46% of California's roads are in extremely poor condition.
The poor state of the roads in Los Angeles has led to many cyclists suffering from injuries and even wrongful death. The city has already raised sales tax twice and implemented a gas tax to raise revenue for improving road conditions.
However, they have not improved, while, on the other hand, the city has already paid tens of millions of dollars to injured cyclists as a result of poorly maintained roads.
In 2017, a cyclist due to a buckled pavement crashed onto the road, resulting in severe injuries that eventually led to paralysis in all four limbs. The cyclist sued the city and won $7.5 million in damages.
That same year, the city paid $6.5 million to a cyclist who suffered from a traumatic brain injury after hitting a pothole and $4.5 million to the surviving family members for the death of a cyclist due to a ridge in the pavement.
City officials acknowledge the fact that cycling accidents are occurring far too frequently and that there is a need to improve the bike infrastructure in the city. Los Angeles mayor, Eric Garcetti, announced in 2015 the "Vision Zero" plan which aimed at reducing cycling fatalities in Los Angeles by 20% by the end of 2017 and bringing that number down to zero by the year 2025.
Ambitious as it may sound, the plan has certainly failed in achieving its 2017 milestone, and many critics of the plan believe that the second milestone is far from reach.
However, local officials argue that Los Angeles has come a long way and that riding a bike in LA has significantly improved. The city has already launched the 2035 Mobility Plan that aims to add to an existing bike infrastructure plan and also link all the bicycle path networks to improve connectivity and promote bicycling in the city.
In 2020, the city added 61 miles of bicycle lanes, more than double what it did in 2019. LA's Green New Deal has an action plan in place that would increase the residents' dependency on walking, cycling, and public transit to 35% by 2025.
Mayor Garcetti in 2021 stated that he would not stop promoting the need for safer roads and would accelerate the execution of projects that would help reduce the number of fatalities in the city. In 2020, LA spent more money on traffic security than in the previous three years combined.
The executive director of Los Angeles County Bicycle Coalition, Eli Kaufman, believes that to remove people's dependency on cars as a mode of transportation, there is a need to convince these people of the benefits of a better bicycle transit system and how it will positively impact other aspects of society.
Currently, the metrics just look at the efficiency of a form of commute rather than the larger and positive impact it'll have on society. Transitioning towards a better bicycle transit system could have a positive impact on the environment and also improve a person's physical and mental well-being. In 2008, a not-for-profit initiative, CicLAvia, aimed to do just that.
CicLAvia started in Bogota, Columbia's capital, where city officials would close down certain city streets and roads to car traffic and keep them open for bicyclists and pedestrians.
The idea was to convert public streets into public parks for a day. Since 2008, CicLAvia has had 35 events across Bogota, attracting more than 1.8 million visitors. However, due to the pandemic that started in 2019, the plans to hold six more CicLAvia events are on hold.
The spread of COVID-19 affected many different industries. Malls, movie theatres, gyms, restaurants, and any other indoor venues suffered throughout the pandemic as they remained closed to help prevent the spread of the COVID-19 virus.
Surprisingly enough, it also led to a boom in the bicycle industry, with many residents looking to start cycling in their neighborhoods as a family activity, exercise, or recreation.
In April 2020, the bicycle industry saw a boom like none other in the past 50 years. Bicycle sales in the United States for that month touched a billion dollars, an almost 75% increase from last year. According to market research, the sudden surge in demand has made it challenging for manufacturers and retailers to keep up with it.
Kaufman believes that the bicycle boom experienced in the past two years will help fuel quicker legislation for better bicycle infrastructure in the city. The increase in the number of people cycling on the road is a step forward in ensuring that LA becomes a safer and easier place for bicyclists to cycle around.
Los Angeles Department of Transportation: Walk & Bike Count
Although residents in Los Angeles are more car-oriented, the city has seen a slow transition towards alternative modes of transportation and building an infrastructure around them, and this includes walking and cycling.
This city has made unprecedented investments in transportation infrastructure and initiatives. People are resorting to other modes of transportation, such as renting electric scooters or using bike share systems.
The Los Angeles Department of Transportation (DOT) continuously monitors how people are using the streets and roads to capture data that would help them make informed decisions about transportation-related projects.
In 2019, the LA DOT introduced the Walk & Bike Count. With the help of city staff, volunteers, and contractors, the DOT captured their first set of data on the number of people walking and riding bicycles across Los Angeles at facility sites.
Before COVID-19 hit, the program captured travel at 63 different locations and was set to capture 40 more locations. However, because of COVID-19, the progress on adding more travel locations has really slowed down.
The Walk & Bike Count is one of many initiatives the city has embarked upon to achieve its strategic and climate goals.
Here are some of the highlights from the first Walk & Count report:
A total of 63 count locations.
Males prefer biking and riding a scooter more than females.
There are 4 bike paths, 25 standard lanes, 4 buffered lanes, 8 protected bike lanes, 5 bike routes, and 5 bike sharrows.
The top location for walking is Figueroa Street, located between 7th and 8th streets.
Bikers prefer biking on the Ballona Creek bike path.
People riding scooters prefer riding them on Hoover Street, located between 29th and 30th streets.
33% of bikers use helmets while others don't.
Since 2017, walking dropped by 6% while there was a 22% increase in biking.
Using Technology to Defend Bike Lanes
Los Angeles is not only looking to improve biking infrastructure but also uses technology to protect the existing bike lanes from parked cars.
Bike lanes are specifically for bicyclists to ride on without the fear of vehicles running them down. However, some car owners park their vehicles in bike lanes, which increases the risk of accidents for bicyclists. Bike lane parking violations are a serious problem and put a huge dent in city mobility.
A parked car will force the cyclist to move around the car, transition to another lane, move to the sidewalk, or find an alternate route. This inconvenience discourages cyclists and can also lead to accidents.
Today, technology has made it possible to take quick action against crime and violations in the city. Previously, people would alert authorities on social media by sending a tweet.
So far, reporting on social media has not performed well, but with the advent of citizen safety apps, everything is more centralized and there is also access to copious amounts of data that can help governments target different communities better.
The 311 App
The 311 app helps residents improve their neighborhoods. In 2019, the app introduced a feature that allows cyclists to report parking violations in bike lanes to prevent any vehicles from parking on them. Users can take photos of the vehicle in bike lanes, add the description and location of the vehicle, and send it through the app.
The app is part of the non-emergency 311 services whereby the registered complaint gets recorded at the 311 call center. This app is a channel for citizens to communicate with their city. Upon receiving the complaint, the city parking enforcement receives a notification which can then issue the parked vehicle in the bike lane a violation.
The app also allows the city's transportation department to gather and access specific traffic violation data, which they can then use to introduce relevant bike infrastructure projects or improve existing ones.
However, the 311 app has its shortcomings. The app does not provide an exact location of the parked vehicle by simply using the photo's metadata. It also does not provide details of accrued violations for that particular car instantly.
The app is just a reporting mechanism; the bigger problem lies behind the app. There is a lot of uncertainty about what the office does or when they take action when they receive a complaint. Residents may feel like they're doing their bit, but in reality, nothing might actually be happening.
These shortfalls created the need for a better app that would have advanced features and also an active team behind the app.
Safe Lanes App: Highlighting Safety Crisis in Los Angeles
The Safe Lanes app overcomes the shortcomings of the 311 apps. It uses advanced image analysis and a lightning-fast license plate recognition feature to instantly report illegal parking violations.
If you're roaming around Los Angeles and spot a truck that is blocking a bike lane, you could open up the app and take a picture of the truck's license plate. The app will then run your ID and picture through a license plate registration database and file an automatic complaint to the non-emergency 311 services regarding the truck illegally parked in the bike lane.
If you're lucky enough, the law enforcement officials will dispatch a unit to tow the vehicle and give the driver a citation. The best thing about the app is that it lets you know about the violations the illegally parked truck earned because of your diligent reporting.
The Safe Lanes app's feed is constantly updated to notify users and law enforcement authorities of vehicles that are illegally parked. Interestingly enough, the Safe Lanes users have already documented passenger vehicles, delivery trucks, and Ubers blocking bike lanes on Valencia Street. On the map, other users can also see Valencia Street riddled with red and yellow exclamation points that indicate violations.
Apps like Safe Lanes offer an insight into the problems cities are facing, especially with bike users. Cities have already embarked upon Vision Zero, a multi-national road traffic safety project.
However, they are failing to live up to the pledge they made to prevent fatalities and serious injuries involving road traffic. Fortunately, with Safe Lanes, users can do their bit to hold drivers accountable for risky behaviors and keep bike lanes safe for bicyclists. The data from the app can also help in building better bike infrastructure in the future.
Stephen Braitsch, the man behind Safe Lanes, states that the company uses the data to fuel targeted political activism. For example, a UPS truck reported on the Safe Lanes platform has 10 reports against it and has already racked up 27 violations.
Safe Lanes can use that information to alert UPS and request that they improve driver training or remove bad drivers from their delivery team. Braitsch said that he can also use data to inform city officials and law enforcement authorities of the condition of bike lanes and take necessary action.
Similar to how red-light cameras prevent motorists from running the lights, if motorists are aware that there is a whole central database that records violations, it would prevent them from committing bike lane violations.
Why is Reporting on Social Media Not Successful?
Social media platforms have become the voice of the unheard, but why isn't it successful in combating blocked bike lanes in Los Angeles?
A safety app by the name of "How's My Driving" allows users to identify vehicles that are blocking bicycle lanes or parked dangerously and report the incident directly to parking enforcement, 311 compliant center, or other relevant law enforcement departments.
However, "How's My Driving" requires users to report violations by tweeting the relevant department. There are several problems with using social media as a tool to report violations.
Those who report violations on social media can risk their privacy and even become victims of social media backlash. Many simply avoid tweeting the violation as they don't want to be part of the public-facing report. Using apps, you get a lot of privacy and can report violations without worrying about your identity being compromised.
Also, the feedback on social media for violation reports was much slower than what you would get on the safety apps. Whenever you report a violation using any one of the safety apps, you almost instantly receive feedback as an in-app notification. It provides a sense of purpose that whatever you're doing may be worth the effort.
All that said, social media platforms are still powerful tools for the average person to raise their voice and make a difference. Even today, social media has a significant positive impact across the world, pressuring governments and elected officials to provide equal rights, change the country's policies, and much more.
It is not the technology that is failing to ensure protected bike lanes in Los Angeles but the government's inability to take any action. If the government was successful in taking action over social media tweets, there would be no need for third-party apps to prevent parking violations and ensure a safe city for both cyclists and pedestrians.
To demonstrate how government action can make a huge difference, let's look at Culver City, a perfect example of how the entire Californian city is bike-friendly.
Culver City Leads in Promoting Biking
In a city as big as Los Angeles, you would expect the officials to speed up the infrastructure projects aimed at reducing the dependency on cars. However, it is Culver City, a city soaked in movie-making history, that takes the lead when it comes to educating its community about riding bicycles and building new bike lanes.
In 2020, the city council of Culver City launched their Culver City Bicycle and Pedestrian Master Plan that included the development of bike paths, creating awareness through school programs, the introduction of bicycle traffic lights, and many bike lanes and safety projects.
Let's look at what Culver City has achieved since the introduction of its master plan.
Development of Bike Paths
Currently, Culver City boasts three fantastic bike paths for bicyclists to ride on, and these include:
Ballona Creek bike path: The bike path travels from Syd Kronenthal Park, is 7 miles long, and connects with the Santa Monica beach.
Culver Boulevard bike path: This is a short-trail bike path located in a park in Culver City.
Expo bike path: This bike path follows the Metro Expo Line from LA to Santa Monica and is also connected to the Ballona Creek bike path, allowing bicyclists access to La Cienega and Culver City Expo Line stations.
Besides the three major bike paths, the city is looking to have more on-street bike lanes to promote bicycling and reduce dependence on cars.
School Education Programs
Culver City instills safety skills and habits into its residents from a very early age through various school programs. Schools actively encourage children to ride or walk to and from school through various group-based activities, competitions, and prizes.
Culver City Bicycle Traffic Signals
A bicyclist may be able to cross streets easily, but crossing an intersection increases the risk of accidents.
The California Manual on Traffic Signal Devices allows cities to install bicycle traffic signals at signalized intersections to minimize the risk of accidents. Culver City has several of these traffic signals for bicyclists as part of their "Safe Route" project.
A green light on the bicycle traffic signal offers all the bicyclists an exclusive protected pass to cross the intersection. When the light turns red, bicyclists must stop as, during this time, other vehicle movements may occur.
Schedule a Free Consultation with Ehline Law
If you suffered injuries from a bicycle accident that was not your fault, contact us at + (833) LETS-SUE for a free consultation on your personal injury case.
As a bicycle rider, you're more prone to suffering from serious injuries than any other group of people on the road.
Serious injuries can cost hundreds of thousands of dollars, and it is important to hold the negligent party responsible for their actions. Our personal injury attorneys have significant experience handling bicycle accident cases and can help recover maximum compensation for your loss.
To learn more about your personal injury and legal rights, contact us now or visit our Los Angeles law office today.
Main Los Angeles Location
633 W 5th Street #2890 Los Angeles, CA 90071 (213) 596-9642.