Motor vehicle fatalities are the leading cause of death in the United States, and according to National Safety Council, motor vehicle crashes contributed to 41% of all total motor vehicle accidents. However, with the rising gas prices, consumers in the vehicle markets are transitioning towards motorcycles.
It is difficult to believe that there is a connection between gas prices and motorcycle accidents, but unfortunately, that is the reality. Let's explore how rising gasoline prices increase motorcycle accidents with Ehline Law and our personal injury attorneys.
Is There An Unfortunate Reality At The Gas Pump?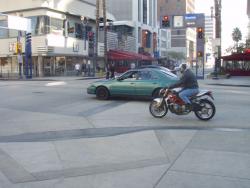 It might not seem like a direct correlation or an immediate reaction. Gas prices and the number of deaths on the road are directly tied together. This adverse reaction is a result of many factors. But gasoline prices are first and foremost. It can be depressing that a person's life is so directly tied to the price at the pump, but there are several reasons why.
Easily the largest is mileage. Motorcycles and dirt bikes get excellent mileage, on average, which means they are often taken out of the garage in times of high prices. These are inexpensive ways to head to work that people already have. Often garages have a side project that the husband in the family is working on or a recreational bike.
A Direct Line Of Motorcycle Injuries From Gas Increases?
When gas prices spiked around 2008 and 2012, the results were stark. In California, the number of fatalities increased substantially. Also, between 2002 and 2011, the prices shot up as the cost of gas did. This spike resulted indirectly in 800 additional deaths due to motorcycle accidents compared to a similar period prior.
It also caused 10,290 injuries, just in the state of California. 93% of such fatalities involved men. The largest age cohort of fault in these accidents was between 16 and 24. Also, when gas prices decline, the number of motorcyclists on the road also drop. And this results in a fall in related fatalities.
Rising Gasoline Prices and Increase in Motorcycle Accidents
In December 2014, a study published in the journal Injury Prevention analyzed the data on fatal and non-fatal motorcycle accidents in California between 2002 and 2011 to examine the connection between motorcycle accidents and gas prices.
The study revealed a significant correlation between motorcycle accidents and gas prices.
Between 2002 and 2008, there was an increase of 34% in motorcycle crashes and a $0.3 per gallon increase in gas prices annually.
Positive Correlation Between Motorcycle Injuries and Fatalities and Rising Gas Prices
Another study conducted in 2009 and published in the Am J Public Health examined 56,168 motorcycle fatalities between 1990 and 2007 (data from Motorcycle Industry Council) and gasoline prices during the same period taken from 900 retail gasoline outlets.
According to the findings, when gas prices rose by 98%, the number of registered motorcycles increased by almost 50%, suggesting a positive correlation between the two variables.
At the same time, the number of motorcycle fatalities also increased by almost double.
Why Are There More Motorcycle Accidents When Gas Prices Go Up?
There are rising motorcycle fatalities with higher gas prices because many people are purchasing two-wheeled vehicles compared to cars, SUVs, and pickup trucks.
Americans are buying more motorcycles as they are cheaper than 4-wheeled vehicles and offer better fuel mileage, helping save money on fuel costs.
However, with the increase in motorcycles on the roads, since they do not offer the level of protection and safety as four-wheeled vehicles do, there is an increase in motorcycle crash fatalities.
Another reason there was an increase in motorcycle fatalities was that six states in the study did not have universal motorcycle helmet laws, leading to a rise in deaths by almost 600.
Over 40% of motorcycle fatalities included motorcycle riders without a helmet or proper motorcycle safety gear.
There is also the issue of skills when riding a motorcycle. According to the Governors Highway Safety Association report, over 90% of motorcycle riders involved in an accident do not have formal training.
It is far more challenging to ride and control a motorcycle than a car, and without proper training, it increases the risk of motorcycle crash injuries and fatalities.
So this is our opportunity to stop this blight. Through driver's safety and better public education, we can drive down the number of deaths on the road. Motorcyclists have a valuable place on the road and the same rights and privileges as any other driver.
Thus, there is an extraordinary opportunity as long as gas prices are low to prevent future heartache and fatal accidents. We hope to see such an improvement.
Schedule a Free Consultation with Ehline Law
If you suffered injuries in a motorcycle accident, contact us at (833) LETS-SUE for a free consultation, as you may be eligible for compensation.
Our personal injury attorneys understand the troubles motorcyclists face with insurance companies, even if they're not at fault for the accident. We will help protect your rights and aggressively fight for the compensation you deserve.