SR 90 Expressway Crash?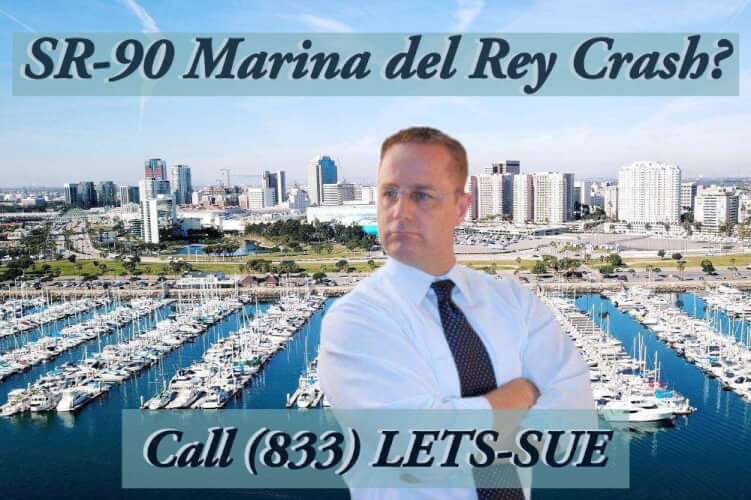 Ultimate Guide to Compensation for Wrecks on the 90
In a car accident on the SR-90? The SR-90 spans 15.5 miles and is comprised of two separate roads that are not connected but provide residents with access to the Greater Los Angeles area.
For the most part, the SR-90 is also the Marina Expressway that begins at Lincoln Boulevard and runs eastward between a few neighborhoods in Los Angeles, like Del Rey and Westchester. The first part of the SR-90 ends at Culver City on Slauson Avenue.
The second part of the SR-90 continues along the Imperial Highway, allowing commuters to pass through Brea and Yorba Linda. The second road covers the area between Beach Boulevard and Anaheim before coming to an end at Anaheim Hills.
Initially, there were plans to connect the two parts of the roads through the Slauson Freeway and the Yorba Linda Freeway. Unfortunately, these plans never materialized. In 2005, an extension of the Marina Freeway began and got completed by 2007, allowing drivers on the SR-90 to avoid traffic signals by heading onto Alla Road.
In California, the maximum speed limit for driving a vehicle on the Interstate Highway System is 70 mph. The impact of such high speeds during an auto accident can lead to fatal consequences.
How Long Do Symptoms Take to Appear Following Car Accidents?
Seeking medical treatment after an accident can help reduce any potential for complications and set the injured victim on the path to recovery. However, internal injuries are not usually apparent after an accident occurs and require a medical examination to identify any injuries.
After an accident, a victim often leaves the accident "feeling fine" only to discover medical complications from internal injuries or delayed pain later. An injury's symptoms will often appear almost instantly after an auto accident. Suppose you're feeling the following symptoms after an accident. In that case, it's a warning sign for you to seek medical help immediately: Uncontrolled bleeding, more prolonged chest pains, sudden jolting pain, dizziness and weakness, breathing difficulties, severe diarrhea, or vomiting.
If any of the symptoms occur due to a serious injury right after an accident, the victim must call 911 or alert individuals around them for help. There is also the case of other minor injuries that require a medical examination to determine if there is a need for medical treatment. For example, ringing in the ears can point to a loud accident causing discomfort, but it can also be a concussion.
Some injuries may only present minor symptoms, but these can turn worse if left unchecked, while other injuries can take time to manifest. This can take days or even weeks.
What to Do After an Accident on the SR-90?
Car accidents occur on highways and state routes due to distracted driving and recklessness. Although it is completely legal to drive at 70 mph, even though collisions could cause fatal auto accidents, drivers also need to exert extreme caution while on the road.
The steps car crash victims take after motor vehicle accidents play a pivotal role in the outcome of the personal injury claim.
Follow our steps below to secure yourself from any financial repercussions of an auto accident:
Contact local authorities immediately.
Reach out to your insurance company and let them know about the incident.
Exchange contact and insurance information with the other driver.
Try to get contact numbers from any witnesses around.
Head to a medical center for treatment or examination.
Contact an expert car accident attorney.
Should You Hire a Car Accident Lawyer for Your Car Crash?
Suppose the accident is just a minor incident resulting in no harm to passengers, drivers, or pedestrians. In that case, you might not feel the need to hire a lawyer to look into your personal injury case. However, injured victims do not want to deal with the stress of filing claims and negotiating with an insurance company, so hiring an attorney makes sense for them.
A personal injury attorney brings a lot to the table as they understand California law. A qualified attorney can help collect the necessary evidence to file personal injury claims and negotiate with the insurance company to get you compensation for your medical bills and other damages.
Ehline Law and our attorneys work on a contingency fee basis. You don't have to pay legal fees when hiring our legal experts to give you the best possible legal representation in California unless they win the case for you. We even offer a free consultation to assess your case and provide you with legal options to move on.
What Is the Average Settlement for a Vehicle Accident?
There is no such thing as an average settlement because each personal injury case is unique and requires assessment to determine claims. Many factors go into calculating claims besides medical bills, including lost income, loss of quality of life, loss of companionship, pain and suffering, punitive damages, and more.
Our attorneys have helped over 3,000 injured clients by dealing with insurance companies and recovering more than $150 million in compensation for their losses.
Below are some of the cases we have won over the last decade:
$2.3 million – Gilbert v. Quinones
$2 million – Hier v. State of United States (Caltrans)
$1.9 million – Cosham v. City and County of Los Angeles
$1.05 million – Doe v. Automaker.
How Long Does a Car Accident Claim Take to Settle?
The time it takes for a claim to settle depends on the case itself, your attorney, and the insurer involved. Insurers can either deny your claims or offer you a low settlement. Having our qualified and experienced car accident attorney on your side can help in expediting the claims process for your car accident case.
Contact Our Experienced Car Accident Lawyer Today
If you got into an accident on the SR-90, contact us at (213) 596-9642 and get a free consultation with our legal expert today. Ehline Law is a personal injury law firm that helps victims of car crashes by protecting their rights and negotiating with the other driver's insurance company for financial compensation. Contact us now for more information on how we can help you with your personal injury case.
Other California Freeway and Interstate Accidents