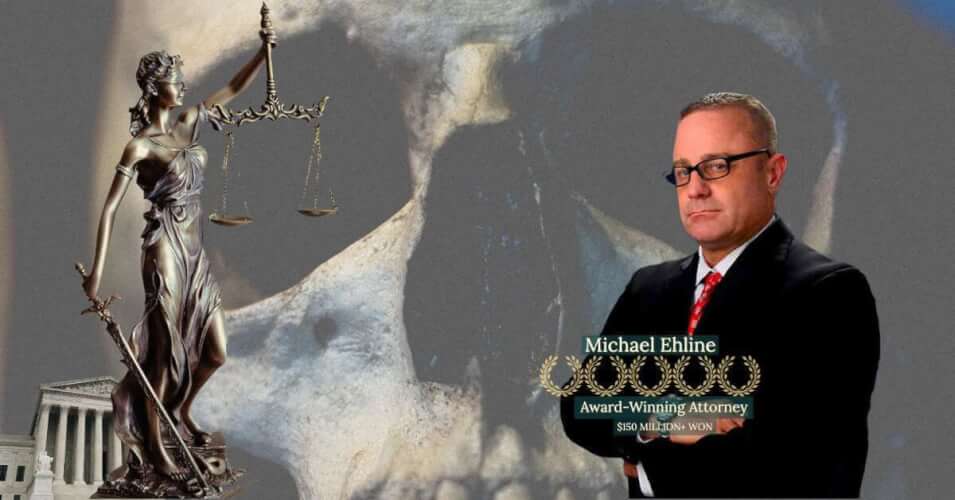 Not many things are more painful than losing someone you care about in an accident, but the pain gets amplified when the disaster results from someone else's negligence. You might be wondering if you can submit a personal injury claim to help cover the many expenditures, losses, and mental pain caused by the loss of your loved one if they died due to someone else's negligence.
Regrettably, you are not eligible to file a personal injury lawsuit when a death occurs. However, even if you don't match the fundamental conditions for an individual injury case, you aren't out of options as family members. Instead, you might be dealing with a wrongful death claim.
Are you dealing with personal injury or wrongful death claims on behalf of an injured or deceased family member? Schedule a free consultation with Ehline Law Firm today! Our friendly and charismatic team can help you obtain justice for the injured or dead person.
What Is the Difference Between Personal Injury and Wrongful Death?
The essential elements of a personal injury and a wrongful death lawsuit are very similar. In both cases, another person's negligence or mistake caused an injury that resulted in damage. Whether the injury resulted in excessive medical expenditures, missed pay, or pain and suffering, the injured person's quality of life was harmed due to the event.
The distinction between a wrongful death case and a personal injury case is whether the wounded person lives or dies due to the harm. If your family member or loved one has died, your case gets classified as wrongful death rather than personal injury.
If you started a personal injury claim before the person died due to the injuries, you have to drop it and start again with a wrongful death claim. Furthermore, a personal injury claim might also get terminated if the injured person passes away. In most wrongful deaths, a family member or another decedent's representative might try to characterize their deceased loved one.
Understanding the Fundamentals of Wrongful Death
Even though a wrongful death claim and a personal injury claim are similar in many ways, there are some significant differences between the two types of lawsuits. When you transition from an individual injury case to a wrongful death case, one of the most important differences you may notice is the number of damages or harm you can claim.
When you file personal injury claims, you are almost certainly seeking compensation or damages in three areas. The first is the medical expenses for past, current, and future therapies you need to recover from your injury and improve your quality of life. Secondly, you claim lost pay for time away from work due to the injury.
Final Goal?
Lastly, you're probably looking for financial compensation for the pain and suffering you've had due to the accident.
The harm and damages in your case may vary if it progresses from a personal injury lawsuit to a wrongful death lawsuit. There are no additional treatments, experts, or prescriptions that you need to budget for in the case of medical expenditures. In the medical field, the reimbursement you receive is mostly for previous treatments and operations.
In wrongful death cases, lost wages get calculated differently. Rather than taking into account days missed due to medical visits or inability to execute your job obligations, lost wages in a wrongful death suit examine the deceased's future earning potential. Wages lost in a wrongful death lawsuit are typically substantially more than in personal injury cases.
Lastly, since the injured person has died, no claim for pain and suffering may get made. Instead, the court might consider the funeral fees or additional expenses related to the person's death.
Do You Need Help Dealing with Wrongful Death Claims? Contact Ehline Law Firm Today
If you have lost a family member or loved one due to another person's negligence, you have an entitlement to compensation. This is monetary aid to help relieve the financial burden placed on the deceased person's surviving family members. However, it remains critical for you to know the fundamentals of the wrongful death claim you are considering filing.
A knowledgeable personal injury lawyer may assist you if you have further questions concerning the differences between personal injury and wrongful death lawsuits. Call an injury lawyer from Ehline Law Firm in Los Angeles to begin working on your wrongful death or personal injury claim as soon as possible.
Therefore, if you are looking for a personal representative to help you file a wrongful death suit, call Ehline Law Firm at (213) 596-9642. We value the attorney-client relationship we develop with clients. Thus, when you obtain legal advice from an experienced lawyer from our legal office, you can trust us to fight aggressively for your rights. Contact us today for a free consultation on your wrongful death case!