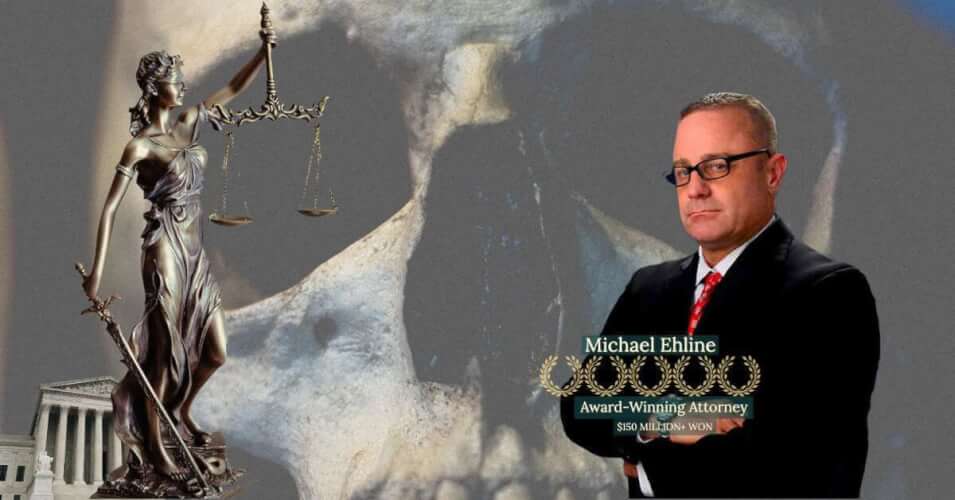 Do you have a reason for a wrongful death lawsuit?
Deaths are extremely difficult for family members; however, they may be slightly more traumatic when they get caused by someone's carelessness. Wrongful death happens when an individual's death is directly caused by another party's or a company's negligence or wrongful act.
A variety of events and circumstances can result in wrongful death cases. This article discusses the most typical types of wrongful death lawsuits one can expect to encounter. A friendly, charismatic, experienced attorney from Ehline Law Firm can assist the deceased's immediate family with a wrongful death claim.
Types of Accidents for Which You Can File a Wrongful Death Claim
Wrongful Death Cases Involve the Following Accidents
Contact Us for a Personal Injury Attorney
What Are the Most Common Types of Wrongful Death Cases?
Surviving family members can often file a wrongful death suit if a loved one's death results from:
Car Accidents
Due to the extremely large number of drivers and the frequency with which people drive, motor vehicle accidents are the most common cause of wrongful death. California has over 16 million drivers, and hundreds of car accidents occur every day. Thousands of people get killed every year as a result of a fatal car accident.
The vast majority of fatal automobile accidents get caused by at least one motorist's negligence, whether it's because of speeding, careless driving, failing to pay attention to the road, or driving while intoxicated.
If any of these conditions get met, the negligent driver may get held responsible for the death of any other people involved in the crash, which includes passengers and other drivers.
If road problems cause the accident, the county or state may be held accountable. There are also cases where an incident happens, but neither driver is at fault; these are rare.
Medical Malpractice
Although the vast majority of nurses and doctors are well-trained, they are still human and occasionally make mistakes. These errors can arise when medical workers take shortcuts, fail to follow proper procedures, or overlook things.
Misdiagnosis of conditions or the inability to diagnose disorders is the most common cause of wrongful death claims in medical malpractice cases. In medicine, mistakes made during surgery and throughout treating illnesses are also significant causes of a wrongful death lawsuit.
Defective Products
The manufacturer is held responsible if someone dies due to a defective product. One of the reasons why manufacturers spend a great deal of time testing and ensuring the safety of their goods is product liability. Defective pharmaceutical items, hazardous food, harmful kid's products, and faulty autos are some of the unique types of this form of wrongful death action.
Workplace Accidents
Workplace wrongful deaths are more common in high-risk occupations such as logging and construction. Still, a wrongful death may happen at any place of employment or even outside the office if a manager puts an employee in a problematic situation.
A nurse who got compelled to perform many 12-hour shifts and then died in a car accident on her way home due to weariness is an example of this type of wrongful death case.
Accidents Involving Semi-trucks
While still classified as car accidents, semi-truck incidents fall into a different realm due to a few important characteristics. Semi-trucks are so much bigger than other automobiles that they're more likely to kill people in a collision.
Semi-truck accidents are caused by various factors, including traveling with an overweight load, mechanical problems with the vehicle, and driver mistakes, including aggressive driving, losing control of the vehicle, a drunk driver, or driving whilst fatigued.
Pedestrian Accidents
As pedestrians have little protection, incidents involving them are more probable to result in fatalities. The most prevalent cause of these incidents is driver fault; however, in cases where the driver could not see the pedestrian owing to a lack of conspicuous pedestrian walkways, the county or city may be responsible.
Schedule a Free Consultation with a Wrongful Death Attorney from Ehline Law Firm for Legal Advice
If a family member of yours has died as a result of a wrongful death or has fatal injuries, you do not have to seek compensation on your own. At Ehline Law Firm, our California personal injury attorneys are ready to take on your wrongful death lawsuit. Contact us at (213) 596-9642 immediately if you would like a free case evaluation.
We value our attorney-client relationship; therefore, you can count on us to help you have a successful wrongful death lawsuit recover damages, such as emotional and financial losses, medical bills, lost wages, burial expenses, and funeral expenses.
Main Los Angeles Location
633 W 5th Street #2890 Los Angeles, CA 90071 (213) 596-9642.