Posted on Distracted Driving Blog / Blog / Three-wheeled Vehicles: A New Distraction on the Road
Below, California car accident attorney Michael Ehline will explore.
Distracted Driving in the United States
Any activity that diverts a driver's attention from the road falls under the category of "distracted driving." This could include texting, calling someone from your phone, fiddling with the stereo system, eating while behind the wheel, and so on. Removing your eyes from the road for a bit is more dangerous than you think. A five-second distraction in a vehicle traveling at 55 mph is like covering the distance of an entire football field with your eyes closed. 
According to the CDC, more than 400,000 individuals received injuries from distracted driving crashes in 2018. The statistics show that more than 26,000 people died from accidents involving distracted drivers from 2012 to 2019.
Since 2007, reports suggest that more young drivers, aged between 16 and 24 years old, are at a higher risk of a distracted driving crash than any other group. A major cause of this is that young people cannot resist the temptation of using their smartphones while on the go.
New car technology, such as automated shifting, comes with increased responsibility. Although automatic shifting eliminates a driving task, it allows drivers to fill up their free time with distractions.
How to Avoid Distracted Driving?
To help prevent distracted driving, here are some tips to follow:
Avoid using your cellphone: While driving, only emergencies should warrant using a cell phone. Avoid using your phone while behind the wheel, but if it is essential, you should consider pulling over first.

Do not drive while sleepy: Falling asleep while driving is more common than you think. With long US highways that can get monotonous, drivers are at a higher risk of falling asleep. A government study suggested that more than 37% of US citizens have fallen asleep at least once while behind the wheel.

Reduce activity inside the car: At times, you might feel that there is too much distraction in your car, either because there are too many people or because the level of activity inside the car is high. Novice drivers may be easily distracted if they have many friends accompanying them.

Avoid eating: When driving, you must exert extreme caution on the road and consider audio and visual signs. Eating a donut and sipping coffee before work sounds fantastic, but it can cause serious distractions, which can lead to accidents.
A distracted driver is not only a danger to themselves but also to the people and vehicles around them. A distracted driver is also considered negligent since they had a duty of care and breached that duty by giving in to distraction.
We've all heard of texting, calling, and setting the stereo system up causing distractions, but recently, a new type of distraction on US roads is on the rise, and these are the three-wheeled vehicles from the 70s and 80s.
Introduction of Three-wheeled Vehicles
Three-wheeled vehicles came with a bang just after World War II. A struggling economy and an auto manufacturer's lack of supply welcomed budget-friendly, compact three-wheeled vehicles into the US market. Fitted with small engines and a chassis made from cheap metal, three-wheeled vehicles made transportation affordable for low-income groups in the country.
Even 007 had a three-wheeler ride in the 1971 action/spy movie "Diamonds are Forever," and by the 1980s, there were more than 2 million sales in the United States. However, these types of vehicles have slowly diminished over the years.
Fast forward to today, and these vehicles are now seen as collector's items, adored for their unique designs and rarity. More three-wheeled vehicles are displayed at showrooms and car exhibitions than in people's garages. However, that might change as auto manufacturers such as Elio and Polaris are trying to make these three-wheelers the norm on US highways.
Some of these three-wheelers may look like motorcycles, while others resemble something of a car. Perhaps this is why there is a lot of confusion regarding these types of vehicles, whether they are considered cars, and the type of insurance required to drive them legally on US roads.
Are Three-wheeled Vehicles Considered Cars?
According to federal law, a "motorcar" is any vehicle with four wheels, and any less than that would constitute a "motorcycle." A three-wheeled vehicle is, by law, a motorcycle, and all the rules and regulations for riding a motorcycle apply to these types of vehicles.
Although three-wheeled vehicles have a steering wheel, passenger seats, and even an enclosed cab, they are still classified as motorcycles. Owners of such vehicles must register them as motorcycles, obtain a motorcycle license, and follow traffic and safety rules applicable to motorcyclists.
Is There Any Risk In Riding Three-wheeled Vehicles?
Unlike cars, three-wheeled vehicles are susceptible to certain risks that can cause serious injuries to drivers and even death in fatal crashes. During an accident, the majority of three-wheeled vehicles do not have roll bars to protect the driver.
These vehicles also have a lean profile and are much lower than standard cars, making them difficult to see by other drivers. If you're used to driving standard cars, shifting to a three-wheeled vehicle can pose risks due to the difference in handling. The combination of handling, weight, and speed makes these types of vehicles more prone to flipping or rolling over during collisions and hard turns.
The lack of a ruling on the newly introduced legislation requiring three-wheeled vehicles to comply with car safety regulations and meet crash standards has led some states to adopt their own laws regarding these types of vehicles.
Before you consider driving these types of vehicles on the road, it is important to have enough driving experience and familiarize yourself with the vehicle's handling.
The Sun Valley Crash
On March 30, 2017, a Los Angeles Sun Valley crash involved two three-wheelers. The vehicles were traveling alongside each other when one veered and lost complete control of the vehicle, colliding with the street, a parked vehicle, and a fire hydrant.
As soon as the local police officers arrived at the scene of the accident, it was too late. One of the riders did not survive the accident's impact, while the other had minor injuries and cooperated with the law enforcement authorities.
Although it is still not revealed whether the rider had their helmet on while riding, three-wheelers are more dangerous than you think.
Do You Require Insurance to Drive Three-wheelers?
Just like how motorcyclists buy motorcycle insurance, the same applies to owners of three-wheelers since these vehicles are also considered motorcycles. The Insurance Information Institute (III) states that minimum liability insurance is required to protect yourself and your financial assets in the event of an accident that causes injuries to the other driver.
In California, a motorcyclist must have a minimum insurance amount of:
$15,000 for injuries or death for a single person.

$30,000 for injuries or death per accident.

$5,000 property damage coverage.
So if you own a three-wheeled vehicle in California, you must purchase the recommended minimum liability insurance for the state to legally ride your vehicle on the road.
Consequences of an Accident with a Three-wheeler
Those riding a three-wheeler are more at risk of injuries during an accident than those driving a standard car. This is because a three-wheeler does not have the necessary protection and also lacks size. However, that does not mean that a three-wheeler is not capable of causing injuries to you. These could include spinal injuries, traumatic brain injuries, and even wrongful death.
If you received injuries due to an accident with a three-wheeler, your best bet would be to contact an attorney specializing in motorcycle accidents. Our California motorcycle accident attorneys have over a decade of experience handling injured victim cases, protecting their rights, and negotiating a fair settlement. Contact us at (213) 596-9642 for a free consultation!
---
Michael Ehline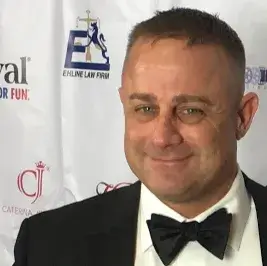 Michael is a managing partner at the nationwide Ehline Law Firm, Personal Injury Attorneys, APLC. He's an inactive Marine and became a lawyer in the California State Bar Law Office Study Program, later receiving his J.D. from UWLA School of Law. Michael has won some of the world's largest motorcycle accident settlements.
---
Recent Personal Injury News
Check out our most recent distracted driving law blog posts about the famous, infamous and everyday people wounded by at fault parties around the world.