In Malibu, California, television shows like CHiPs and Baywatch made sunny California synonymous with action, sexiness, adventure, and bliss. But there are good, bad, and ugly as well. For example, the term "Dead Man's Curve" on PCH describes a dangerous bend in the road that has claimed many precious lives in car accidents. Several days ago, this famous stretch of road claimed four Pepperdine University-identified sorority sisters. Their tragic deaths resulted from a devastating accident when a speeding motorist, 22-year-old Fraser Bohm, lost control of his dark-colored BMW Westbound, fatally striking these pedestrians near Pepperdine University.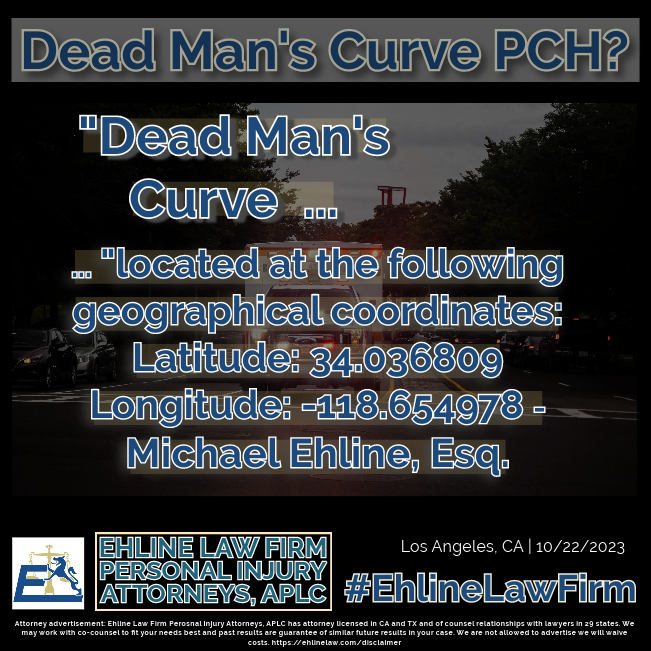 Because Brohm (the driver arrested) was not under the influence, he was released under California Penal Code Section 849(b)-1 based on insufficient grounds for making a criminal complaint. But the Sheriff's official's investigation into the crash warranted charges, and he was later charged. He will likely be found criminally negligent and jailed for killing the Pepperdine students as he slammed into three parked vehicles. Malibu car accident attorney and advocate against Caltrans and our "weakling" political class, Michael Ehline, and members of his paralegal staff wrote this article. Michael has appeared on CNN and lobbied Congress as a traffic safety expert where he lived in Marina del Rey and Redondo Beach in the past.
Michael has practiced personal injury law for over a decade in Santa Monica, Ventura, and Malibu, and he still bravely rides his mountain bike to and from Gladstones, Malibu, and the South Bay. Michael has helped California motorcycle accident victims recover well over $50 million in the last decade. Michael also runs a military veterans foundation that does motorcycle rides against service-related cancer. Michael decided after the passing of these women and so many close calls he had had while riding that he needed to speak up, shed light, and work for change.
Michael used SWTRS deadly crash data, old news reports, and past and recent legislation as the foundation for this article discussing the ten deadliest motoring accidents in Malibu up to 2023.
Background Leading to the Loss of Four Pepperdine University Students
The film documentary titled "21 Miles in Malibu" sheds light on the dangers of a 21-mile segment of the Pacific Coast Highway (PCH) that traverses the celebrity haven of Malibu. This stretch of road witnesses over 400 collisions yearly, including high-profile cases like the 2015 multi-car crash and wrongful death incident involving Caitlyn Jenner.
Filmmaker Michel Shane created "21 Miles in Malibu" to pay tribute to his daughter, Emily, who tragically lost her life while walking along PCH in 2010. This documentary premiered at the Santa Barbara International Film Festival. The film delves into traffic and planning issues. It also looks at the profound grief experienced by families affected by accidents and the bureaucratic obstacles that hinder safety improvements.
Last Outcry Was A Family?
True. A film was made about how deadly this location has become over the years. The film focuses on Michel Shane, his wife Ellen, and their 13-year-old daughter Emily. Directed by Nic Davis, the 56-minute documentary explores the history, dynamics, paradoxes, and, most importantly, the hazards associated with PCH. This highway remains a vital lifeline for affluent Malibu residents. And more visitors have been coming here, particularly during weekends, holidays, and summer months.
From Deadman's Curb to Blood Alley?
The road's dark legacy of accidents has evolved from one area being Deadman's Curb, to a local nickname for the entire stretch, "Blood Alley." Numerous government-funded studies and persistent questions about why more hasn't been done to enhance safety. True, actual, gross negligence of many drivers has played a role in many an unthinkable tragedy here. Also true, at least 23% of pedestrian accidents are due to the failure of pedestrians to yield to cars under Vehicle Code Section 21954.
36% of people run over, involved "Crossing Not in a Crosswalk," and 39% of pedestrian accidents were "In Road, Including Shoulder." Above all, 95% of pedestrian accidents here involved clear weather conditions, so it's not for lack of clear vision. Shane points out this area is a hotspot for all types of crashes, and at least 42% of crashes are due to violations by automobiles, motorcycles, and trucks, making it worthy of attention.
Michel Shane's frustration was a driving (no pun intended) force behind our commitment to this project in hiliting deadly wrecks on PCH. "Parked vehicles and other visibility issues have remained the same for years," said Ehline.
Ehline says many activists have suggested ways to reduce traffic fatalities along Malibu and PCH, but in the end, he thinks "nothing will happen." "Losing four college students is the cost of doing business or relaxing in Malibu until the political class stops making excuses," said Ehline over "the loss of four women, four precious lives" from the school.
Ideas include:
Increasing the cost of traffic tickets: to dissuade speeding in the community. (Speed accounts for at least 25% of all crashes on PCH.)
Install speed cameras: This could act as a show of force to combat speeding drivers in Malibu and the 21-mile stretch of highway.
Build City-owned Garages in Malibu: That way, visitors are less likely to park and exit their vehicles along PCH.
Forcing CalTrans to do its job: Caltrans is responsible for PCH, not Pepperdine University or store owners. Like Downtown Los Angeles, local municipalities, like Caltrans in their jurisdiction, carry some prosaic fixes along their borders.
But Mr. Shane is right: better lane markings, clearer signage, and better signal phasing and synchronization in streetlight systems will save lives today! Bicyclists and motorcyclists are at a greater risk of dying just by being there. Why all the red tape? Let's start making some cheap fixes today before someone else is pronounced dead?
Malibu, Pacific Coast Highway, and Traffic Accidents
Let's look at some examples in the news, including two 2015 tragedies. Let's look at the past and the recent Pepperdine University student incident involving vehicular manslaughter with gross negligence. Let's look into the historical dangers of the locale itself, with or without alcohol.
Top 10 Deadliest, Famous Car Accidents in Malibu 2010-2023?
This particular stretch of PCH has seen 49 fatal 'reported' collisions in the last ten years. The most recent Pepperdine University student accident is among the most tragic. However, if you have additional information about the College of liberal arts students or other crashes, please get in touch with us, as this story has legs in the days ahead.
I.
2023 – Four Pepperdine University Sorority Sisters Killed on "Dead Man's Curve"
First off, don't confuse the historic "Dead Man's Curve" in Malibu with "Dead Man's Curve" in Westood or other areas. In a tragic incident on October 17, 2023, four young women, believed to be students at Pepperdine University's Seaver College of Liberal Arts, died in a devastating accident on the Pacific Coast Highway (PCH) in Malibu, California. The accident, which involved multiple vehicles, took place at around 8:30 p.m. in the 21600 block of Pacific Coast Highway.
Investigators believe the four victims, identified as Niamh Rolston, Peyton Stewart, Asha Weir, and Deslyn Williams of Seaver College, were struck and killed by a speeding BMW while they were walking alongside the road that Tuesday night.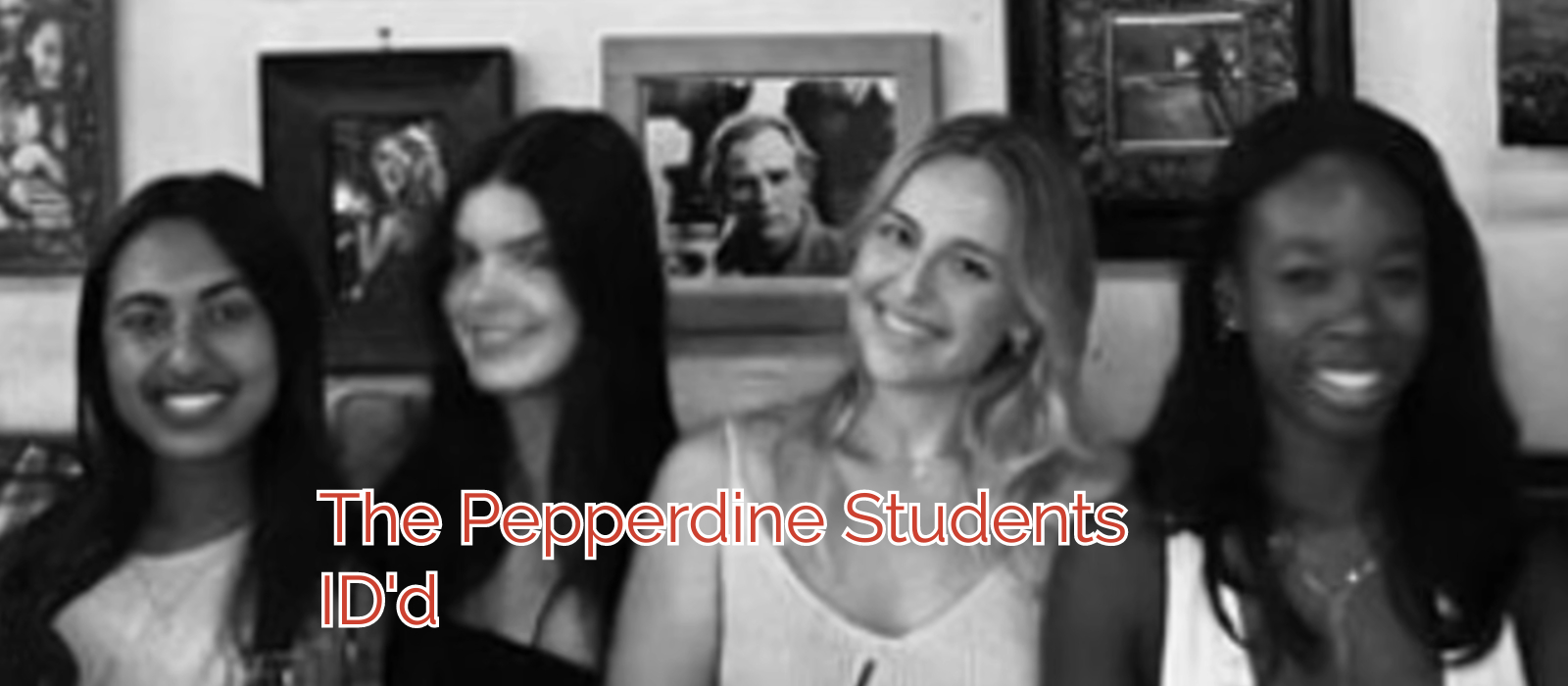 The driver of the BMW, a 22-year-old man named Fraser Bohm, was arrested, booked, and charged with suspicion of vehicular manslaughter. The incident was not at the campus but at a notorious bend along the Pacific Coast Highway, often called "Dead Man's Curve."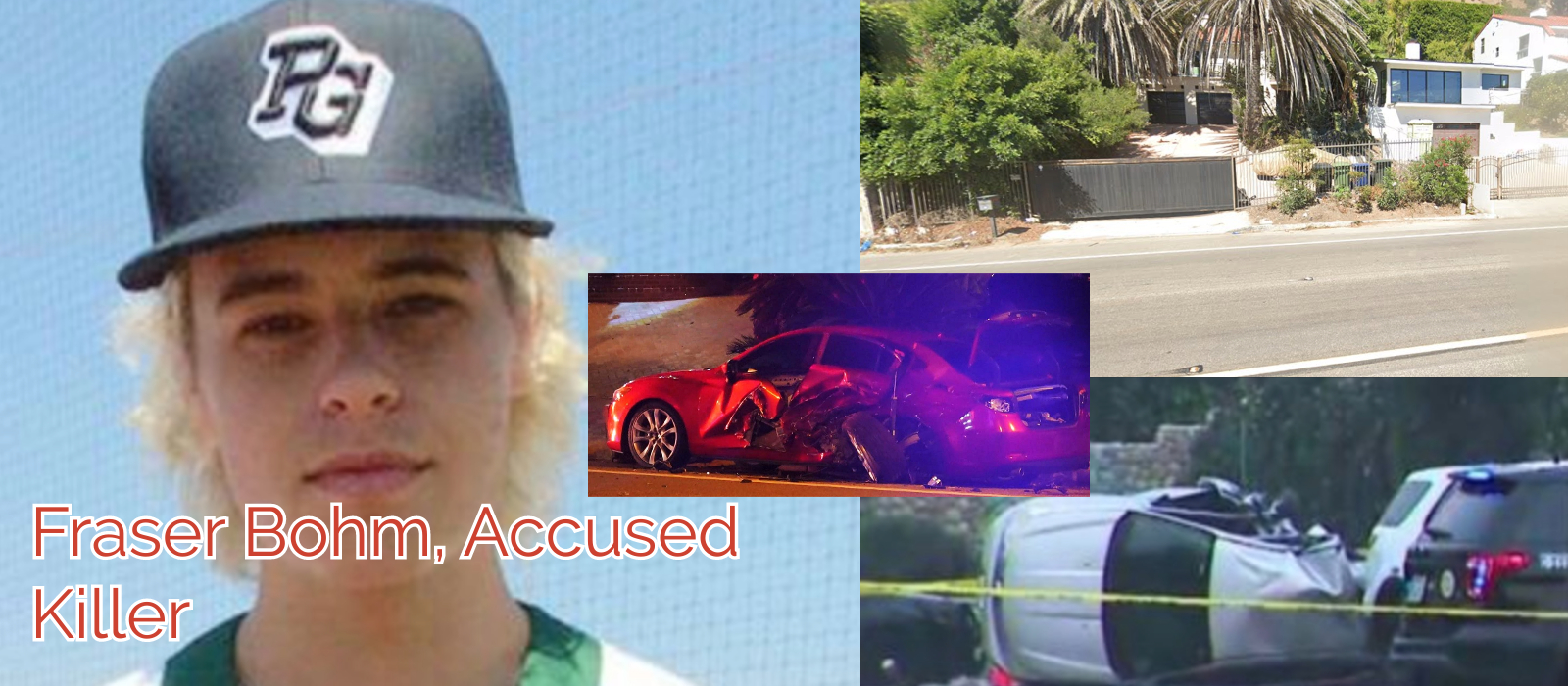 Officials said the four Pepperdine Family sorority sisters of Seaver College died on their way to a party. Flowers and leftover road debris now mark the location for the press and their surviving loved ones to remember and celebrate their lives. This profound loss remains an ongoing concern to parents, university students, and personal injury lawyers who litigate a high rate of cases on behalf of fatally struck victims along this iconic highway.
Los Angeles Sheriff's Capt. Jennifer Seetoo reported that defendant Bohm suffered minor injuries in the Tuesday accident. But officials reported no drugs or alcohol involved when he was released on Wednesday.
II.
2022 – Andrea Bullo and 13-year-old Son Marco Killed on PCH – 2 Dead
Tragically, on November 2, 2022, a devastating incident claimed the lives of Andrea Bullo and his 13-year-old son, Marco. They were driving in a classic Ford Mustang when they were rear-ended by a Toyota Camry while traveling on West Mulholland Drive at Valmar Road around 9 p.m. local time. The collision resulted in a blazing car crash, and Andrea and Marco lost their lives.
The driver of the Toyota Camry, a 21-year-old named Kevin Gonzales, is facing murder charges and is currently in custody with a bond set at $4 million. Andrea Bullo, one of the co-owners of Malibu's Moonshadows restaurant, leaves behind a legacy of his involvement in the local community.
III.
2022 – November 14 – Viral SUV Rolls Into Motorcycle Video Death 2022 – Stephen Levey
A shocking video captured a motorcyclist's perspective at a traffic light in Malibu seconds before a harrowing incident unfolded. Many of us still see this viral video on YouTube as an example of why riding motorcycles is so dangerous. The video documents a three-vehicle collision that occurred on November 14, resulting in the tragic death of the driver of a stolen car, according to reports by the Los Angeles County Sheriff's Dept.
In the video, the motorcyclist, whose identity remains unknown, is calmly waiting to make a left turn from the busy Pacific Coast Highway onto Kanan Dume Road. While several cars navigate the bustling highway, a black SUV swiftly emerges from Kanan Dume Road, attempting to cut through the passing vehicles. However, it collides with the rear of a large gray pickup truck, causing a dramatic chain of events.
IV.
2022 – Girl and Dad Killed
On November 6, 2022, Annabelle, born in Quezon City, Philippines, a metropolitan area of Manila, on November 30, 1983, tragically lost her life in the early morning of November 6, 2022. She passed away in a car accident. The incident occurred on the Pacific Coast Highway in Ventura County, California, and sadly, her father, Mario, Aunt Carmen, and family friend Nora were also victims of this tragic accident. In a separate incident reported by the Los Angeles County police, a terrifying video was captured, seemingly depicting a Malibu motorcyclist's perspective in a three-vehicle collision on November 14.
This collision resulted in the fatality of the driver of a stolen car, as per the reports by the NY Post. In the video, an unidentified motorcyclist can be seen waiting calmly to make a left turn from the bustling Pacific Coast Highway onto Kanan Dume Road. Amid several vehicles navigating the busy highway, a black SUV is observed swiftly emerging from Kanan Dume Road, attempting to maneuver between passing cars. Unfortunately, it collides with the rear of a large gray ute, leading to a dramatic chain of events.
V.
2022 – Two Car Crash – 1 Dead, 6 Injured
On February 22, 2022, a tragic incident occurred when a two-car crash happened on Malibu Canyon Road, resulting in the loss of one life and injuries to six others. The collision unfolded in an unincorporated area of the Santa Monica Mountains, north of Malibu, shortly after 8:30 p.m.
Regrettably, a woman in her 20s lost her life at the crash site. At the same time, four others sustained critical injuries, and two additional victims suffered minor injuries, as confirmed by the authorities. The four individuals with acute injuries were transported to local hospitals via air transport, with the Los Angeles County Fire Department overseeing the operation.
Due to the accident's severity, Malibu Canyon Road was closed to facilitate the investigation. The California Highway Patrol (CHP) issued a SigAlert for Malibu Canyon, just south of Piuma Road, and it was anticipated that the road closure would endure for at least three hours. Traffic lanes in both directions were blocked, and motorists were advised to seek alternative routes. No further details regarding the incident were available at the time of the report.
VI.
2018 – Brooke Hawley DUI Crash – 3 Dead
On March 29, 2018, Bani Duarte, 29, of San Clemente, was a drunken 27-year-old mother, but she refused a ride from friends, police said. Then, she slammed into a stopped car on Pacific Coast Highway with four teenagers inside. Only one made it out alive. All three bodies had to be identified through dental records. In a poignant courtroom scene, Duarte faced the families of the three Las Vegas teenagers she killed. The two other victims – Brooke Hawley, Dylan Mack, and AJ Rossi – met a tragic end in the Malibu Beach car crash. She cried, listening for hours as each grieving family expressed anguish. Duarte was ultimately sentenced to over five decades to life in prison on that fateful day.
The accident claimed the lives of two other people, three Las Vegas teens who were in Huntington Beach for spring break. The impact of the collision was so severe that all three victims had to be identified through dental records.
"Everybody talks about wanting to do the right thing. You teach your kids to do the right thing. They do the right thing, and they're dead," her mother, Rhonda Hawley, said. AJ Rossi's sister said her brother had a heart of gold, a smile that would light up a room.
"We lost so much more. You stole everything," said Rossi. In a courtroom decision, the judge sentenced Bani Duarte to 51 years to life in prison, allowing for the potential of parole. The judge highlighted that Duarte still had nine to ten drinks in her system, underscoring the gravity of her intoxicated state during her initial detention and arrest. The judge characterized the entire incident as a tragedy of epic proportions.
VII.
2016 – Bruce Jenner Kills Kim Howe – 1 Dead
2015 crash involving Caitlyn Jenner and the victim, Kim Howe, there is no indication that paparazzi were pursuing Bruce Jenner at the time of the fatal Malibu crash. In February 2015, Bruce Jenner was involved in an accident that killed Kim Howe along the Pacific Coast Highway in Malibu. Two months later, Bruce revealed they were transitioning into Caitlyn, which surprised the world. A new book explores the claim that Bruce's announcement as Caitlyn was a strategic move to avoid charges related to Kim Howe's death.
VIII.
2015 – MC Supreme Killed in High-Speed Rear Ender – 1 Dead
In 2015, the rapper MC Supreme, best known for his '90s single "Black in America," tragically lost his life in a high-speed rear-end collision in Malibu. He was 47 years old. Authorities confirmed that the incident was suspected to involve DUI.
The accident occurred when Dewayne Lawrence Coleman, who performed under the stage name MC Supreme, sat with a woman in his Honda Civic on the shoulder of the Pacific Coast Highway on a Saturday morning. A pickup truck collided with their vehicle, causing Coleman's car to roll into an embankment above the beach. Subsequently, the pickup also moved into another parked car on the shoulder, with two passengers who escaped injury.
IX.
2010 – Emily Shane – 1 Dead
In 2010, the heartbreaking story of Emily Shane, a 13-year-old girl, garnered widespread attention. Emily was walking along the same stretch of road to meet her father after spending the night at a friend's house on April 3, 2010. Tragically, during her journey, Sina Khankhanian drove his car for 17 miles, reaching up to 70 mph on the Pacific Coast Highway before the devastating collision that took Emily's life.
X.
2010 – August – Beverly Hills Plastic Surgeon Killed in Jeep Rollover – 1 Dead
In August 2010, the well-known Beverly Hills plastic surgeon Dr. Frank Ryan met a tragic end in a Jeep rollover accident. Dr. Ryan had previously made headlines for performing ten procedures simultaneously on TV star Heidi Montag. Tragically, the accident was reportedly caused by texting while driving, as revealed by his ex-girlfriend to People magazine. The accident occurred on the Pacific Coast Highway.
Famous Falling Boulder Car Accidents in Malibu
A California man miraculously survived a massive boulder crushing his car in Malibu. On January 11, 2023, a harrowing incident unfolded when a colossal boulder rolled down a Malibu hillside, ultimately flattening a vehicle. But the man got a call from his woman and exited the car just before the calamity cascaded into his vehicle.
Fatal Accident Statistics and Charts 2012-2022
Total Crashes: 1,672
Total Victims Malibu Killed: 49 Dead & 2,447 Injured
State Highway: 1,395 (83.4%)
Ped Involved: 118 (7.1%)
Bike Involved: 116 (6.9%)
Motorcycle Involved: 261 (15.6%).
Famous Celebrity Accidents in Malibu
In a notable incident earlier today, 40-year-old comedian Kevin Hart became a passenger in his car as his friend and producer, Jared Black, lost control of the vehicle. The accident occurred just before 1 a.m. on Mulholland Highway in Malibu, as confirmed by a spokesperson for the California Highway Patrol to E! News.
The blue Barracuda veered off the road, crashing through wooden fencing and resting about 10 feet from the road in a ditch. Tragically, this accident resulted in major back injuries for both Jared Black and the renowned comedian, as reported by TMZ.
My friend Rebecca who's my trainer & an endless source of inspiration in my life, was in a horrific accident with her fiancé Jared & and Kevin Hart. I'm grateful everyone made it out alive. Please go give her some love & send some prayers to all involved🙏🏻❤️ https://t.co/6ZCxwKZOtP pic.twitter.com/cceOHLNY0g

— Tati Westbrook (@GlamLifeGuru) September 2, 2019
A third occupant, personal trainer Rebecca Broxterman and fianceé of Black, was unharmed, and Hart left the scene and headed to his nearby home for comfort. But Hart was later treated for his injuries at a local hospital, according to a TMZ report. We hope these remarkable individuals lost their lives so that people would wake up and end California's status quo of blaming victims and empowering failures in education in government.
Let's end the status quo, support Ehline Law's initiative, and find meaningful ways to reduce crash fatalities along the Pacific Coast Highway! We don't want or need another avoidable prayer service or driver arrested over victims dead; we need remedial action now! So, as we remember the departed members of our society who passed away, let's honor their memory by making Malibu safe for schools, seniors, and everyone else in the community.
Can Victims Sue the Government for Dangers Along Malibu and PCH?
Yes, victims may be able to sue the government for dangers along Malibu and the Pacific Coast Highway (PCH). Suing Caltrans (California Department of Transportation) for a car accident typically involves establishing that the agency was negligent in maintaining or designing the road and this negligence directly contributed to the accident.
To sue Caltrans, you generally need to demonstrate the following:
Negligence: You must prove that Caltrans was negligent in maintaining the road safely. This might involve showing they knew about dangerous or substantially changed conditions like a pothole or poor road design. You must also show Caltrans failed to address it in a reasonable timeframe.
Causation: You need to establish that Caltrans' negligence was a substantial factor in causing the accident. In other words, the accident wouldn't have happened without the dangerous road conditions.
Damages: You should provide evidence of your damages, such as medical bills, property damage, lost wages, and pain and suffering, to show the financial and non-financial losses resulting from the accident.
Common grounds for suing Caltrans in car accident cases include:
Poor road maintenance/Substantially changed conditions: Negligence in maintaining roads, such as failing to repair potholes, maintain traffic signs, or address slippery road surfaces due to insufficient drainage. If this is a substantially changed condition from the original approved engineering plan, a government claim against Caltrans may be proper.
Dangerous road design: Flaws in the road's design that contribute to accidents, such as inadequate signage, poor visibility at intersections, or unsafe curves.
Lack of proper warnings: Failure to provide adequate warnings for known dangers, such as sharp turns or intersections with poor visibility.
Construction zone hazards: Inadequate traffic control, signage, or road conditions in construction zones, which lead to accidents.
Failure to address known hazards: Caltrans's knowledge of a dangerous condition and a failure to correct it within a reasonable timeframe. For example, they continue to allow illegals and other criminals to steal the copper wire that lights our streetlamps and support California's "sanctuary city" policies that have driven up violent crime. And this doesn't count the potholes killing motorcyclists.
Remember that suing a government entity like Caltrans involves unique legal requirements, including shorter timeframes to file claims and limitations on the damages you can recover.
Conclusion About Malibu PCH Accidents and Getting Justice
Our best Los Angeles car accident attorney just discussed the top ten most deadly accidents on PCH and Malibu, starting with the four Pepperdine University Students of Seaver College of Liberal Arts. We also pushed beyond college students as the victims. We discussed Caltrans's and Los Angeles County's failings. We held them accountable for their role in accident prevention along Coast Highway in Malibu. Government entities can be held liable for accidents and injuries caused by dangerous road conditions if they were aware of the hazards, failed to address them promptly, and their negligence was a substantial factor in causing the accident.
However, suing the government involves specific legal procedures and requirements, including providing notice within a particular timeframe. It's essential to consult with an experienced personal injury attorney at Ehline Law first. That way, our legal experts can help assess your claim's validity. If so, our best attorney will guide you through suing a government entity in English, Spanish, or Mandarin Chinese.
If you want to form an attorney-client relationship, we will offer strength by your side and world-class legal representation, victory or death. Schedule a free consultation with a Los Angeles car accident lawyer today by dialing (213) 596-9642 or using our online contact us form 24/7.
Main Los Angeles Location
633 W 5th Street #2890 Los Angeles, CA 90071 (213) 596-9642.