"Legal" And "Physical" Injuries Distinguished
To begin with, there are "legal" personal injuries and "physical" personal injuries. A legal personal injury is always a physical personal injury, but a bodily personal injury is not still a legal personal injury. A victim of a negligently caused accident is said to have legal rights to sue the person or persons responsible for injuring them under civil law negligence rules. These "unintentional" types of injuries are typically caused when a defendant fails to act reasonably, leading to the serious injury or death of another person or persons called "plaintiffs."
We focus on helping plaintiffs injured in the top 5 statistically most common unintentional accidents in Los Angeles as follows:
Slip, trips, and Falls. (808,981 total reported).
Being Struck by Flying Objects. (348,252 reported victims.)
Motor Vehicle Transport Accidents. (298,366 reported victims).
Overexertion Claims (182,539 reported victims)
Cutting and Piercing Claims.
Los Angeles is home to some of the worst, deadly types of accidents that lead to inured victims filling up hospitals and morgues. Yes, the expansive and exciting City of Los Angeles remains the world's entertainment capital and attracts visitors from cultures everywhere. L.A. remains a vast County and central to California's economy.
The dense population alone means that someone is going to tangle with another at some point. The density of streets, paths, and sidewalks suggest that accidents happen consistently in L.A. Pleasure seekers, venture capitalists, job hunters, artists, aspiring actors, and paparazzi seek out L.A.'s opportunities and mise en scène. From its top pro athletes Hollywood's captivating, Oscar-winning stars, starving homeless people, and undocumented aliens, all economic classes and racial profiles exist here, including biker clubs like the Hell's Angels.
People can enjoy a diverse ethnic medley of excellent dining and entertainment, an excursion to the fashion district, or relax at the beach. Also, burgeoning global technologies and investments in medical research industries rapidly create a more crowded metropolis and vibrant economy. But LA isn't all thrills and fun; the city has its share of problems too. For example, accessible healthcare for non-citizens, murders by undocumented aliens, sanctuary cities, exploding homelessness, and race riots have substantially changed the safety conditions here, placing Angelinos at risk.
Crowded buses, and streets filled with taxi cabs and Ubers only serve to multiply the new problems contributing to a rash of existing traffic congestion, crimes, and disease outbreaks. Although not perfect, it's a proud city. And its strength remains in its diverse population.
But sometimes irreparable harm is the outcome. Just think about it, Greater L.A. subsumes parts of the O.C. and Inland Empire. So there are 34,000 square miles of the territory where a person can suffer harm or maiming at any time. And there are 19 million residents and even more visitors transiting to and from these areas at any time.
There are shipping hubs and ports located in Los Angeles County, CA. Cruise liners, military vessels, and cargo ships all mix in the sea lanes with Catalina Flyers. Naturally, accidents occur regularly on land, air, and sea when someone is negligent.
In 2014, the California Department of Public Health reported 546,741 unintentional injuries that hospitalized Residents of Los Angeles County aged 1-85.
The top 5 unintentional personal injuries in Los Angeles during the same period were as follows:

Ehline Law Firm Personal Injury Attorneys, APLC Represent Victims Harmed by Top Five Unintentional Los Angeles Personal Injuries
Our helpful staff and attorneys assist Los Angeles consumers with the top five unintentional and many intentional injuries in Los Angeles City and County. Victims receive treatment for their sores and are released to go back home. When a person unintentionally causes damage, this harm is often caused by courts' and juries' negligence. Another person is not always the cause of the failure leading to an accident. For example, a senior citizen's inattention from their advanced age could cause them to lose their balance, causing a trip and fall injury. We help victims of negligence in tripping on a crack in the sidewalk incidents, and we see seniors hospitalized often, sometimes as inpatients. In some cases, the person who fell on the ground knew about the crack or rise in the pavement, causing them to trip.
In case you were a senior aware of the sidewalk defect, you may be partially at fault for your injury. But the City woCitystill have to pay you for their part of not preparing the elevated crack you caught your foot on, losing your footing. You should keep reading if you are in a similar spot. According to the Los Angeles County Department of Public Heal, the below accidental injuries ranked among the top 5 unintentional injuries over ten years over ten years. The updated 2015 statistical information shows the total reported victims of all races, genders, and ages from 2009-2013.
An intentional injury is more along the lines that someone hurt you on purpose. So if a bouncer threw you to the floor or punched you in the face with a balled-up fist, that was on purpose. Even if someone makes a furtive movement towards you that you perceive to be a threat, that could make you stumble backward and crack your head open when you hit the ground. There, the result would be a pool of blood and a possible brain injury.
Or a private security guard sicks his dog on you during a peaceful race riot, mauling your arm. Sometimes a Los Angeles resident may even die from such a Malay, which we call a wrongful death. So these are potentially intentional torts we might call assault, battery, or murder. We help in all these cases and more. But our focus is on the everyday situations where people are treated and released for unintentional injuries caused by negligence or inattentiveness.
1. Slips, Trips, And Falls Taking Place in Los Angeles County And City
Premises cases can include nightclub security attacks against patrons or an uninvolved passerby getting hit in the head by the camera boom of a public-facing movie set. Another type of accident is when broken steps or defective ladders collapse, compressing and trapping the victims between exposed, live electrical cables, wood, rebar, and steel framework fragments. These caught in-between accidents are sometimes fatal because they can crush and pierce internal organs or electrocute the shaken victims.
But Los Angeles' most common unintentional premises accidents involve slipping, tripping, and falling. Typically, these events occur on a miseleveled, poorly lit, greasy or wet surface at swimming pools, houses, workplaces, gyms, grocery stores, restaurants, cracked, elevated sections of sidewalks, potholes, land development sites, or apartment common areas. Many of us remember that woeful, disheveled elderly man on T.V. crying, "Help me, I've fallen, and I can't get up!!"
But that Life Alert™ television commercial seems to imply that slips, trips, and falls are only common among older adults. However, seniors 65 and up are not the only age group to fall down unsafe broken stairwells or slip on a hazardous accumulation of snow or rain with nonexistent or inadequate warning signs to alert the public.
Are LA Seniors And Kids Equally at Risk for Slip, Trip & Fall Injuries?
In 2014, Los Angeles reported over 10,422 falling cases with injuries to people under 64 years old. So yes, all age groups remain potential victims of these tragic events. Sometimes blundering or deliberate actions may be to blame for your injurious nosedive. In contrast, a significant cause of these unexpected accidents can be traced to others' unintentional negligence, such as at nursing homes. But when another person is liable for your premeditated or inadvertent falling accident.
But each slip and fall accident remains unique, just like you. Noteworthy here is that even if you helped cause or contribute to your incident's conditions, another party might still be partially or fully at fault to pay you money in a premises liability lawsuit. The only way to know if you have a decent case is to quickly reach out to a motivated, results-oriented personal injury lawyer like Ehline Law Firm.
2. Falling And Flying Object Cases
Unbelievably, objects flying through the air or falling upon people's bodies, particularly their heads, are the number four unintentional accidents in Los Angeles. But it's also one of the most devastating things a human body can endure.
Even a lightweight object dropped from a building, overhead pallet at a Home Depot, or plummeted through the air can cause myriad debilitating injuries or untimely death. It is not normal for objects to be traveling at speed, tumbling through the air into others. It is a thing that speaks for itself. This thing usually can't happen absent another's negligence.
And when another person's negligence causes a plunging object to strike you or someone you love in the head, you will often be knocked to the ground and rendered unconscious. You may have a bad memory of what happened, be stricken with Amnesia, TBI, MTBI, or be in a deep coma. You will experience many unwanted responsibilities after a foreign body impacts your cranium. Victims will face out-of-pocket expenses for incurring necessary diagnostic hospital bills, including obligatory brain C.T. scans, MRI scans, and other reasonable therapy and medical necessities.
If you have health insurance, you are not going to be remunerated wholly. Your lawyer and the investigative team will focus on finding who is responsible for paying you before it becomes more problematic.
And we already know this is true with head injuries involving memory loss when no one defendant was visible during the accident. But someone taking or refusing to take actions to prevent your damage must be held accountable to pay for your long-term care, or you may remain on the hook forever.
Examples of potential defendants in a falling or flying object case include:
Commercial businesses.
Residential builders or contractors.
3. Los Angeles Traffic Accidents
Sadly, Los Angeles tends to see vehicles congregate in gridlock traffic at certain times, like rush hour. Distracted drivers get to playing with their smartphones, etc., and boom, a low-impact rear-ender. But sometimes street racers and reckless, speeding drivers are seen flying down the L.A. freeways during night driving.
Poorly maintained roads, DUI, and reckless drivers are ever-present dangers in L.A., all increasing the threat of fatal motorcycle, and bicycle rider sideswipes. People on foot face an even greater risk of injury or death from car accidents, bus accidents, and rig accidents.
Rising Street Accidents in Los Angeles?
Los Angeles days are not always sunny, and for commuters, crowded L.A. doesn't offer pleasant, world-class driving conditions. For one, your gas is more expensive here than in other states. But you have no choice but to drive or to pay for an Uber, Lyft, or taxi. You may be brave enough to risk the dangers of riding a motorcycle in L.A.
But if you drive in California after a fresh rain, you risk sliding out on an oil-covered, slippery surface. And your risks of hitting another vehicle or object like a dog or person on foot are high due to the sheer amount of economic activity among our dense population, with mass road casualties mounting.
And despite the government's safety measures, "traffic deaths rose 38% in 2016 and have fallen just 5 percent since then." (Source.) If you or your loved one experienced an unjust injury at the hands of a negligent party, Ehline Law Firm, headquartered in Los Angeles, California, stands at your beck and call to fight for due process and to win you maximum monetary compensation for your Los Angele negligence claims.
Do We Also Help With Motorcycle Accidents in Los Angeles?
Yes, we do. Our lead attorney is a motorcyclist and bicycle rider, and we are top-notch lawyers who ride. So we are there with you, empathizing with your experience, earning your trust, resolving your case, and helping make our safe streets safer for you and your family.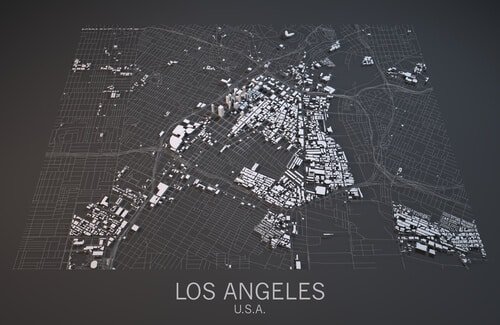 Law enforcement treats single-car accidents with suspicion. It makes sense as cops get so used to taking Traffic Collision Reports from victims with two sides of a story. Our Los Angeles car accident attorneys know how cynical law enforcement can be in situations like this. Many police assume intoxication and treat the case as a criminal investigation against the driver.
Taking A Look at the Headache Of L.A. Roads
The reality is there are cities in Los Angeles and connected locales with bad roads that can kill or maim vehicle occupants and bystanders. The streets in and around Los Angeles are a topic of constant conversation in the news, especially when it rains or flood.
If you take a look at any of the city's cities, you will suffer a headache, especially if you are forced to drive Los Angeles roads daily. We already know there's a reason many people traveling through Southern California will try and avoid the city a city, with most drivers wishing to dodge heavy, constant traffic.
L.A. Times Interactive Map
The Los Angeles Times has an impressive interactive map to look at the road conditions across The city. City's plan will allow road users to road conditions by neighborhood and district. The worst roads exist mainly in prominent, crowded places, including Hollywood Hills and Silver Lake. As you drive, you will notice the unmistakably high number of poor roads commuters and pedestrians must get around.
Our Roads are Among the Poorest in the Country
Two years ago, L.A. area roads were rated the worst in the country, with Glendale's neighboring Valley town beating Rhode Island with having the most terrible drivers (check it out here.) A Los Angeles Times article shows a portion of the street and highway conditions of concern.
The combination of bad drivers nearby and torn-up roads can be costly to taxpayers and commuters. The Washington DC-based research group TRIP conducted a study showing that poor road conditions, including potholes and other issues, cost each driver over $800 per year.
---
Almost 9,000 Miles of L.A. Roads Get a C-minus Grade?
After the government's federal highway rating system was published, we were able to compare LA's 8,700 miles of roads with those of other demographics, with Los Angeles scoring a poor C-minus, a quarter of its streets receiving an F. Furthermore, officials will loudly proclaim a sixty-year urgently needed repairs backlog as their excuse, with almost two-thirds of city roads in bad condition, with commerce a significant factor slowing road repairs (view source.)
Lawyers Can Help Compensate Victims Hurt Driving On Bad Roads
The shape of the roads you and your family rely on daily is of the most significant concern. Contact an attorney immediately if you were the victim of an accident due to Caltrans or LA DOT's negligence. Furthermore, they are obliged to keep the public safe and the roads well maintained. Let's make sure that they do.
What Steps You Must Take to Protect Your Rights After A Traffic Accident?
Steps must be promptly followed to protect your rights when you become injured in a Los Angeles auto accident. First, you are already disoriented and injured. Second, you have no training to handle legal matters. So it is vital that you get the best medical and regular care after being taken to the hospital's emergency room in an ambulance. But competent injury lawyers are hard to come by, no matter where you live. It was your good fortune you landed on the Ehline Law Firm website.
So hand over your case to a prompt, motivated Ehline Law Firm legal advocate and focus on healing. Right after hiring us, we will liaise with the insurance carriers, deal with getting the police reports, conduct witness interviews, etc. But we won't just stop there. We look after your personal needs by helping set up a lien doctor, rental car help, property damage appraisals, light-duty chits, and handling your paperwork.
What Is A Lien Doctor?
Noteworthy here is that we do our work on a no-recovery, no-contingency fee basis. So we will bear the brunt of your case work-up from start to finish. Also, we charge zero upfront costs in most cases. So usually, the victimized client owes us nothing until after a settlement or a full-blown trial.
Helping You Locate A Lien Injury Doctor
ELFPI's experience handling medical treatment from an evidence-gathering perspective is second to none. So we work with doctors on medical liens so you can pay them after your case. Furthermore, our Southern California-based firm has worked on and won hundreds of similar topics. Thus, as we compile evidence of injury, we find adequate medical treatment for victims.
We can manage every part of your case, including:
Finding the appropriate doctor or specialist for your injury.
Documenting every aspect of your injury and pain.
Finding a means to pay for your damage, including fronting the cost sometimes.
Negotiating with your insurance company.
Consulting with government agencies, including for Worker's Compensation or Disability.
First, it is essential to seek medical attention. Also, you may get covered by health insurance– or you might not be. But if you do not have health insurance, ehlinelaw.com can help you in several ways. Most of all, we use our network of legal professionals. These professionals determine the correct course of therapy or medication.
Thus, we can often find compassionate doctors and therapists who believe in you, helping bolster insurance settlement negotiations, and helping convince lazy, shiftless government bureaucrats and negligent parties.
Don't Forget The Importance Of Post Vehicle Vehicle Accident Medical Treatments
If you were to ignore medical treatment, it would hurt your injury recovery and your ultimate purse. This treatment is needed, later buttressing helpful evidence. For example, when you allow a time gap from your crash until receiving physical and medical therapy, the adjuster or defense lawyer will argue your harm was caused by something else. These Charleton's may say, for example, your injuries are old, or nothing to tie your alleged accident to your injury, such as your ambulance-hospital trip from the crash site to the E.R.
Victims following these steps will be able to document every accident-related ache and pain. Your anguish and bad feeling could follow you for months and years and needs to be revealed to our attorneys so we can include it as recoverable damage, using this information gathered from your medical bills and records. Our experts, such as life care planners, will calculate your future income loss and non-economic damage, which also helps us calculate your pain and suffering damages.
4. Los Angeles Overexertion Claims
Overexertion can happen in many ways. First, nerves and other functions will short-circuit when the body and organs get run down. So shock, coma, and death could be the final results. How your exertion happens could be your fault, such as if you are dehydrated or a heavy drinker. Sometimes an injury can occur while you are at work, like when your boss makes you carry something too serious, and you strain your knees and back. While the workman's comp insurance handles many of these injuries because an employee was performing work-related tasks, other cases can be for child abuse, such as when a coach overworks a student-athlete.
Overexertion is a top cause of L.A. injuries and could result in terrible brain, nerve, and spine damage. Injuries or bodily conditions. Other typical injuries in this category include shoulder, neck, and ankle strains and sprains.
What to Look for In Overexertion Cases?
As noted above, overexertion happens often at work, such as lifting or bending over at the waist to pick something up. Nevertheless, overexertion is common in hotter climates and jobs like firefighting and military personnel on patrol or training around Camp Pendleton, California. So secondary factors often speed up and complicate the symptoms of overexertion. For example, smoke, dust, and even chemical agents can negatively affect a victim's taxed lung and respiratory function.
Symptoms Can Include:
Carpal Tunnel Syndrome in fingers, wrists, and hands.
An irregular or speedy heartbeat.
A body temperature over 102 degrees.
Too sore feet and ankles.
Heat Exhaustion.
Locking knees.
Heatstroke.
How Are Overexertion Injuries Paid?
There are two main defendants, with your employer being accountable for workplace overexertion and private third parties civilly liable for exhausting you, causing you injuries. As we noted, worker's compensation insurance will remain an injured employee's primary compensation method.
Sometimes wounded workers will not receive enough monetary coverage for their work comp insurance claim injuries.
Third-Party Work Comp – Work injuries could have been worsened by secondary third-party caused factors, making them liable to pay your lost wages and other injury-associated expenses.
Employer Gross Negligence – Sometimes, your employer was grossly negligent, making them liable to pay you amounts beyond the limited work comp coverages.
Non-Employment Related Exertion Claims – You may have a lawsuit even for a non-work-related overexertion claim. Maybe you hired a martial arts teacher or coach who worked you too hard. Yes, these are complex cases to prove, and special defenses are available. But if you seek and obtain excellent legal representation, sometimes you can file a civil lawsuit for negligence.
How Can Overexertion Be Prevented?
Staying hydrated, stretching, and using proper physics when carrying bulky or heavy objects can help prevent serious back injuries and avoid repetitious movements without taking breaks. Ask for a break if you feel like you are overtaxing your heart. Stay in the breezeway of shade, if possible.
IMPORTANT: For employers and teachers, if you supervise someone with asthma or another ailment, understand their endurance is limited compared to an average person. Please don't count on a competitive person to recognize their limits in terms of strength, acuity, or alertness. Ensure you give your employees breaks, providing water, and Gatorade, including medical help treating your fatigue or physical exhaustion symptoms.
 Should I Hire A Lawyer To Help With My Overexertion Problem?
Probably. First, you must prove you have a case by receiving assistance from someone professionally guiding you and positively answering your complicated questions. Speaking and receiving legal help from a legal expert will help you file your legal paperwork properly and protect your future compensation rights.
5. Cutting And Piercing Claims In Los Angeles
The number one cause of unintentional injuries in Los Angeles is cutting and piercing, often the primary or secondary outcome of explosions, breaking glass, and many more scenarios involving a high-speed or even low-speed automotive crash.
What are some standard cutting and piercing claims?
Knife and sword attacks during a martial arts demonstration or MMA seminar.
Police torture cases, or private people under the color of law cut or pierce a citizen.
Dangerous blenders and other devices with improper warnings that lob off body parts or chop up digits.
Dog bite attacks, claws, and paw lacerations.
Domesticated horse bites and punctures.
Nail gun misfire shrapnel and other flying objects that pierce hands, fingers, and eyes on construction sites.
Tattoo parlor body piercings and defective ink guns in violation of public sanitation and health laws.
Can you think of any unusual way a person could be cut or pierced against the law in Los Angeles?
Does Ehline Law Firm Back Other Cases Besides The Top 5 Accidents in L.A.? 
Yes – Our venerable law firm funds and litigates many types of legal tort law claims as follows:
Traffic accidents involving passenger cars, motorcycles, big trucks, buses, locomotives, and pedestrians.
Help with dog bites and attacks against mail carriers, kids, and others.
Construction and job site accidents due to slipping, falling objects, open trenches, poorly manned cranes, exposed electrical wiring, etc.
Elder and Nursing Abuse.
Assault and Battery.
Wrongful Death, etc.
10. Do We Help Victims Suffering from LA Poisoning Cases?
Yes, we do! The number ten cause of unintentional injuries in L.A. is poisoning. And being infected from lousy food at an eating establishment is not the only way to become physically contaminated.  You can get injured by chemicals at your workplace; carbon monoxide builds up in a car or garage; household chemicals (Ex: RoundUp® weed killer); or smoke and mist coming downwind from a toxic spill from a factory or train accident. And these are just a few examples of ways you can get poisoned.
Your injuries from hazardous chemicals can range from chemical and smoke inhalation to cancer, with poisoning cases remaining complex, challenging, and hard to prove in court, raising product liability and ordinary negligence issues.
Examples of potential defendants in a poisoning case include:
Restaurants,
Food servers,
Delivery persons,
Product maker.
If you seek to Identify and file a lawsuit against parties injuring you, you may help from legal experts, including government assistance. Ehline Law Firm understands these legal cases and nuances, ready to take over your matter.
Accidents challenge us in our day-to-day activities differently.
An accident is an undesirable incidental, and unplanned event that could have been prevented had circumstances leading up to the accident been recognized, and acted upon, before its occurrence. Most scientists who study unintentional injury avoid using the term "accident" and focus on factors that increase risk of severe injury and that reduce injury incidence and severity (Robertson, 2015). (en)
So, for example, distractions, not paying attention, etc., focus on what causes accidents. Victims will find that many of these mishaps will permanently devastate their lives, even though these were "avoidable" mishaps. Your severe accident may come with a long-term adverse health impact.
Work-related stress-related injuries differ from car collisions, just as a slip and fall will differ from a drowning hazard. Victims will face physical wounds, psychological trauma, usually suffering unwanted medical expenses, and losing their job or work-related contract income.
Typical outcomes of personal injuries are:
Part-time or permanent bodily harm coupled with lessened mental and physical ability.
Personal and commercial property destruction.
Costly medical care and treatment.
Lack of ability to return to work or not become hired for a new workplace job.
I was getting stressed out, depressed, or anxious regularly.
Auto and other liability insurance are supposed to place us at ease. You are paying for a feeling of certainty when you think about it. Our experience has been that most insurance companies do not act in good faith when push comes to shove. In other words, they play hardball when their insured gets hurt in an accident.
For instance, a common ploy is for the adjuster to try and make a lowball settlement offer. In other words, they try and pay less than the case is worth. But if they attempt this, our top Los Angeles personal injury lawyers are ready to act.
A skilled personal injury attorney knows how to measure the value of the compensation you have coming. And this happens in part by computing your actual monetary losses. The formula places a discount on your pain, anguish, and suffering. So were you injured in an unfortunate accident?
You must never speak to the insurance company without a lawyer, so call a personal injury attorney. This will be a legal expert, able to handle all aspects of your case vigorously. Furthermore, a Los Angeles personal injury attorney regularly deals with those same insurers, and they will know how to overcome their tricks, games, objections, and delay tactics. So your representative will already know the ins and outs of this or that insurer. The insurance company knows that Ehline Law can easily navigate your case through the court system, making insurance settlement negotiations much more severe and essential to the other side.
Are You Seeking Los Angeles Personal Injury Attorneys?
Most accident victims remain in a haze following their calamity. So in this confused state, they either fail to act promptly or fail to act at all. Taking steps to protect their legal rights is one they must do to secure their future. An excellent method of achieving this is to seek legal protection from a personal injury law firm. Generally speaking, this should be an experienced personal injury attorney group. More often than not, this organization will have the ambition, knowledge, and financial backing to take a case all the way through.
How Does a Good P.I. Lawyer Prove Fault?
A well-trained personal injury attorney will first determine where the incident's fault lies to establish legal liability. In California Courts, a formula is used to determine fault utilizing the negligence law. CA Civil Code Section 1714 covers the elements of negligence.
To prove that someone was negligent, you have to show the following:
"The elements of a cause of action for negligence are well established. They are "(a) a legal duty to use due care; (b) a breach of such legal duty; [and] (c) the breach as the proximate or legal cause of the resulting injury." [Emphasis.]
(Ladd v. County of San Mateo (1996) 12 Cal.4th 913, 917.)
Why Acquiring Top Legal Judgment and Backing from Ehline Law Firm is a Smart Move
Ehline Law Firm has triumphantly represented disabled clients' legal matters with zeal and dedication for over a decade. And Ehline Law Firm has bankrolled clients' cases in the most complex court matters, down to simple legal issues. But our goal always remains the same.
We promise to use our superior judgment, tactics, training, and finesse to earn you the maximum award allowed under the law quickly. The compensation we fight for is money for your pain, suffering, hospital bills, lost earnings, and long-term disabilities.
So did you suffer from someone else's negligence? Because if so, Ehline Law Firm is ready to assume your case's day-to-day representation. Marred victims can heal and regain their strength while our experts deal with the red tape. But the crowded City of Los Angeles has a risk of injury in many accidents, not just car crashes.
Why should you have to go bankrupt when it's someone else's fault you're bedridden and sidelined from making a living? Thankfully, Ehline Law Firm can take over all aspects of your cause's legwork and representation. Even if you presently have counsel, hiring us is your sacred right.
It's all about the client. Placing clients first fosters trust. Accordingly, we will pursue all forms of retrieval from many obligated parties. Earning the title of "elite attorney" means fighting daily to get our clients the most money with the best, most responsive service.
What Are Some Other Ways an Injury Lawyer Helps?
A lawyer helps people harmed by the negligence of others. But many attorneys are less qualified than others in personal injury law matters. The object is to retain the lawyers most qualified to help with your case. Not only will they have years of experience, but they will also maintain motivated staff members to assist you when the attorneys are trying circumstances.
So your accident lawyers must be specialists in personal injury claims. The best thing to do if you get hurt in a motor vehicle accident is to hire a specialist lawyer with experience helping with similar incidents.
Success is Key:
Lastly, your injury lawyers must have a proven track record of success. A history of winning can mean everything. So time in grade as a lawyer is far less critical than historical outcomes. Results like earning monetary compensation victims and how much should weigh significantly in your hiring decision. A history of winning is a reliable indicator of future victories. Most of all, prosperous lawyers retain help from specialists in their prospective fields. So that way, they have expert opinions to help with trial preparation. Front-loading a case with all this information makes it better for trial. The insurance company is more likely to pay a fair amount when the lawyer goes the extra mile. A great lawyer will investigate the accident scene and hire investigators to take pictures and witness testimony. Accident reconstructionists can then use this data to recreate a simulated video of the accident. If Plaintiff makes a compelling case by re-creating the adverse event (Powerpoint presentation, etc.), the case could settle early and avoid a jury's necessity. And this is always in the interests of the judicial economy. Most of all, getting it over with helps the client move on without endless trips to the courthouse.
Our philosophy is placing clients first. The first intangible quality clients should look for is compassion. Without this trait, you will have no confidence. So as soon as you hear the lawyer over the phone, you must detect spirit and discipline. If you sense it, meet face to face. See if the lawyer will drive to your location. That is a good sign of dependability. Anytime you get hurt, your lawyer needs to hustle. A good lawyer gets a reasonable settlement. But a great lawyer wins enormous settlements. A winner often wants to make a case file immediately. Next, they must hit the streets to gather evidence.
Call Ehline Law Firm Personal Injury Attorneys, APLC, for Powerful Legal Aid
You just learned about the top 5 causes of accident-related injuries in Los Angeles. You also learned how to get compensation. But cases exist where the court may consider the accident victim partially responsible for their suffering. For example, what if the injured party was intoxicated or under drug influence during the event? So it can get shaky, and you might lose hope. But don't despair.
In such cases, the amount of compensation will usually be diminished. But it is only reduced compared to the degree of collaboration in your setback. Never fear; the aggressive Ehline Law Firm stands ready, waiting for your essential telephone call at (213) 596-9642.
Downtown Los Angeles – A Long and Storied History
Overall, this is one of the most diverse parts of Los Angeles. And this is more than just talking about the population. Furthermore, some significant districts within this area make downtown the place to be. This includes the Arts District, Little Tokyo, Skid Row, and the Old Bank District. Downtown has some different features, including some of the longest histories within the city.
CCityornians founded Los Angeles in 1781. The site saw the municipality's population massively increase from 1880, especially after the first and second World Wars. Furthermore, it is now home to many of the city's City's sections, including skyscrapers such as the Wilshire Grand Center.
It is also home to the Los Angeles Union Station. It has recently undergone Revival as more and more young people, especially well-educated young people, are headed to the city toCityd a new life. There are many aspects of nightlife, culture, and the history of Los Angeles, all within this part of town. We hope you got a chance to visit and spend some time on the many aspects that make it a special place to be involved.
Driving Directions to Ehline Law Firm from DTLA.
Drive 10 min (1.0 mile) via E 7th St and E 5th St from Downtown Los Angeles, CA 90071.
Head northwest on E 7th St toward San Julian St 0.3 mi
Turn right onto S Los Angeles St 0.3 mi.
Turn left at the 2nd cross street onto E 5th St.
The destination will be on the right, 0.5 mi.
LAX Is One Of The World Leaders In Traffic
LAX is one of the most famous and busiest airports in the United States, and it is a leisurely pace to get into an Uber, Lyft, or taxi cab crash. It is intensely traveled and remains the busiest airport in Southern California and the overall state.
It is the second busiest airport in the country and one of the world's largest International airports. It is also the hub for five major airlines end carry a whole series. In 2016 LAX handled over 80 million passengers, which keeps growing yearly.
LAX IS A Growing Airport
LAX started as a humble Airport, as Mines Field in 1930, which became a municipal Airfield in 1937. The little Air Field kept growing over time and eventually became the Los Angeles airport in 1941 and the Los Angeles International Airport in 1949.
LAX was home to one of the most famous flights in history, a shuttle carrier aircraft in the Space Shuttle Endeavour in 2012. The space shuttle was then retired and wheeled through the city ofCity Angeles. LAX is also home to distinctive architecture, including its large letters and The Lax theme building, constructed in 1961.
The airport is enormous, with four runways and nine passenger terminals. And this is what makes it one of the largest airports in the world. Many of the most critical and significant airlines in the United States and the world operate out of this airport. All of these factors make the airport a favorite destination or layover location. It is one of the busiest airports in the entire country. That trend will likely keep growing over the coming years and years.
This concludes yet another article on the history of Los Angeles and its many effects. If you have any questions, please let us know. Please send us an email or contact us.
I am driving to Ehline Law Firm from LAX. How do I get there? Travel time is normally 41 min (22.7 miles) via I-405 N and I-10 E from LAX Terminal 1, Los Angeles, CA 90045.
Get on I-105 E from S Sepulveda Blvd 5 min (1.6 mi)
Take I-405 N and I-10 E to W 4th St.
Take the 6th st/9th St exit from CA-110 N/State 110 N 28 min (20.7 mi)
Take S Hope St to W 5th St 2 min (0.4 mi)
Ehline Law Firm Personal Injury Attorneys, APLC. 633 W 5th St #2890, Los Angeles, CA 90071. (213) 596-9642.
If you want to learn more about Los Angeles accidents and injuries, use our contact form at the top, or call us now at (213) 596-9642 to receive your free case review, discuss your legal representation rights, and obtain monetary compensation on a contingency fee basis.