A wrongful death claim is a legal claim against someone whose negligence or intentional act causes another person's death.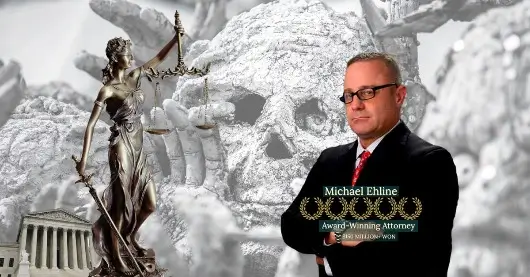 If a Tort Victim Dies, What Happens?
We can bring wrongful death claims against a defendant who has caused someone's death, either through negligence or as a result of some intentional action.
Wrongful death claims allow the victims' estate and those close to a deceased person to file a lawsuit against the party who is legally liable for the death.
What is Wrongful Death Law?
Wrongful death law applies in tort cases in which the defendant's conduct has resulted in the victim's death, leaving behind surviving family members and dependents who will suffer as a result of the decedent's death.
In California, you can take survival action. This kind of claim pays compensation to the decedent's family members for wrongful death damages.
Survival actions pay for damages the victim suffered as a result of the defendant's actions. The claim can account for pain and suffering, medical expenses, funeral and burial expenses, and other damages that the victim endured between the time of the personal injury and the time of death.
The defendant pays damages in survival actions to the decedent's estate. Claims for wrongful death arise most often in negligence cases. These are cases in which the defendant was careless, causing an accident or otherwise causing harm to the victim.
Who gets Money in a Wrongful Death Claim?
The jury rules to compensate the parties in a wrongful death lawsuit in one of two ways, namely, damages – involving compensation for the victim's death; Pain and suffering– This form of compensation will repay the family for the suffering that the person endured between the accident and their death.
Who Gets the Money?
The decedent's estate can sue the responsible party in a wrongful death case. According to the terms of the victim's will, when we win your claim, we will pay the funds to the deceased's surviving spouse, heirs, or next of kin according to California law and the rule of the court.
What Happens When Someone Dies During a Wrongful Death Lawsuit?
The law allows a mass tort or other personal injury claims to exist if the injured person dies, and this law also lets specific individuals sue for harm they suffer because of the death of their loved one in a wrongful death suit.
A wrongful death case allows eligible survivors to sue for the losses they experienced, although not just anyone can bring a wrongful death lawsuit.
In contrast, a survival action allows another person to start or continue a wrongful death action to serve as a substitute plaintiff for the decedent, and the damages that the estate can potentially recover will be the same as if the plaintiff was alive and continuing with the personal injury case.
Do you need professional legal advice? Our team is ready to help you. Take action now and claim your free consultation with a professional personal injury attorney.
What Happens to the Lawsuit when the Plaintiff Dies?
When a plaintiff in an existing lawsuit passes away, the civil court hearing the case may decide to "stay" the matter, meaning to put it on hold until the probate court appoints an estate representative, and the court handling the litigation will then substitute that personal representative for the deceased person's interests.
This kind of stays of litigation and substitutions for parties is not automatic because the personal representative must first file motions with the court to make the request for such actions.
It is more difficult to prove or defend a lawsuit's claims when a party dies, as that party's testimony dies with them unless someone is keen enough to capture it beforehand. You need a competent attorney that is not only compassionate but also aggressive to use foresight that comes with years of experience.
That is why you need to call us immediately to establish an attorney-client relationship and file a wrongful death claim with a veteran-run law firm.
What is wrongful death payout?
A wrongful death claim is a payment made to resolve a personal injury claim that resulted in a fatality. The victim's personal representative may bring a new claim to receive compensation and hold the responsible party accountable for their loved one's death.
A wrongful death settlement is the resolution of a civil complaint that personal representatives bring on behalf of a person who is the victim of a fatal personal injury.
The average wrongful death settlement ranges from $500,000 to over $1 million. That is why you must speak to an Ehline law expert for proper legal advice.
Do you want to file your claim correctly for maximum compensation?
You deserve the best lawyers in California. Our award-winning law firm has won our clients millions in compensation because our talented legal team of law clerks, paralegals, and highly trained wrongful death attorneys understand what grieving means.
Why You Need Ehline Lawyers for Wrongful Death Claims
Ehline Law Firm is a team of committed and well-vetted attorneys. Our lead counsel is a USMC veteran, and a renowned Washington DC, lobbyist. He is a man of great honor and integrity.
Don't just surrender your rights to receive total and fair compensation; you must take bold action and speak to an aggressive lawyer today. We are available 24/7 to listen to your problem with compassion and Saudade. We will be the best personal representative for the deceased victim.
Do you want immediate help from a caring law firm of individuals to encourage and surround you with strength? You or your loved ones can reach out to the superior Ehline Law lawyers, APLC, today by dialing (213) 596-9642.
Reach us any time through our convenient online contact form on this page. A top-notch, award-winning wrongful death lawyer is standing by to answer your important questions.
With our over 15 convenient locations in California, you can come to us, or a professional attorney can come to your home, hospital, or workplace, and we can take wrongful death actions following California civil procedure.