Jan 12, 2019
Train and Truck Paths and Crossings - Staying Safe
---
A modern transportation system needs a variety of means to convey goods and people. The same is the case across California. Thousands of roads and train crossings pose a particular danger to drivers and pedestrians.
The size of trains and trucks alone often causes catastrophic damage to any vehicle and person in their way.
Railway Crossings Cause Accidents?
Unfortunately, train accidents are still an issue across the country. Secondly, this occurs thousands of times, usually at railway crossings.
Why Is Medical Care So Important?
When you have been injured by a truck or train accident, there is a need for immediate medical care. The scope of injuries caused by these heavy vehicles often causes torsion injuries, broken bones, amputation, laceration, and even death. Many semi and train injuries will also require prolonged and intensive periods of rehab until the patient is whole again.
In some cases, the injury victim is never fully recovered. The need to pay for all of the medical bills and the cost of suffering is high. So it requires the skill of a specialized attorney.
Attorneys Know How to Handle Truck Accidents.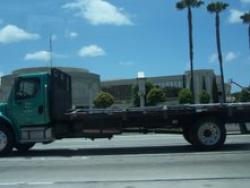 An attorney specialized in the fields of train and truck accidents, such as one from the Ehline Law Firm is versed in how to handle such a disaster. They have experience dealing with similar cases and have won hundreds in and out of court for injury victims, netting them millions.
They understand the need for qualified medical care and the means to pay for it and the cost of non-economic damages. There are many moving factors at play. For example, lost wages, pain and suffering, humiliating scars, and loss of affection from a loved one.
Attorneys Force Insurance Companies to Pay Up.
Couple that with an insurance company does not want to tie to reckless drivers, the need for a skilled attorney increases. Ehline Law's attorneys have seen it all and have built up a reputation as some of California's best litigators.
Their skill in and out of the court has earned the badge of 'no better friend, no worse enemy' among those involved in negligent injury cases. They'll come to you anywhere in Southern California to hear your case 24 hours a day. Contact us today for more information.
Practice Area Information
---