HOUSTON, TX – Emergency vehicles were everywhere on Friday night. At least eight persons have died, and many more were wounded while fans started to leave the Astroworld music festival in Houston on Friday night at 9 p.m.
Numerous people were unable to enter Travis Scott's concert on time after Scott started performing. As a result, a human stampede of 50,000 people rushed toward the stage, where people began to fall out, become unconscious, and die. The result was pure chaos near the stage on the grounds of NRG Park.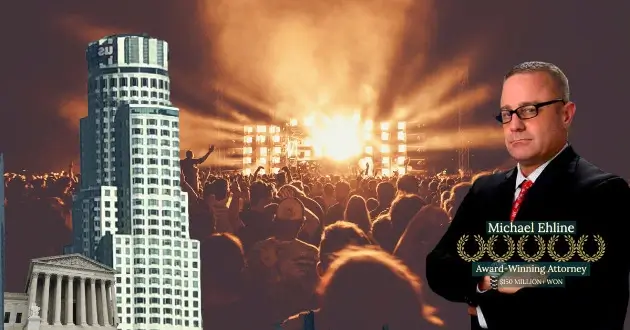 According to local officials, there was a ground rush of constant pressure, injuring and killing multiple people. Mayor Sylvester Turner said many things, but he told CNN he is waiting for further details from additional reporting before he discusses unanswered questions.
According to the New York Times, an ICU nurse, Madeline Eskins, who was attending the event last night, was overcome by the crush of people to the point of passing out. "I passed out because people were pushing up against me so much that I couldn't breathe," according to Ms. Eskins. Authorities are seeking answers about the mosh pits where Scott spotted fans in pure sicko mode on the final day when Scott stopped his show in real, local time.
The video showed pure calamity, and the medical examiner verified the deaths were caused during a human crowd stampede earlier in the day yesterday, in stark similarity to the Cincinnati WHO concert at the Riverfront Coliseum.
On November 6, 2021, 11 people were crushed to death. In fact, Astroworld has had past crown control problems, including a 2019 stampede that left three people with injuries suffered from metal barricades and gates squishing them during a crowd surge.
The festival was called off after authorities investigated the incident, with investigators working to establish what occurred. At least eight people were killed Friday night at a concert attended by around 50,000 people at NRG Park. Listen or watch the above video as officials update the situation as investigations continue.
At the third-annual Astroworld Festival, a massive concert event with numerous artists occurred. The most severe part of the situation began around 9:15 p.m., when the audience of approximately 50,000 concert-goers began to push forward toward the front of the stage, according to Houston Fire Chief Samuel Peña.
"The crowd began to compress toward the front of the stage, and people began to panic," Peña added. The aftermath of the event was caught on camera and posted to social media by a user identified as "Brianna."
Onlookers reported seeing ambulances take away patients, despite the fact that it appeared to be over early. According to Houston Police Chief Troy Finner, concert organizers Travis Scott and LiveNation ended the performance when they realized there was a problem.
While authorities pursue leads to determine what occurred, a reunification center has opened for loved ones who have been unable to contact attendees. Here's a recap of yesterday's reporting on the death of eight people.
While the most deadly moments occurred after 9:30 p.m., Peña said more than 300 people had been cared for at a field hospital, including individuals who were injured during the worst phases of the incident. While the identities of the deceased weren't known, Houston Mayor Sylvester Turner estimated that they ranged in age from 14 to 27 years Officials were still trying to determine the age of one of the eight individuals who had perished.
At the height of the storm, 25 people were taken to hospitals by Houston Fire Department and Harris County medics, according to Peña. Eleven people required CPR, according to Peña. The fire department had 55 units in operation for the event. By Saturday, 13 people were still in the hospital, according to Turner.
Five of those patients were under the age of 18. Travis Scott, a rapper and Missouri City native who founded the event, welcomed Drake to the stage as the crowd surged during a surprise cameo. The HPD Executive Assistant Chief Larry Satterwhite was on duty at the event, along with 367 police officers and 241 security guards.
During a morning press conference, he provided his firsthand account.
"Once we started having the mass casualty incident, they were starting CPR on several people, and it happened all at once," according to Satterwhite.

"It seemed like it happened over the course of just a few minutes. Suddenly, we had several people down on the ground experiencing some type of cardiac arrest or some type of medical episode." (Source ABC News)
As a result, emergency personnel was called to the site. They arrived on the scene and began assisting with patient care immediately after receiving word about park incidents from attendees injured during multi-day music concerts.
Medical transports were already present for the multi-day event, but the staff was quickly overwhelmed as injured people flooded in. On Saturday, investigators rushed to hospitals in search of the wounded.
The Harris County Medical Examiner's Office will determine how the eight individuals perished. The rest of the weekend's planned events were called off, and the region was closed off as a crime scene.
"At some point, the show was stopped when the crowd was surging,"
Finner said as he noted the event's promoters were cooperating with investigators.
Law enforcement officials in Houston and Harris County discuss what they believe occurred late Friday night at the event that drew tens of thousands to NRG Park. At least eight people died, and as many as 300 others were injured, according to authorities.
The precise cause of the deaths and injuries was not known. Early Saturday, Finner Mayor Mike Hagan and County Judge Tim Nance said there were no early reports of fatalities or serious injuries.
"There are a lot of rumors on social media," said Turner.

"Let me caution people not to buy into the rumors. Nothing is off the table in terms of persons who were there, people who fainted, people who were transported. As far as a crowd surge, all of those things are being looked at. It's way too early to draw any conclusions."
While Finner urged the public to be cautious about speculating, he did confirm that someone had been injected with a needle during the conflict.
"We do have a security guard, according to the medical staff that was out and treated him last night, that he was reaching over to restrain or grab a citizen, and he felt a prick on his neck," said Finner.
According to Finner, the security guard passed out and received Narcan, a drug that counteracts opioid overdoses, while investigators were still trying to locate the security officer.
"There were some individuals that were trampled, and we want to be respectful of that" … "We just ask that you give us time to do a proper investigation." – Finner.
The following statement was issued by the organizers of the Astroworld Festival early Saturday morning:
"Our hearts are with the Astroworld Festival family tonight – especially those we lost and their loved ones."
We are focused on supporting local officials however we can. With that in mind, the festival will no longer be held on Saturday. As authorities mentioned in their press conference earlier, they are looking into the series of cardiac arrests that took place.
If you have any relevant information on this, please reach out to Houston Police. Thank our Houston Police Department, Fire Department, and NRG Park partners for their response and support.
"For family members to find their loved ones who may have attended the event, a reunification center was set up at 8686 Kirby Drive near the South Loop at the Wyndham Houston hotel. During the hours after the tragedy, a meeting spot staffed by police, firefighters, and counselors was established as an information clearinghouse.
People outside the Houston area who have not heard from family or friends who attended the event can call 832-393-2991 or 832-393-2990. While it was too soon to determine whether the deaths or injuries were caused by criminal activity, Finner said his department would look into any leads.
"Until we determine what caused the surge, we don't know," Finner said. "We will find out. Is there anything criminal? We don't know." A few hours later, a deadly accident occurred as a large crowd stormed the perimeter of NRG Park, resulting in a chaotic situation for security personnel and event staff. Finner said the two occurrences were not linked.
The fire chief in Houston, Sam Pena, said he had never seen anything like it. Listen to him explain this tragedy on Good Morning America's complete video. He was taken to Texas Children's Hospital after being injured during the storm's chaotic aftermath. Next, click the play button below to view what happened next! Hundreds of enthusiastic fans rushed the perimeter of the event on
Friday, knocking down metal detectors and a security screening area, injuring at least four people. It was still unclear whether anyone had been seriously hurt in the previous incident early Saturday morning.
Attendees waiting to get into the event overtook security and jumped over barricades and each other as the crowd pushed its way into the music festival. Mycah Hatfield, a reporter for ABC13, was at the entrance around 4 p.m. Friday when the mob approached. Security personnel pushed some individuals away from the entrance before the crowd overwhelmed the doors.
The event's 100,000 tickets sold out within an hour of going on sale in May. In 2018, Travis Scott, a well-known musician, and organizer, hosted the Astroworld Festival in Houston. Due to the COVID-19 epidemic, it was curtailed in 2020 like other major events.
Social Media Video and Music Critic Statements Are Damning?
TRAVIS SCOTT AND DRAKE PERFORMING AT ASTROFEST pic.twitter.com/dlR5EwvGJU — TRAVIS SCOTT FANS (@LaflameScott) November 6, 2021, We have contacted Live Nation Entertainment, the festival's promoter, and representatives for Travis Scott's outdoor event regarding Friday night's tragedy. Yesterday morning, the rapper released the following statement:
"I'm absolutely devastated by what took place last night. My prayers go out to the families and all those impacted by what happened at Astroworld Festival. Houston PD has my total support as they continue to look into the tragic loss of life.
I am committed to working with the Houston community to heal and support needy families. Thank you to Houston PD, Fire Department, and NRG Park for their immediate response and support. Love you all."
Can The Rapper Be Sued For Wrongful Death?
On the heels of the Halyna Hutchins wrongful death shooting case versus Alec Baldwin, we have another wealthy star at the center of death and destruction. Many Ehline Law blog viewers are asking if the rapper has the same potential legal liability as Baldwin.
In order for the surviving family members to sue for wrongful death, they must be able to show that Travis Scott had some degree of custody or control over the event.
If so, or if he was a partner sharing profits from the Houston Music Festival, he will be held liable with the event promoters under the vicarious liability theory. The victims must sue in Texas unless the ticket, aka contract, has a different jurisdiction or venue to mediate, arbitrate or sue. If a news conference reports otherwise, these are the potential ramifications insofar as suing goes.
Assuming Scott will face liability, the surviving plaintiffs must show that if not but for Scott's negligence, or intentional wrongdoing that created additional panic, the plaintiff's deceased loved one would still be contributing love, affection, moral support, and financial support to their living family members, similar to those entitled to receive wealth under intestate succession.
But this time, they will be relying upon evidence discovered by local authorities and their wrongful death attorneys. More likely than not, survivors will be seeking financial compensation from the promoters and controllers of Travis Scott's Astroworld Festival for the Houston concert crowd surge.
What Have We Learned From This Latest Celebrity Wrongful Death?
Stampedes and human waves are nothing new. We have learned that event promoters likely failed to anticipate a likely event.
Without this failure, at least eight people would still be alive. This story has legs, and we'll follow up for you as these devastated families take action against Travis Scott's Astroworld event promoters and possibly Scott himself.
Once this is clear, the eight Grammy awards he made will never equal the value those eight dead bodies had to America and their surviving loved ones. The people injured did not get off easy.
Many suffered severe crushing injuries so that they could sue too, not just people dead from the disorderly conduct by a few people. Reckless conduct charges are also likely, so the liable parties may have criminal and civil ramifications for violating public safety laws causing this deadly surge near entrance gates and exits.
Chief Samuel Peña said he would be providing updates. So we will keep you in the loop as we learn more about the current and any related previous Astroworld events encouraging fans to get reckless, involving injuries or death.