People Are Even Showing Trump Support From Liberal Manhattan Beach, California?
Poll Results – Can Trump Win California? (Scroll Down To Take the POLL)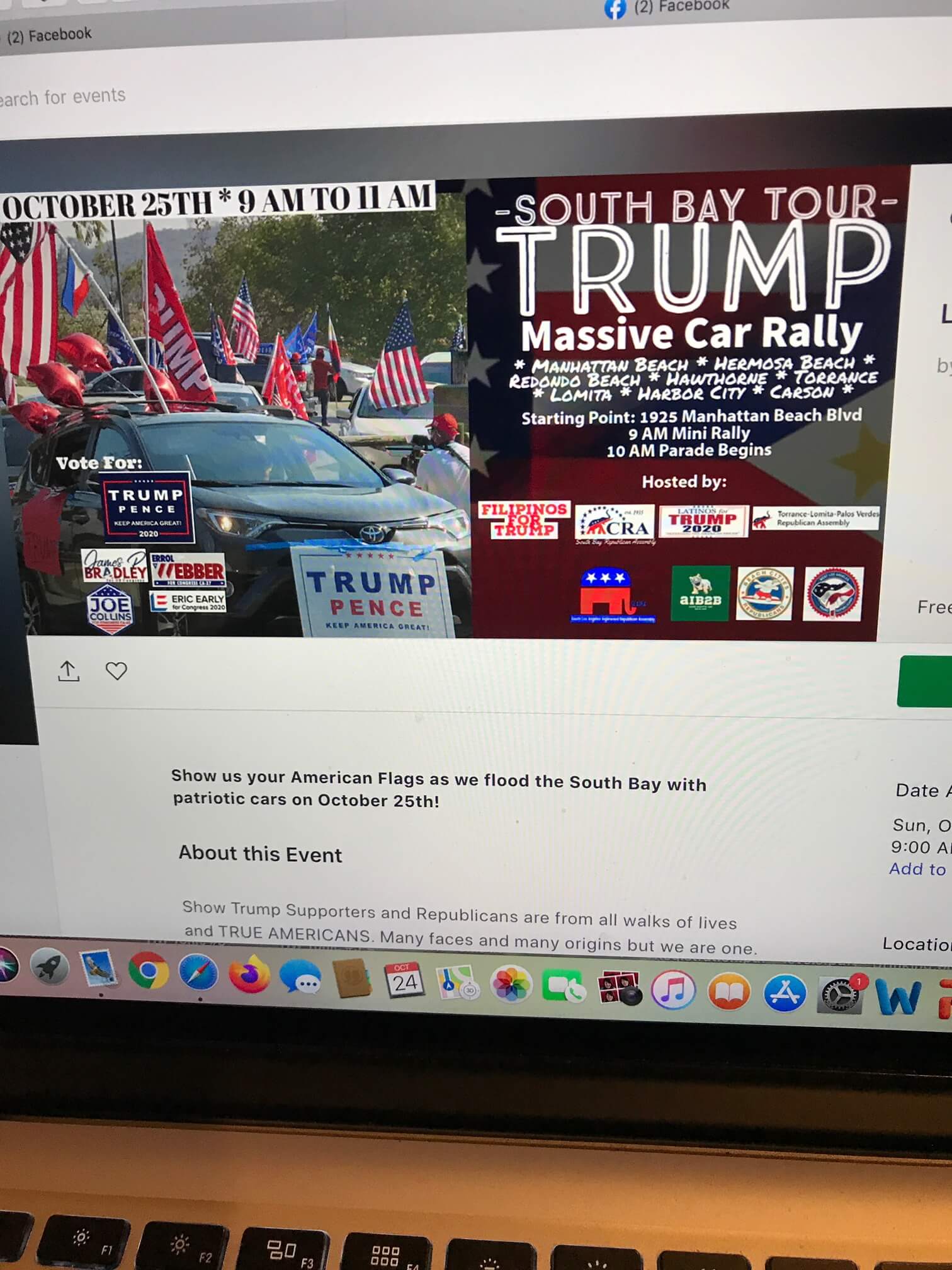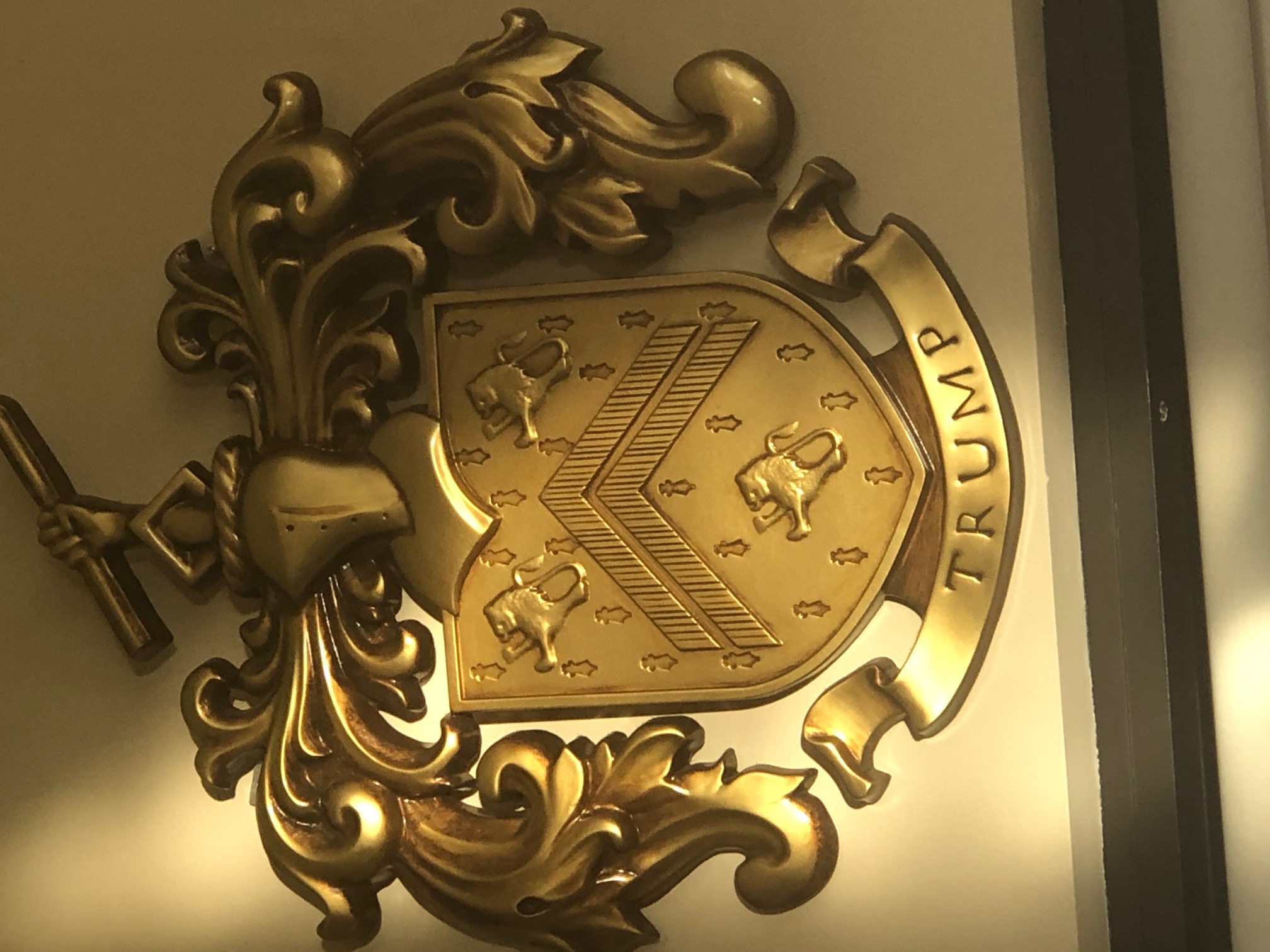 With the election just a week and a half away, Redondo Beach, Torrance, Hermosa Beach, Rancho Palos Verdes, Palos Verdes Estates residents might be asking themselves why the President went to California? Scroll down to take the poll. Is there gold at the Trump International Golf Course up the street near Terra Nea in Palos Verdes Estates? Hardly. After all, with the Electoral College in California under the control of a democrat supermajority, logic says no chance for Trump here.
The Palpable Fear Trump Supporters Who Live And Work In LA County, California Face.
Even to many so-called anti-face mask Trump supporters, face masks may come in handy at any California Trump rally. But here, Trump supporters are likely wearing their masks to shield their identity from pro-Biden political agitators. After all, "who wants to be gang stalked by an ANTIFA supporting college professor, or off duty public employee "block captain" in a city near you," asked a woman from a former Soviet country at the Trump rally who chose to remain anonymous. One local neighbor from the area we spoke with believed she might become targeted for canceling if she showed any public support for Donald Trump in California.
She said under the condition of anonymity, in her slight Romanian accent that:

"Sure. Sometimes Trump comes off like a jerk. Whatever. I want to choose whether I can buy a gun to protect my kids. In California, I have to lock my pistol in a container when I am driving, can only have ten bullets in my gun, and can't even have it loaded. So it's basically useless for self defense. How I am gonna unlock my container, load my revolver, and have time to stop someone from killing me if I am attacked by someone from ANTIFA or one of these other communist people? I a single mom can't protect my child from rioters blocking my car. These people are crazy! What if they attack me for refusing to repeat their slogans or whatever these brainwashed, punk kids want me to do. I am sick of it, it reminds me of the Soviet Union my family escaped from when I was a small child," the face masked woman with "MAGA" emblazed across its face-covering asked.
We hear many stories, especially from low-level public employees and school administrators, that they could lose a shot at pay raises and even get fired for showing support for Donald Trump. But these employment discrimination cases are hard to prove because typically, another pretext is used by these employers rather than the real reasons. College students are even calling asking about suing their schools for what they perceive as lower grades if they dare show any support for the Second Amendment or counter pro-Marxist assertions taught as fact in class discussions unrelated to politics.
These scared, potential whistleblowers claim that leftists control all supervisory positions. And to these true believers in charge at these California workplaces, it would be sacrosanct not totally to support the "partei." In sharp contrast, California Democrats say Trump is a racist, hates minorities, and wants China and Russia to beat us.
Democrats assert that we need more government control over our lives, our money, and day to day activities so "oppressed" "victims" can remain in a safe space. Defunding police will make us safer, and taking guns away from people wishing to defend themselves is necessary, says the Democrats' side. So the two sides appear to have two differing, conflicting views. One side argues for individual rights and more freedom, and the other side wants more control of other's affairs by politicians.
Unlike Manhattan Beach, New York yesterday, democrats decided not to throw rocks at Jews. So at least violence was avoided for the pro-USA, pro-law enforcement, pro-family values crowd who attended the Trump Car Rally of October 25, 2020, starting at 1925 Manhattan Beach Boulevard, Redondo Beach, California 90278. Take a look at what the South Bay avoided by not having a Jewish Pro-Trump rally.
Democrat Protesters Attack, Beat And Pelt Jews With Rocks In Manhattan Beach, New York – Video.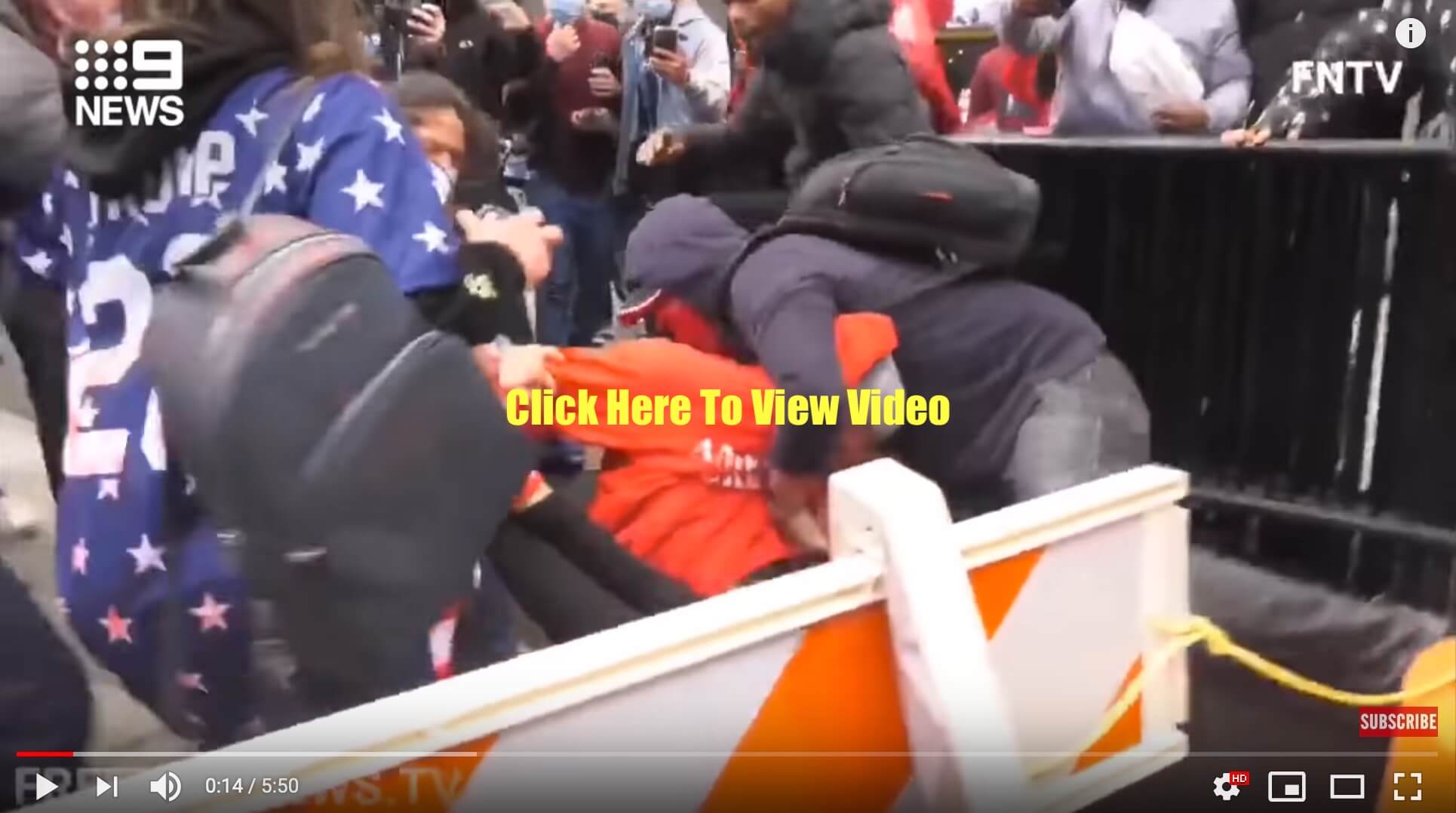 Does An Anonymous "Silent Majority" In Exist In "Woke" Manhattan Beach, California?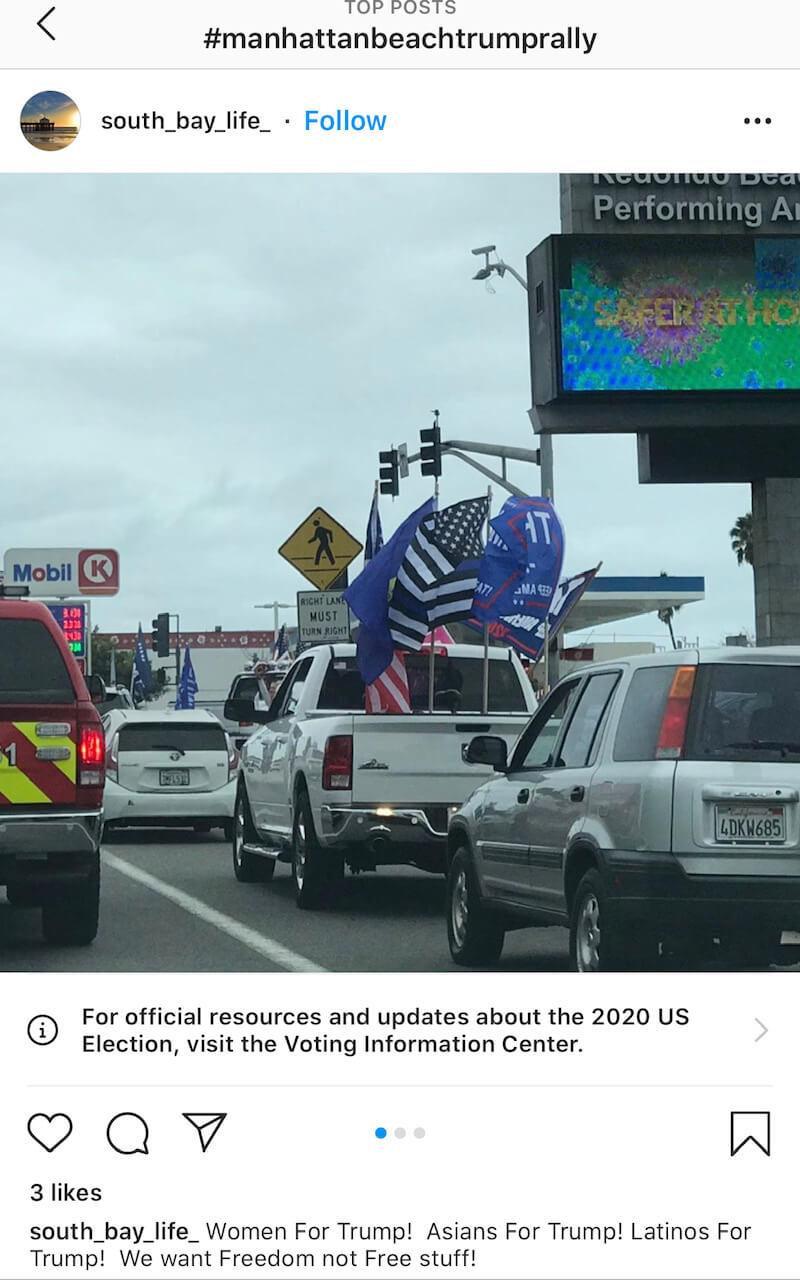 Conservatives say the mainstream news is biased towards Joe Biden and the far left, especially in California. Because of this, and the organized attacks against business owners who show public support for pro-American causes, Trump is banking that many pro-USA people went underground.
You see, many on the right are scared to publicly show their support for America, for what they see as cancel culture, virtue signaling, and anti-American propaganda pervasive in the Golden State. Because of this, many parents and small business owners fear that this censorship mentality appears to be part of a religious, cultural doctrine spreading throughout community colleges, public school campuses, and mainstream journalism.
Whatever side you are on, the Trump Train passed through Manhattan Beach, CA, to visit the state with 55 electoral votes owned by our Democrat SUPERMAJORITY. So as Biden supporters pelted Jews with rocks in New York, Trump began his rally in Manhattan Beach, CA, with parents, kids, and military veterans braving the rain to see and listen to their champion.
The left got a small win too. Democrats and their allies at ANTIFA and BLM look for these opportunities to identify their political enemies and perhaps target them for cancellation later. So both sides can get something out of this that remains positive for their ideology and goals. Images from Instagram show a peaceful protest of Trump supporters waving pro-police flags.
Regardless of the "Orange Man" winning or not, the Trump campaign made a sagacious move for several reasons, as we'll lay out. With the election heading into the home stretch, this is where the President can show a great deal of support outside of the South and the American heartland. It might not seem like it sometimes, but there are millions of Republicans and conservatives in California. It was recently learned that many Republicans are registering as Independents and Libertarians to hide their publicly available voter registration status.
People are afraid that pro democrat rioters from ANTIFA or Black Lives Matter will burn down their businesses, of a riot in their residential neighborhoods if their Republican enemies want to own a gun for self-defense keep their taxes low. So this silent majority of Trump supporters are not sharing their beliefs or party affiliation with pollsters or even on their new voter registrations. Because of their fear of the social media Stasi, they need help and support as much as any other part of the country.
Many Fearful Californian's Think Trump Remains Their Only Chance At Safety For Their Children?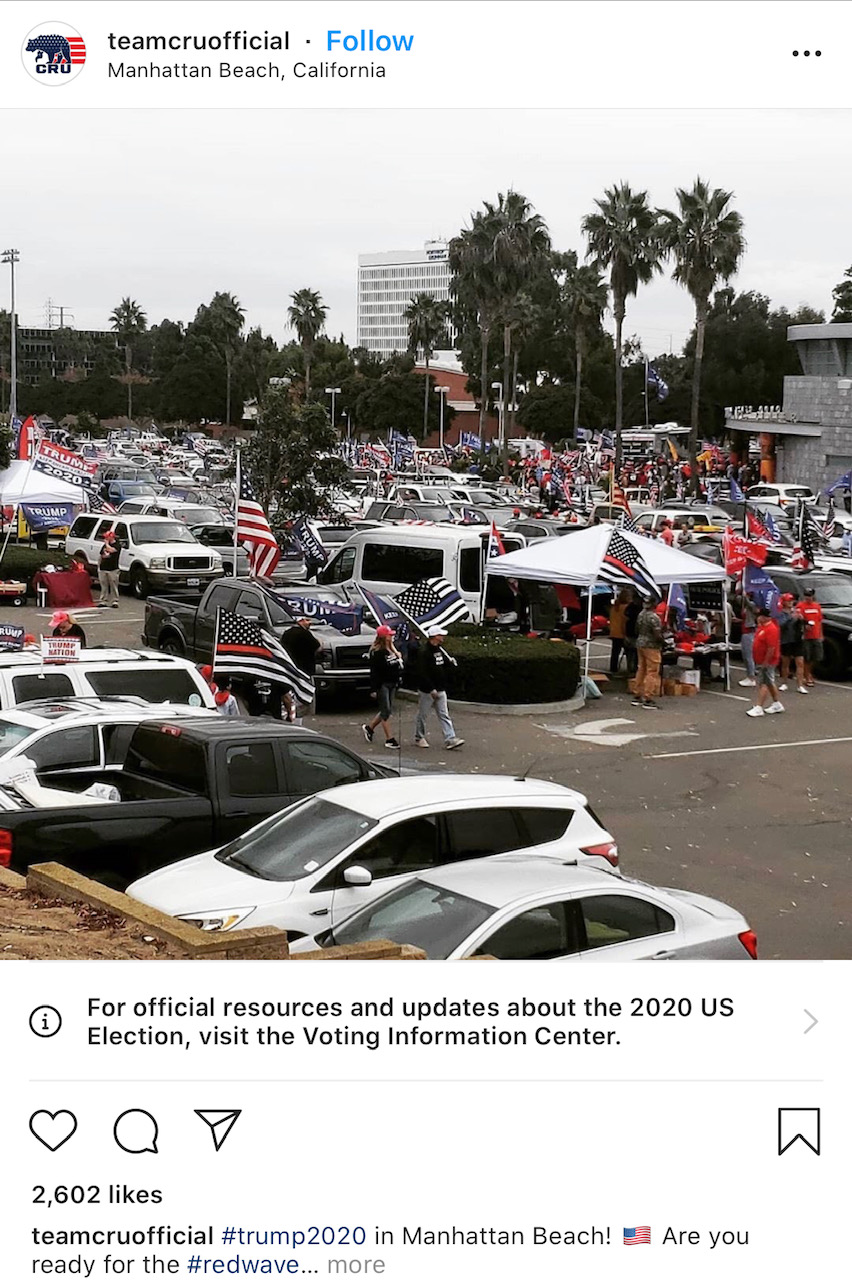 Parents are beginning to see what is reported by journalists about the new laws being passed by democrats in California as propaganda. Perhaps even more so with the passage of laws protecting child molesters from having their names added to Megan's list. Dad's, especially veterans and former law enforcement personnel, are puzzled by the litany of anti Second Amendment laws that are getting rubber-stamped by democrats.
Even many protective, traditional values parents in the minority communities, many of whom own small businesses, are terrified of the new normal under unified Democratic rule inside the Golden State. To them, they see their only hope as focused on red states, and they are the "Frozen Chosen" left behind to die a slow death of high taxes and zero political voice. They need their champion.
That is what the President's visit represents them. Their fighter needed to make a showing. And to many South Bay parents and military vets, hopefully, it will be a chance to turn the state red before they are forced to leave after losing their property tax rights under Prop 13, which many argue will crush the state in the name of racial justice. Only time will tell. Still, the fact that the President came to California sticks out for several reasons. Below I lay out some of the key elements in why Trump is making a master move at the end of a hard-fought race. It may or may not get him back in the White House, but it will get him closer, no matter what happens next.
Michael Ehline is the lead attorney in the Ehline Law Firm Personal Injury Attorneys, APLC, based out of Los Angeles with a small, satellite office in Torrance, CA, on Coast Highway near Michael's Arts and Crafts and Fusion Sushi. He is uniquely qualified to write about the President's visit to Manhattan Beach because he has lived and worked in the South Bay as a personal injury lawyer for many years.
He saw the energy and enthusiasm surrounding the 45th President. He also recognizes the role of a healthy two-party system in our country. Sometimes we forget that in California. Ehline writes about common political, news, and legal issues of the day on this site.
Coming To Cali During The Home Stretch Of The Election.
We are almost at the finish line. Can you feel it? There is just a little bit left in our crazy 2020 Presidential sweepstakes. And the President knows that as well as anyone. This year is beyond fantastic. With so many people voting by mail or early voting, the President needs to charge his supporters. By rallying the troops right before the election, he hopes to counteract the first vote with a massive surge on election day itself.
Many states have had mixed records of whether or not more Republicans or Democrats are voting. Long lines show a large turnout so far in 2020. Between early voting and voting by mail, the 2016 early figures are already crushed. In fact, in some states, the number of people who already voted is similar to those who voted in the 2016 race. So far, about 58 million people have already voted.
This already exceeds the number of people who voted early in 2016 altogether. In many states, including PA, VA, and TX, more people are voting early than at this point in 2016. All of this is mixed for President Trump. On the one hand, it seems to show an advantage for Democrats. In fact, in some states, it may indicate an enthusiasm gap. On the other hand, it also shows that if the President brings out the same energy to the polls on election day, he may have this in the bag. It's too soon to tell.
In Florida, for example, Democrats have outvoted Republicans by a 596,000 margin by mail, while Republicans only have a 230,000 edge in person. In Nevada, where Democrats usually dominate in-person early voting but the state decided to send a mail ballot to every voter this year, the GOP has a 42,600 voter edge in-person while Democrats have an 97,500 advantage in mail ballots.
So Why Is Trump Bothering With Torrance, Manhattan Beach, Hermosa Beach, Lomita, Carson, And Redondo Beach, CA At All?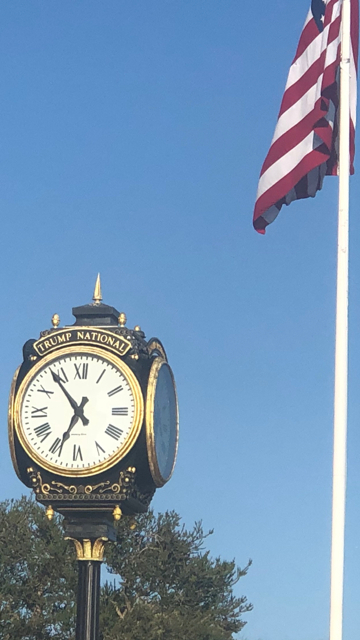 The Golden State will not go for Trump this year. No matter how many rallies he throws. However, this shows the great amount of Trump support even in areas traditionally dominated by Democrats. Trump would not have won in 2016 without the support of current and former Democrats. Furthermore, Trump is nailing down votes to keep competitive in the national popular vote.
It doesn't put you in the White House, but I'm sure the President wants it just the same. Furthermore, this is a major fundraising opportunity for the President. The dollars and cents coming out of CA could be huge for last-minute travel and ad buys for the Trump campaign. Since the President does not take the Wall Street money on the scale of Joe Biden, he will need all the individual donors he can get. Bringing in millions more in donations while firing up a crowd of soon to be voters is not a bad strategy at all.
Will This Pull Out The Election For Trump?
It's too soon to tell. We'll probably know in a week and a half. No matter what direction we're heading in, there is a clear sign that the President is done playing defense. He wants to take the fight to where the Democrats feel strongest. Trump did this in 2016. He wants to repeat a winning idea. Sometimes lightning will not strike the same place twice– but stranger things can and do happen.
Furthermore, this also contrasts with "Sleepy" Joe Biden's lack of energy and apparent middle to late stages of dementia or Alzheimer's Disease; Republicans are saying his campaign has a lack of respect for voters. They are saying this because Vice President Biden is "staying in his basement." After slurring and shouting at his audience sitting in cars, wearing facemasks, and honking their horns, Biden seemed confused and unaware of where he was today while at a campaign rally.
Biden called Trump supporters "chumps," while slurring out that he wanted to be the president for "all Americans." It appears based upon his demeanor that the heat is on after alleged democratic allies at the FBI were no longer able to suppress the news about Hunter Biden's laptop. This was news that Democrat-controlled social media sites also tried to ban and censor. Trump supporters have complained that the democrats who control social media and employ pro-Biden campaign workers as fact-checkers never censored an obviously unverified, thin story in the Atlantic about Trump.
Yet, based upon publicly available and verifiable evidence, Hunter Biden's emails contain proof that Hunter was selling influence to U.S. foreign aid and more, using his dad's office as Vice President and even sending 10% of the bribe money to the "Big Man" as cash payments. There are also allegations that Hunter and many prominent democrat officials are involved in a huge, international child pedophile network along with disgraced congressman Anthony Weiner, and now dead billionaire democrat ally and Clinton money donor Jeffrey Epstein. And California's new law lessening penalties for child molesters is raising eyebrows for the few conservative parents left in California. Many parents note that social media went all out to try and "fact check" that news. Fact-checkers inferred that people who did not support lowering penalties for child molesters were "homophobic" and/or "anti-gay." In fact, as is their standard method, social media fact-checkers did their best to "fact check" allegations that were not even made by opponents of the bill. For example, Reuters did a fact check asserting that "California bill does not legalize pedophilia." But that is not what opponents were alleging. As noted, the now passed bill lowered penalties for men who like to have sex with little boys, shielding them from readily accessible public knowledge of their crime. And this is why so many people are fed up with left-wing censorship. More and more, it looks like propaganda and redirection to an unrelated discussion.
But I digress. Many on the right say the "Big Man" shaving 10% of the cut is none other than former Vice President Joe Biden. Because of this, Facebook, Twitter, and even Google went to work trying to suppress, filter, or "fact check" tag any story that discussed the information as "dangerous." Polls indicate that most Americans believe that social media is in the tank for democrats. And many people say.. Social sites should lose their sections 230 protections, as it is 100% clear to them that most major social sites are pro democrat news censoring operations. Because of this and similar unfair competition and monopolization arguments against Google, polls also indicate that many citizens want Google broken up.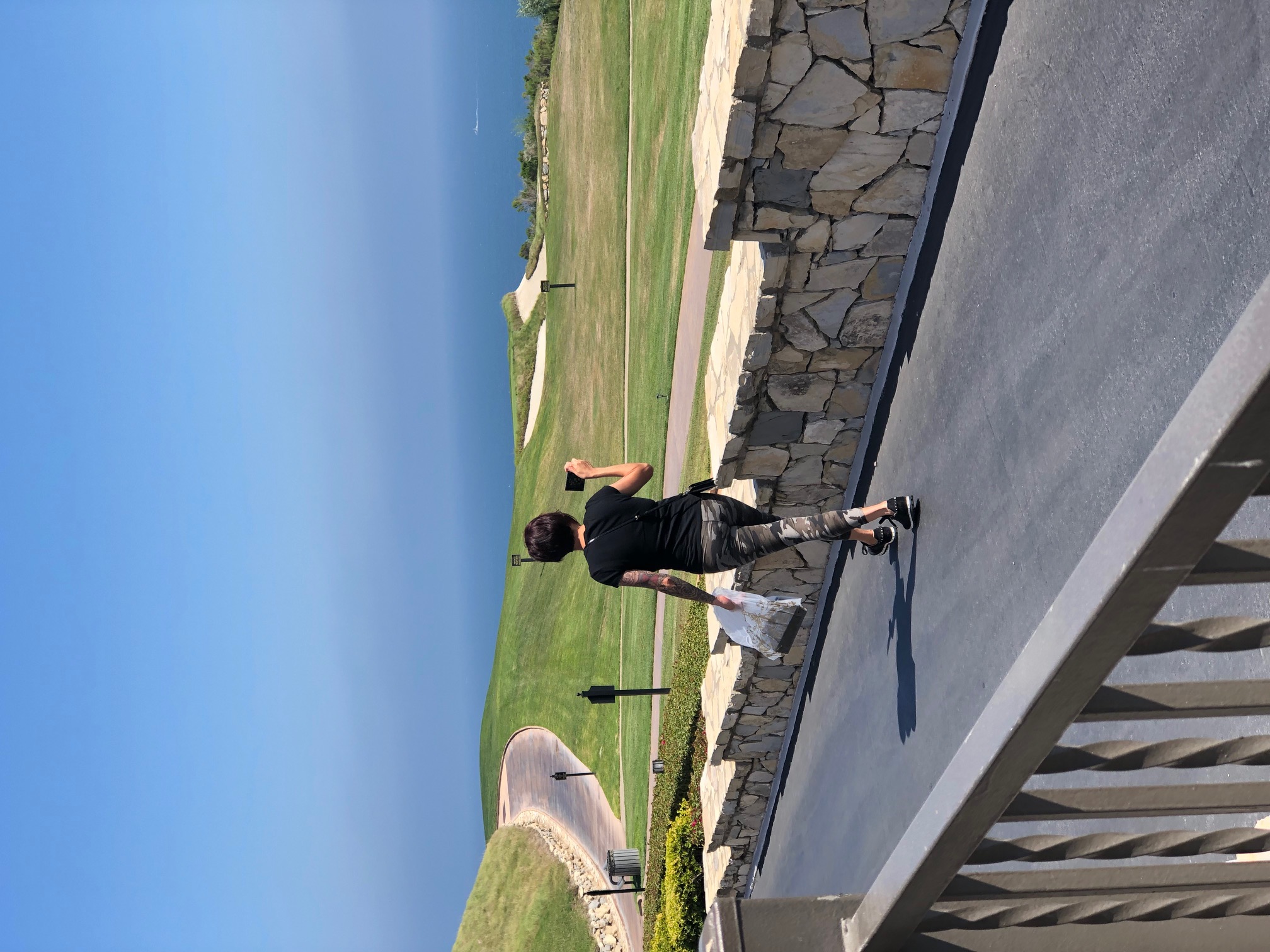 Look at where most employee and leadership donations to Act Blue from BLM, Google employees, postal workers, and leftist college professors go. You can see how sophisticated this machine has become using Section 230 protections. But these allegedly organized political censorship operations were unable to completely blackout this news as they have helped Communist China do to its citizens in the past few years under its digital "social credits" system algorithm.
In light of this trainwreck of terrible news, Biden announced he would spend the rest of the campaign away from events. But there is only so much a candidate can avoid running for the office they want. Biden is at home while Trump is fighting for your vote. What more excellent contrast could such a sign be? It's going to be a bumpy ride until the end of the election. And with overwhelming evidence that the postal worker unions are in the tank for Democrats and proof of postal workers throwing ballots from pro-Trump districts in the mail, this will probably be even afterward. Buckle up after the bumpy California, Manhattan Beach Trump rally. Don't forget to take the poll and view the poll results. And as an aside, if you need a superior car accident lawyer, call us at (424) 999-7246, or if you prefer, (424) 999 P-A-I-N.
Related Stories: