Posted on Car Accident Blog / Blog / UFC Frank Camacho Car Accident in Los Angeles Update
[Page Updated 06/12/2022] The medical tests showed inflammation in Camacho's ligaments in the neck. Cuki Alvarez, with him in the vehicle, reported the car crash on his Instagram, stating that Camacho suffered from a herniated disc. An MRI revealed confirmed herniation with injuries to the C7 and T1 vertebrae, and no word whether they can be
repaired or pushed back into place
. Sadly,
car accidents can lead to degenerative disc disease
, which would kill his career.
Although the injuries were not believed to be life-threatening, Camacho pulled out of the lightweight bout to focus on recovering. He posted a photo of himself in the hospital bed on his social media account with a caption that said he was heartbroken to withdraw from his fight Saturday at UFC 263 and felt a little beat up.
Camacho wrote in the post that he appreciated the help from the medical staff, his family, friends, and his wife Sarah and that he was grateful to walk away from the accident in one piece. He also apologized to Matt Frevola and the UFC for any inconvenience caused.
He said of the accident,
"I'm absolutely heartbroken" to be forced to "withdraw from my fight." He asserted the accident was just a "detour in my fighting," even though it left him with a herniated disc and other injuries.
UFC 263 Fight Saturday Continued Without Frank
Frank Camacho was out of the cage for nearly a year ago since losing his match to Las Vegas, Nevada native, Justin Jaynes, who knocked Camacho out. He has struggled to keep his standing. His first match after being one year away from the cage was against Brock Weaver, just a couple of months prior to the accident. However, UFC Lightweight Camacho had to withdraw after receiving a positive on his COVID-19 test.
After suffering from multiple herniated discs due to the accident, Camacho had to withdraw from his fight with Matt Frevola. Frank, "The Crank" Camacho, has dropped out for two out of four of his last five contests with an unsure future. Although the withdrawal shook the UFC lineup negotiations, the event continued with a new fight card entry brought into the contest to replace Frank Camacho.
It so happened that Frevola had to face Terrance Mckinney. Other UFC fights for the event included Nate Diaz vs. Leon Edwards, Eryk Anders vs. Darren Stewart, Alexis Davis vs. Pannie Kianzad, and many more.
In the cage, Camacho was a fighter. To heal,
Frank the Crank Camacho
will need to be patient and fight the urge to re-injure himself by returning to fighting too soon after his multi-vehicle collision. For now, he is in good spirits. We will keep you abreast of any health update info on behalf of Frank Camacho.
Get a Free Consultation from A Truck Crash Lawyer
Just like how an accident became a hurdle in Frank Camacho's rise to fame, it can also affect your life more than you think. Did you suffer injuries from a multi-vehicle car accident in California like Franck Camacho? Did another's negligence cause it? If so
,
contact us
at +(833) LETS-SUE. Schedule your free consultation with our
reputable car accident attorney in Redondo Beach
, and learn about forming an attorney-client relationship.
You may be entitled to significant economic damages as a lump sum payment. Don't blow the statute of limitations by sleeping on your legal rights. Speak with an aggressive MMA car accident attorney today!
Citations:
Vox Media, Inc.
Brok Weaver
MMA Junkie
---
Michael Ehline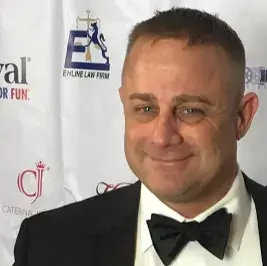 Michael is a managing partner
at the nationwide Ehline Law Firm, Personal Injury Attorneys, APLC. He's an inactive Marine and became a lawyer on the California State Bar Law Office Study Program, later receiving his J.D. from UWLA School of Law. Michael has won some of the world's largest motorcycle accident settlements.
---
Recent Personal Injury News
Check out our most recent car accident blog posts from MMA celebrities crashing cars to everyday people getting run over, rear ended or otherwise colliding.