As a member of Ehline Law, a leading personal injury law firm in Los Angeles, California, we feel that it is our duty to shed light on various legal matters. We want to discuss with you and other motorists how injuries can alter a person's life. Our attorneys understand the physical, mental, and financial toll serious brain injuries can have on an injured victim's quality of life.
In this article, we will explore the rise of Matt Hughes and how his life crashed following his brain injury caused by a devastating train accident that nearly killed him. We will discuss his behavior following his accident and how it may be a long-term effect of his brain injury.
The UFC Hall of Famer's Ladder to Success
In 1999, Hughes made his promotional debut by participating in the UFC 22, where he won against Valeri Ignatov after three rounds by a unanimous decision. Matt Hughes was just getting started in his MMA fighting career.
Matt returned in UFC 26, and this time he was facing Marcelo Aguiar, a Brazilian mixed martial artist. During the match, Hughes threw some really heavy elbows at Aguiar, cutting him open in the fight. The doctors had to stop the fight around four minutes and 34 seconds into the first round to prevent any serious damage to Aguiar. Hughes had defeated Aguiar, a silent message sent to all the wrestlers looking to pick up a fight with him.
On December 16, 2000, Hughes participated in UFC 34 and had a rematch against Dennis Hallman, the fighter who had given Hughes his first-ever professional defeat. Adamant about vengeance, Hughes brutally slammed Dennis to the floor. However, a serious miscalculation during the move caused Hughes to end up in a submission. The fight lasted 20 seconds, and Hughes submitted to the armbar technique locked in by Dennis. This was another defeat Hughes had faced by the same man, but that wouldn't stop Matt from securing his first-ever welterweight championship the following year.
Hughes Reign as the Welterweight Champion
Here are some highlights of Hughes's wrestling matches and his reign as the welterweight champion:
In 2001, at UFC 34, Hughes delivers the greatest slam in the history of MMA to Carlos Newton, rendering him unconscious and winning the match.

Hughes had to defend his championship against Hayato Sakurai in 2002 at UFC 36 and won the fight.

In 2002, Hughes fought against Carlos Newton in a rematch at UFC 38, and he won after an onslaught of ground and pound punches.

In 2002, Hughes was facing Gill Castillo, an American mixed martial artist, at UFC 40. He dominated the wrestler and cut him open, forcing the referee to stop the fight and declare Hughes the winner.

In 2003, at UFC 42, Hughes took on Sean Shrek and was the first man ever to defeat Shrek.

In December of 2003, Hughes had a fight with a former UFC welterweight champion, Frank Trigg. Frank became a victim of a rear chokehold and tapped out, resulting in Hughes winning the fight and also receiving the "Tapout of the Night Submission" award.

At UFC 46 in 2004, Hughes lost his title for the first time after B.J. Penn got Hughes in a rear chokehold during the fourth minute of the first round, forcing Hughes to submit and lose his title.

At UFC 50 in 2004, Hughes faced Georges St-Pierre and completely dominated him, winning his title back once again.

Hughes faced Frank Trigg in an anticipated rematch during UFC 52 in April 2005, where the audience saw the greatest comeback in UFC history after Trigg submitted to Hughes.

In 2006, Hughes defeated Royce Gracie, a UFC Hall of Famer, by landing a couple of blows and quickly locking Gracie's arm in a submission hold.

At UFC 63, Hughes defeated B.J. Penn and won against the only man who had defeated him so far.

At UFC 65, Hughes fought Georges St-Pierre and lost. He went on to continue wrestling, but he was never the same after this match.

Hughes defeated Chris Lytle at UFC 68 in 2007.

Hughes verbally submits to Georges St-Pierre at UFC 69 in 2007.

Hughes lost to Thiago Alves at UFC 85 in 2008.

Hughes won against Serra at UFC 98 in 2009.

Hughes defeated Renzo Gracie at UFC 112 in 2010.

Hughes made it to the Hall of Fame in 2010 and, during the same year, defeated Ricardo Almeida.

Hughes lost to B.J. Penn within 21 minutes of the fight at UFC 123 in 2010, his second loss to the American mixed martial artist.

Hughes lost to Josh Koscheck's power punches at UFC 135 in 2011.
Of the 54 professional MMA matches Hughes participated in, he won 45 matches with just nine losses throughout his professional wrestling career. Hughes announced that he would be taking a break after his last UFC fight with Josh Koscheck, but in 2013, UFC announced Matt Hughes' retirement, bringing an end to the legendary reign of arguably one of the best welterweight MMA fighters.
Life After Retirement
After retirement, Matt Hughes wrote an autobiography and went on to become a host on many different TV shows, including Trophy Hunters TV, Uncaged with Matt Hughes, and The Takedown with Matt Hughes.
Life seemed to be working out just fine after Hughes's retirement from UFC until 2017, when he was involved in a devastating train accident. The perfect life that he had built started to slowly crumble away.
The Downhill of UFC Legend Matt Hughes: The Train Accident that Changed Everything
On June 16, 2017, UFC hall of famer, Matt Hughes got into a near-fatal train accident that resulted in a traumatic brain injury, causing his life to spiral downhill.
On the morning of June 16, 2017, Matt Hughes was helping a farmer by taking diesel to his farm and filling up the farmer's tractor. On his way back from Montgomery County, Matt Hughes tried to make it across the railroad track, but his pickup truck got hit on the passenger side by a train.
In his recent interviews, UFC legend Matt Hughes explained how the accident occurred. The GOAT UFC hall of famer stated that the bad angle of the track and the corn vegetation made it difficult to spot an oncoming train. He also went on to say that there were no railroad crossing signs or lights to warn drivers of an approaching train. Defense lawyers have been overly critical of his claims about the cause of the crash. But plaintiff's lawyers on on his team.
His pickup truck was completely crushed from the passenger side as emergency services arrived at the scene of the accident. He had no apparent injuries or broken bones but was unconscious. Medics airlifted the UFC Hall of Famer to a hospital in Springfield, where doctors feared that he had a severe brain injury and had to put him in a medically induced coma for 19 days to protect his brain.
In an interview, Matt recalled that he had no recollection of the day of the accident. Whatever he knew about the accident came from the people who were with him during the hospitalization period. The force from the train accident was so severe that it tore away the axon from the brain.
Hughes was suffering from grade 3 diffuse axonal injury, one of the worst kinds of brain injuries, and no one was sure if he was ever going to wake up from the coma. From the MRI, it didn't look like he was going to make it, with many doctors referring to his state as "locked-in syndrome" or "brain dead."
Hughes woke up after 19 days in a coma, and the outlook for returning to normal life looked grim. He had lost his motor skills and could not speak. The doctors started his physical therapy treatment and cognitive therapy to help Matt Hughes start all over. The UFC hall of famer had to learn how to walk and talk again.
After a year had passed following his brain injury accident, Hughes did not show any big improvements. He was taking small steps but wasn't showing any significant improvement with his ongoing treatments. He recalled how his outlook on life had turned bleak and that he had lost faith. Hughes slowly spiraled into depression from his brain injury, which eventually took a toll on his family.
Suicidal Thoughts Following the Accident
Depression had taken over Hughes completely, and the former UFC fighter stated that he felt worthless at the time. He wanted to finish his life by committing suicide and ending all the pain. Although he may have lost his old life, he still had his fighting spirit, and he constantly fought the depression and went to the gym every day to better himself.
Allegations of Domestic Violence
His recovery from the train crash and depression was nothing short of a miracle, but his life turned ugly soon after his wife, Audra Hughes, made serious allegations of domestic violence against the former UFC welterweight champion. This moment was extremely sad for not only Matt but for all his fans out there.
The aftermath of his serious brain injury resulted in a lack of impulse control and violent outbursts, classic after-effects of a traumatic brain injury. Although the aftermath of the brain injury was unfortunate, what followed next was even sadder as the story started to make the rounds on national TV.
Audra Hughes approached the court in 2017 to get a restraining order stating the violent outbursts her husband was having, it was seriously affecting her and her children's life. In the court documents, Audra stated that Matt Hughes allegedly attacked and choked her multiple times. He had hurt her in the shower once and even threatened to shoot her dead.
During one incident, she claimed that Matt asked her for his pickup truck keys, which she had refused to give because of his brain injury. In response to that, Matt choked Audra and asked her to give him the code to the gun vault where he stored his guns. Upon refusing to give that, an infuriated Matt snapped and smashed her head in the shower against the shower wall.
In 2018, Audra took away Matt's phone, alleging that he was communicating with multiple women, to which he told her, "I am going to f**king shoot you." A few months later, following this incident, Audra alleges Matt hit her in front of her kids for accusing him of chatting up other women. When Audra claims when Audra refused to give Hughes his truck keys that he choked and mashed her head against the wall.
The judge, after reviewing the documents filed in court held some claims by Audra had merit, and, allowed restraining orders whereby the former MMA fighter must stay 500 feet away from Audra in addition to her two daughters, at all times.
Many sources alleges that Audra filed for divorce from Matt because he liked to pick arguments daily and was emotionally unstable. However, it has not yet been confirmed by any TMZ report, although he has not shared any pictures with Audra or the daughters on social media sites like Instagram in a long time.
Matt and His Dispute with His Twin Brother
In 2019, Matt had a dispute with his twin brother, Mark Hughes, where things turned more than a little sour. Mark filed a restraining order against Matt, stating that his brother had assaulted his 15-year-old son over a tractor issue. Mark stated that his son was driving the family's tractor, and when Matt saw that, he erupted in anger, rushed over there, and violently started shaking his nephew.
According to the documents filed in court, a week later, Mark came across the tractor that was completely soaked in gasoline and the ground around it too. He believed that Matt was trying to destroy the tractor. The court immediately granted a restraining order, ordering Matt to stay away from Mark and his family.
Did the Brain Injury Affect Matt Hughes's Personality?
So far, there have been no medical tests conducted to prove the personality change as witnessed by his incidents with his wife and twin brother, post-traumatic brain injury. However, that does not mean that the UFC legend Matt Hughes isn't suffering from cognitive impairment or a personality change.
The reason why we introduced Matt's UFC fights in this article is to give an idea of what kind of a man he really is. Matt was one of UFC's beloved, and fans from all around the world would go berzerk after Matt would enter the ring with his entrance song "country boy can survive" blasting in the background.
When Matt entered the ring, he had one mission on his mind, and that was to win. His determination and dedication to being the best, not only in the ring but among his fans, made him a UFC favorite. However, he was far from a sore loser, unlike other UFC fighters after losing.
Although Matt had more wins than losses, he would treat his losses as a learning curve to improve. After every loss, he would congratulate his opponent on being a better fighter. This humble attitude in the UFC ring is what made him different from most UFC fighters.
That said, Matt Serra went on an interview in early 2019 and ranted about how Hughes was always a nasty person. Serra stated that the only side-effect of the accident was that it exposed Matt's real personality, which he said was nasty. However, we should also not forget the fact that Matt Hughes beat Matt Serra in a fight in 2003. But Hughes made an effort to strike a friendship that soon fell apart as Serra did not have a liking for Hughes's "dry sense of humor."
Personality Changes After a Brain Injury
It is common for personality changes to occur after a brain injury. Even a concussion can negatively affect the brain long after the brain heals. The way an individual processes information after a post-brain injury also changes, which further affects emotions.
After a brain injury, there are chances that a person will suffer from social anxiety, anger, mood swings, irritability, and other emotional changes. However, these symptoms only make the person seem different, but in reality, their personality remains intact but suppressed under all these emotional symptoms, making it difficult to handle.
Usually, mood changes do not last that long, but after an injury, there is a serious tendency that drags mood swings over a period of a few days or even weeks, which is why many believe that the person is facing a personality change.
Why Is There a Perceived Personality Change after a Brain Injury?
Physiological changes and emotional changes following the changes in life post-injury are two main sources from which personality changes originate.
The most basic concussions can alter the connection between neurons and blood vessels in the brain. Normal connection is often restored in the majority of patients after a few weeks of concussion. However, in almost 30% of the cases, the altered connection can produce undesirable long-term effects, leading to the brain inefficiently processing information.
Depending on where the brain sustains an injury, it can affect an individual's ability to evaluate emotional reactions, assess the situation around them, and respond accordingly. An injury damaging the connection between the cerebral cortex and the limbic system can cause disruptions in emotional responses that are not in sync with the current situation.
There are many ways a brain injury can alter a person's ability to process information and emotions, causing mood changes in the person. However, unless the person has irreversible brain damage, these emotional disruptions do not last forever.
What Are Some of the Post-Brain Injury Emotional Symptoms?
A brain injury can cause some parts of the brain to be hyperactive while others become hypoactive, causing the brain to work overtime to process information and register emotions. This makes it very easy for the person with the brain injury to feel overstimulated after coming into contact with noise, light, conversations, and even work.
Overstimulation can lead to many symptoms such as anger and irritability, anxiety, depression, emotional irritability, impulsivity, and social struggles.
Anger and Irritability
The majority of the patients feel irritated quite easily post brain injuries which then results in anger. In 2019, Anthony Loubet, a deputy country lawyer in Utah, was a victim of a severe car accident when a semi-truck and a Dodge car caused a collision with his car, rendering Loubet unconscious.
After gaining consciousness, Loubet felt serious pain in his neck region, but the medical tests did not report any bleeding or internal damage. However, slowly, it became difficult for him to read, and he could not form his words properly during the conversation.
He went to the ER the second time, where the doctors diagnosed him with a concussion and asked him to rest at home for a couple of months. During this period, Loubet faced extreme mood changes, especially when he exploded on his family members after failing to fix the broken ice maker.
It's easy to overreact or react dramatically after a head injury, as the person is already dealing with a lot. To the brain, even minor incidences start to feel like major emergencies post-brain injury. Most people often have unresolved anger because they feel that they didn't ask for the injury, thus contributing to confusion and frustration.
Anxiety
After a brain injury, a person may find themselves worrying about the smallest of things. If the person already had anxiety issues prior to the injury, it may get exacerbated after one. The person may experience sleepless nights, feeling on edge, and a rush of constant thoughts arising.
Depression
Depression is one of the most common symptoms following a brain injury, especially if one already has a history of depression. Recent studies point out a higher risk of suicidal thoughts, poor mental health, and self-harm after sustaining a brain injury. There is evidence that suggests that the suicide rate is twice as common among people with traumatic brain injuries than those without one.
Emotional Lability
It's pretty common to shed tears due to the grief from experiencing a traumatic brain injury, but those sustaining a TBI find themselves crying over petty matters for no reason whatsoever. Emotional lability is when a person experiences crying or laughter without any reason, especially during an inconvenient situation.
This state might be one of the ways a body copes with overstimulation, as the brain does not know how to react in any given situation.
Impulsivity
Head injuries not only affect memory loss and brain control but also impulse control. Impulse control is a disorder that causes a person to disregard societal norms by exhibiting adverse behavior or emotions. Impulsivity can occur for many reasons, and fortunately, it is treatable if the person knows what the root issue is.
Social Struggles
The majority of people after a brain injury, struggle socially and then don't find themselves interested in going out or conducting activities they used to enjoy prior to the injury. This may be because the individual is not able to maintain conversations, or perhaps they are feeling tired. It may also be because of the noise and lights, which cause overstimulation and frustration.
From reading the incidents with his twin brother and wife, Matt Hughes seems to be exhibiting frustration and depression. He even mentioned having suicidal thoughts after being inducted into the hall of fame. Perhaps he is experiencing the symptoms of a brain injury and is unintentionally hurting those around him.
Brain injuries can have serious, life-altering consequences. It's not fair that the victim suffers while those responsible are off the hook. If you suffered a brain injury due to another's negligence, contact us at +(833) LETS-SUE for a free consultation with our legal experts.
Citations:
Michael Ehline
---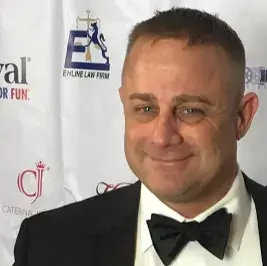 Michael is a managing partner at the nationwide Ehline Law Firm, Personal Injury Attorneys, APLC. He's an inactive Marine and became a lawyer on the California State Bar Law Office Study Program, later receiving his J.D. from UWLA School of Law. Michael has won some of the world's largest motorcycle accident settlements.