What's the Presumptive Diseases Rule for Camp Lejeune?
The VA released a document called the Presumptive Diseases Rule based on the facts known about the Camp Lejeune water contamination. It states that there are eight presumptive conditions that are primarily service-connected and explains the scientific evidence and who might be eligible for any disability compensation. The effective date for the rule was March 14, 2017.
What's the Presumptive Service Connection Mean?
The phrase "presumption of service connection" indicates that the VA can automatically assume that any listed illnesses were caused by a direct service connection in the military service. If the eligible member can prove that they have one of those eight diseases, they're entitled to appropriate disability compensation.
Who Does the Rule Apply To?
You could be eligible for compensation if you provided service at Camp Lejeune and these requirements apply:
You're a veteran, former National Guard member, or former reservist who has been honorably discharged.

You had been stationed within the borders of the MCAS New River, North Carolina base or Camp Lejeune.

You served anywhere from August 1, 1953, and December 31, 1987, with at least 30 days (could be non-consecutive).
This rule doesn't apply to the family members who might have lived on the base and evensufferred radiation exposure, Agent Orange, Asbestos and even Mustard Gas! However, we can help children and spouses of Marines who served here during that time period, as well as former reservists. So if you have symptoms of adult Leukemia, including fatigue, difficulty swallowing, easy bruising, pale skin or Aplastic Anemia, you may have a claim for damages, even if you have a family history of certain or other forms of cancers, and health issues, other health problems, etc.
Of Note
Eligibility of the presumptive service connection for exposure at Camp Lejeune isn't established for those who served on vessels docked at the camp or were in satellite camps unless their military orders reflect another service at Marine Corps Base Camp Lejeune, including base housing at the military base. It's a bit convoluted, so call us for a better understanding of your rights, duties and obligations.
Claims Impacted
Disability compensation claims that were filed with the VA after March 14, 2017, or claims pending before these time periods are impacted. There's no retroactive provision. If you had a claim that was previously denied, you should start a new one because of this rule.
Are Former National Guard Members Included?
Yes, these members are eligible for VA benefits, and the rule could apply to them.
What Illnesses Are Covered by the Presumptive Diseases Rule for Camp Lejeune?
VA health care benefits can be provided to Camp Lejeune veterans and others if they have any of these diseases associated with service-connected disabilities:
There's no known complete date for when these presumptive conditions must come about or develops before being included.
How Can You Get Disability Compensation?
If you believe you're eligible for compensation because of the Camp Lejeune Presumptive Disease Rule, you should file a claim through the VA.
You may do so:
When filing the claim, the VA should ask you to submit medical evidence and other proof, such as:
Military records of serving or official documentation of service department records that prove you had active duty at MCAS New River or Camp Lejeune between 1953 and 1987 for 30 days or more

Medical records showing that you've got one of the eight listed presumptive illnesses
Can You Receive Compensation for Other Illnesses Related to Military Service at that Time?
There are countless other diseases that aren't listed in the service connection rule that victims of contaminated water exposure might suffer from, including:
The VA determined that there wasn't enough evidence to add those things to the presumptive connection rule. However, veterans with those illnesses are still entitled to receive paid health care expenses.
Do You Need an Attorney if You Were Stationed at the Marine Corps Air Station?
The Camp Lejeune Families Act focuses on the people who lived and worked at the Marine Corps base. Overall, the Department of Veteran Affairs researched the claims of contaminated water and has come up with a list of eight conditions that were primarily caused by drinking or bathing in the water in the period beginning in 1953 and ending in 1987.
You must have a current diagnosis of one of those illnesses and had been stationed at Camp Lejeune during the time period.
While you could file for benefits yourself, it's often difficult to do so. Therefore, many people turn to an attorney with knowledge of military laws. I'm Michael Ehline, and I served my country, so I know the issues you face and can help you through this challenging journey.
Why Should You Hire a Chemical Exposure Lawyer?
Yes! The VA only offers disability benefits for small groups of people who might have suffered because they were exposed to contaminated water. However, thousands of people have now come forward with claims of the Camp Lejeune water contamination scandal because of the Camp Lejeune Act of Justice created in 2022.
Many veterans previously filed their claims for health conditions related to military service on the base and were denied. They now have two years longer to file a new claim to get the compensation they deserve.
Did you live, work, or serve on the Camp Lejeune base for 30 or more days between 1953 and 1987? You can file a claim through the Justice Act if you have one of the eight conditions listed above.
However, you require an experienced and knowledgeable legal team to offer assistance. We have the skills needed to handle extensive paperwork, track down your medical records, and collect evidence on your behalf and for your case. Get us on the line so we can help you make Christmas come early!
Lets our inactive Marines work to your advantage and help cover your pain and suffering, as well as treatment as these sad symptoms manifest. Although civilians are not covered yet, we are in the process working, most notably, with the Paul Ehline Ride to make this happen and get it finalized once and for all.
Ehline Law Firm Can Assist Military Base Toxic Chemical Exposure Victims Today!
If you served at Camp Lejeune, you've likely learned about the risk factors of the Camp Lejeune contaminated water. Many veterans and their families bathed in, cooked in, and drank from the water supply. Confusion over your rights is
Qualifying service members are at an increased risk, and many of the chemicals used in the wells could get into your body through regular skin contact.
Justice for you and other victims is long overdue. We can help you get your VA disability benefits. Contact us at (833) LETS-SUE to request a free consultation or use the online form. It's time to stand up for your rights once again!
---
Michael Ehline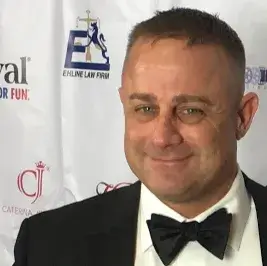 Michael is a managing partner at the nationwide Ehline Law Firm, Personal Injury Attorneys, APLC. He's an inactive Marine and became a lawyer in the California State Bar Law Office Study Program, later receiving his J.D. from UWLA School of Law. Michael has won some of the world's largest motorcycle accident settlements.
---
Recent Personal Injury News
Check out our most recent Camp Pendleton accidents and more, including the famous, infamous and everyday people wounded by at fault parties around the world.