Camp Lejeune Water Contamination
Before being sent to the Pacific Islands during the Second World War, troops trained at Camp Lejeune, a military base in North Carolina, for amphibious warfare.
Ever since, the base has prepared Marines for every significant US battle and tasks such as strategic aircraft, troop recovery, and Lebanon peacekeeping. However, a troubling part of Camp Lejeune's past has only just been brought to light.
The Agency for Toxic Substances and Disease Registry claims that drinking water contamination at Camp Lejeune started in the 1950s and persisted into 1987, when the worst-affected wells were shut down.
According to the Environmental Protection Agency, chemical reagents from an off-base launderette, benzene from holding tanks at the base leaked, and other volatile organic compounds got into the groundwater.
During the 1950s to 1980s, thousands of military veterans who resided on the base experienced a variety of severe ailments, including cancer and birth deformities. The committee was tasked with looking into the situation at Camp Lejeune in 2010 and found that the Marine Corps and US Navy knew about the pollution and hid it for years.
Camp Lejeune veterans and their families who resided at the camp frequently developed cancers, such as leukemia and lymphoma. Those who have endured suffering as a result of these conditions are entitled to compensation for their pain and suffering and medical care.
However, for years the Veterans Affairs (VA) handled Camp Lejeune water contamination claims individually and required military members to demonstrate a presumptive service connection. This changed in 2021 when these benefits became Congress mandated.
What Problems Does Contaminated Drinking Water Cause?
It is important to know about the dangers posed by contaminated drinking water because these illnesses have the potential to cause severe health problems and even death in humans.
Animals and people can both suffer from a variety of health issues as a result of polluted water. Gastroenteritis, a condition caused by an infection in the gastrointestinal tract, is one of the most prevalent health issues.
Vomiting, diarrhea, and cramps are symptoms. Gastroenteritis can, in extreme circumstances, cause dehydration or even death.
Apart from dermatitis and impetigo, exposure to contaminated water can also result in skin diseases. Although these illnesses can still be pretty unpleasant, they are typically considerably less severe than gastroenteritis.
Additionally, other infections could occur as a result of consuming polluted water. This includes hepatitis A, cholera, and dysentery. Another more serious effect of consuming toxic chemicals found in Camp Lejeune drinking water is neurobehavioral changes.
The Camp Lejeune Justice Act
Unsuspecting citizens and military veterans should not have been exposed to harmful chemicals, and the Camp Lejeune water contamination could have been avoided.
In 2021 following an investigation by the Agency for Toxic Substances and Disease Registry, a bill was passed that allowed veterans and family members the opportunity to receive VA benefits for exposure to toxic chemicals in contaminated water at Camp Lejeune.
This means that all vets, members of the armed forces who are currently on active military duty, and their family members will now be able to file legal claims. They can receive compensation for any illnesses and disabilities brought on by exposure to volatile organic compounds in the toxic drinking water at Camp Lejeune.
The compensation couldn't come soon enough for thousands of vets and their families and the VA alleges that there are already more than 2,400 Camp Lejeune benefits claims pending in their severely overloaded system.
Pursuing Disability Benefits for Complications Caused by Contaminated Water at Camp Lejeune
Members of the US army may have been exposed to polluted water at locations other than Camp Lejeune. No matter where the exposure occurred, any vet who can prove that their present disability is caused by consuming contaminated water may be eligible for disability benefits.
Veterans Must Prove That They Were Exposed to Contaminated Water While They Served at Camp Lejeune
Demonstrating that contaminated water exposure occurred while the veteran was on active duty is a crucial component of this strategy. In rare circumstances, acquiring proof of service in a location or on a base with documented water concerns may be necessary.
You can get assistance from a VA-accredited lawyer in gathering the evidence needed to prove your case and receive benefits related to contaminated drinking water.
The VA may occasionally assume a presumptive service connection for specific incapacitating symptoms linked to exposure to polluted water. A former veteran who spent at least 30 days at Camp Lejeune between 1953 and 1987 could be considered eligible for VA disability benefits.
What Conditions Automatically Qualify?
The following eight presumptive conditions qualify for these benefits:
Kidney cancer

Liver cancer

Bladder cancer

Adult leukemia

Parkinson's disease

Aplastic anemia and other myelodysplastic syndromes

Multiple myeloma

Non-Hodgkin's Lymphoma
Keep in mind that it is important to retain your medical records as proof when pursuing a Camp Lejeune claim. We'll discuss these presumptive conditions in the section below.
Kidney Cancer
Any of the two kidneys can form cancerous growths. However, the left kidney is the one that is most commonly affected. People over the age of 50 are typically affected by kidney cancer, and it tends to affect men more than women.
This type of cancer can spread to other parts of the body and could be lethal if it is not treated. Surgical procedures are often used to remove the kidney in question. Patients also undergo radiation and chemotherapy.
Symptoms of kidney cancer include:
Back pain

Blood in the urine

Weight loss
Liver Cancers
One of the most malignant and difficult to treat cancers is liver cancer. The liver is a vital organ that carries out numerous essential tasks, such as removing toxins from the blood and creating bile to aid digestion.
Cancerous cells can easily invade the liver and do significant harm.
Symptoms of liver cancers include:
Fatigue

Weight loss

Appetite loss

Abdominal pain
Surgery, targeted therapy, and chemotherapy are typically used to treat this condition.
Bladder Cancer
Another cancer that is typically seen in veterans exposed to Camp Lejeune water contamination is bladder cancer.
Gender, smoking status, age, and environmental pollutants present the most prevalent risk factors.
Because their bodies have had more time to form cellular mutations, older people are at a higher risk of developing bladder cancer.
Adult Leukemia
Leukemia is cancer or mutation of the blood cells. Usually, the bone marrow produces blood cells.
Red blood cells carry oxygen from the lungs to the body's tissues, platelets aid with blood clotting, and white blood cells combat disease. However, your bone marrow produces abnormal white blood cells when you have leukemia. 
Although it can happen at any age, adult leukemia is most prevalent in people between the ages of 55 and 64. Even though the precise cause of adult leukemia is unclear, some risk factors were found. These may include exposure to radiation, prior use of specific medications, and exposure to toxic substances.
Parkinson's Disease
Parkinson's disease is a neurodegenerative disease that impairs motor movement.
This medical condition is characterized by tremors, stiffness, and sluggish movements. Parkinson's disease currently has no known cure, but there are therapies that can help manage symptoms and improve quality of life.
Implants that stimulate the deep brain may sometimes be inserted surgically to help control movement.
Aplastic Anemia and Other Myelodysplastic syndromes
If you have aplastic anemia or myelodysplastic syndromes because of Camp Lejeune water contamination, you should contact an attorney to pursue disability compensation.
Aplastic Anemia
An uncommon blood condition known as aplastic anemia occurs when the bone marrow fails to produce sufficient blood cells.
Cancer, specific drugs, exposure to radiation or toxic substances, or even cancer itself can result in this condition.
Symptoms include:
Shortness of breath

Fatigue

Easy bruising
Myelodysplastic syndromes
A category of diseases known as myelodysplastic syndromes typically affects the blood and bone marrow. Again, exposure to toxic chemicals could lead to the development of these syndromes.
Multiple Myeloma
A form of cancer known as multiple myeloma causes the plasma cells to grow uncontrollably and drive out healthy cells.
It may have a negative impact on a person's general health and cause symptoms such as:
Muscle weakness

Tiredness

Recurrent infections

Anemia
There is currently no cure for this condition, but certain medicines can help patients manage their symptoms. These might consist of immunotherapy or chemotherapy treatments, as well as bone marrow transplants in some cases.
Most sufferers can live happy, healthy lifestyles well into adulthood with the proper treatment and care.
Non-Hodgkin's Lymphoma
Non-Hodgkin lymphoma (NHL) is a type of cancer that affects the lymphatic system.
The position and severity of the cancerous tumor will have a significant impact on the symptoms of the condition, but typical symptoms often include:
Exhaustion

Swollen lymph nodes

Night sweats

Weight loss
Although NHL has no known treatment, there are ways to minimize symptoms while also slowing the growth of the tumor. Chemotherapy and radiation are frequently used in these therapies, either alone or in combination with immunotherapy or stem cell transplants.
Why Is Presumptive Service Connection Important?
A presumptive service connection denotes that the Veterans Affairs, as required by Congress, has recognized a link between the eight presumptive health conditions mentioned above and the time served at Camp Lejeune from 1953 to 1987.
The VA typically demands proof of a connection between a veteran's health and his or her military service. In essence, you must demonstrate that your condition had an equal chance of being brought on by hazardous exposure while serving in the military.
You shouldn't need to present any additional documentation in order to begin receiving benefits for these conditions.
The two basic requirements for eligibility are having medical evidence confirming a diagnosis for one or more of the eight presumptive conditions and having resided in a region that received contaminated water. Members of the Reserve and National Guard are also eligible.
It's important to note that new diseases have been added to the Agent Orange presumptive list over time. Additionally, the Camp Lejeune presumptive list could be extended soon, given the continued pressure from veterans advocacy groups on Congress to take action.
How to Ensure That You're Getting the Highest Possible VA Rating
It's essential to check that the VA assigns your rating correctly because this may affect the amount of VA disability benefits you can obtain.
Leukemia, for instance, is only given a 100 percent rating by the VA when it is active or while the person is receiving treatment for it. The VA updates your disability rating six months after completing your treatment. 
Depending on which is more advantageous for the sufferer, leukemia may alternatively be classified as plastic anemia. Understanding how the system functions will help you avoid typical errors that could lead to a low disability rating.
Applying for Disability Compensation
Vets who are successful in their Camp Lejeune groundwater contamination claims may be awarded up to $3,000 per month with a perfect rating.
Additionally, if your disability is particularly serious, you may be entitled to Special Monthly Compensation. Individual Unemployability may also be used to obtain the highest pay possible without a perfect rating.
Your attorney will help you navigate the system and ensure that you receive the compensation you rightly deserve for being exposed to contaminated water at Camp Lejeune.
A Serious Injury Attorney Who is a Marine Vet Can Help You File Your Veteran Water Contamination Claim
Veterans and family members exposed to toxic substances can file a Camp Lejeune claim to cover all paid health care expenses. If the VA wrongly rejects claims, we will work hard to file an appeal, proving that you suffered harm by supplying the VA medical records.
Compensation doesn't just get you the money you need to deal with conditions such as liver cancer. It also holds the VA liable for not keeping Camp Lejeune veterans safe.
The truth is that exposure to polluted water at bases like Camp Lejeune is an underrated risk linked with military service, and is now being addressed in the United States District Court and as VA Disability Compensation. Even National Guard Members and other United States government employees may soon have rights to medical expenses from health risks over Camp Lejeune's contaminated water supply, including for adult leukemia, aplastic anemia, and more.
Fortunately, the dedicated attorneys at Ehline Law can assist you in preparing for Marine Corps Base Camp Lejeune water contamination lawsuits and VA Disability claims. So regardless of whether you automatically qualify or must provide additional proof tying your illness to your service at Camp Lejeune, the families affected can rest easy knowing we are in their corner. We can even help you get or locate the physician report needed to identify the cause of your disability claims and unpaid bills for treatment. (Ex: family member with lung cancer, families exposed to birth defects from leaking toxic water storage tanks related to Camp Lejeune, and ven peacekeeping operations while deployed from there, etc.).
Schedule an Appointment Today to Learn More About Camp Lejeune and other water contamination Claims and other contaminants, by Dialing (833) LETS-SUE! Form an attorney client relationship with attorneys who are also inactive marines today!
---
Michael Ehline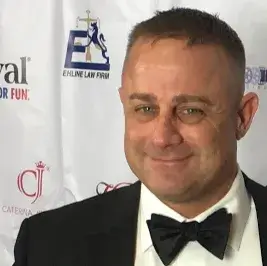 Michael is a managing partner at the nationwide Ehline Law Firm, Personal Injury Attorneys, APLC. He's an inactive Marine and became a lawyer in the California State Bar Law Office Study Program, later receiving his J.D. from UWLA School of Law. Michael has won some of the world's largest motorcycle accident settlements.
---
Recent Personal Injury News
Check out our most recent auto defects, accidents and more, including the famous, infamous and everyday people wounded by at fault parties around the world.