Even though the cruise industry has implemented extensive Covid-19 testing procedures and safety measures that crew members must follow, there is still a risk of contracting the virus. Let's look at the Covid-19 protocols cruise ships have adopted with Ehline Law and our cruise ship personal injury attorneys.
What to Expect If You Get Covid-19 on a Cruise Ship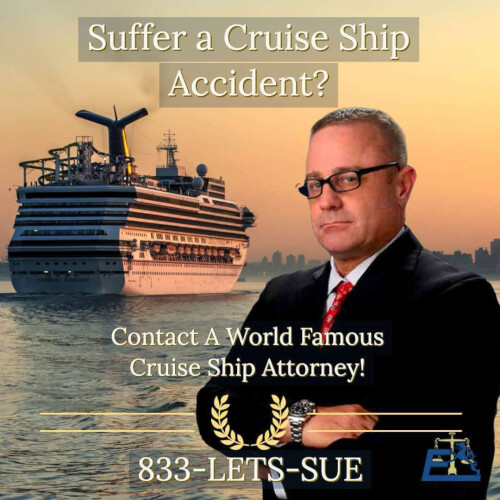 Although travel requirements are easing and cruise ships have lifted vaccine and mask requirements, the threat of contracting Covid-19 is not over. The Centers for Disease Control and Prevention (CDC) had a Covid-19 program for cruise ships in place during the peak of the virus. Still, in July 2022, they ended the program, which is why passengers need to do their research about Covid-19 policies and standards adopted by the cruise lines themselves.
If you've contracted the Covid-19 virus and test positive, the CDC advises travelers to stay in their cabins and notify the cabin crew to prevent the spread of the virus. The steps you must take or the help you may receive following the intimation of your sickness to the crew members depends on the cruise line you're traveling on. Let's look at the medical attention and complimentary amenities available for guests sailing on various Cruise Lines.
Royal Caribbean
If you're having Covid-19 symptoms during a Royal Caribbean cruise, immediately report it to the crew members. They will send an onboard medical team to conduct a Covid-19 test, and if tested positive, you will have to spend the remainder of your cruise trip in your room. The ship's medical center staff will regularly check up on you.
The doctors will provide you with over-the-counter medication and plan your disembarkment process, which includes allowing travelers who tested positive to stay on the ship until the quarantine period finishes or disembark safely.
Carnival Cruise
According to the Carnival Cruise website, travelers testing positive will have to isolate themselves until the medical team believes it is safe to resume activities. Those who test positive will receive medical consultation through in-person visits or over the phone and have access to complimentary room service and free Wi-Fi.
The Cruise Line will help make quarantine arrangements locally for guests requiring quarantine. However, it will be at the expense of the guest. If you test negative after your quarantine period, you may return home. Fortunately, the Cruise Line offers a pro-rated future cruise credit for all those that spent their time in quarantine on the cruise ship.
Princess Cruise Line
The company updated its cruise policy pertaining to Covid-19 in October 2022, welcoming all travelers regardless of their vaccination status. The medical team will conduct tests on those displaying Covid-19 symptoms. A verified positive test result for a guest would result in a transfer to a separate cabin where they will have to spend the isolation period.
Celebrity Cruises
Guests sailing on Celebrity Cruises from any port in the US must show a printout or a screenshot of any commercially available self-tests as a pre-cruise test requirement. Celebrity Cruises offer rapid covid-19 tests on its onboard medical facilities, and in the event a guest tests positive, the cruise line will cover the Covid-19 treatment costs. The party can stay on the cruise ship for free until their quarantine is complete.
There are other cruise ships carrying passengers from the United States, and all guests need to view the cruise line's Covid-19 policy before starting their journey.
Is There a Difference Between Isolation and Quarantine on Cruise Ships?
According to the CDC, the two terms are not interchangeable. Isolation is when the cruise ship separates people with the Covid-19 virus from those not sick. Quarantine is when the cruise ship separates people exposed to the Covid-19 virus in a separate cabin where the onboard medical team monitors them to see if they become sick. For example, if you test positive and your spouse does not, you will have to go into isolation while the cruise ship quarantines your spouse.
What Happens to Guests During Quarantine?
The Covid-19 policy varies from one cruise line to the other, but most cruise lines have a contact tracing system that allows them to track those guests who may be exposed to the virus. If you were close to a passenger with the Covid-19 virus, the crew member would ask you to return to your cabin and stay there until the medical staff takes a Covid-19 test, and you will have to stay in your cabin until the test result. Depending on the cruise line policy and the circumstances, the medical professionals may ask you to remain in your room for a few days.
During the quarantine period, the crew members will make sure they do everything to ensure you're comfortable. This can include complimentary room service, free Wi-Fi, and movie rentals to keep you entertained. The medical staff will ask you to take another Covid-19 test, and if it returns negative, you may roam around the cruise ship and return to the activities. However, if the test returns positive for Covid-19, they may ask you to take another test to rule out false results.
During your quarantine period, anyone in close contact with you will have to take the Covid-19 test and stay in isolation if they test positive for Covid-19 to prevent the spread of the virus to other passengers.
What Happens to Guests During Isolation?
Unlike quarantine, where you enjoy complimentary amenities, isolation is much different. Depending on the cruise line and your circumstances, if you test positive, the crew member will escort you to the "Red Zone" near the vessel's medical center.
Crew members take full precautions while moving passengers to isolation, including full PPE suits and airborne sanitizers. During movement, the crew members block off stairs and ensure other passengers do not come into contact with the guest heading to isolation.
In the isolation room, medical staff will only make in-person visits if necessary. Otherwise, they may check up on you via the telephone. You will have cleaning supplies to ensure you clean your room when required since the cleaning staff is not allowed during isolation.
The staff will leave a paper with a QR code daily that you can scan, fill out the meal form, and receive your meals outside the door. Since time in isolation can be difficult, some cruise ships offer free Wi-Fi and access to their catalog of movies to help you pass the time.
Cruise Lines are responsible for ensuring that other guests aboard do not contract the Covid-19 virus, which is why they must take all necessary steps to prevent the spread of the virus. However, if you contracted Covid-19 due to the crew members' negligence, you may be able to pursue a lawsuit against the Cruise Line.
Schedule a Free Consultation with Ehline Law
If you or your family contracted Covid-19 due to a crew member's negligence (not following safety protocols, allowing affected guests to interact with others, etc.), contact us at (833) LETS-SUE for a free consultation, as you may be eligible for compensation.