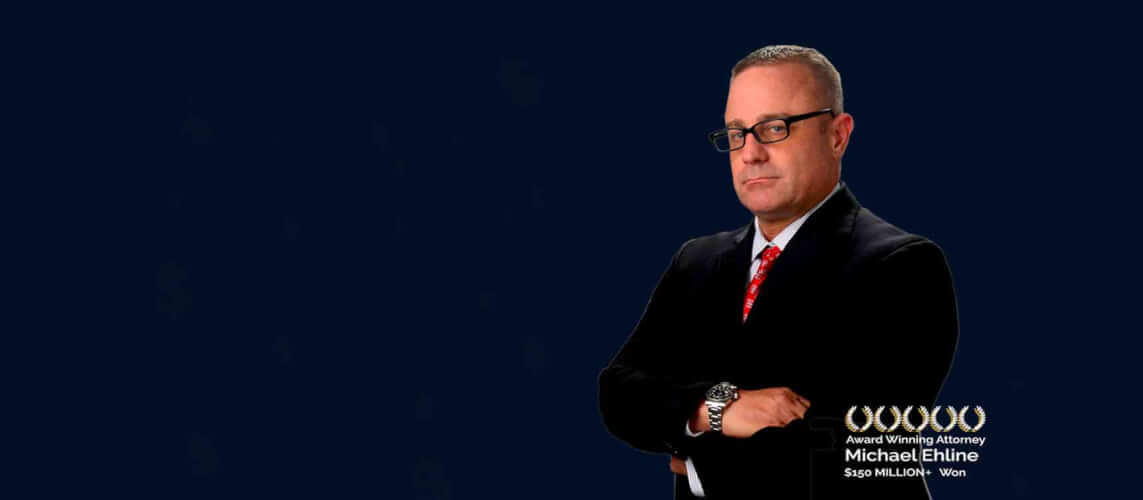 Having broken wrists, a dislocated joint, ligament injuries, or other similar wrist and hand issues can be debilitating and even cause chronic pain. Read on to learn more and understand how Michael Ehline can help if you have injured your wrist, wrist joint, scaphoid bone, or another crushing injury.
Can You Get Wrist Injuries After Car Accidents?
If you're behind the steering wheel, you are at risk of being in a car accident, just like any other driver. Unfortunately, hand and wrist injuries are some of the most common problems you might have after being in an auto collision. Wrist sprains, torn ligaments, or getting a broken wrist can happen if you're driving, and they can occur due to two main reasons: gripping the wheel or hitting the inside of your vehicle.
In the second case, blunt trauma might cause wrist fractures, soft tissue damage, and problems in your carpal bones. On the other hand, if you grip your steering wheel while the auto accident occurs, the collision's energy goes directly into your hand and wrist bones. Passengers can also get a hand or wrist injury, and in many cases, it's because they hit one of the parts of the car. Overall, wrist sprain, severe pain, hand injuries, broken bones, and similar problems result from blunt force trauma, so you might need medical treatment to deal with it.
What Happens if You Suffer Wrist Injury?
Car accidents are very complicated, especially if you experience a scaphoid fracture, distal radius fracture, or any permanent damage. A hand injury often affects delicate bones, so you might need surgical intervention and physical therapy to return to normal.
Once you're in a car crash, you have to seek immediate medical attention to prevent other injuries and ensure you heal properly; nonetheless, you might want to recover compensation, especially if you know the collision wasn't your fault. After a physical exam, you should try to contact a car accident attorney. Fortunately, Michael Ehline is ready to help you with your injury cases, mainly if car accidents cause them. He is an experienced civil lawyer near you who's ready to guide you through the process.
On many occasions, your insurance company might not want to cover medical bills for your bone fracture, torn ligament, crooked finger, or wrist fracture. You don't have to sit with your arms crossed while your ligament tears – contact us at Ehline Law Firm today, and start your process with the best professionals in the field.
Can a Lawyer Help You?
When injuries occur, you might be very confused and not know what to do next. However, it would help if you kept in mind that you need medical care to be able to get back to your daily life without any issues; otherwise, you might suffer from chronic instability, you could get progressively worse, or you may even need a hand surgeon.
After an accident, you should contact experts to ensure you get the settlement you deserve and a full recovery. Ehline Law Firm is completely different from any other legal options you might encounter since the available attorneys have won millions of dollars for clients. We have also won awards, appeared in news stories, and have excellent reviews.
Michael Ehline was a US Marine, so he has the unique sense of honor no other professional can offer you; plus, he is an aggressive Los Angeles wrongful death attorney who's ready to fight for your rights, especially if your hands suffered the consequences of an accident that a negligent driver caused.
Duty and Breach of Duty
In many cases, a car accident might be the consequence of driver negligence, which is where duty and breach of duty come in. Breach of duty is when someone has to act in a certain way but they don't do so. Thus, all drivers have the duty to follow specific laws when they get behind the wheel, so if they don't do that and cause an accident, you could file a claim and fight for your rights, but you need top-quality lawyers by your side.
Ehline Law Can Help Following a Car Crash with a Free Case Evaluation
If you're looking for "wrongful death attorneys near me" and you're suffering from pain in your wrist, ligaments, or even a broken bone you got after an auto accident, it might be time for you to contact attorneys to help you go back to your daily tasks. Call Michael Ehline at (213) 596-9642 today! We are also bicycle lawyers and help pedestrians run over in the crosswalk!