Los Angeles Wrongful Death Lawyers / Elements Leading to Wrongful Death Drowning: What You Must Know / Wrongful Death Blog
Elements Leading to Wrongful Death Drowning: What You Must Know
By Los Angeles Personal Injury Attorney, Michael P. Ehline Esq. Find answers to all your questions.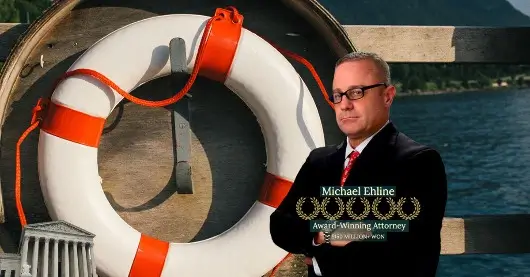 Victims or their families sue the parties responsible for drowning lawsuits. Inattentive supervisors and property owners may be among them. Wrongful death and negligence are two typical examples of a common legal claim.
Plaintiffs regarded in drowning accidents may get compensated for medical bills, pain and suffering, and lost wages based on the circumstances. If the victim dies, the deceased's family may be able to collect funeral costs and lost financial support.
Who Is Legally Responsible for Drowning Accidents
Who Is Liable
Who Can Sue
What Can You File a Claim For?
Liability Waivers
Who Covers Injuries?
Are Accidental Deaths Common?
Contact Us for an Experienced and Aggressive California Attorney
Who Do You Hold Liable in a Drowning Accident Wrongful Death Lawsuit?
The property owner or landlord may get held accountable for drowning accidents in private pools (for example backyard pools).
This is particularly true if the homeowner disobeyed the state's safety regulations. Pool owners in Los Angeles, for example, must keep protective containers, safety latches, and alarm monitors in place.
Operators or owners of public pools could get held liable for a drowning accident. Employers may get held "vicariously liable" for the workers' negligence under California's "Respondeat Superior" statutes, for example. The employees, including lifeguards, might also face legal action. However, most employees do not have the financial resources that property owners do.
If a person goes overboard from a boat, the operator or owner of the boat may get held liable. Possibly they didn't give people life jackets or were driving the boat while inebriated.
When children drown, the adults responsible for his or her care may get held liable. It doesn't matter if the drowning accident happened on a beach, in a bathtub, in a pool, or in a lake.
Which Party Sues in a Wrongful Death Lawsuit if the Victim Dies in a Drowning Accident?
Numerous people die as a result of drowning incidents. Victims' families can then file a wrongful death lawsuit against the individuals or group who caused their deaths.
A wrongful death lawsuit may get filed by any of the following family members:
Surviving spouse
Living children
Domestic partner
Grandchildren – only if the dead person's children have passed away
Any other family members or individuals entitled to the decedent's property via intestate succession legislation
Most drowning victims survive but go into a vegetative state. People holding the victim's power of attorney can then sue on their behalf. This could be the deceased's spouse, a close relative, or another legal representative named by the victim.
What Wrongful Death Claim Can You File Following a Drowning Incident?
Wrongful Death
Following a drowning death, the victim's family members may file a wrongful death lawsuit.
The family would have to demonstrate:
The victim or decedent died; the defendant caused the death through malicious intent or negligence;
Families get financially harmed as a result of the death; and
To the deceased's estate, a personal representative gets appointed.
A "survival" cause of action may get added to a wrongful death claim in Los Angeles, California. On behalf of the victim's property, this lawsuit gets filed. Its purpose is to reimburse the family of the deceased for his or her losses.
Negligence
In order to win a negligence case, the plaintiff must show that:
The defendant had a duty of care to the plaintiff
The defendant breached the duty of care via negligence
The accused person's fault was a significant factor in causing death or harm
In a drowning accident lawsuit, examples of negligence include:
Lack of child supervision around a koi pond,
There aren't any lifeguards on duty, and daycare workers leave kids alone in a pool area.
Premises Liability
Negligence is a sort of premises liability. It occurs when property owners or managers get held accountable for incidents that happen on their properties. It doesn't matter if they were not there at the time of the accident.
In order to establish premises liability, the plaintiff needs to usually show:
The property was previously occupied, owned, or managed by the defendant.
The plaintiff got hurt because the defendant was irresponsible in the maintenance or use of the property.
The defendant's negligence played a significant role in the plaintiff's injuries.
If a property owner possessed an uncovered swimming pool, he or she could get held accountable in drowning accidents.
What Compensatory Damages or Financial Compensation Can a Plaintiff Win?
Victims of drowning lawsuits who sue for carelessness may be able to receive compensatory damages.
This includes the following:
Medical expenses
Counseling, physical and occupational therapy, and other similar services
Lost income, lost wages, and earning ability lost
Pain and suffering
Loss of a husband or wife or registered domestic partner's consortium
Scarring or permanent disabilities
Damages in wrongful death claims may include:
Expenses for the burial and funeral expenses
Compensation for the loss of support and companionship, as well as the financial income the decedent would have previously earned as income
The court can also award punitive damages in severe instances. However, the plaintiff must generally establish that the offender engaged in severe or outrageous behavior.
What Happens If There Is a Liability Waiver?
A liability waiver signed by a minor (under the age of 18) may not become enforceable. Signing is normally required by one of their parents or a legal guardian.
Even if the waiver was lawful, there is still a potential that the accident isn't covered. It all relies on the waiver's language and the circumstances surrounding the drowning.
Additionally, drowning accident attorneys can assist the victim in determining whether or not the waiver is valid and how to challenge it.
Do Insurance Companies or Homeowners Cover Drowning Deaths and Drowning Injuries?
It is contingent on the policy's conditions and limitations. An insurance company is often notorious for refusing to honor policies. Victims' friendly and charismatic accident lawyers, on the other hand, can always take them to court or implement legal claims against them.
How Does a Defendant Fight Against Wrongful Death Lawsuits Regarding Drowning Deaths?
Many drownings accidents usually result in unintentional death and there is no one to blame.
Among the possible defenses are:
Risk assumption
There is no duty of care
The victim was somewhat to blame
Liability was previously relinquished by the victim
Risk Assumption
Assumption of risk shifts culpability for injuries to the deceased person. Defendants in a drowning personal injury case may argue that the deceased "assumed the risk" of drowning.
This is due to the fact that entering or going near water or a swimming pool carries the risk of drowning.
No Duty of Care
Individuals who enter into an owner's property owe them a duty of care. The person's duty of care, on the other hand, is contingent on who they are.
This includes the following:
Those who get invited (such as handymen)
People who hold a license (such as friends)
Individuals who hold a license (such as friends) (such as burglars)
When it comes to intruders, a property owner's only responsibility is to avoid creating a harmful situation. Trespassers may not recover damages if they get wounded on someone else's land.
Trespassing-related injuries, on the other hand, may still get recovered. This usually occurs when the property has a harmful nuisance. An ungated swimming pool is usually a typical case.
The Victim was Partially Responsible
It's possible that more than one party is to blame for the drowning. Quite often the sufferer bears some of the blame. However, property owners can still get held legally liable.
Juries may allocate damages and blame to multiple at-fault parties under LA's "comparative fault" legislation.
The Victim Waived Liability
Waivers of liability may also get required to:
Surf
Swim
Boat
Scuba dive
Raft
Jetski
These waivers are normally contracts someone can enforce. However, many of these disclaimers only shield the operator or owner from lawsuits based on "ordinary negligence."
They might not be able to protect you from litigation based on gross negligence, unlawful activity, recklessness, or intentional harm.
Are Wrongful Death Cases Involving a Drowning Incident Common?
Each day, over 10 individuals drown in the United States. Children under the age of 14 account for one out of every five drowning deaths in swimming pools. Males, minorities, and children under the age of four accounts for the highest number of drowning victims.
Any amount of water may cause drowning. It may happen in lakes, reservoirs, ponds, or hot tubs, among other places. Only two inches of water is enough to suffocate young children.
Not everyone who drowns dies. Many people get left with lasting infirmities as a result of their survival. The following symptoms can result from a lack of oxygen in one's brain:
Permanent vegetative states
Seizures
Loss of basic functioning
Learning disabilities
Schedule a Free Consultation with our Experienced Lawyers from Ehline Law Firm for Legal Advice
Ehline Law Firm can help you! Many drowning accidents occur in Los Angeles, California each year whether they happen in a swimming pool or beach.
Our swimming pool personal injury lawyers in Los Angeles, California provide free consultations. Please contact us at (213) 596-9642 or use the online contact form on our website if you know a family member or loved one who was recently a drowning victim.
Ehline Law Firm's lawyers value the attorney-client relationship provided; therefore, our legal team acts in your best interests when fighting for justice for your loved one's death. We fight for your legal rights whether it involves drowning cases, car accidents, or other personal injury cases.