Death is highly challenging for families to deal with; however, it is even more traumatic when caused by someone else's negligence. Wrongful death happens when an individual's death results from another party's or a company's negligence or wrongful act.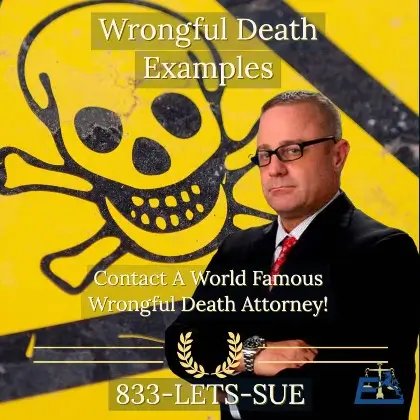 A variety of events and circumstances may result in wrongful death claims. Amongst the most typical example of wrongful death, cases get discussed in further detail below.
Take Wrongful Death Action
Ehline Law Firm can handle your wrongful death case in the best way possible to ensure that the surviving family members of the deceased person gain the wrongful death damages they may receive.
We pride ourselves on the attorney-client relationship we offer; therefore, you can trust an Ehline Law Firm lawyer to put in all the hard work and fight aggressively for your wrongful death lawsuits.
What Are Some Examples of Wrongful Death?
A wrongful death claim may arise due to various incidents. Here are just a few examples Ehline Law Firm can handle:
Car Accidents
Due to the large volume of drivers and the frequency with which people drive, car accidents are the most common cause of wrongful death. California has more than 16 million licensed drivers, and hundreds of motor vehicle accidents occur daily in the state. Thousands of people get killed every year as a result of these collisions.
A loved one's death after an auto accident or eventual death after convalescence can lead to millions in lost wages and lost employment benefits from missed time off work for struggling families. Many car accident fatalities get caused by one driver's negligence, at least, whether it is because of speeding, failing to watch the road, reckless driving, or because there is a drunk driver.
If you meet any of the mentioned conditions, the negligent party is responsible for the death of any other people in the crash, including passengers and other drivers. One might hold the county or city accountable if the incident resulted from road problems. There are cases where an accident occurs, but neither person is wrong, but these are rare, according to most Los Angeles car crash lawyers.
Whether you get full and fair compensation for the decedent's death as part of a wrongful death settlement or verdict depends largely on the worth of the decedent to the surviving family members.
Examples of Wrongful Death Involving a Car Accident
The factual and legal grounds will be different in most wrongful death actions. After Michael DeMella's pregnant wife died from a drunk driver who crashed into the cabana where the couple was resting at the Fort Lauderdale hotel, the Broward Circuit Court judge granted Michael DeMella $24 million.
The intoxicated driver leaped over the curb and smashed into the building on March 18, 2020, killing 26-year-old Alanna DeMella and her soon-to-be-born baby, Joshua. Michael escaped with minor injuries as he was inside a neighboring restroom. Not every wrongful death suit will lead to criminal trial, or compensatory and punitive damages either.
What your wrongful death attorney contributes in the way of expertise will go a long way to getting a windfall as opposed to a defense verdict.
Medical Malpractice
Although many doctors and nurses are properly trained, they are still human beings, and mistakes occur. These errors may arise when medical workers take shortcuts, fail to follow proper procedures, or overlook specific details.
Misdiagnosis of an illness or inability to discover a disorder are the most common factors of medical malpractice wrongful death cases. In the medicinal field, mistakes made during operations and the treatment of illnesses are also major factors that lead to wrongful death.
Wrongful Death Lawsuit Example Regarding Medical Malpractice
Lilia Torres passed away in July 2015 after suffering significant bleeding, which the plaintiffs claim resulted from problems after her daughter's birth. Her family sued the team of experts who supervised the deliveries for medical misconduct.
In conclusion, the defendants admitted carelessness and cause, and a court in Fort Lauderdale awarded the family $24.5 million in 2019. The damages got split between Torres' living children and surviving spouse, with $3.675 million going to the spouse, Rodolfo Vargas Chavez; $4.9 million going to three of the deceased's kids, and $6.125 million going to Lilian Daleyza Vargas; she was born before her mother's death.
Workplace Accidents
Workplace injuries and deaths are more common in high-risk jobs such as risky construction and physical labor. Still, wrongful deaths may happen inside one's office or outside the workplace if an employer places a staff member in a hazardous scenario.
An example of the latter case is a nurse who got compelled to perform many 12-hour shifts in a row and then died in a motor vehicle accident on her way home because of weariness.
Wrongful Death Lawsuit Example Involving a Workplace Accident
Pedro Jose Sanchez got killed while undertaking mechanical tasks on a work trailer for his employer at Third Generation Plumbing in Marathon, Florida. Maria Del Carmen Solis, Pedro's widow, earned workers' compensation death benefits after her spouse died.
In the trial, the Sanchez estate subsequently filed a wrongful death lawsuit against James Massaro, Third Generation Plumbing's president. According to the wrongful death case, Mr. Massaro was accused of unlawfully supervising business activities, bypassing safety mechanisms on machinery, failing to execute adequate safety inspections, and giving adequate training, all of which contributed to Mr. Sanchez's death.
Truck Accidents
While still classified as automobile accidents, truck accidents fall into a different category due to several important characteristics, including their common carrier status. Semi-trucks are so much bigger than other cars that they're more likely to kill individuals in an accident. Truck accidents are caused by various factors, including traveling with an excessive load, mechanical problems with the vehicle, and driver mistakes, including aggressive driving, lost control of the truck, or driving while overly tired.
Our Los Angeles trucking accident attorney works closely with wrongful death victims, and he has vast experience dealing with cargo container accidents and docking bay mishaps near the LBC area. Our tenacious attorneys are experts at proving fault, with millions recovered for thousands of accident victims since 2005. Call today for a free case review at (213) 596-9642 if you are ready to seek compensatory damages caused by someone's negligence.
Example of Wrongful Death Claims Associated with Truck Accidents
Hannah Krajewski, 21, and 23-year-old Devaughn Gresham got killed in an injury case when a semi-truck crashed into them on I-95 in North Jacksonville, Florida. This freeway section had been constructed for months during their long last summer.
The semi-truck rounded the slope at the Lem Turner exit on I-95 too quickly, causing the driver to lose control, hit the central median, and smash into the Kia Optima, yanking it across the highway and into a rail. Krajewski and Gresham were on their way downtown for their date when the crash occurred.
Both families filed a wrongful death claim against the trucking firm in September 2020.
Defective Products
The maker or manufacturer gets held responsible if an individual dies due to defective products. One of the reasons why producers spend a great deal of time testing and ensuring the safety of their items is product liability.
Defective pharmaceutical items, hazardous foods, unsafe kid's products, and defective autos are a few general examples of this form of wrongful death. Your family may also have a wrongful death case during this difficult time.
Example of Defective Products Wrongful Death Claim
After a Sarasota, FL toddler got killed by a collapsing dresser bought from a Hillsborough County outlet, the mother filed a wrongful death case against IKEA. The case got settled for an unknown sum. Similar cases were previously settled for $50 million by the organization.
Meghan DeLong was awakened on May 14, 2017, by the sounds of her adopted 2-year-old son, Conner, which she heard from down the hallway. The mother went to awaken her second son, Kaleb, to ensure everything was fine. It was, unfortunately, her first Mother's Day as Conner and Kaleb's legal parents. When she entered the room, she discovered that the IKEA dresser had slid forward, trapping Conner (only a toddler) beneath it, unable to breathe. The next day, he passed away.
Conner was the ninth kid known to die underneath a tilted IKEA dresser at this time and one of over 450 kids killed by an appliance tip-over since 2000, according to federal records.
DeLong also questioned the voluntary stability test performed by the sector to ensure that the dresser won't topple over when a 50-pound weight gets placed on the expanded drawer to mimic the force of a climbing youngster. Conner was only 30 pounds when the furniture fell on him, which was much below the test's weight limit.
Pedestrian Accidents
Since pedestrians have little protection, incidents involving them have a higher chance of resulting in fatalities. The most prevalent cause of this incident is driver fault; however, the county or city may be accountable when the driver could not see the person due to insufficient conspicuous pedestrian walkways.
Example of Wrongful Death Claims Regarding a Pedestrian Accident
In one of the worse cases our Los Angeles pedestrian accident attorneys have seen to date, on Valentine's Day, the Rojo and De Leon families sold flowers in front of Jesse's Paint & Body on South Dixie Highway, as was their custom on special events, when everyone's lives completely changed in an instant.
The general manager of a nearby automobile dealership opted to go for a test drive in a supercharged Dodge Charger Hellcat. He slammed into the flower section, killing Anthony, only 3-years old.
The toddler's family filed a wrongful death claim against the car dealership. The dispute got handled for the dealership's insurance policy limit of $5.5 million after six months of trial.
While no financial compensation makes up for the loss of Anthony, the settlement provides some financial certainty and justice to his bereaved family and parents. It provides a public light with full transparency regarding the damage a negligent company can wreak. With older adults, brain injury or death is expected in a fall wrongful death case. Consider chaperoning elders for grocery store visits or while visiting other hazardous locations where spills and road debris could cause a slip or fall accident.
Are you seeking a wrongful death attorney's services? Surviving family members care about a wrongful death claim; they rely on these settlements to cover medical expenses, burial costs, and lost wages. On the other hand, wrongful death cases are not solely about seeking monetary compensation. Take a defective product, for example.
A wrongful death suit filed by the right wrongful death attorney is intended to hold responsible parties, businesses, or employers publicly accountable for their negligent conduct that indirectly or directly caused a negligent killing. Such information can help consumers decide not to use goods or services that can place them at risk, right?
But any delay in taking legal actions in time could cause you to miss the wrongful death statute time limits to sue, barring your damages recovery for life!
Schedule a Free Consultation with our Los Angeles Wrongful Death Attorney
Thinking about bringing a wrongful death lawsuit? Please schedule a free consultation with friendly and charismatic wrongful death attorneys from Ehline Law Firm if you have recently lost a loved one due to someone else's negligence. These are just some of the common cases we deal with daily in California and other states.
You may also look through our wrongful death attorney website and blog for more information on personal injury, workers' compensation, wrongful deaths, and other topics. Are you looking for a personal representative to help you prove negligence? Call us today at our 24/7 wrongful death attorney hotline (213) 596-9642 if you want to seek compensation for your wrongful death claim today.
Main Los Angeles Location
633 W 5th Street #2890 Los Angeles, CA 90071 (213) 596-9642.