Depending on the wrongful act circumstances, the time it takes to settle a wrongful death claim might range from several months to many years.
A wrongful death claim arises in Los Angeles, as in many cities, when an individual dies due to the legal fault of another entity or person, such as:
Car accidents and other negligence-based incidents
Medical malpractice
Intentional actions ( including criminal activities.)
In a wrongful death lawsuit example, the defendant's guilt gets expressed entirely in terms of monetary compensation, which the court requires the party to pay to the decedent's survivors, similar to personal injury claims in general.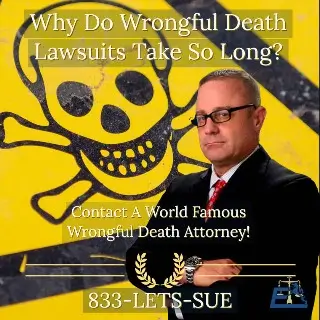 This is a significant distinction between a wrongful death lawsuit and a criminal homicide prosecution, where a conviction can result in a prison term or jail, probation, or other penalties.
Why Should You Consider Rescinding the Initial Offer of an Insurance Company?
If you and other family members keep trying to make ends meet without your lost loved one's income, you may hope to settle a wrongful death lawsuit swiftly. This might not be possible, and even if it is, it might not be in your best interest.
An insurance company representing the defendant's negligence may reward compensation if the defendant admits responsibility for your loved one's death. While it may be enticing to accept a quick settlement while you are having trouble paying your expenses, you may come to regret it later.
To resolve cases fast and protect the bottom line, insurance companies frequently award bereaved family member settlements that are far less than what they deserve. Frequently, the relatives of a deceased individual have no understanding of how much compensation they have an entitlement to and believe that a settlement made by an insurance company is reasonable.
Years later, people may find that the amount they received falls well short of completely repaying them for their losses. They do not have the right to claim additional remuneration at that time.
The long-term consequences of a family member's death can be challenging to estimate. The insurance company's compensation may not even come close to covering your relative's lost income and the worth of additional services that they would have supplied if they had not died prematurely.
You may also be eligible for compensation for non-economic damages resulting from the death of a loved one. Non-economic damages can compensate you for the lack of affection, love, support, and camaraderie you experienced while your loved one was alive.
It is especially tough to put a monetary number on their losses. You may not be able to comprehend how your spouse's sudden death affects you or how the loss of a parent influences your kids for the remainder of their lives.
What Damages Are Possible Regarding a Wrongful Death Lawsuit?
In a civil trial and criminal case, "damages" refers to the plaintiff's alleged losses. The Judicial Council of California Civil Jury Instructions helps to grasp the range of damages that may get offered to a surviving family member in a Los Angeles wrongful death claim. These files get used by judges to instruct a jury on the precise laws and legal ideas they need to consider during deliberations following a civil trial.
CACI No. 3921 (Wrongful Death of an Adult) states that there are two types of damages in wrongful death claims: economic and non-economic.
The following are examples of economic damages:
The financial assistance the deceased could have provided to the family – Lost wages.
Loss of benefits or gifts that one may anticipate from the deceased person.
Funeral and burial expenses.
The fair dollar value of domestic services that the deceased would have supplied.
As per CACI No. 3921, non-economic damages may include the following effects on the family member(s) initiating the wrongful death case:
Loss of the dead's "love, companionship, comfort, care, assistance, protection, affection, society, and moral support."
The loss of intimacy and enjoyment of time with the deceased victim
Loss of guidance from the deceased
Why Does It Take so Long to Settle a Wrongful Death Claim?
Although friendly and charismatic wrongful death lawyers can compile pertinent data and calculate a fair amount of compensation, insurance companies may refuse to pay the amount requested by the wrongful death attorney.
The two sides might then try to reach an agreement. Although this is often doable, there are situations when the two parties are unable to find a solution, and the case must proceed to trial. The claim might take years to resolve.
Things may become even more challenging if the defendant rejects responsibility for your loved one's death. If this occurs, a lawyer may have to conduct a time-consuming investigation in order to find evidence to support the claims. A legal team may need to interview the deceased's family members and multiple witnesses, as well as study medical records and, if relevant, an accident report.
Depending on the facts of the wrongful death case, an experienced attorney may need to examine driving records, mobile phone data, personnel records, toxicology reports, and security cameras to obtain evidence showing the defendant was responsible for your loved one's death.
It is possible that this process may take many months, if not longer. The personal injury case has to go through the legal system when a lawyer compiles and evaluates all relevant material and files a wrongful death lawsuit. There is a possibility that the entire process may take several years.
How Long Do You Have to File a Wrongful Death Lawsuit in Los Angeles?
Like many other lawsuits, wrongful death claims have to be filed within a certain time frame, which is determined by a statute of limitations. According to the statute of limitations, a wrongful death case must be filed within two years of the decedent's passing in California.
The family loses the right to launch the complaint in the state's civil court system if it is not filed within two years. Section 335.1 of the California Code of Civil Procedure contains this legislation.
Please speak with a personal injury lawyer for more information about California law and how it applies to any prospective wrongful death claim and counsel suited to your specific circumstances.
Who Can File a Wrongful Death Lawsuit in California?
The following individuals may pursue a wrongful death case in civil courts in Los Angeles, as per the state's wrongful death statute:
The deceased's domestic partner or surviving spouse
The deceased's living children
Any grandchildren of the decedent.
Suppose no one in the deceased individual's line of descent survives. In that case, a wrongful death lawsuit may get filed by anybody "who would have entitlement to the decedent's property by intestate succession," which could include the decedent person's siblings or parents, based on who is alive at the time of the person's death.
In addition to the individuals listed above, the people listed below may file a wrongful death claim in Los Angeles if they can prove they were financially reliant on the victim:
The deceased's "putative spouse" (someone who previously had a good faith but misguided belief that they were in a lawful marriage with the victim),
Any children of the deceased's putative spouse
Stepchildren of the victim
The deceased's parents
Any legal guardians of the victim if their parents passed away.
Wrongful Death Attorneys from Ehline Law Firm can Help You Seek Justice for a Family Member's Death: Schedule a Free Consultation.
A lawyer with experience managing wrongful death claims can examine the evidence to determine the appropriate amount of compensation for your family members. Ehline Law Firm has attorneys who defend clients all around the country and fight for the recompense they deserve regarding wrongful death cases.
Our legal team can conduct an investigation and acquire evidence to establish liability and pursue compensation for the numerous losses you and your family suffered and continue to suffer due to the victim's death. We value our attorney-client relationship; therefore, we always act in your best interests to recover damages as your personal representative.
A wrongful death attorney can provide you with information about state legislation that may apply to your wrongful death case. Varied states have various laws regarding who can file a wrongful death lawsuit and who can sue for financial compensation.
Regarding the statute of limitations, state laws differ as well. Depending on the state where the incident occurred, representatives and survivors of a decedent's estate have varying amounts of time to launch a wrongful death lawsuit.
A Los Angeles wrongful death attorney can discuss those problems in greater depth and provide legal advice tailored to your individual circumstances. The length of time it takes to settle wrongful death cases gets determined by a number of factors. Call Ehline Law Firm at (213) 596-9642 to speak with a member of our team about getting the wrongful death claim process started right away.
You may schedule a free consultation with one of our experienced lawyers if you want to seek compensation for someone else's negligent act.