Posted on
Wrongful Death Blog
/
Blog
/ Wrongful Death Claims: How Much Is A Life Worth 101?
Wrongful Death Claims: How Much Is A Life Worth 101?
Can we put a value on a human life? One of the most common questions we receive at Ehline Law Firm is the "average" or "normal" jury verdict or wrongful death settlement. Since each death case is unique, there is no such thing as an average wrongful death settlement. However, let us go over the regular ranges in a wrongful death case and how they impact the case's reward. Survivors of wrongful death will experience lost wages, companionship, and other circumstances.
Wrongful Death Claims: Loss of Life
What do Wrongful Death Cases Settle for?
Calculating the Loss
The Intangible Loss
Contact Us for an Experienced and Aggressive Lawyer
What Is the Average Wrongful Death Settlement?
Some cases are worth millions of dollars, while others are worth less than a million dollars. One wrongful death lawsuit may go to trial, while others get settled prior to the start of a trial. There may be many unknown factors throughout a court case.
A wrongful death suit settlement varies depending on the wrongful act and the individual's contribution to the life of the surviving spouse, children, or parents. The involvement of an insurance company also affects the amount that wrongful death cases settle for.
Below, our wrongful death lawyers will look at and explain some of the death claim elements that will affect the amount of compensation you may obtain in a wrongful death case.
Calculating How Much Money You Lost or Stand to Lose
It may seem strange to think of money when grieving the loss of a loved one. There is no amount of capital that can make up for the loss of a child or spouse in a motorcycle accident, or on a dream cruise vacation, for example. 
Nonetheless, California law permits surviving family members to get compensated for certain monetary reductions, such as: 
The value of any household services. Your wife, for example, may have cooked and done the laundry. Thus, you may need to employ another individual to complete these responsibilities after she passes away due to wrongful death action. You may have eligibility for reimbursement to cover these additional costs.
Financial compensation for the future. If you were financially reliant on your loved one, the decedent's death would be a devastating blow to your finances. You may have entitlement to damages equal to the amount of financial assistance you reasonably expected.
Funeral costs and burial expenses
The loss of benefits or gifts that you would have received if your family member had survived.
It's not easy to figure out how much capital one has lost or explain it all to insurance companies. Nobody knows what kind of employment your loved one would've undertaken in the future or how much you would have received.
However, based on your loved one's education, age, experience, and employment history, you may estimate the amount of financial help you would have gotten.
The estate may also file a survival action to recover medical expenses paid before death and the pain and suffering your family member experienced in their final days. But even if you can prove liability, fault, suffering, and financial losses over the decedent's life span, you may still be forced to file a wrongful death lawsuit.
Additionally, the decedent's estate's personal representative may need to file a probate court action, as well as a survival action for any economic damages and pain and suffering of the dead person.
A top-notch personal injury lawyer from our firm can explain everything about your potential recovery step by step. Don't leave money damage on the table by having regrets over what you would have earned for the decedent's life after a motorcycle accident, other motor vehicle accident, or tragedy. Always seek legal advice before signing anything or cashing a settlement check.
Intangible Losses in a Wrongful Death Lawsuit
California wrongful death legislation recognizes the emotional grief that family members experience after a loved one's tragic death.
As a result, you may file wrongful death lawsuits for a number of emotional losses, such as loss of affection, loss of guidance, loss of moral support, loss of companionship, loss of attention, and loss of intimacy.
These are really genuine losses. They are, however, more difficult to assess because no bill or receipt defines their value. Instead, you and your friendly and charismatic experienced attorney need to think about how to prove these intangible damages.
Schedule a Free Consultation with our Wrongful Death Attorneys Today
In California, Ehline Law Firm has established itself as the "go-to" firm for wrongful death settlements. We know what you need to show in order to win your wrongful death case, and we're experts at hunting down the evidence you need.
An experienced wrongful death attorney from Ehline Law Firm in California has years of expertise negotiating advantageous settlements for our clients that adequately compensate them for potential economic losses and emotional pain after a fatal accident.
It's natural to feel unhappy, angry and scared about the future after the death of a loved one. 
A personal injury attorney from Ehline Law Firm takes over your wrongful death lawsuit and begins preparing a wrongful death claim against the defendants. This resource helps you spend more time with your family members dealing with things like anguish, grief, lost bills after lost earnings solutions. 
We value our attorney-client relationship, meaning that you can trust that the legal advice we give you regarding your wrongful death claim is in your best interests. Our Los Angeles wrongful death lawyer holds liable parties responsible.
Contact us at (213) 596-9642 to begin the process and speak to a wrongful death attorney. You can also use our convenient online contact us form any time of day, 24/7.
Michael Ehline
---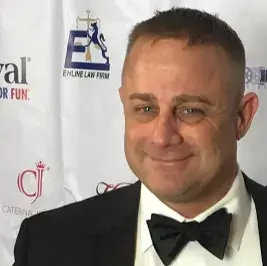 Michael is a managing partner
at the nationwide Ehline Law Firm, Personal Injury Attorneys, APLC. He's an inactive Marine and became a lawyer on the California State Bar Law Office Study Program, later receiving his JD from UWLA School of Law. Michael has won some of the world's largest motorcycle accident settlements. He compassionately helps clients recover after serious injuries.