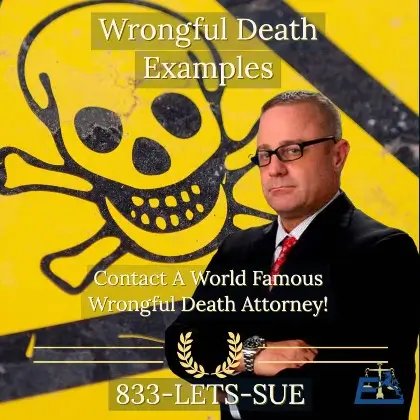 Ultimate Guide to Understanding Wrongful Death Punitive Damages
Although Rare, You Can Be Awarded Exemplary Damages in a CA Death. What a tragedy! Nothing can cover the emotional trauma the loss of your loved one is causing you, and it is even more traumatic to think that you lost a loved one due to someone else's negligence or recklessness.
A Wrongful Death Claim and Punitive Damages
One of the best ways to hold the negligent party liable is to file a wrongful death claim. With the help of a professional, aggressive wrongful death attorney, you will get a wide range of economic and noneconomic damages for your loss.
However, some families may want to recover punitive damages in a California wrongful death incident.
What Are Punitive Damages?
Seeking punitive damages, or "exemplary damages," means using a process to discourage future wrongful conduct that was horrific. Because the acts were so disgraceful, punitive damages are designed to punish the negligent party for their neglect and give them a deterrence from any similar future misconduct beyond a typical wrongful death lawsuit.
Physical Recklessness and Lies Leading to Death?
The court could award punitive and compensatory damages together if the judge finds the defendant's actions were reckless, violent, negligent, or fraudulent. California has many statutes against deceit and intentional misrepresentation. Here are the basic definitions
"Malice," for this article, means conduct that the defendant intends to cause harm to the plaintiff or conduct carried out with a willful and conscious disregard of the rights or safety of others.
Oppression refers to inhumane treatment that subjects a person to cruel, severe, and unjust suffering.
"Fraud" is a fraudulent intent to deprive another person of property or legal rights through the intentional false statement, concealment, or misrepresentation of a material fact known to the defendant. Fraud includes any conduct that subjects victims to deliberate deception, concealment, or misrepresentation of a material fact intending to deceive.
The nature of the conduct must be horrific or egregious. In 1941, the California Supreme Court would decide a defendant who performs an act "intentionally with the knowledge that it will probably cause harm" may be held to answer for and pay damages above and beyond those typically awarded in traditional negligence cases. (See, e.g., Donnelly v. Southern Pacific Co.)
Although the compensation awarded in punitive damages is relatively minor compared to economic or noneconomic damages and sorrow caused, it can be a massive help for personal injury attorneys in relieving the financial difficulties the survivors face during arduous wrongful death actions as determined under California law.
Getting legal advice is essential to assure the survivors of preserving exemplary damages for the victim's estate and punishing the defendant's conduct. The above are all relevant factors, but what does California say?
Are Punitive Damages Allowed in California in a Wrongful Death Lawsuit?
No. California law does give the heirs of a deceased person the right to seek damages for economic losses and noneconomic damages associated with wrongful death lawsuits to a significant degree.
However, a wrongful death lawsuit will not allow a survivor to recover any punitive damages or for pain and suffering for this type of wrongful loss under California wrongful death law statutes. (See also, Ford Motor Co. v. Superior Court (1981) 120 Cal.App.3d 748, 751.)
Why is A Survival Action Important?
California wrongful death and survival claims differ here. The deceased's estate and not you will win you punitive damages through the deceased companion's survival action portion of the case.
This case is filed by appointed personal representatives acting on behalf of the decedent's estate in a related personal injury lawsuit. (California Code of Civil Procedure §377.34)
These rules apply for a guardian ad litem seeking punitive damages on behalf of a surviving child for the decedent's death when they are a parent. "California permits recovery in a child's wrongful death action for loss of a parent's consortium." (See, e.g., Boeken, 217 Cal.App.4th at pp. 997-998.)
Our law group has successfully handled many cases similar to Boeken, supra, with a high degree of care under California statutes.
We have helped with defective products related to killings and outright murder, entitling survivors to wrongful death benefits. We get victims justice, whereas others settle for less.
Only the Estate Can Get Punitive Damages.
Yes. Sometimes a putative spouse has the right to ordinary damages. And even parties not generally entitled to intestate succession may be entitled to companionship damages.
On the other hand, only the dead person's estate is entitled to seek an award of punitive damages.
In other words, such damages in a survival action are awarded in addition to damages for lost household services, property damage, or even lost future gifts, for example. If you survived the decedent and are entitled to take, there is a probability you can prove these damages.
A domestic partner or close family member can only pursue legal rights through a survival action as the estate's representative and only on behalf of the estate itself. Any related punitive damages claim where the decedent sustained an economic or noneconomic loss before death is fair game to sue a defendant.
Mere Negligence Alone Won't Capture Punitive Damages?
Simply being negligent is not enough to get you punitive damages. But yes, California permits recovery under the California Civil Code for any person's wrongful conduct resulting in severe injury or egregious accidental deaths as losses suffered for survival actions.
Even then, the punitive damages awarded must be reasonable. The U.S. Supreme Court has ruled the Due Process Clause to the Fourteenth Amendment mandates verdicts be reasonably related in proportion to the plaintiff of the survivor's estate's actual losses.
The economic loss giving rise to a survivorship claim is often lost wages, medical expenses, or any other economic loss the decedent had before death, but whatever financial loss the decedent incurs before their end is a necessary precondition to a survivor action and a punitive damage claim.
What Damages are Recoverable in a Wrongful Death Action?
A California wrongful death claim allows you to seek compensation and damages in wrongful death cases involving a felony, homicide, or other actions.
However, you can't recover any punitive damage under a wrongful death claim for the wrongful act. It will need to be filed as a survival action claim. Elder abuse cases are prime examples where a court would award a plaintiff who wishes to seek exemplary damages to punish a nursing home to make a public spectacle of it all. There, the decedent's estate would seek punitive damages, and the court would make sure they were not grossly excessive.
Suppose your victim died in a typical car accident. In that case, the plaintiffs could seek damages for things like moral support and loss of sexual relations for the loss of the family member over the decedent's life expectancy.
Either way, if punitives are granted under related survival actions, there must be a reasonable relationship between the noneconomic damage and economic damages awarded to the decedent's estate.
You can claim wrongful death damages, including financial compensation such as medical bills, burial expenses, the loss of the decedent's financial contributions, funeral expenses, and noneconomic damages, including compensation for grief and cruel and unjust hardship. In a wrongful death case, we consider every instance of personal injury in atter of despicable conduct.
Surviving family members of the deceased person can file a wrongful death suit if the victim's death is because of another person's negligence or reckless behavior to prove death. But that doesn't mean the survivor suffered the pain or torture. At least, they can't make a claim out unless the plaintiff was forced to perceive or view the bad acts to the decedent, killing the decedent in front of the survivor. In that case, you'd have additional causes of action for false imprisonment, negligent infliction of emotional distress, and others.
Although monetary awards cannot compensate for the loss of human life, the civil court tries to establish an amount that would compensate the family for their tragic loss of money and enjoyment of affection under California civil jury instructions, no matter the dead person's age.
Under the rules, expert personal injury lawyers consider several factors when establishing monetary compensation for a wrongful act. Any personal legal injury working to deprive a person of money and love is factored into deciding the expected monetary award.
This is what will be granted to the surviving heir or heirs for a death that occurred unless the plaintiff loses their case. However, the basic idea is to compensate the family for economic damages and noneconomic losses at present cash value.
To recap, beyond these above damages, we have punitive damages when the conduct was so oppressive or destructive that it deserves punishment.
Generally, besides these two types of compensation, you can also benefit from punitive damages if the court considered the defendant's behavior as willful and conscious disregard.
How Are Punitive Damages Calculated in California?
When a jury determines that a defendant has acted with oppression, fraud, or malice, they may decide that an award of punitive damages is appropriate. Also, if the decedent was murdered and made to suffer yet survives for a time before dying, this is a crime for which a degree of civil punitive damages may be paid when proven.
This bad conduct must be proved in court by the plaintiffs against those who caused or contributed to this assault on decency. (examples include cases of torture and disfigurement, including limousine passenger burned alive and other common carrier accident cases.) How is the amount of these damages calculated in such a claim?
Factors Relevant to the Calculation in Wrongful Death Claims
A jury will consider convincing clear and convincing evidence only when calculating punitive damages. It would help if you had the backing of a highly experienced personal injury attorney to establish your claim, whether from wrongful death or punitive damages.
For instance, the jury will look into the case to determine how reprehensible the defendant's conduct was and the extent of the physical harm.
You cannot simply increase punitive damages because a defendant has significant financial resources because the law bases the calculation solely on the defendant's willful actions. Punitive damages must be "relatively proportionate" to the actual damages award. In most jurisdictions, punitive damages cannot exceed four times the compensatory damages.
What is the cap on punitive damages in California?
California law does not place a cap on the number of punitive damages a plaintiff can get in a lawsuit. Nonetheless, to be successful, punitive damages must be "reasonable and proportionate to the amount of harm to the plaintiff and the general damages recovered."
There are treble and double damages awards.
What are the Treble and Double Damages Award?
A treble damages award is when a plaintiff gets punitive damages three times or triple the amount of the award. For example, if the compensatory damages amounted to $10,000, a treble damages award would allow the plaintiff to collect $30,000.
Similarly, a "double" damages award would result in two times the normal amount of damages. Only judges can decide to award double and treble damages when they deem them appropriate.
To collect a double or treble damages award, the state must have a statute approving such awards, and the plaintiff needs to request the award specifically.
Do Insurance Companies Have To Pay Punitive Damages?
No. The insurance company is forbidden from paying punitive damages to the victim's estate. It would encourage people to engage in arbitrary punishments of others since wrongdoers would know insurance would pay the reasonable value for everything causing injury to others, intentional or reckless.
Fighting to Recover Punitive Damages in California
Have you sustained severe personal injuries because of another person's reckless or intentionally wrongful conduct? If their actions demonstrate oppression, fraud, or malice, you might have the right to recover an award of punitive damages for financial support.
The jury will add these punitive damages to any other compensation you receive. Contact the Ehline Law Firm Personal Injury Attorneys, APLC, for legal advice if you're interested in pursuing the compensation you and your loved ones truly deserve. We will thoroughly review your case during your free consultation and determine if punitive damages may be available.
If you have lost a loved one in California due to the negligence of another party, it is important to understand your legal options for damages. You deserve the best professional legal team to advise you on choosing between filing a wrongful death lawsuit and a survival action.
Statute of Limitations Problems?
Wrongful death and survival actions are different and have differing filing rules. An exception may or may not apply in your individual case. Even if you qualify to sue now, you may not be able to later unless you sue within two years from the death in most cases.
Sometimes when suing a government defendant, or subdivision of the state of California, for example, your circumstances must satisfy a general make your claim within six months rule, or surrender your rights to compensation against any varying type of defendant forever!
Assistance from personal injury attorneys at our law group can deter you from losing your rights after suffering the loss of a loved one. But you should contact someone who represents plaintiffs for a living. Don't be guilty of thinking the insurance company wants to help you. This is a lie.
They don't! They will speak with compassionate words and respond with untimely, absurd settlement offers or run out of the clock to sue for compensation in a civil court. Common sense says to get a risk-free consultation from Ehline Law Firm.
Your health depends on responsible legal guidance after suffering such horrific wrongdoing, grieve and recover from your new limitation of solitude or separation.
Schedule a Free Consultation With A Los Angeles Wrongful Death /Survival Action Lawyer
Are you suffering emotional distress over all the hassles with making a survival action claim? Here at Ehline Law Firm, we have been representing clients in wrongful death lawsuits and survivorship claims for a long time. Our ultimate aim is not only to help recover maximum compensation for the emotional, psychological, and financial loss suffered due to the loss of a dear one, but we also want to help you get back on your feet.
Parents, children, and other victims can contact us today to discuss you or the person's rights that were damaged and any claim you wish to make over the malicious loss of your lifestyle and happiness.
A personal expert injury or wrongful death attorney is waiting to answer your call or email a website contact form for a free case review.
Main Los Angeles Location
633 W 5th Street #2890 Los Angeles, CA 90071 (213) 596-9642.