Bouncy House BLAWG
Call Today: (213) 596-9642
---
Bounce houses can be a fun addition to parties or gatherings that provide entertainment for children and even adults. But when injuries befall you or a loved one in a Bounce House mishap, your rights may have been violated. After all, in some Bounce House accidents, negligence has been responsible for the harm. For example, the owners and renters of these outdoor attractions remain governed by local rules and laws. And if they don't follow these restrictions, innocent people become victims.
But you have legal options to address the situation. And this BLAWG attempts to address your rights. After all, you must choose a law firm that specializes in sport and recreation accidents if you want to win. Because of this winning experience, these lawyers will have intricate knowledge of the rules and laws that apply.
Statistics for Bounce House Injuries?
In 2012 there was a publication by a team for the Center for Injury Research and Policy. And that was the first comprehensive study covering injuries sustained in inflatable structures. And the research team found that 31 children hurt per day on average between the years of 1995 and 2010. And these were just the cases seen in nationwide hospital emergency rooms, not just for injuries that remained untreated. (See also "Inflatable Amusement Ride Safety - An Interactive Qualifying Project Proposal" - WORCESTER POLYTECHNIC INSTITUTE - Go Here.)
Of special interest, the above study showed the patient's average age was seven years old. Also, 20% of the injuries involved head and neck trauma. However, the victims' most common harms were sprains or fractures of the arms, ankles, and legs.
Generally, these injuries occurred when the child fell inside of the inflatable unit. They often bump into another child. But other times, rather than bouncing outside of the inflatable unit, they become ejected on to the concrete or asphalt through a small mesh hatch. Here, researchers found that between the years of 1990 and 2010, over 64,000 children under the age of 17 had been treated for inflatable structure accidents in U.S. hospital emergency rooms.
So the study team deduced that the rate of pediatric medical treatment for inflatable bounce structures rapidly increased in recent years. Finally, the published report found similar injuries to trampoline-related harm. As it stands now, there is a need for better guidelines regarding inflatable structure usage and improvements. But it appears there is also a need to improve the design of these inflatable toys.
Bounce House Lawsuits.
In the United States, the number of Bounce House lawsuits filed is now in the hundreds. And most of these legal actions stem from harm, such as broken arms or legs. But in rare instances, there have been wrongful death claims filed. However, the common element in all these cases was that the victim either suffered head injuries after striking a hard surface or sustained a broken neck resulting in a fatality.
Legal Assistance in Bounce House Injuries - Waiver and Release?
First, you need to understand that your family, friend, or other associate or employer have homeowners type liability insurance for a reason. Also, you mustn't try and be nice with their insurance company, or be obsequious to the property owner(s).
Often, parents or the homeowners will sign a waiver (See an example here). Therefore, the rental company or party service will rely upon this contract to get out of paying their fair share of the injuries. Sometimes the waiver is unenforceable. And normally that waiver does not excuse a manufacturer, or another in the chain of commerce who rolled a bad product.
Also, if you or your child got hurt in an inflatable structure mishap, you must remain tight-lipped. Don't talk with anyone till you consult a lawyer. Primarily this is true when you are dealing with reverberating issues of consent and waiver, for example. (See also Knight v. Jewett (1992) 3 Cal. 4th 296.)
Simply put, veteran lawyers remain equipped with the experience and skill to handle your claim while gently guiding you through the legal process during this emotionally stressful time. Last, parents know the emotional toll a sick or injured child can take. It's better to lean on the shoulder of a great lawyer to help you obtain compensation for your losses and damages.
Related Issue - Trampoline Parks.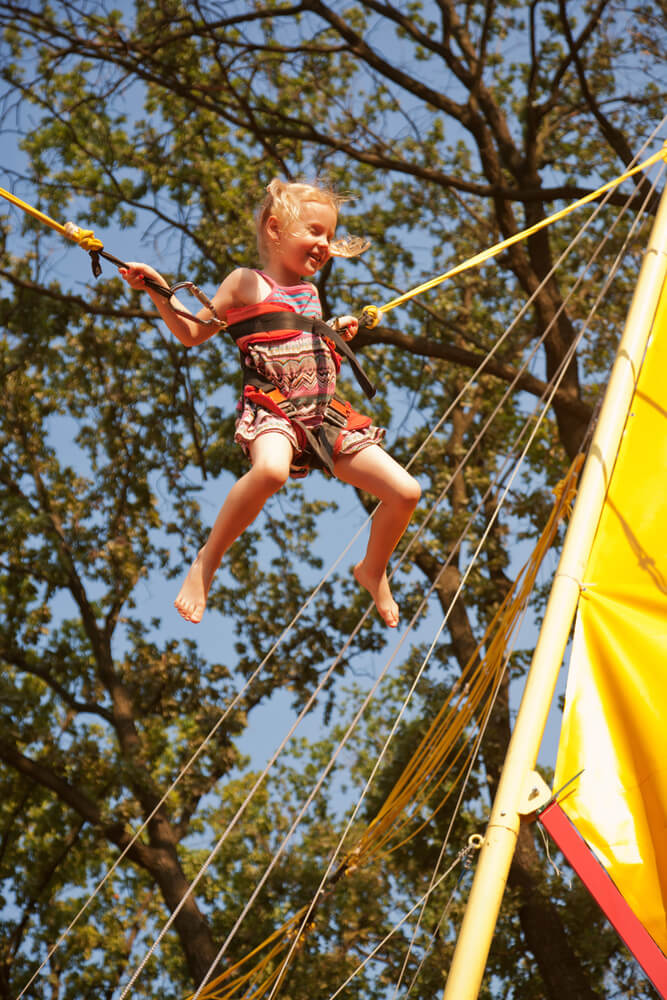 Commercial trampoline parks are becoming popular across the country, and the owners or operators of these parks are advertising them as an "extreme sport." An extreme sport in a controlled environment that is safe for fitness and family fun. The problem is there are risks of being harmed even though this is referred to as safe fun.
The Dangers of The Trampoline And Kids.
The dangers of the trampoline have been seen in hospital emergency rooms, and pediatrician offices are not impressed with commercial trampoline parks. They believe these parks are dangerous, and parents should not permit their children to play on the trampolines. The warning from pediatricians in hospital emergency rooms and offices for parents was too late for thousands of children who suffered injuries deaths that occurred.
Trampoline Parks.
The increased participation by the public at trampoline parks due to the popularity of the sport increases, so do the injuries and deaths. We see it all the time while attending. Big kids go into the designated little kid area and crash into the little ones. The smaller children don't stand a chance when low-quality staff fails to keep a veil of separation. There are also other ways a negligent park owner can cause injuries to people.

If you or a child have suffered injuries at a commercial trampoline park, our accomplished personal injury attorneys at Ehline Law Firm may be able to help recover financial compensation for your claim. Our lawyers offer an initial free consultation to evaluate your claim. Call our experienced legal professionals to learn your legal rights toll-free at (213) 596-9642. Speak to a legal champion now.
Other Sources:
"Bounce House Injuries Ballooning" - November 26, 2012. (By Katie Moisse More from Katie » Health Editor
http://abcnews.go.com/blogs/health/2012/11/26/bounce-house-injuries-ballooning/
Sep 23, 2020
Bounce House Types
A little ditty about the names and types of bouncy houses