If we don't win, you don't pay.
Speak to the Attorney.
Born to serve.
633 W 5th Street #2890
Los Angeles, CA 90071
(213) 596-9642.
Date Modified: June 18, 2023
Ultimate Guide to Compensation for Merced, CA Injury Cases. If you are in a car accident in Merced, CA, you're probably very confused and in pain. However, you might be considering filing a personal injury claim. And we are so good; we offer victims a no recovery to you, no contingency fee to us promise!
Why You Should Hire These Professionals
You have the right to a fair settlement if you suffer due to someone else's negligence. A legal expert specializing in injury law can listen to you and help you through this process.
Finding an Ideal Personal Injury Law Firm Is Challenging
Being in Merced, CA, means being in a very populated county. At the same time, even though personal injury cases receive much attention, you still need to find a law firm with reputable injury attorneys who can represent you.
Personal injury law is complex, and if you want the best outcomes possible, you must guarantee that the lawyer you hire is ready to defend you, mainly if your claim includes catastrophic injuries, personal injuries, medical expenses, or wrongful death.
Hiring a Personal Injury Attorney Means, They'll Defend Your Injury Claims
When you hire an experienced Merced personal injury attorney, you know you are getting an expert in plaintiffs' negligence claims and injury law. These professional legal services include evaluating your case and passionately defending you.
During your free consultation, you can tell your potential lawyer about your physical injuries and any problem you have as a result of the accident. Your lawyer will put together a case and defend you.
Your Merced Personal Injury Lawyer Must Fight for You
As an accident lawyer, your attorney must consider every aspect of your case, including medical bills and serious injuries such as neck injuries or spinal cord injuries.
Then, your chosen legal expert has to defend you and make sure that you get your life back, especially if you're suffering due to someone else's negligence.
Personal Injury Lawyers Are Experts in Tort Law
Law firms specializing in personal injury law work with what legal experts know as 'tort' law. These legal professionals take care of civil matters, for example, slip and fall accidents, car accidents, insurance claims, and medical malpractice.
Therefore, if you want to file an insurance claim, getting a specialized attorney to help you is the best idea because they have the necessary knowledge to guide you through the legal process.
Personal Injury Law Takes Care of Civil Matters
Unlike other aspects of the law, tort law cares for civil matters. Thus, it allows you to recover economic damages and punitive damages and get compensation for your lost wages if the situation resulted from another party's negligence.
If you are in Merced or surrounding communities, being in an accident means your business and family might suffer. Property owners might be devastated, especially if the other driver destroyed part of what they own.
However, with an attorney, the injured party can pursue legal action and try to get a fair settlement for what they're going through.
Caring for Attorney-client Relationship Is Vital
Regardless of whether you're in San Francisco or in any other part of California, if you want to maintain your relationship with your attorney properly, you must be able to trust them.
Injured people often don't know what to do or who to believe, so if you're in an accident, the lawyer who listens to you has to make you see that they can help you.
You Must Be Able to Trust Your Personal Injury Lawyers
Clients who suffer injuries sometimes have a challenging time when trying to trust attorneys after their accident. Nonetheless, if you want compensation, hiring a lawyer in Merced is a crucial step, particularly because they will ensure that they do everything in their power to help you.
Merced County Is the Home of Many Victims
Thousands of accidents happen each year in California, and more than 16,000 end up going to court. If you want to get the outcome you desire, getting the best personal injury attorney is a must, and you need to start the process as soon as possible.
Everyone Is at Risk of Being in a Car Accident
As much as you try to avoid getting injured, everyone is at risk of being in a traffic accident or some other type of personal injury issue in California, even property owners.
Consequently, if you want the best possible outcome for your family and business, you must go through all your lawyer alternatives in Merced, CA, and find the ideal legal expert for your case.
Getting Legal Assistance Is Always the Best Idea
Some people in Merced, CA, believe that getting legal assistance is a waste of time, but it's not like that at all. Instead, getting attorneys allows clients to focus on their recovery while the expert guarantees that the legal process goes smoothly.
Experienced Merced Personal Injury Lawyers Care about Evidence
To get the compensation that clients deserve, attorneys in Merced, CA, must consider the evidence for your case. Your potential lawyer will review photos, videos, witness testimony, doctor's appointments, and anything that can help you prove that the other party must pay.
Personal Injury Cases Require a Lot of Evidence
Many clients don't get the compensation they deserve, and it's often because they don't have as much evidence as they need. With an experienced attorney from Merced, CA, you can make sure that your case is in the right hands.
A Personal Injury Attorney Must Interview You
One of the attorney's first tasks is to interview you and gather all the information they can about your case. Once you set up a meeting with us in Merced, CA, you can tell us everything that happened to you and the consequences you're facing because of it.
Your Personal Injury Lawyer Can Help You File Your Claim
When you seek counsel from a legal expert, you can tell them all your concerns. A professional lawyer has the necessary knowledge to help you file your liability claim.
If someone was negligent, they could be held liable, and you'll be able to enjoy the benefits of winning your case, such as getting the compensation you deserve. However, this is only possible if you get an expert in litigation.
Going Through a Legal Process Requires Time and Experience
Dealing with legal issues requires you to have several resources. If you want to prove that someone else is at fault, you must gather evidence and have the necessary expertise to handle the situation.
Proving liability is challenging, so if you want to get fair compensation in Merced, CA, you must get help from a lawyer who can help you with your lawsuit.
You Need an Expert in Personal Injury Law if You Want to Succeed
To get the best results possible after being in a slip-and-fall accident or a traffic crash, hire a law office with legal experts who can act on your behalf and defend you.
Some people prefer doing things independently, but if you suffered due to someone else's negligence, you should do everything in your power to ensure your outcomes are favorable.
Getting Legal Assistance Can Improve Your Chances
Having expert help allows you to improve your chances of getting the results you want. It's an advantage, especially when dealing with an insurance company.
Your Personal Injury Attorneys Can Negotiate with the Insurance Company
In Merced, CA, attorneys ensure you get the best outcomes possible and take care of the negotiation process.
Negotiating Is Challenging
Dealing with an insurance provider can be challenging because they won't want to pay as much as they should. Therefore, the best idea is to trust an experienced legal expert to do the job.
Personal Injury Lawyers Must Guarantee the Best Results
When you trust a legal expert, part of their job is to guarantee that you get the outcomes you want. Even though they can't make the other party pay, they will passionately defend your case no matter what.
A Personal Injury Lawyer Cares About You
The relationship with your attorney is crucial, and if you're working with an experienced professional, they care about the results you get.
Your attorney can help you navigate through the legal process and guarantee that you get the best outcomes depending on your case, so they will be happy if they see that you're content with your results.
You're Probably in Pain After Your Car Accident
Lawyers understand the pain you're going through, especially if they know all the details of your car crash case. If you suffered injuries or lost a loved one due to accidents that weren't your fault, an empathetic legal expert can listen to what you're going through and put together a winning case.
Traumatic Brain Injuries and Other Damages Might Be Devastating
Occasionally, you might suffer injuries that paralyze you or completely change your life. When this occurs, getting legal assistance from a spinal or brain injury lawyer is vital to make sure that the responsible people pay.
You Deserve a Fair Settlement
Regardless of where you are in Merced, CA, if you were in a car accident that wasn't your fault, you should get a fair settlement for your injuries and suffering, and one of our legal experts can help you get it.
Get a Free Consultation
Since lawyers are committed to helping you, many firms offer a free case evaluation in which you can talk to your potential attorneys and get to know them. Explore this option and give it a go if you want to know more about the expert who might work with you.
Auto Accidents Can Change Your Life
A car crash is devastating to your family and can change your life forever. If someone else can be held liable, they should, which is why putting your case in the hands of an experienced legal professional is crucial.
Ehline Law Firm – A Law Office Specializing in Personal Injury Law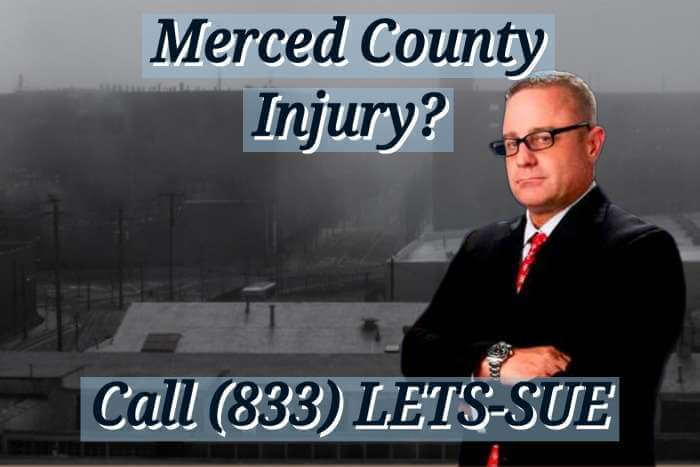 Merced is home to numerous law firms, but Ehline Law is unique. With an experienced team of legal experts, we are ready to help you with your case.
Michael Ehline Might Be the Lawyer You Need
As a former U.S. Marine, Michael Ehline understands what it's like to be committed to this country and its people. Thus, he might be the ideal expert to listen to your concerns and help you with your case.
Contact A World Class Personal Injury Lawyer in Merced County Today for a Risk-Free Consultation
If you want to know more about our experienced lawyers and how we can help you, contact us today at (833) LETS-SUE.
Michael Ehline is an inactive U.S. Marine and world-famous legal historian. Michael helped draft the Cruise Ship Safety Act and has won some of U.S. history's largest motorcycle accident settlements. Together with his legal team, Michael and the Ehline Law Firm collect damages on behalf of clients.
We pride ourselves on being available to answer your most pressing and difficult questions 24/7. We are proud sponsors of the Paul Ehline Memorial Motorcycle Ride and a Service Disabled Veteran Operated Business. (SDVOB.) We are ready to fight.