If we don't win, you don't pay.
Speak to the Attorney.
Born to serve.
633 W 5th Street #2890
Los Angeles, CA 90071
(213) 596-9642.
Date Modified: June 18, 2023
This is the Ultimate Guide to Compensation for Alpine County Injuries. If our experienced personal injury attorneys don't win, you don't pay.
Suffer Alpine County Injuries?
Did you or your loved one suffer a serious injury in Northern California? Alpine County, a tiny spot on the California state map with its single courthouse, isn't a place you'd think someone would be badly hurt, but that's not true.
Did someone you love pass away in Alpine due to the carelessness or recklessness of another person while hunting, skiing, or camping?
Maybe someone got run over by a diesel truck or t-boned in a motorcycle accident. Dealing with a California personal injury case like this can be highly exhausting for everyone involved. Victims need time to recover from their injuries and the other consequences of the accident.
Suppose hurt individuals want to take legal action against the other party and get financially compensated. In that case, the best thing to do is to hire a personal injury attorney who can help them with all the annoying processes they must go through once they file a wrongful death or personal injury claim.
Here at the Ehline Law Office, we have the best personal injury lawyers in every Alpine County city. You can easily get a free consultation from a world-class personal injury attorney to learn more about our services and years of experience by calling us today for information at (833) LETS-SUE.
Why Clients Choose Our Personal Injury Lawyer Team
If you're injured, lack resources, and seek quality legal representation, your search is over.
We have recovered over $150 Million for past clients since 2005
Have Represented Thousands of Clients
No Win No Contingency Fee Promise
24-hour concierge, Come to You Service
Free Consultation
Hundreds of 5-Star Client Reviews
Newsweek Premier Personal Injury Attorneys 2015
AVVO Premier Attorneys
Personal Injury Warriors Lawyer of the Year, 2021
Circle of Legal Trust Accepted Member.
Sometimes, the plaintiff decides to navigate and settle their case independently. But generally, this isn't the smartest thing to do. Qualified injury attorneys have the needed experience to manage the law, timely file documents to protect the statute of limitations, and can address your medical concerns.
Personal Injury Case Resources and Your Fingertips
Our California lawyer resources are vast and unrivaled.
We can connect you with quality doctors who can address your diagnosis.
If necessary, we can go to trial and use our skills to benefit our clients.
We will focus on your needs and answer all your questions.
We want to add you to our impressive list of achievements.
Our best California personal injury attorney can take a massive weight off your shoulders, as you won't need to worry about complicated procedures during your healing phase.
Luckily for you, our personal injury lawyers in California are ready to take your case, and you can get a free consultation without strings attached. Find out about the compensation you deserve. Contact us today or reach out by email.
What Is a Personal Injury Lawsuit?
Personal injury lawsuits are legal disputes that start when someone gets hurt because of an accident caused by someone else and want to be financially compensated by the liable party.
In these cases, the liable party must pay for all medical expenses, financial losses, and the psychological suffering of the victims.
Still, the victims must prove that the defendant's negligence directly caused their accident. That's why hiring a personal injury attorney who can care for everything is handy.
These cases usually have one of the two following outcomes:
After providing enough evidence of their negligence and harm to the victim, the personal injury attorney decides to file a formal lawsuit against the other party.
Informal settlements are the most common solution for these disputes in Alpine County, California, as it consists of negotiating with the other party a fair monetary compensation to avoid filing a lawsuit and going to court.
Common Kinds of Personal Injury Cases
There are several types of personal injury cases; most end up with severe injuries or can even turn into wrongful death cases.
That's why it is important to get to know more about them. This way, you can know how to proceed in each situation.
The most common are the following:
Car Accident Cases
Car accidents are prevalent in Alpine County, California, especially because many people don't follow the road rules or aren't careful when driving.
Although some states are "no-fault" states, the careless driver must be held accountable for the other driver's injuries in most cases. Our car accident attorneys are available for a free consultation 24/7 at (833) LETS-SUE.
Slip and Fall Cases
Slip and fall cases are the most common cause of ER visits in Alpine County
These cases consist of property owners who aren't quick enough to eliminate all hazards from their premises and end up causing harm to their visitors.
Although these cases are difficult to prove and usually have shared liability between several parties, they are still highly prevalent in the legal community.
Medical Malpractice
Medical malpractice claims imply that a healthcare professional acted negligently with one of their patients, which caused them to get injured.
Getting a free consultation from a personal injury lawyer before filing a claim against the healthcare professional is crucial.
Defamation: Libel and Slander
Libel and slander defamation cases damage the victim's reputation because of false statements.
The nature of these cases will determine how to proceed with your case.
But usually, the plaintiff only needs to prove they experienced financial loss or any other type of harm from a false statement (also applies in fraud cases), such as the following.
Loss of resources
Loss of employment
Creating a bad reputation (defamation cases).
On the other hand, in defamation claims, celebrities must prove the statement was made with actual malice and the intent to ruin their careers.
Dog Bites
A personal injury lawyer must also deal with dog bite cases, especially if they turn into wrongful death cases.
Some states follow the One Bite Rule.
California does not follow the "one bite" rule. Some states say the owner must pay the victim for their injuries only if they know their dog was prone to becoming aggressive. Instead,
California Follows Dog Bite Strict Liability Rules
California follows the strict liability rule. Unless a rare exception applies, when a dog causes harm to a human, the owner or controller must take care of the injuries.
Assault, Battery, and Other Intentional Torts
These personal injury cases are much more different than the previous ones, as they're not accidents, and the defendant will need a criminal defense lawyer to face the charges.
However, in addition to the defendant facing criminal defense charges by the state, the civil plaintiff can still file a civil lawsuit to get compensation for their injuries separately.
Deciding Which Personal Injury Lawyer Is Best for Your Case
When deciding which Alpine County law firm to hire, you must consider several things, mainly because the industry is filled with not-so-great lawyers chasing after clients from San Diego County and anywhere else there is a sizeable population, including Alpine County, CA.
You must keep an eye on the following essential aspects while seeking a free consultation with several lawyers.
Seek an Experienced Personal Injury Attorney
Most lawyers are specialists or generalists, so you must look for an Alpine County personal injury lawyer who specializes in your type of case. They will know all the procedures and details they must consider when dealing with your claim.
Some of the things they should know about are the following.
Personal injury law-specific procedures
How to calculate a proper compensation
How to perform an investigation
How to provide timely legal advice
Where to find medical experts to treat their client's injuries.
Remember that lawyers can have several practice areas, but their chances of winning are much higher if they've worked with cases like yours.
Ask About Their Success Rate
Another crucial aspect you must consider when hiring a law firm in Alpine, San Jose, or San Diego county is its success rate.
You don't want to hire a law firm or an attorney who has lost all their cases. Therefore, you must ask about this during their free consultation, and they should be able to provide it without too much hassle.
If they can't do it, the chances are that their success rate isn't the best, which is a clear indicator that they're not the right attorney for you. Therefore, you're better off finding a more reliable attorney with a high success rate to ensure you get properly compensated.
Ask for Referrals
Although you can use Google, which is the largest online directory for finding a law firm in Alpine County or San Jose, the best way to make sure you're hiring a reliable law firm is by asking for referrals from a friend or family member who has gone through a similar experience as yours.
This way, you can forget about those attorneys who didn't provide a good service or don't have experience in your desired practice areas.
Work on Contingency
Hiring a law firm is expensive, and although you can get an idea of how much they will charge you by asking for a free consultation, you are still unlikely to be able to pay for their hourly rate out of your pocket.
Therefore, you must find a law firm in California that works on a contingency basis, which means they are responsible for winning your case, or we won't get paid. This is because the personal injury lawyers will receive a percentage of the total settlement amount they earned for you, so if they don't win anything, they can't receive anything.
Choose Someone You Can Get Along With
This is important information and is often not discussed. There are various factors and steps to take when choosing the right people to represent you. Personal injury cases can cause a lot of emotional distress to the victims, as they will undergo several medical and legal procedures. Don't just look for years of experience from an abrasive, ego-maniac trial lawyer with proven results for being a jerk.
Hiring a lawyer with whom you can create a good rapport is crucial. Building trust during the free consultation is vital, whoever you select. Individuals suffering damages like this need to feel confident their rights are protected. Once they feel the attorney has their best interest at heart and understands completely, this makes them happier. Please avoid hiring an attorney who only does their job for the money.
A Professional Law Office
This may not seem like a big deal. But if your attorney has a professional office, it suggests they have a stable place to work and get your case going.
The office must be as organized as possible to store your files, police, medical records, etc. This will help them do a much more efficient job than a lawyer who doesn't have an office.
Interview Multiple Lawyers
The best possible piece of advice we can give you is to get a free consultation from several attorneys, as this will help you compare their experience, costs, success rates, and all the other factors we mentioned on this list. The impact of hiring the wrong lawyer can have lifelong consequences, for better or for worse.
These attorneys will also give you unique perspectives about your case, which can help you decide which personal injury lawyer you want to represent your matter in Alpine County, CA. As you languish at home healing, you must choose wisely.
Should You Settle or Go to Court?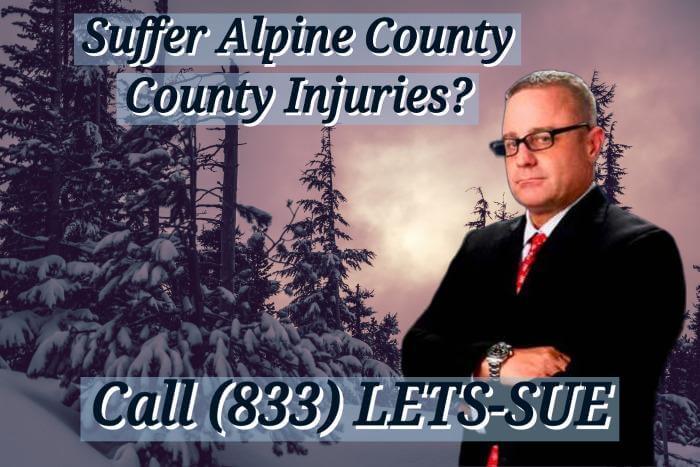 Several times as you navigate your case, the other party will offer you a settlement, and you can decide whether to take it or not.
The best thing to do is to not take their initial offer before talking to your personal injury lawyer, as they will negotiate a better settlement for you, more in line with justice. If your personal injury lawyer can't get the liable party to accept a settlement, you may need to take the case to the courtroom.
A full-blown trial can be expensive depending on the nature and severity of the injuries sustained and how solid the liability evidence obtained during the initial investigation is to the judge and jury. The most significant factor in receiving total and fair compensation is who you choose to represent your matter.
However, you can still lose the case if you go to court.
Schedule a Free Consultation with an Alpine County Personal Injury Lawyer At Ehline Law
Did a DUI driver hit you? Did you slip and fall in a grocery store or suffer another way? If you're facing difficulties finding a personal injury attorney in California, you can best schedule a free consultation with us to discuss your rights. Just push a few keyboard or Smartphone buttons to get justice for you or your family.
When you speak to us, we can discuss your medical care, lost wages, emotional pain, and suffering and devise a strategy to help get you back on your feet. Ehline Law has worked with hundreds of clients like you fighting to obtain justice for their injuries sustained by no fault of their own.
You must call us at (833) LETS-SUE and talk to one of our legal specialists. You can also use our online website contact us form. Don't forget a licensed bar member at our firm will come to you anywhere in Alpine, Sacramento, and even San Diego County to earn your trust and future business!
Michael Ehline is an inactive U.S. Marine and world-famous legal historian. Michael helped draft the Cruise Ship Safety Act and has won some of U.S. history's largest motorcycle accident settlements. Together with his legal team, Michael and the Ehline Law Firm collect damages on behalf of clients.
We pride ourselves on being available to answer your most pressing and difficult questions 24/7. We are proud sponsors of the Paul Ehline Memorial Motorcycle Ride and a Service Disabled Veteran Operated Business. (SDVOB.) We are ready to fight.